Today Dell Technologies updated their line of Dell EMC PowerEdge servers, with a total of 17 new and refreshed models. While there is a lot to like across the portfolio, the tried and true dual-processor 2U boxes tend to start out as the datacenter workhorses. These servers provide an exceptional balance between power, expansion, and storage available within a single server. This latest server family release is no different, being spearheaded by the Dell EMC PowerEdge R750.
Today Dell Technologies updated their line of Dell EMC PowerEdge servers, with a total of 17 new and refreshed models. While there is a lot to like across the portfolio, the tried and true dual-processor 2U boxes tend to start out as the datacenter workhorses. These servers provide an exceptional balance between power, expansion, and storage available within a single server. This latest server family release is no different, being spearheaded by the Dell EMC PowerEdge R750.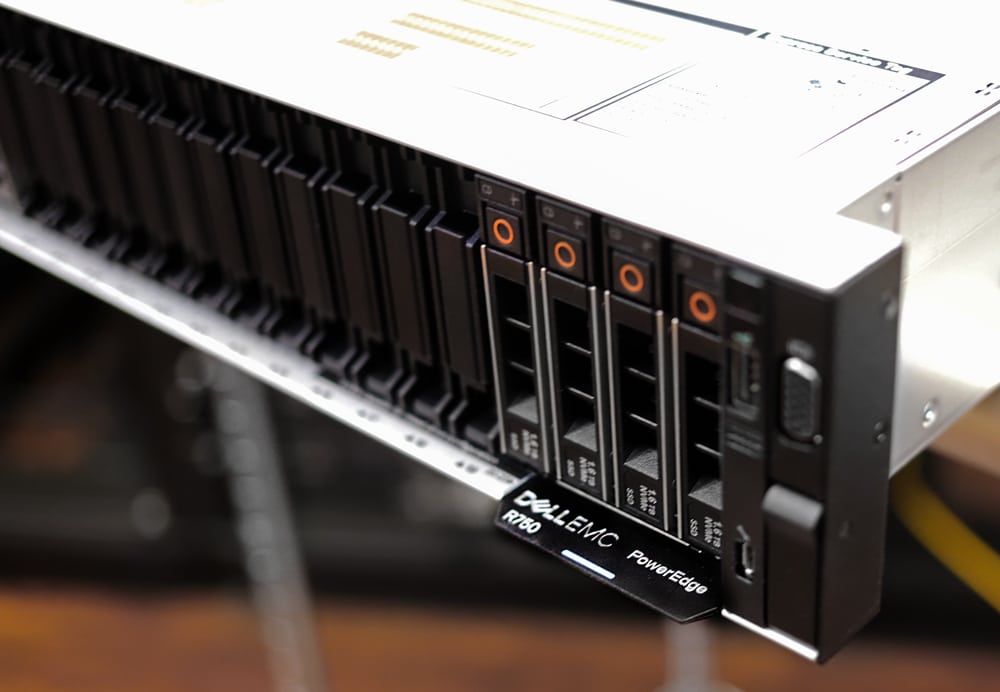 Dell EMC PowerEdge R750 Front
As noted, the Dell EMC PowerEdge R750 is a 2U, dual-processor server based on Intel CPUs. What's a little different this time around is that Dell Technologies wanted to profile the majority of their server line together, for the first time launching AMD and Intel-based systems in more-or-less tandem. What that means in terms of our review is that we have access to a pre-production R750, with firmware that is still undergoing refinement.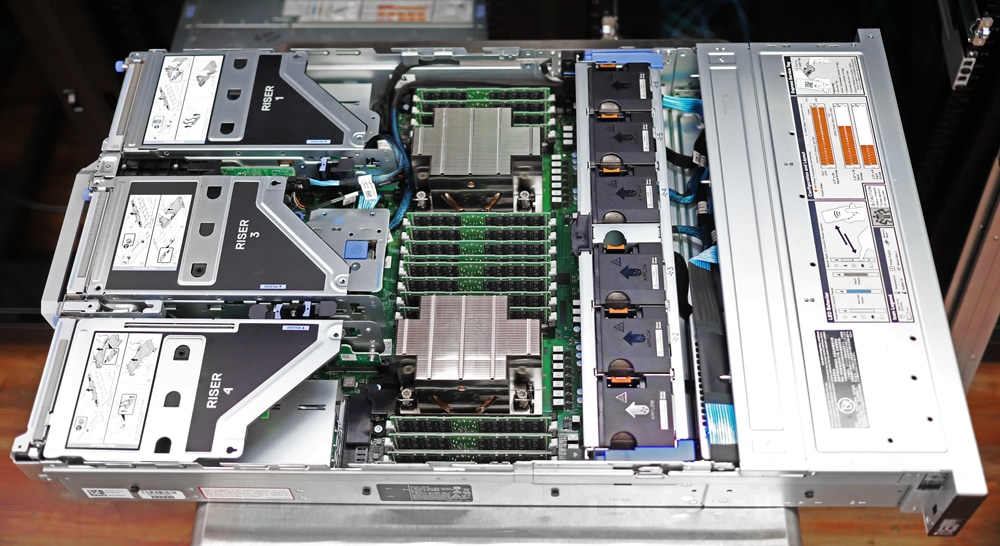 Dell EMC PowerEdge R750 Open
Dell Technologies will begin shipping the R750 in May, at which point we will have a full performance review. Until then, this hands-on tour will highlight the key technical upgrades the R750 brings to market when compared to the prior-generation PowerEdge R740.
Dell EMC PowerEdge R750 Storage
Of course, we have to start by looking at what's new when it comes to storage options in the R750. The R750 gets to take advantage of PCIe Gen4, which has been available in AMD-based PowerEdge systems for over a year. While enterprise Gen4 NVMe drives have been a bit slow to come to market, they're widely available now from Intel, Kioxia, SK hynix, Samsung, and many others. Functionally, the benefits of Gen4 are simple, the system is afforded double the bandwidth.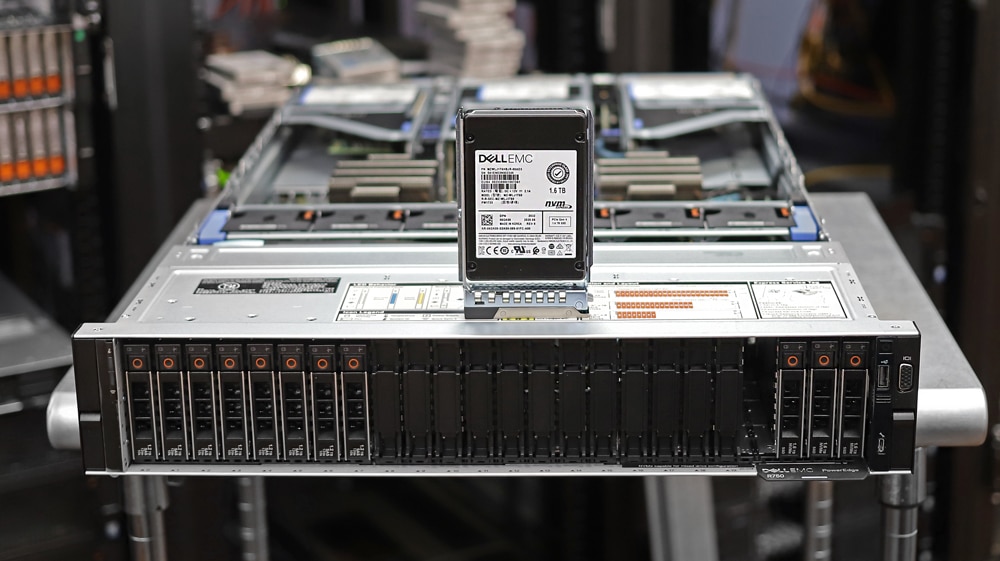 Dell EMC PowerEdge R750 Front Drive Bays
Storage may be configured in a variety of different ways in the PowerEdge R750, with as many as 28 total drives available to the system, not counting the BOSS setup, which we will get to. With this flexibility comes another improvement in the R750, and that's specific to NVMe drives. In the R740, Dell EMC had to give up PCIe expansion slots to make way for PCIe switches for the NVMe SSDs. This time, the R750 can support 16 Gen4 NVMe SSDs direct-attached and a total of 24 NVMe SSDs with a paddle card that won't eat an expansion slot.
What's more, Dell EMC is introducing the PERC11 RAID card, which is capable of supporting NVMe SSDs. This is remarkable in the NVMe hasn't had a lot of success when it comes to RAID cards. This is largely because of bandwidth limitations that occur when trying to jam the I/O of a lot of fast SSDs through a single PCIe slot. Dell EMC has solved that with the new PERC card, bringing enterprise RAID to NVMe. Lack of hardware RAID has been a deterrent to some when considering NVMe SSDs for their servers. That roadblock has been removed in the R750.
For those wanting to maximize their storage performance, the PowerEdge R750 will support 24 Gen4 SSDs across the front bays. As mentioned the system supports up to 28 drives, with four of those being optional 2.5″ bays in the back of the server. These can be configured as SATA, SAS, or NVMe unless the front 24 bays are all NVMe, in which case the four back bays can be SATA or SAS. The high-level drive configuration options are as follows:
12x 3.5″ SAS/SATA HDD
24x 2.5″ SAS/SATA HDD, SSD, or NVMe with universal slots
16x 2.5″ SAS/SATA HDD or SSD + 8x 2.5″ NVMe
Up to 4x rear 2.5″ SAS/SATA HDD or SSD or NVMe (when SAS or SATA in front)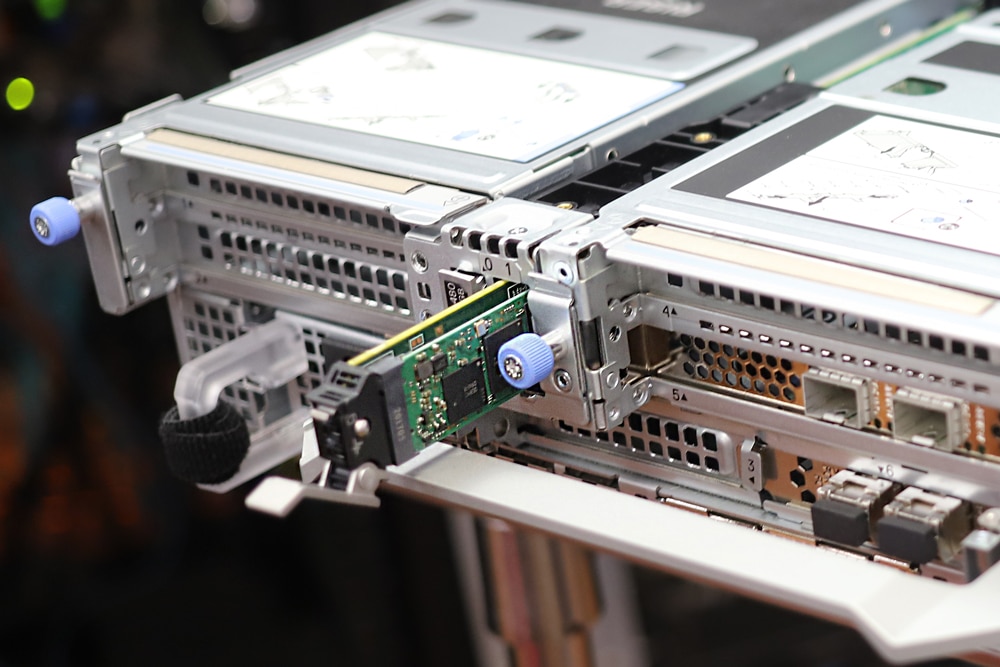 Dell EMC PowerEdge R750 BOSS-2 Hot Swap
I mentioned the BOSS card previously, which has been overhauled for this latest generation of PowerEdge. Essentially the BOSS card gives users the ability to RAID together two M.2 SSDs for a boot volume. Historically these types of boot devices have been internal to the system.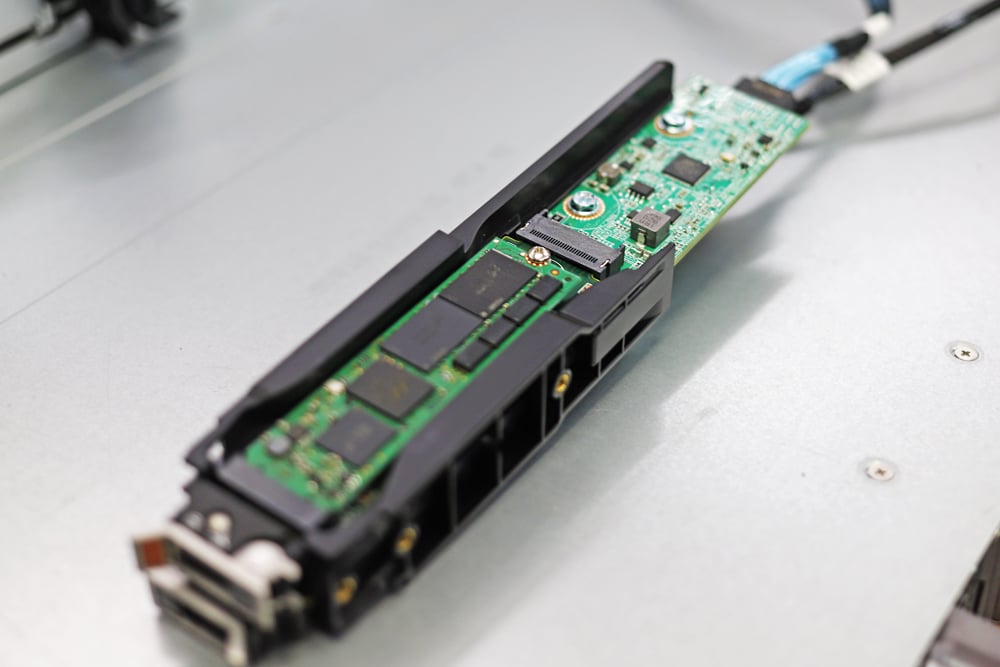 Dell EMC PowerEdge R750 BOSS-2 Removed
With the R750, Dell EMC has made the new BOSS-S2 devices rear-facing and hotplug. Dell EMC has made M.2 SSDs hot-pluggable through the use of a drive caddy that handles the connection instead of the M.2 slot itself. As before the SATA M.2 SSDs support hardware RAID, but are much easier to service in the event the need occurs. Plus, the drive caddies are pretty fun in their miniature form, even skinnier than the 1.8″ SSD sleds Dell EMC has used in the past.
Dell EMC PowerEdge R750 Expansion and I/O
The R750 provides a tremendous amount of rear I/O connectivity thanks to four distinct risers. The riser design and location of the power supplies underneath in each corner are also fundamental to the thermal and cooling design of the server.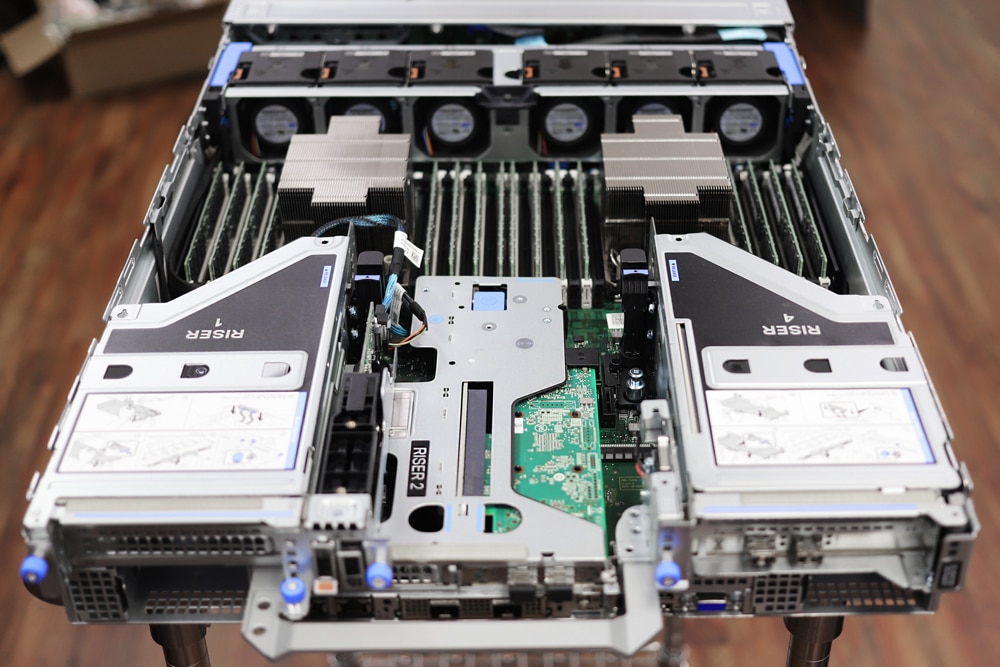 Dell EMC PowerEdge R750 with Riser 3 Removed
The PowerEdge R750 may be configured with up to eight PCIe Gen4 slots, with up to six of those being x16. This is a similar configuration to the R740 (four x16) , although the R750 has the clear benefit of Gen4 throughput potential. Additionally, the R750 supports SNAP I/O as an option. This allows a single x16 slot to bifurcate into 2 x8.  This is an emerging feature that is designed to allow a NIC to talk to both CPUs for instance; a concept increasingly popular in HPC use cases.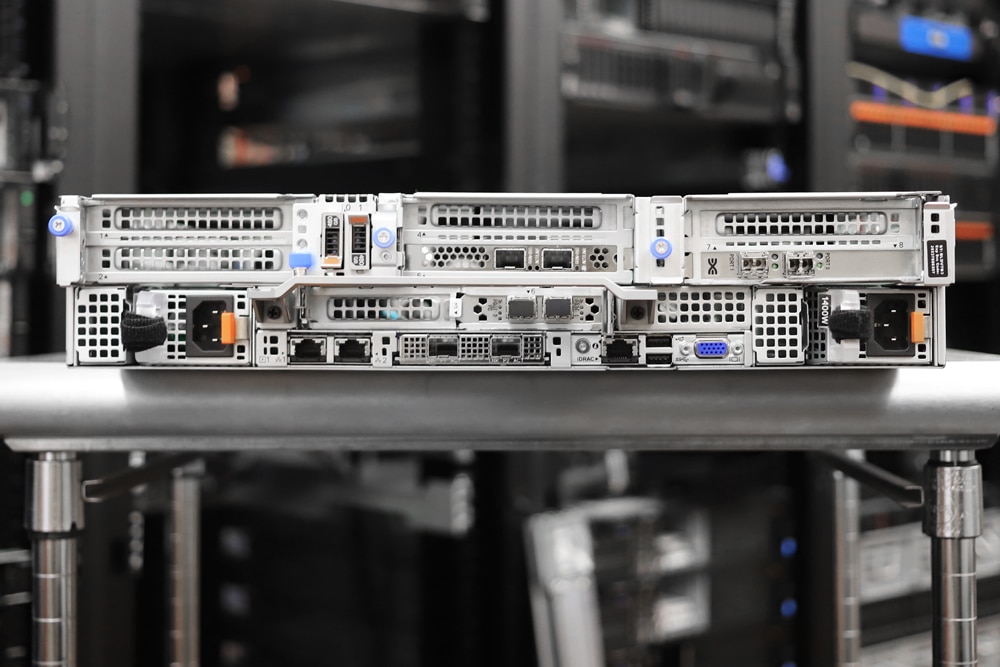 Dell EMC PowerEdge R750 Rear
In addition to the I/O provided by the PCIe slots, the R750 offers twin GbE ports on-board and an OCP 3.0 slot. The latter is increasingly common in servers and gets the Dell EMC portfolio on a more modern footing, replacing the NDC option Dell EMC used previously. The advantage dedicated GbE brings over previous generations of PowerEdge servers is that users don't need to decide between 25GbE or 1GbE, the latter which is frequently used for OS management. Users can now do both or multiple other options without having to worry about dropping traditional Ethernet ports. Obviously, a PCIe add-on card would solve that with the prior generation models, but again Dell EMC is making strides so that PCIe slots are open for far more important tasks.
Dell EMC PowerEdge R750 Thermal Design and Cooling
There are a number of enhancements the R750 gets that dramatically improve its ability to cool its CPUs and add-in cards or accessories. Primary among these is a re-imagining of where certain components are placed. We've seen some of this design show up in previous Dell EMC PowerEdge servers that use AMD processors, but they've taken the concepts further with this latest release.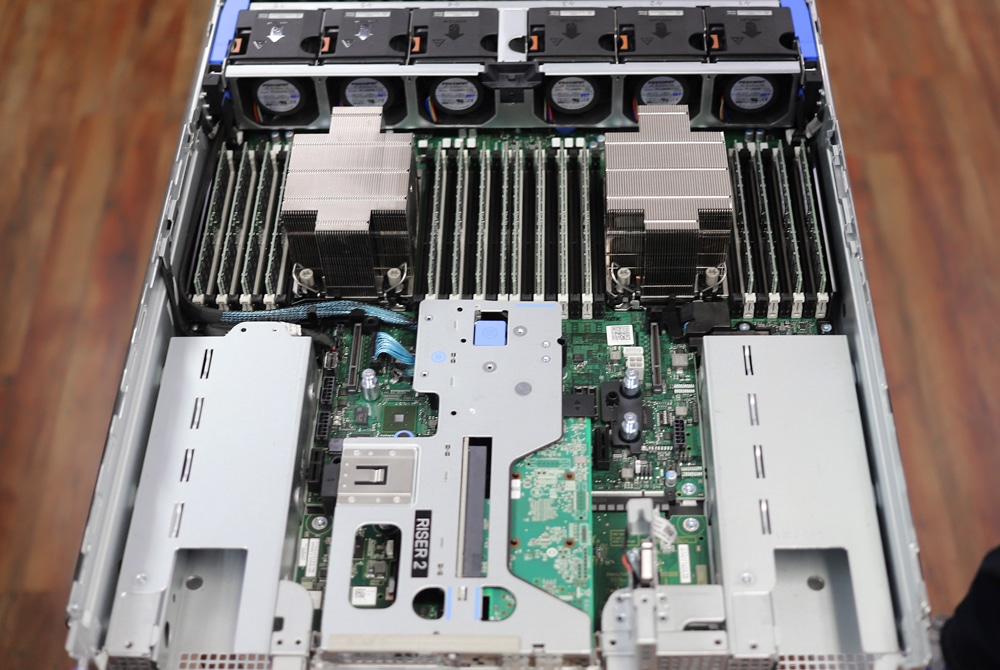 Dell EMC PowerEdge R750 – Top Three Risers Removed
When we pull most of the risers and power supplies, it's easy to start to see how the airflow is designed. The front six fans drive air over the CPUs and DRAM, before forcing it over top the power supplies, cooling the PCIe slots on either side and the stack in the dead center.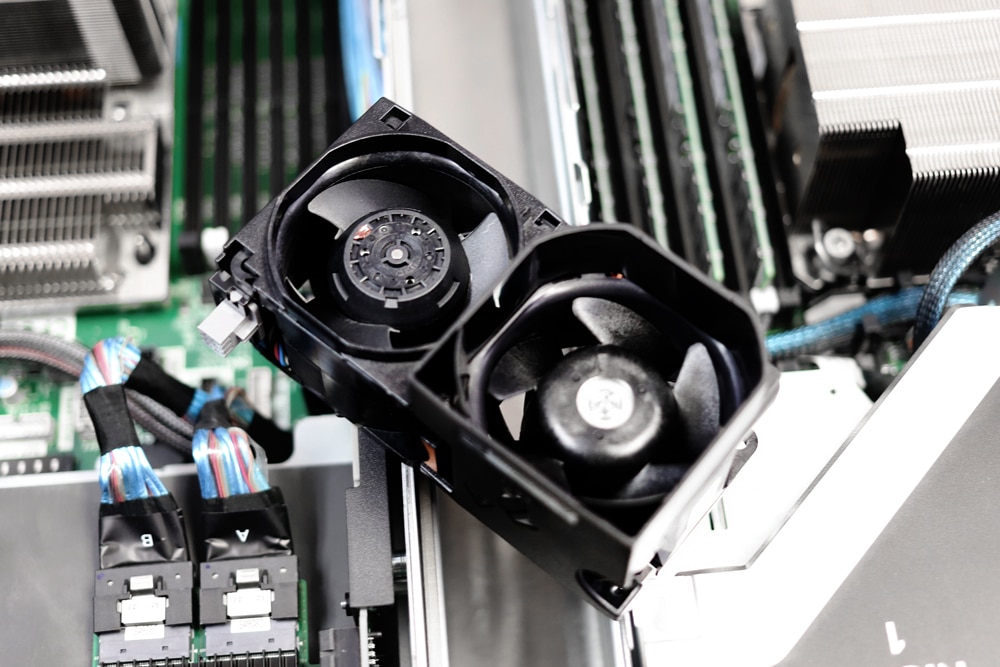 Dell EMC PowerEdge R750 New, Beefier Fans
The fans play a most critical role and Dell EMC has upgraded this component as well in the R750. The image above shows the fan units from the R740 on the left and the R750 on the right. The R750 has received a new 3-tiered hot plug fan with five blades, up from the three-blade 2-tiered fans in the R740.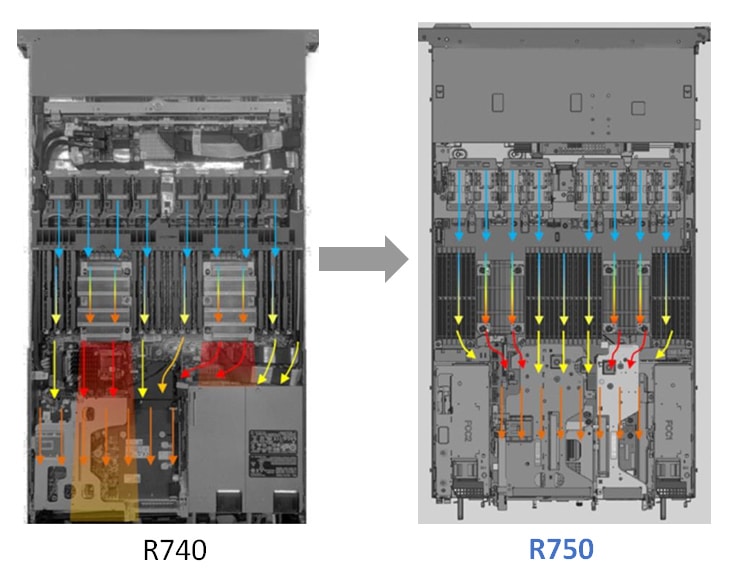 Dell EMC PowerEdge R750 Optimized Cooling
The above images show the difference in airflow between the R740 and the R750. While these are just renderings, it's clear to see the impact re-organizing the chassis does for thermal dynamics.
In addition to better layout, Dell Technologies has something called Multi-Vector Cooling (MVC) 2.0.  MVC measures temperatures at inlet and outlet then feeds the data back to software to let users have cooling controls. This includes the ability to customize power cooling profiles. For those who want a more hands-off approach, built-in automation protects key components like CPU, GPU and so on from getting too hot.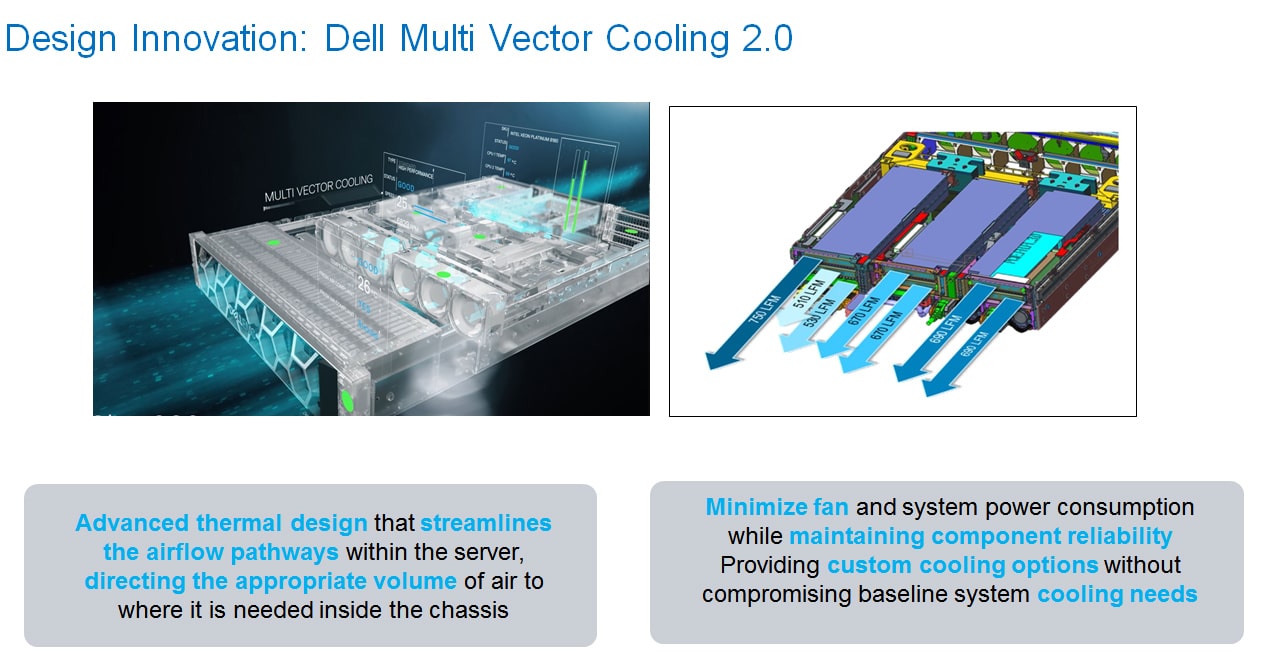 Dell EMC PowerEdge R750 MVC
Dell EMC also offers direct liquid cooling (DLC) options for the R750, which allows them to be put into evolving high-density deployments that traditional air cooling can't easily support. While liquid cooling brings its own set of risks, Dell Technologies has gone to great lengths to ensure that water leak detection is built into the design. Leak sense detection is able to notify users if water is detected, shut down the server if needed, and ensure the liquid flow is cut off if a component failure is a cause.
Other R750 Flavors (R750xa, R750xs)
Dell Technologies has been able to both contract and expand models in the R750 family, compared to the R740. The R740xd has been retired, it's not really needed as much any longer and adoption of the ultra-dense layouts with midplanes didn't see a lot of adoption. There are two new models though in the Dell EMC PowerEdge R750xa and R750xs.
The R750xa is a GPU-optimized system, that while it uses the same motherboard, is completely reconfigured. The chassis is a little longer, 837.2mm compared to the standard R750 at 736mm. The motherboard is set back as well, with the GPUs situated in the front to manage airflow. The R750xa supports 4 double-wide or six single-wide GPUs, with broad support for NVIDIA and AMD options. Storage is a little tighter in the box, with support for up to 8 NVMe SSDs. Surprisingly there's no compromise on PCIe slots, with up to eight available.
Looking at the PowerEdge R750xs, this system is designed for use cases where scaling compute and a full suite of PCIe expansion slots is critical. The R750xs will support lower core count CPUs, a smaller RAM footprint, and fewer storage options and advanced features. What can be thought of as R750-lite, the R750xs will still probably find itself situated nicely for many edge and software-defined use cases where reliability and flexibility are as important as managing the cost profile of the hardware.
Conclusion
We're having a good deal of fun exploring the Dell EMC PowerEdge R750. We've had literally dozens of R720s, R730s and R740s come before, so we have a special place in our hearts for this most mainstream of all PowerEdge servers. Our system is all the way there when it comes to hardware, there are just a few tuning elements taking place in software as Dell Technologies marches toward the general availability release sometime in May. At that point, we'll drop a supplemental performance review to give you a better idea of what the new CPUs, Gen4 storage and all else offer in the R750.
Engage with StorageReview
Newsletter | YouTube | Podcast iTunes/Spotify | Instagram | Twitter | Facebook | RSS Feed