The EcoFlow DELTA Pro is a 3.6kWh Portable Power Station that has the ability to fast-charge with rates up to 3,600W, as well as charge via solar while supplying power to nearly any device that needs it. With the ability to also daisy-chain multiple Delta Pros together, users could get a power capacity of up to 25kWh, which also has the ability to be integrated into your home circuit via an EcoFlow Smart Home Panel.
The EcoFlow DELTA Pro is a 3.6kWh Portable Power Station that has the ability to fast-charge with rates up to 3,600W, as well as charge via solar while supplying power to nearly any device that needs it. With the ability to also daisy-chain multiple Delta Pros together, users could get a power capacity of up to 25kWh, which also has the ability to be integrated into your home circuit via an EcoFlow Smart Home Panel.
With an AC output of 3,600W, the DELTA Pro is made for those who are looking to power anything, anywhere, anytime, making it the ideal power station for off-grid living, a home backup for power outages, or even powering a mobile data center.
The Portable Power Station market has seen plenty of entries over the past few years, each looking to cover different segments of the market. These use cases generally include off-grid, emergency backup, or camping, all areas where a power outlet is needed but a source may not be available. Beyond a large inverter or a big internal battery, many of these units try to set themselves apart from the pack through cost or features. Charging capabilities are a huge differentiator when AC input is most common, followed by car power, and lately solar.
Our review model goes for about $3700 on Amazon.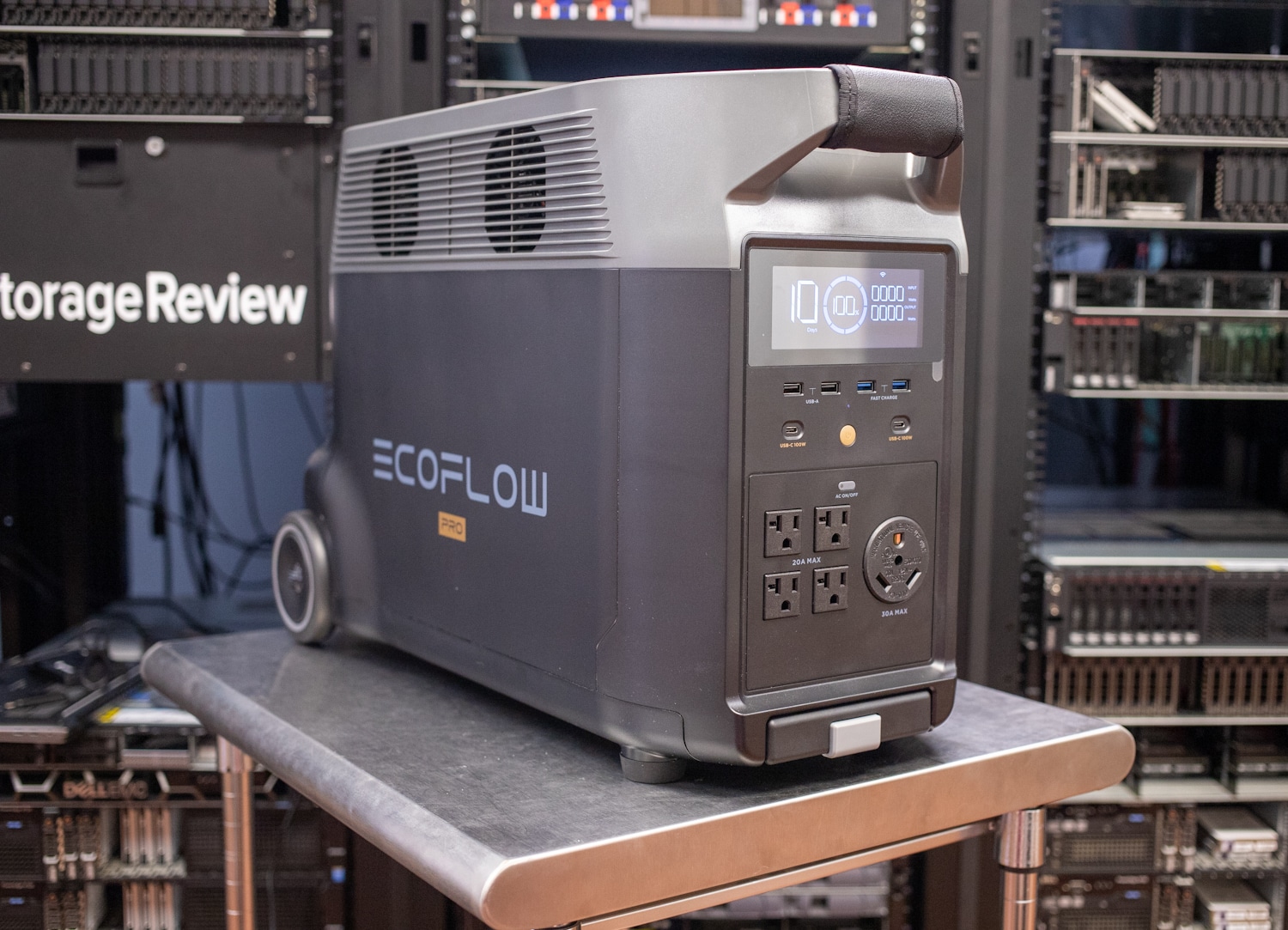 EcoFlow Delta Pro
The EcoFlow DELTA Pro is a 3.6kW portable power station that is able to be expanded all the way up to 25kWh and has a standard battery capacity of 3,600Wh. The DELTA Pro can support peak power draw of up to 4500W with X-Boost technology that is designed to handle those heavy devices such as dryers, AC units, and even more.
For those that are still concerned that the DELTA Pro can't handle your device, EcoFlow has assured that 99.99% of devices are supported ranging from home devices and appliances, and outdoor construction devices, to your standard IT equipment and devices.
One of the best features of the DELTA Pro is the many ways to charge it, meaning the multitude of ways that it is able to receive input power. When dealing with common US-based wall outlets at 1800W, the DELTA Pro is able to be fully charged in just under 3 hours, while with standard EU wall outlets at 2900W, full charge clocks in right under 2 hours, and for those that have access to 3000W rated 240V outlets, the DELTA Pro can be charged in a blazing fast 1.8 hours. The DELTA Pro can also be charged via solar panels, something that isn't entirely new or exclusive but is always a nice feature to have.
What makes the DELTA Pro so special however is the ability to charge it via EV charging stations. For those that are taking this on the go and want an even quicker charging experience, you can take it to an EV charging station or use a built-in station at a house. This lets the DELTA Pro reach full charge in about 1.7 hours. Combining all these ways of charging together, you can max the input at 6500W, making it very quick to charge fully.
Out of the box, the EcoFlow DELTA Pro comes out as an all-in-one portable power station solution for any type of power needs or wants. The DELTA Pro showcases the well-made case with a sturdy feel along with minimal plastic creaking when it is being moved around.
Since this model is quite large and heavy, instead of the standard pads that other EcoFlows have, the DELTA Pro has a pair of wheels in the rear so that it can be pulled around without having to lift the whole 100lbs of battery off the ground. There are still rubber pads on the front so that it can rest softly on any surface, and when it comes time to pull it around, it comes with a locking, telescoping, luggage-like carrying handle.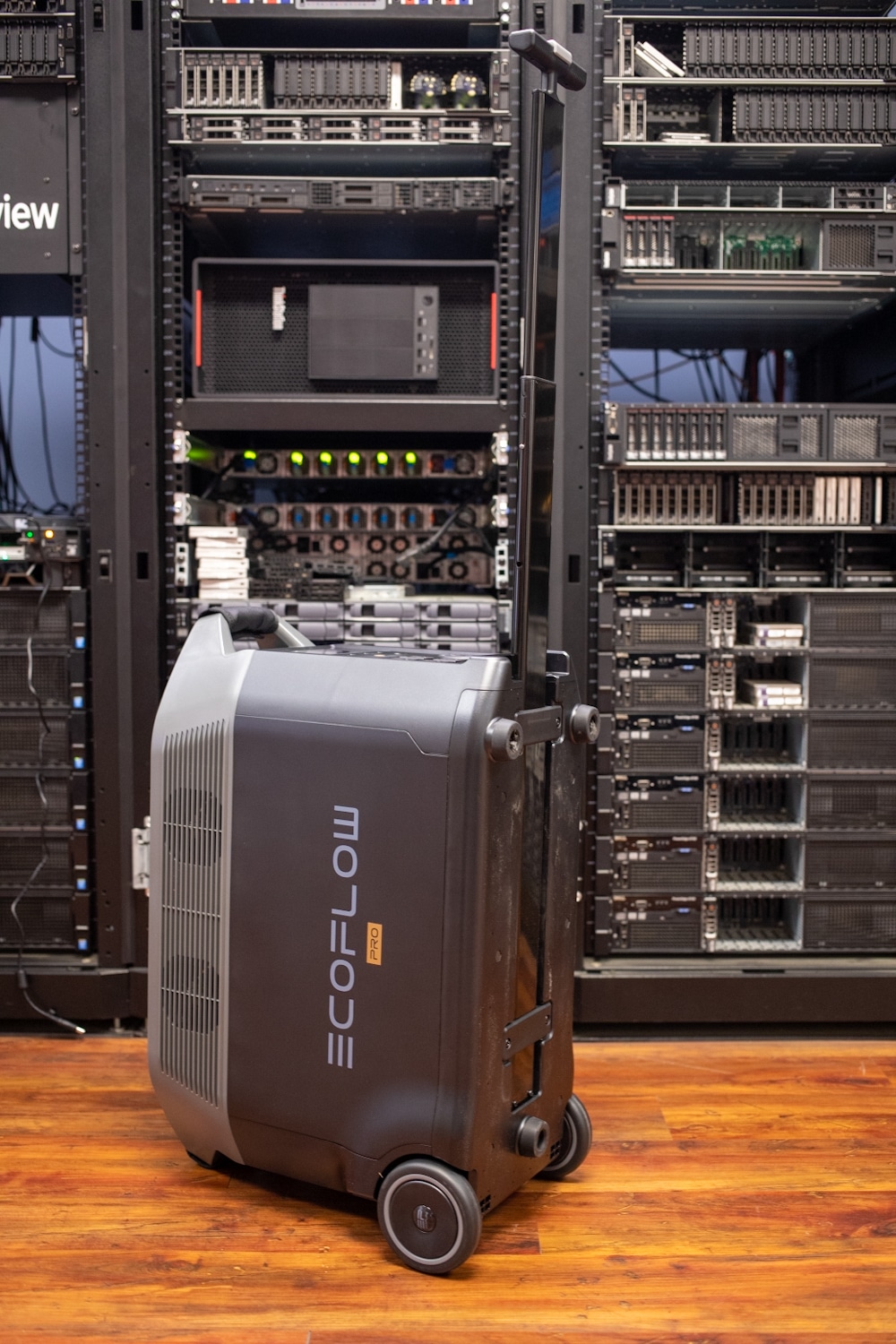 The front of the DELTA Pro has a bright and easy-to-read display, similar to the other models in the portfolio of power stations. The display gives extensive details to the user including the number of days left until it runs out of power, the charge percentage of the battery, incoming and outgoing power usage, and more. There are also two other indicators showing Bluetooth and WiFi so that the DELTA Pro can be managed remotely from a mobile device.
The continuous runtime indicator is quite handy as it is able to give you real-time feedback on how well the DELTA Pro is handling the devices that are connected and how the load is affecting the battery. The charge percentage gives a quite accurate reading of what is left and can be handy if you need to try to calculate how much power is being drawn over the course of minutes or hours. The incoming and ongoing power is also available for tracking usage and charging capabilities.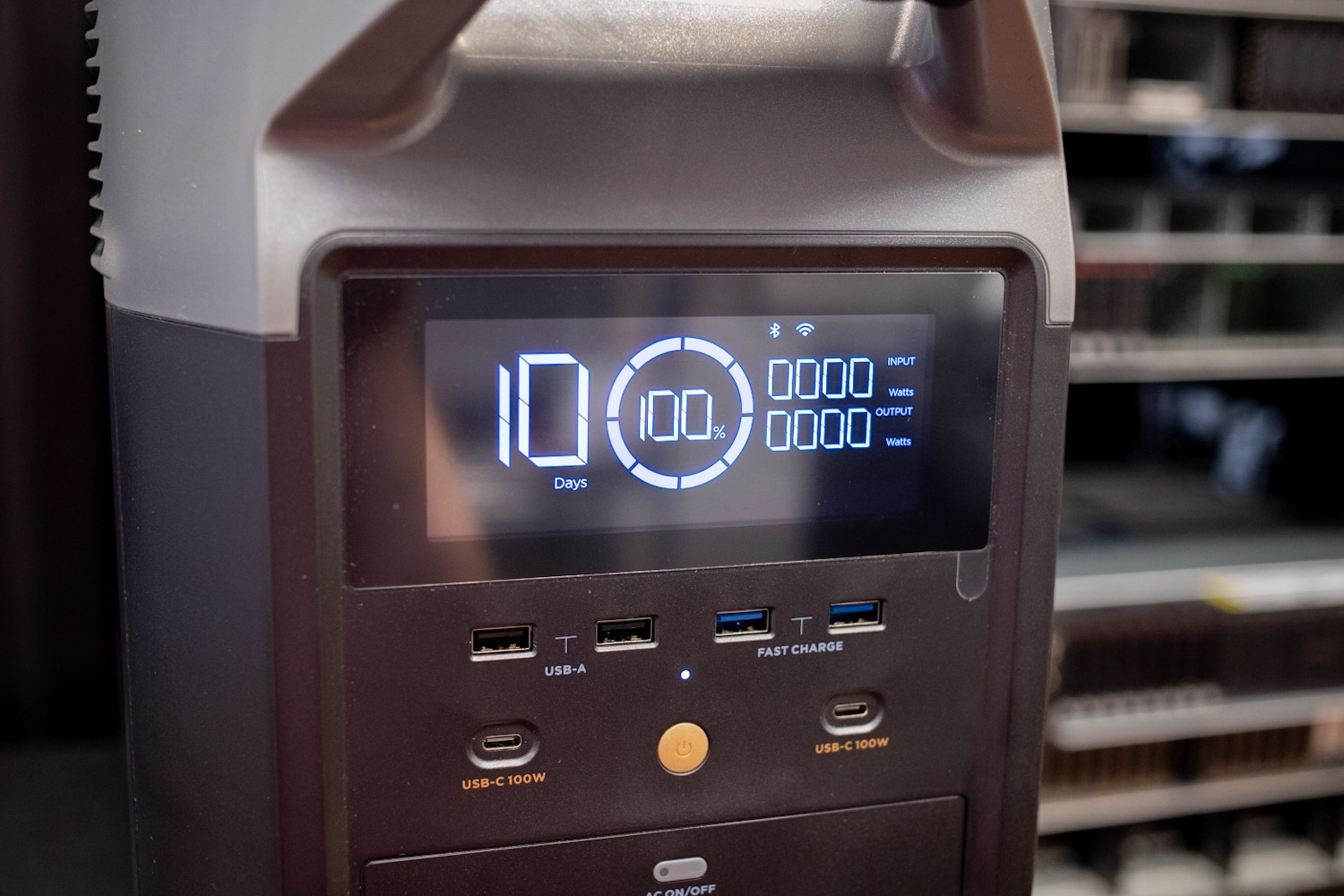 On the DELTA Pro, there are only two buttons on the front of the case, a big yellow button that turns the unit on and off, and another button that controls AC power to the outlets. The on/off port is quite simple, and the AC power on/off allows users to control whether or not there is power delivery to the AC ports.
On the sides of the DELTA Pro, there are fan vents that are used for the Power Station's thermal management system. These fans kick on dynamically during heavier power draws as well as during the fast charging modes. The control firmware is also smart enough to quickly spin down the fans as demands decrease allowing for nearly silent operation when up to and completely turning them off with a low enough load.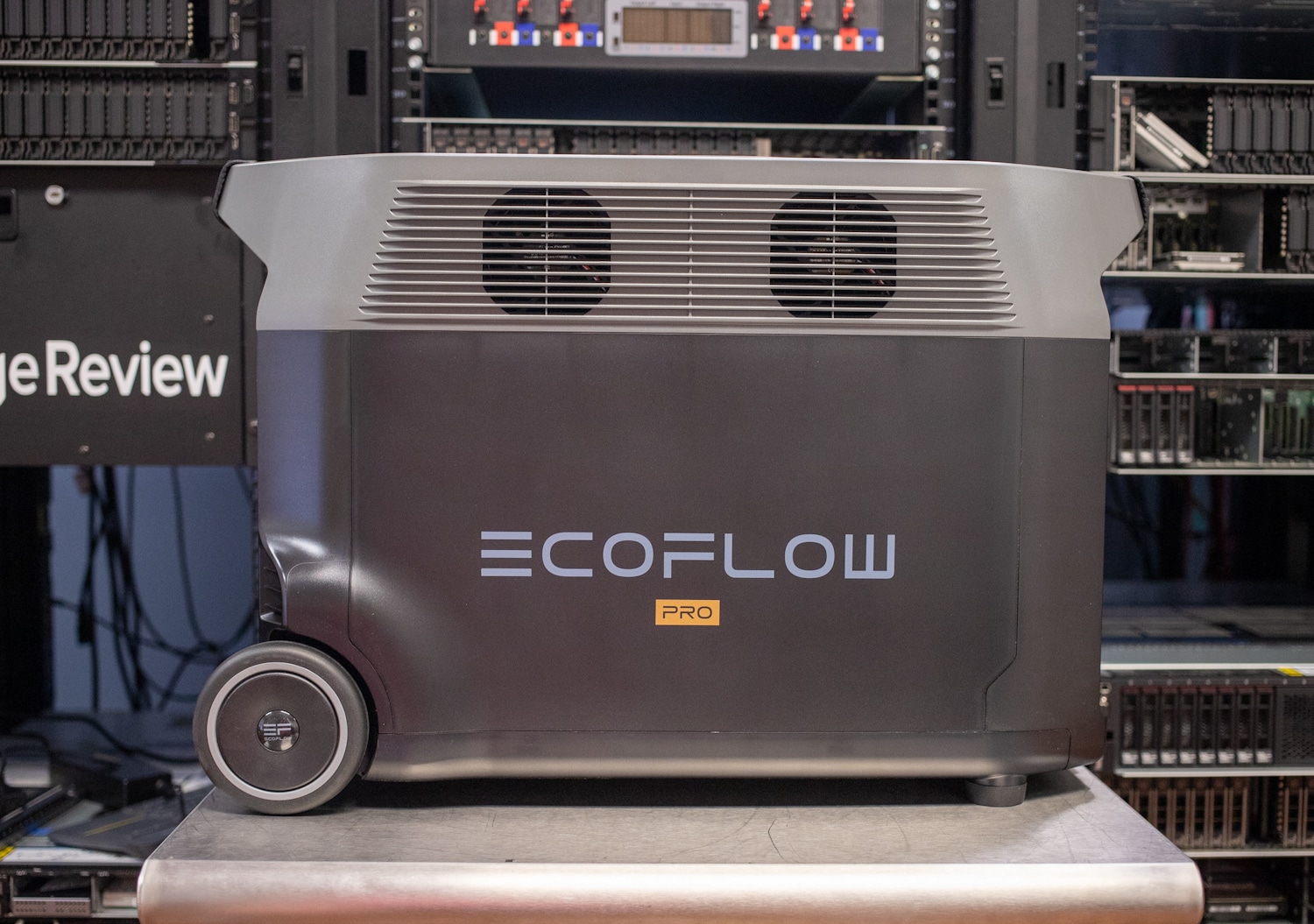 Moving around to the back, there is a little pop-up cover to hide the inputs during deployments. Under the cover are a DC input jack for car or solar charging, a charge-rate selection switch (thank you for making it a physical option, EcoFlow), an AC input plug, and a circuit breaker. Underneath the pop cover, there are two more covers that are two extra battery ports that allow for connections to other devices in the EcoFlow ecosystem, allowing for a battery capacity of up to 25kWh (25,000 Wh).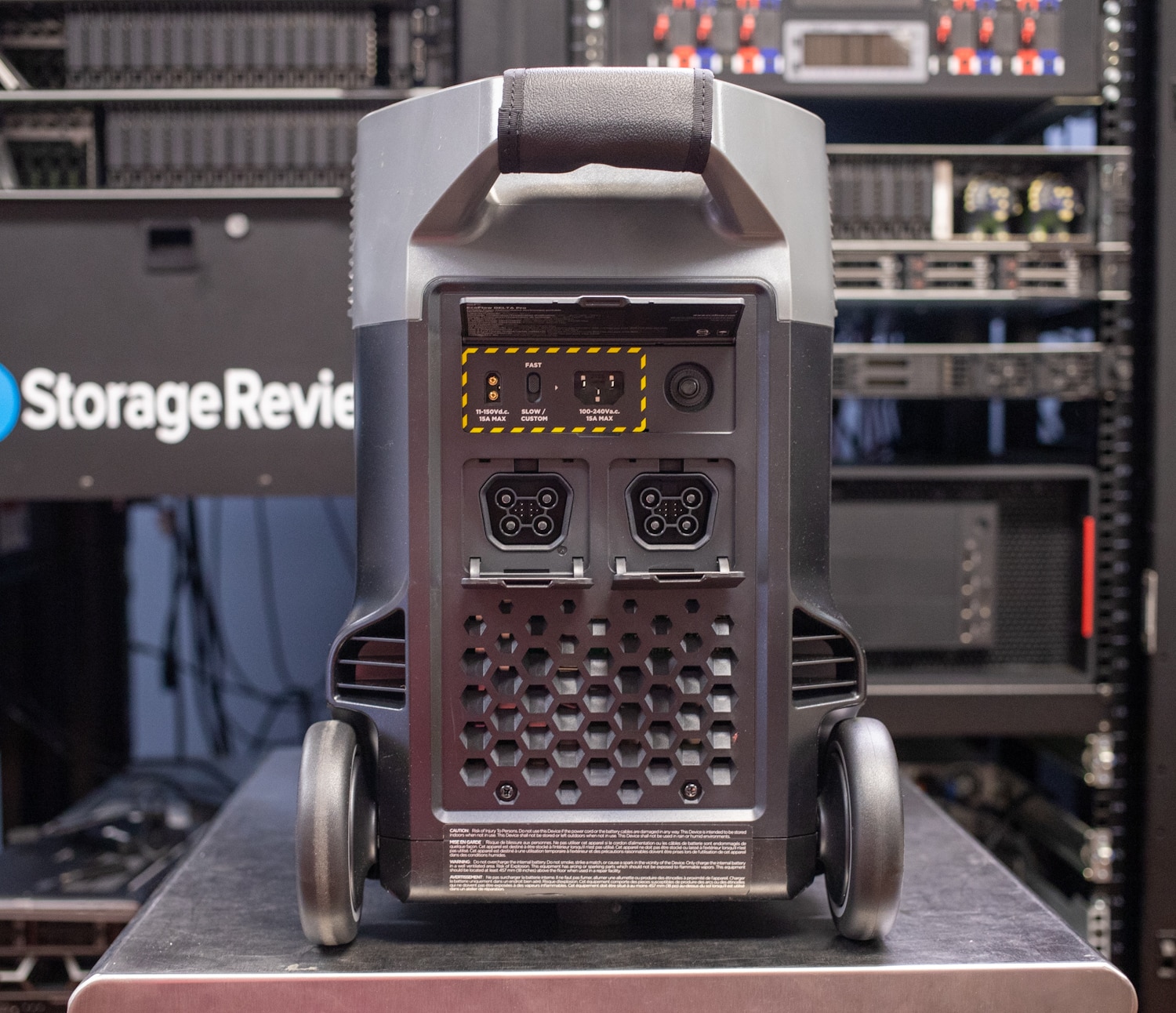 All-in-all, there is a ton of connectivity and ports on the EcoFlow DELTA Pro. On the front, there are two USB-A Fast Charge Output ports along with two regular USB-A Output ports. Then there are two USB-C 100W Output ports, a total of four AC Output Sockets (20A), and one 30A AC port.
On the back, there is a Solar/Car Charging Input, AC Charge Speed Switch, Overload Protection Switch, an X-Stream AC Charging Input Port, and two extra battery ports. Lastly, behind the cover on the side of the DELTA Pro, there is an Anderson Port, car outlet, DC5521 Output port, remote control RJ45 port, an IoT Reset button, pairing button, standby switch, and an Infinity Port.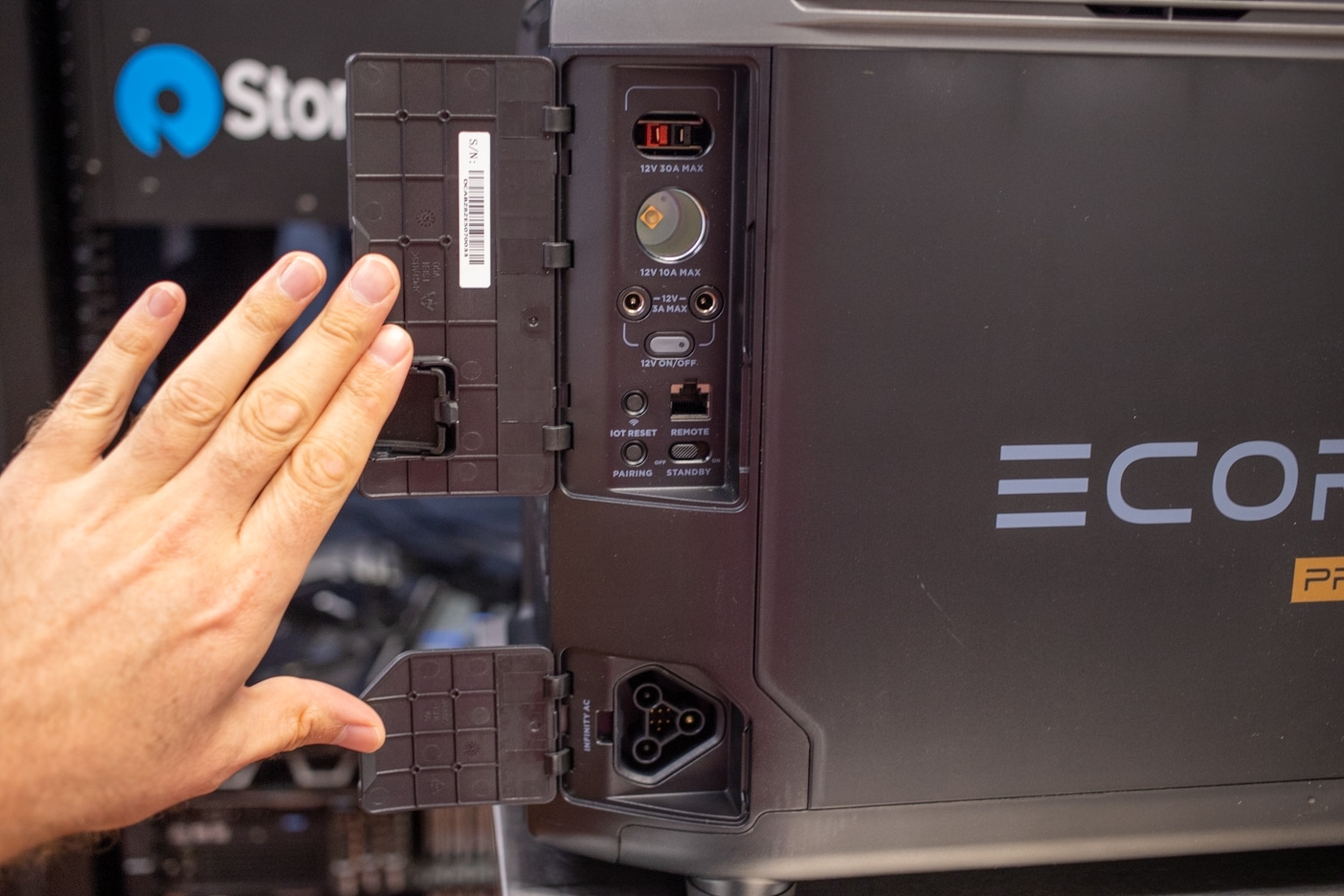 LiFePO4 Battery Technology
One of the most welcome changes to the EcoFlow Delta Pro over the smaller models is the inclusion of newer LiFePO4 battery cells. While the smaller Delta models leverage NCM Lithium batteries, which offer an edge on power density, they don't offer the same amount of lifetime recharge cycles.
While a deep dive into battery technology is a bit much for this review, at the end of the day it comes down to how long the unit will last with frequent charge/discharge cycles. The Delta mini with NCM batteries offers 800 charge cycles to 80% capacity, while the Pro supports 3,500 cycles to 80% or a whopping 6,500 cycles to 50%.
For an average user that breaks out the portable power station during storms or other projects, that might not be a huge deal. For someone that uses the system on a day-to-day basis though, it's a huge bonus to the offering, and something to keep in mind.
EcoFlow Delta Pro Specifications
Capacity
Output

Pure Sine Wave AC Output( ×5): 3600W total (Surge 7200W)
Max Device(s) Power Supported by X-Boost: 4500W
USB-A Output( ×2): 5V, 2.4A, 12W Max per port
USB-A Fast Charge(×2): 5V, 2.4A / 9V, 2A / 12V, 1.5A, 18W Max per port
USB-C Output(×2): 5/9/12/15/20V, 5A, 100W Max per port
Car Power Output(×1): 12.6V, 10A, 126W Max
DC5521(×2): 12.6V, 3A, 38W Max per port

Input

AC Charging: 1800W Max, 120V~15A, 3000W Max, 240V~12.5A
Solar Charging: 1600W Max, 11-150V, 15A Max
Car Charging: Support 12V/24V battery, 8A

Battery

Battery Chemistry: LifePO4
Cycle Life: 6,500 cycles to 50% capacity, 3,500 cycles to 80% capacity
Shelf Life: 1 year

Connectivity
Dimension

25*11.2*16.4 in/63.5*28.4*42cm

Weight

25*11.2*16.4 in/63.5*28.4*42cm

Charge Times

Wall Outlets (US 1800W): 2.7 Hours
Wall Outlets (EU 2900W): 1.9 Hours
240V Outlet (3000W): 1.8 Hours
EV Charging (3400W): 1.7 Hours
AC + Solar + Smart Generator (6500W): <2 Hours

Testing and Certifications
Expanding the Mobile Power Possibilities
EcoFlow offers a wide range of portable power stations which target a huge range of deployment scenarios. While the Delta Mini we reviewed prior focused on a middle segment of an on-the-go power source, there are limits both in peak power draw and battery capacity with the smaller systems. The Delta line from EcoFlow scales from the Mini with a 1,400W inverter and an 882Wh battery up to the Pro with a 3,600W inverter and 3,600Wh battery.
There are other differences in terms of charging capabilities and battery chemistry differences, but at the end of the day, the name of the game is putting as much power as possible into a portable power station, without maintaining portability. The Delta Pro aims to hit that size threshold, while at the same time leaving little to nothing behind.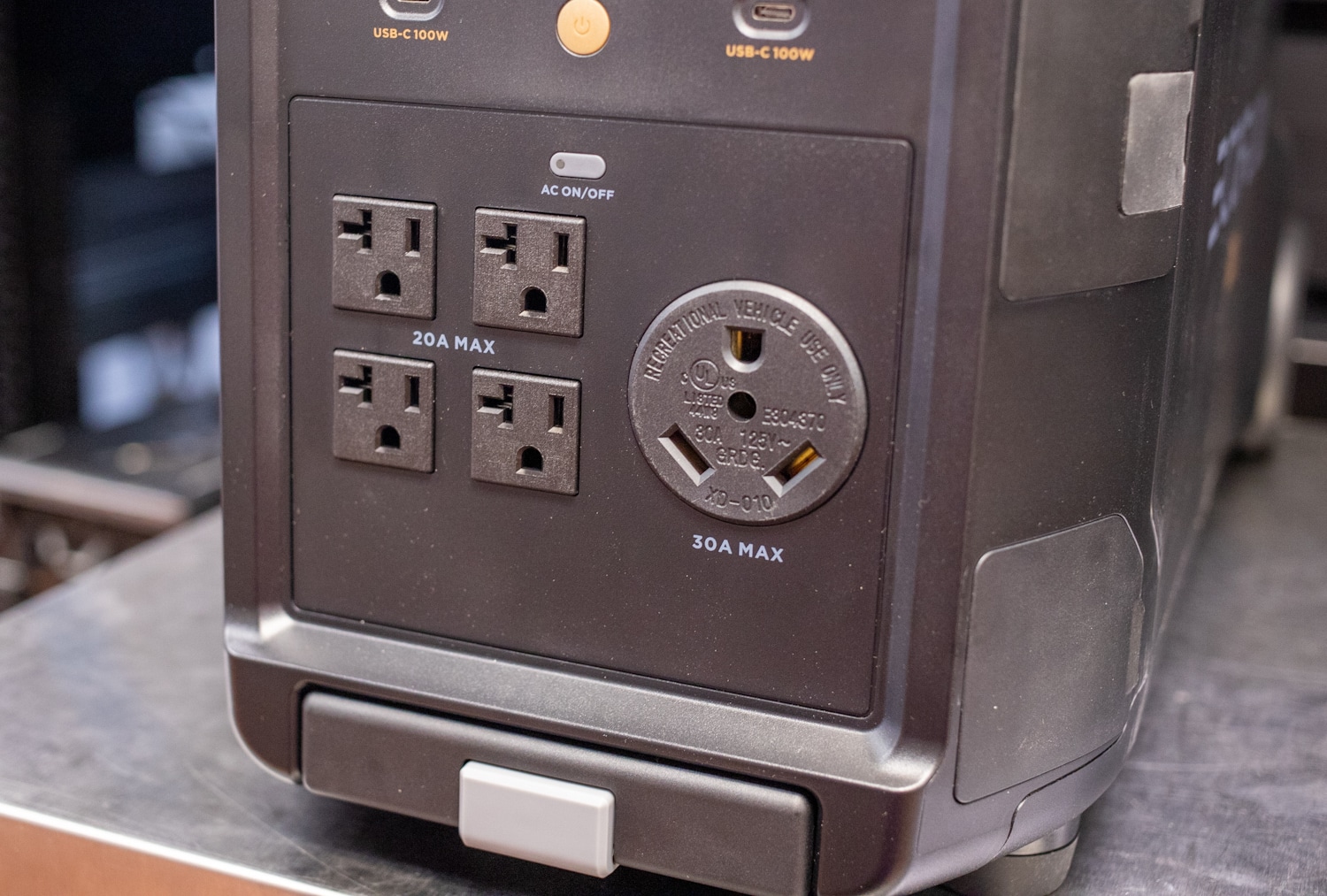 Similar to our past reviews of portable power stations, our focus really comes down to an IT and enterprise focus in this "large" class of power stations. If a smaller unit can operate a handful of computers and some networking hardware, why can't something larger support more gear?
That question was exactly what we set our sights on answering in this review of the EcoFlow Delta Pro; Can we power a portable data center? We filled a Tripp-Lite 14U rack with the usual complement of hardware ranging from a UPS, networking switch, and servers and we are happy to report that the EcoFlow Delta Pro delivered on its promises.
For most IT hardware, a UPS is still needed as the switch-over times from utility power to battery power transitions are much tighter on a dedicated UPS than on a portable power station. When switching from AC passthrough to battery power, many portable power stations have a small delay in the range of 30ms, which can cause issues with sensitive equipment. For that reason, we utilized a smaller UPS to handle switchover times, while still putting the primary power demands on the portable power station.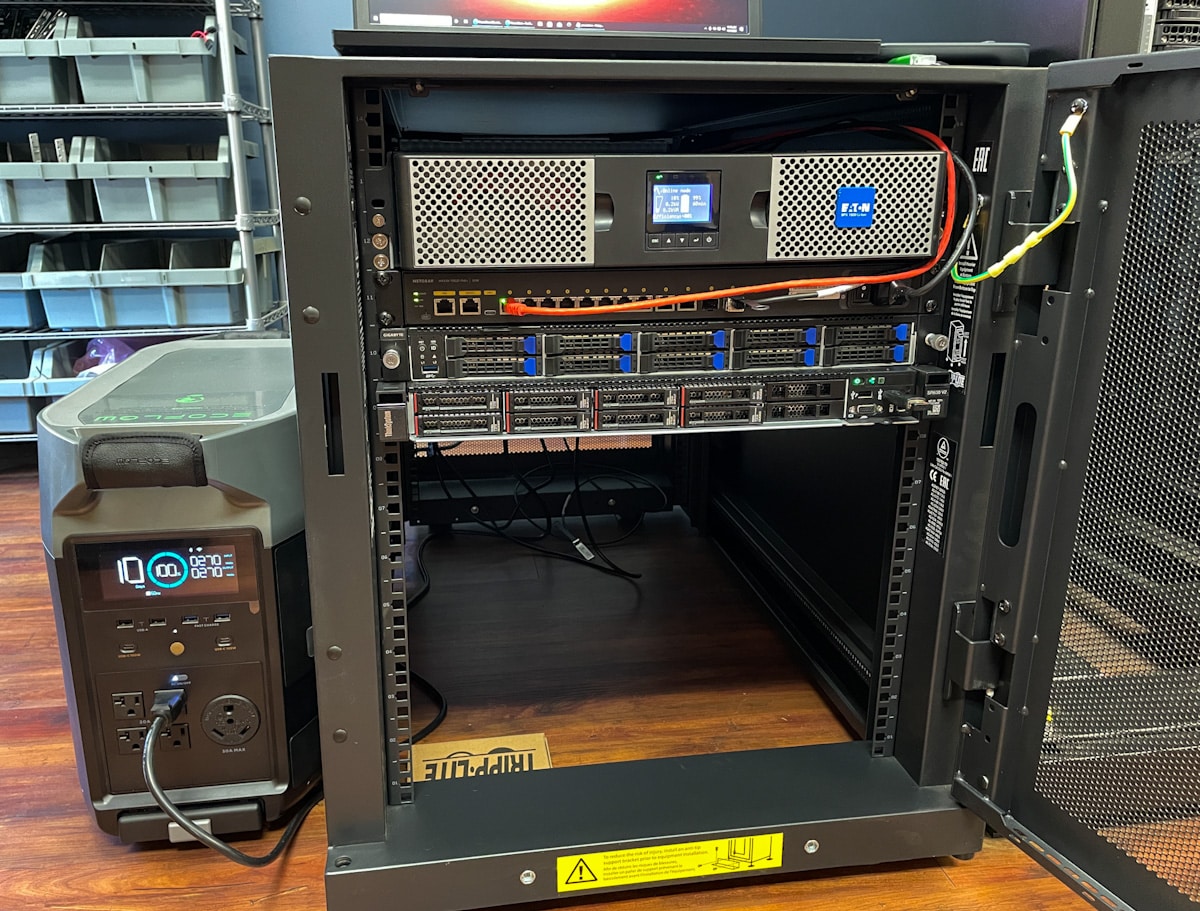 Our deployment idea was geared toward two different scenarios. One is standing up hardware without any external power source, while the other was providing backup power during an extended power outage. Remote deployments can be common for edge solutions, where the goal is to stand up equipment for data/media capture, and once power or storage is depleted, wrap up the project. We touched on this a bit in our Extreme Edge article for Astrophotography, but not all locations will have power available. Another situation could be an extended power outage or equipment transport during operation.
The EcoFlow Delta Pro is well suited for both situations with its high-capacity battery and very large power inverter. Remote deployments really come down to sizing the battery up against the power demands of the equipment and the required runtime of the project. The EcoFlow Delta Pro offers a 3600Wh battery which we measured to give us 3000Wh of capacity in a discharge scenario of a 350W load. Charging it again fully required 4180Wh. With that figure, the Delta Pro would offer just under 8.6 hours of runtime. You can extend that significantly with add-on battery packs if required.
The large power inverter also comes in handy for situations where the primary need is keeping as much equipment online as possible, or absorbing significant spikes in load during startup sequences. The Delta Pro is able to absorb spikes as high as 7,200W or maintain continuous loads of 3,600W.
While compressors or electric motors are obvious power hogs, computer equipment starting up will have significantly higher demands than once it reaches an operating state and idles down. Using the Delta Pro as a buffer between a lower wattage circuit and higher power draw equipment can help balance power needs in a remote setting.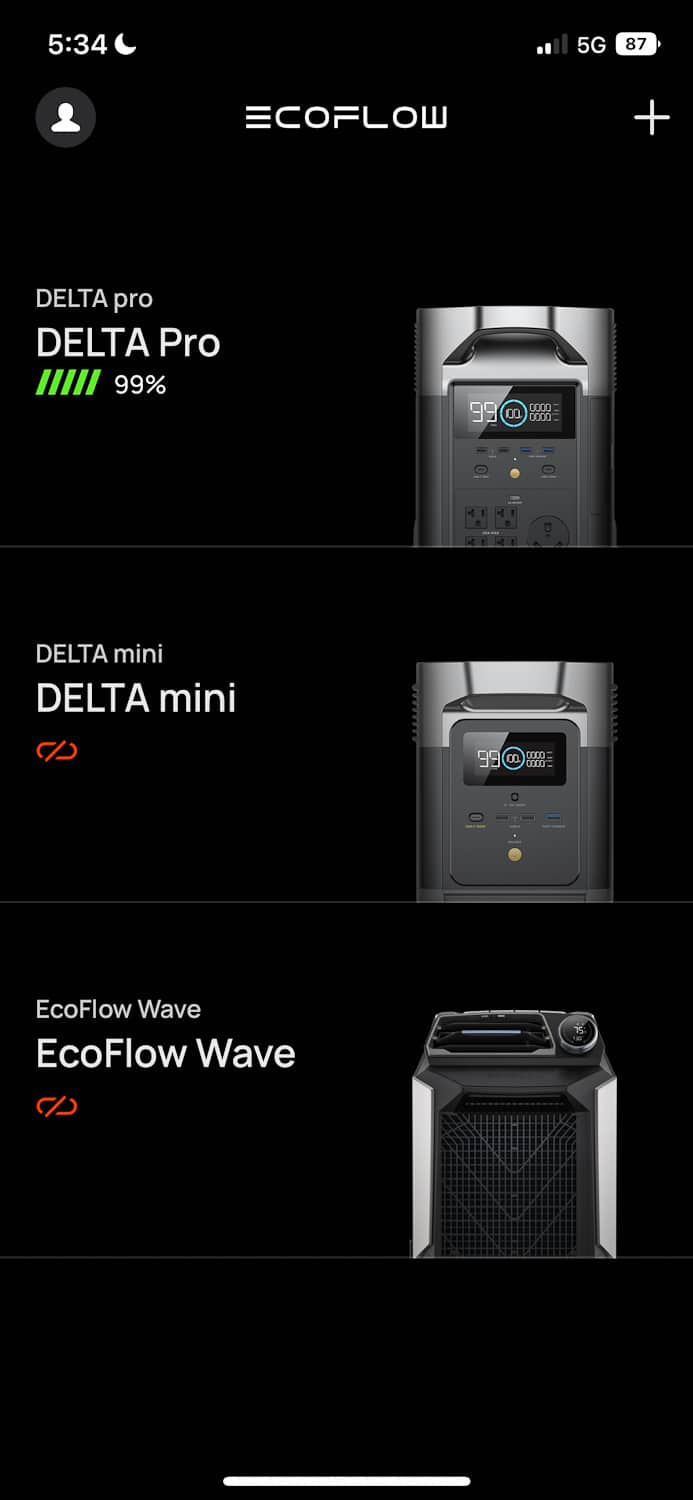 During use, EcoFlow offers an excellent app to monitor and control their equipment locally or remotely. The EcoFlow App aggregates all of your equipment into one area and gives you a remote view of how things are running as long as you have internet access on both sides. If you are out in the sticks local control is an option. In our use, the app helped out quite often to monitor things and make sure the unit was running as expected.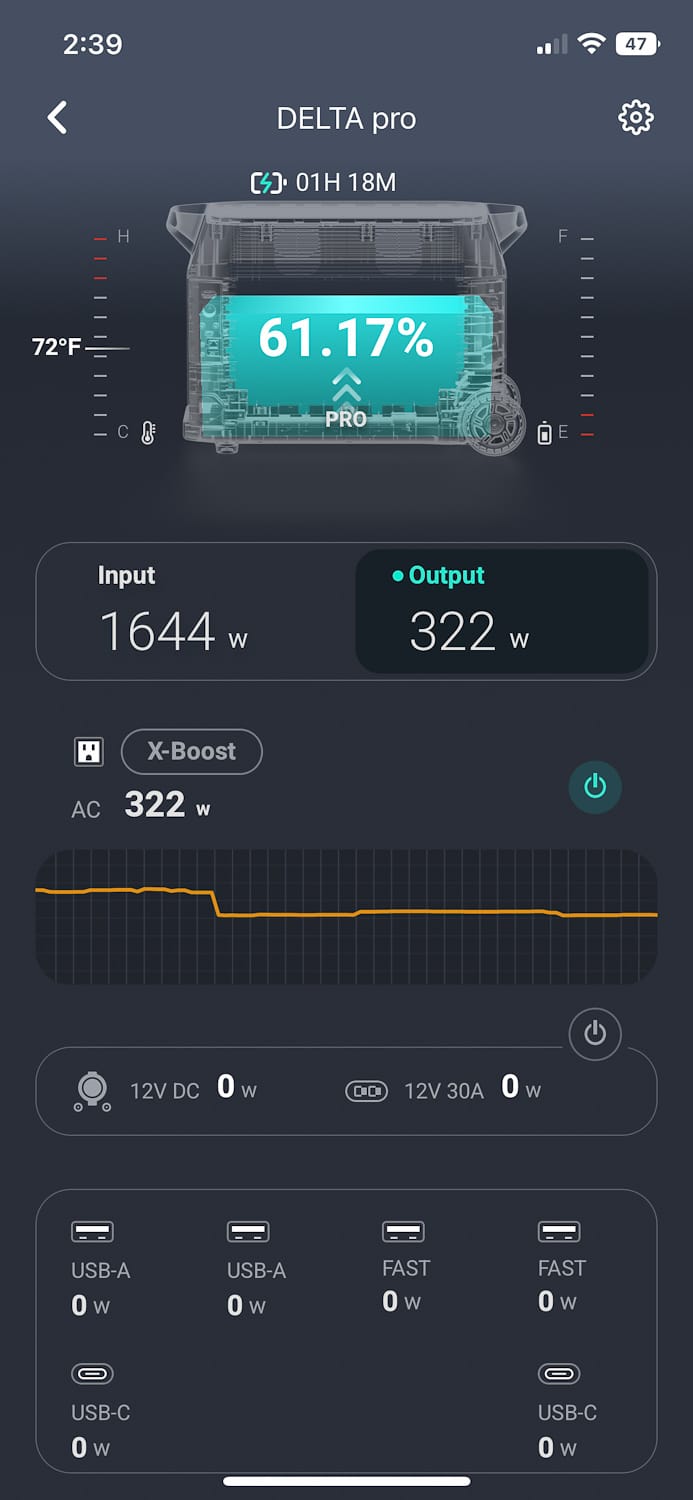 The EcoFlow App gives you the ability to quickly glance over how things are running and adjust various settings. Usage over time is tracked for output and solar input is also given a similar view. It would be nice to have a wider historical view to tap into or see peak stats to know if you had some device draw a huge amount of power at a certain time.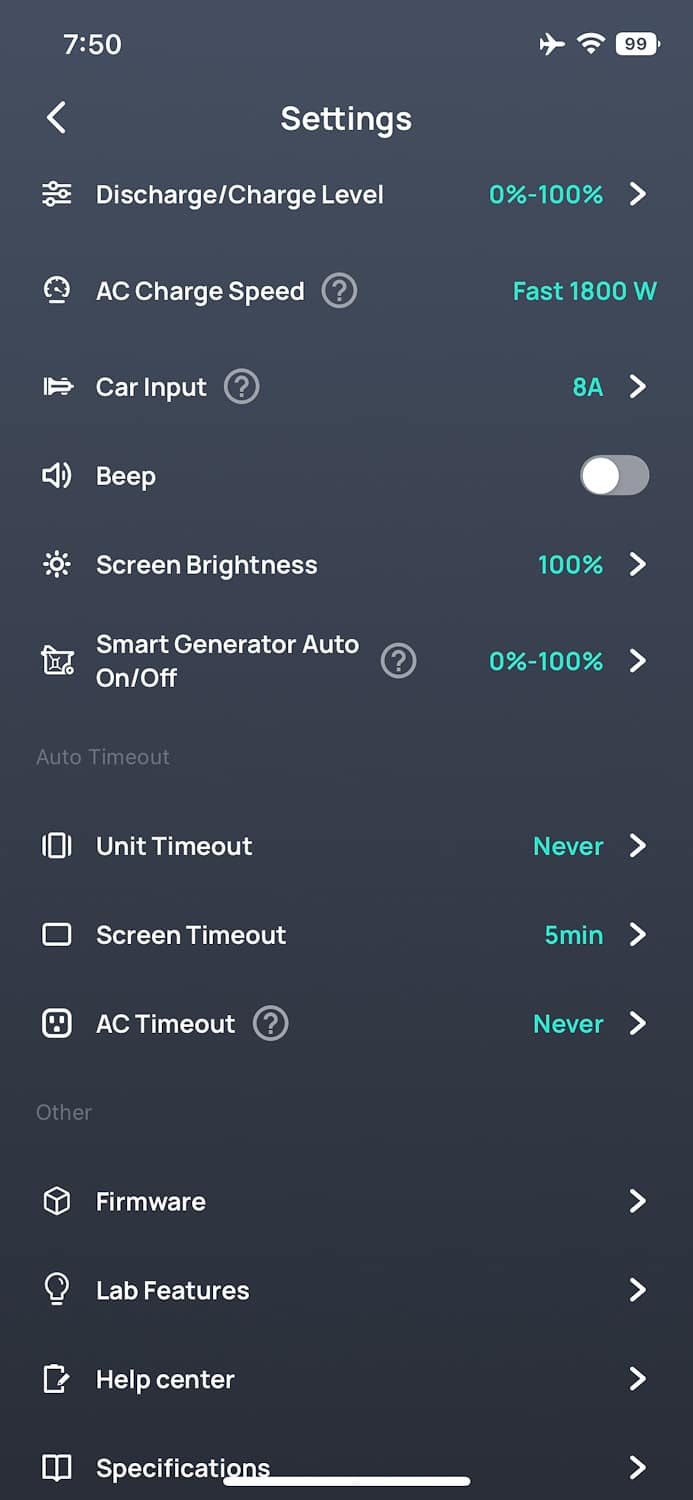 Basic operating like turning the AC outlets on and off, and adjusting charging speeds, and charging thresholds are all at your fingertips. You can also manage firmware upgrades through the app as well, which is pretty straightforward when the time comes. Through the settings page, an orange dot is indicated next to the firmware setting and you can click upgrade if you want to kick it off at that time.
Conclusion
Overall the EcoFlow Delta Pro is a highly versatile professional-grade portable power platform. It offers a unique blend of high output capabilities with a 3.6kW inverter blended with a huge 3.6kWh LiFePO4 battery. The newer battery technology allows it to support thousands of charge cycles for near-constant usage without worrying that you will run down the batteries from wear anytime soon.
Charging support is probably the most extensive we've seen in a portable power station to date, ranging from low-current DC input from a car, to solar and AC charging all the way up to adapters to use public EV chargers. Extended runtime is also folded in with support for additional battery packs and even a matching gas generator.
The Delta Pro fits in a realm of portable power that is probably the largest unit you could fit on wheels before it becomes too large to move around easily. Sitting in a remote lab or in the field the Delta Pro is up to the task, offering a very nice build and without feeling like anything could get broken being carted around. Obviously, there are limits to its durability, mostly that you can't leave it exposed to the elements, but it can stand up equipment in areas that are far out of reach of traditional power sources.
For businesses or individuals that need to operate at the extreme edge or keep equipment running during extended power outages, the EcoFlow Delta Pro is an excellent option.
Engage with StorageReview
Newsletter | YouTube | Podcast iTunes/Spotify | Instagram | Twitter | TikTok | RSS Feed