The Samsung 990 Pro is the company's latest (and much anticipated) addition to its popular enthusiast NVMe SSD line.  Currently available in capacities of 1TB and 2TB, the 990 Pro is the direct successor to the 980 Pro–one of the first (and best) client PCIe Gen4 SSDs to hit the market.  Like its predecessor, this is a premium SSD designed to handle the needs of enthusiasts in use cases like gaming, professional applications and content creation.
The Samsung 990 Pro is the company's latest (and much anticipated) addition to its popular enthusiast NVMe SSD line.  Currently available in capacities of 1TB and 2TB, the 990 Pro is the direct successor to the 980 Pro–one of the first (and best) client PCIe Gen4 SSDs to hit the market.  Like its predecessor, this is a premium SSD designed to handle the needs of enthusiasts in use cases like gaming, professional applications and content creation.
Samsung 990 Pro Features and Components
The 990 Pro is the first drive to leverage Samsung's 7th-generation TLC V-NAND technology. It is also powered by the company's new Pascal controller, the world's first 8nm controller for consumer SSDs (its predecessor leveraged an Elpis model).
With this new controller, Samsung indicates a 50% improvement in power efficiency over the 980 Pro, which helps to increase battery life on portable systems. Moreover, the Pascal controller also supports faster data processing due to its lower latency and increases idle time, while reducing overall power draw.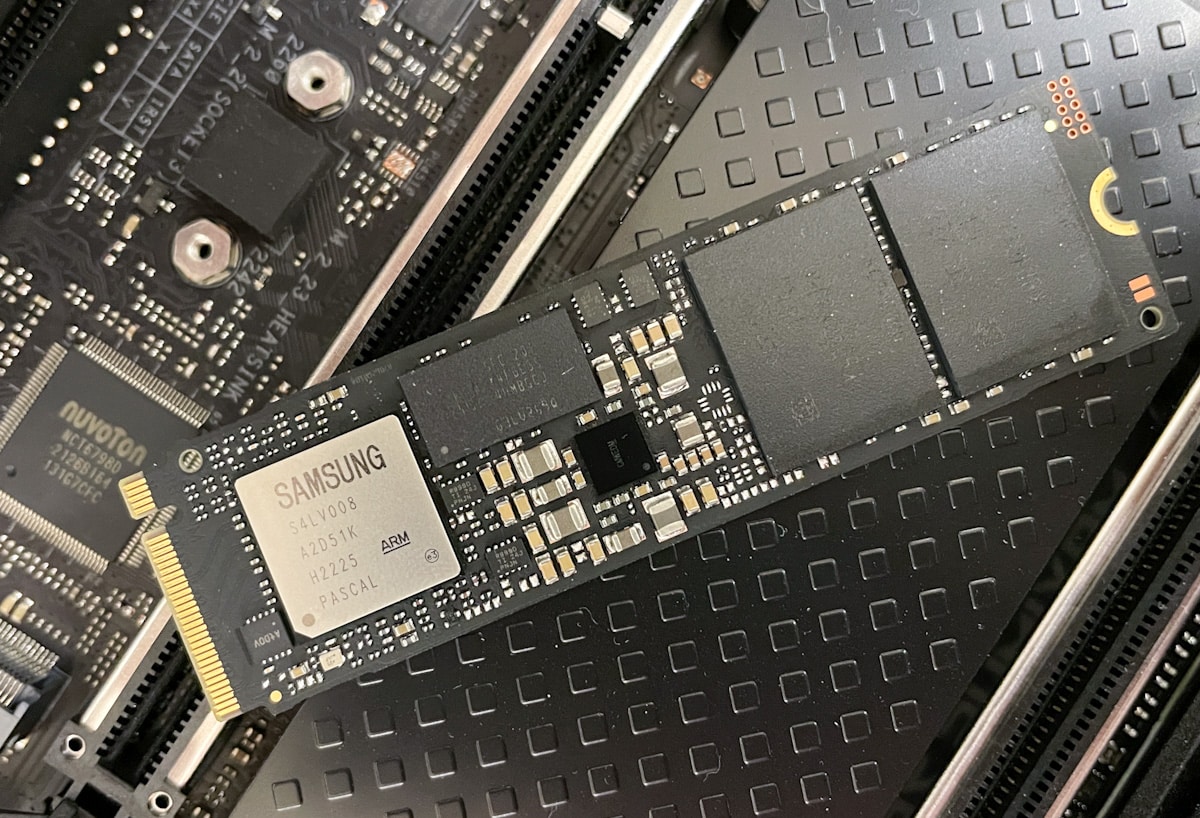 As far as its performance goes, the 990 Pro Series is quoted to deliver sequential read and write speeds of up to 7,450 MB/s and 6,900 MB/s, respectively, which is a reasonable improvement over the Samsung 980 Pro's 7GB/s read and 5GB/s write.
For random read and write speeds, it is expected to top out at around 1,400K read and 1,550K IOPS write. This translates to an (up to) 55% improvement in random performance over its predecessor, making this well-suited for heavy gaming, creative work, and productivity tasks.
The 990 Pro is designed with nickel coated controller to improve overall heat management. It also features a heat spreader label and Samsung's Dynamic Thermal Guard Technology to help keep the power-driven SSD at optimal temperature during heavy use (like gaming or video rendering) without any performance degradation.
For data reliability, the Samsung 990 Pro is specced with endurance up to 1,200TB written (2TB capacity) and an MTBF of 1.5 million hours for all models, which will meet the needs of pretty much all its users.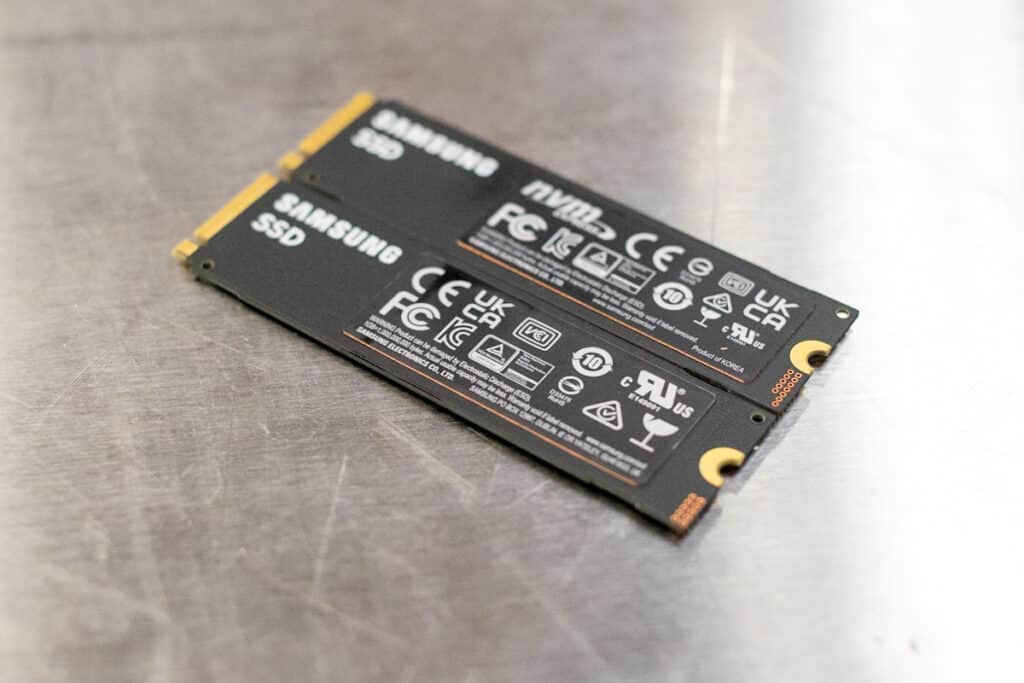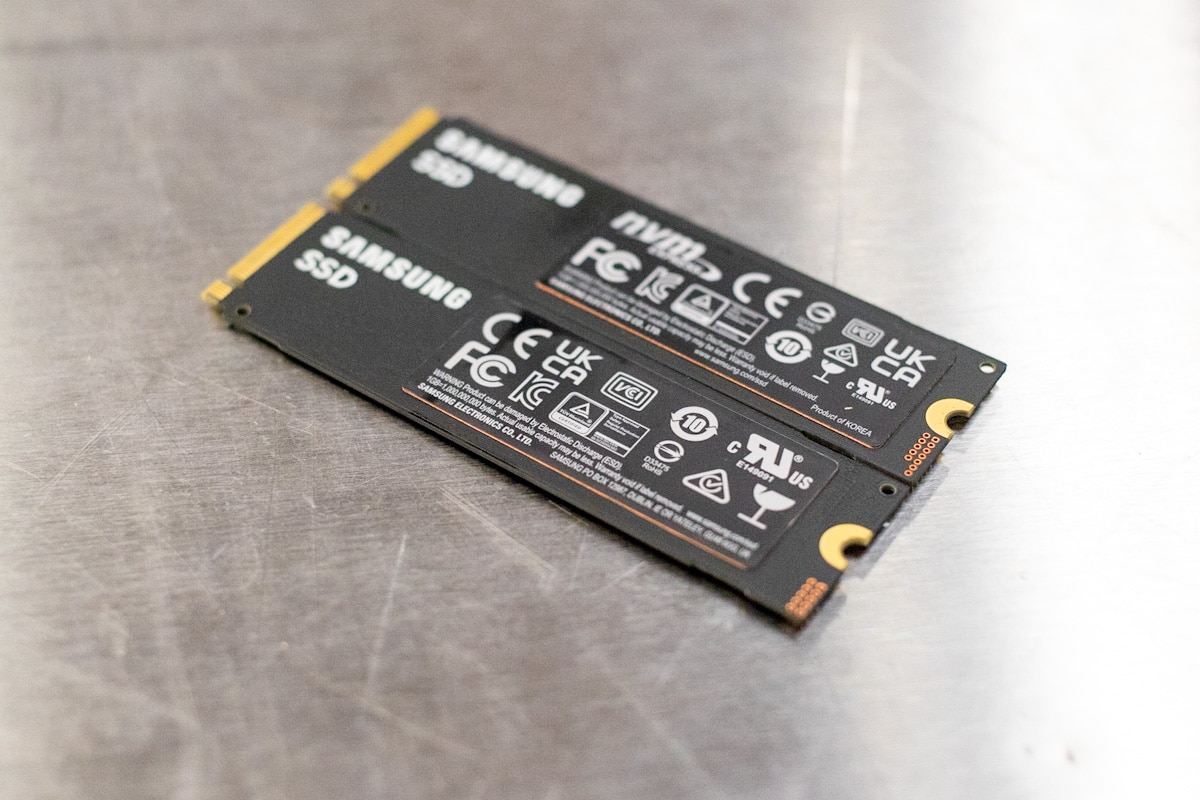 Probably one of the more significant improvements over the 980 Pro is that Samsung plans to release a 4TB model sometime in 2023, which will be the highest capacity point yet for the Samsung Pro line. Having a high-end 4TB capacity SSD available on the market is something that serious PC gamers and content creators will look forward to (mostly due to the ever-growing file and installation sizes). However, if the current pricing for 4TB drives is any indication, it will most definitely come at a hefty price tag.
Samsung 990 Pro and Intelligent TurboWrite 2.0
The 990 Pro features newly enhanced Intelligent TurboWrite 2.0 technology. Compared to the previous Intelligent TurboWrite, Intelligent TurboWrite 2.0 provides up to 3 times larger buffer.
When looking at the 2TB model, the default pre-allocated TurboWrite region is 10GB, which can also allocate an additional 216GB as a dynamic SLC buffer. This increases the total SLC buffer to a total of 226GB. This means that PCIe Gen4 performance will be consistent even under large workloads, though some real-world results might not be as noticeable.
Samsung 990 Pro Management
The 990 Pro can be managed by the Samsung Magician SSD tool. We did a deep dive into this software last year, and found it to be the best-in-class when it comes to SSD management tools, including ease of use, functionality, and look and feel. Overall, the interface is intelligently designed as well as responsive and easy to navigate for both new and experienced users.  The only nitpick we had is that it does not support their popular SD cards (like the Samsung EVO SD and Samsung PRO microSD cards).
Nonetheless, you can see the 2TB Samsung 990 Pro clearly listed on the drive dashboard, giving us some useful at-a-glance information, such as the drive health, latest benchmark results, remaining capacity, temperature, and how many bytes written.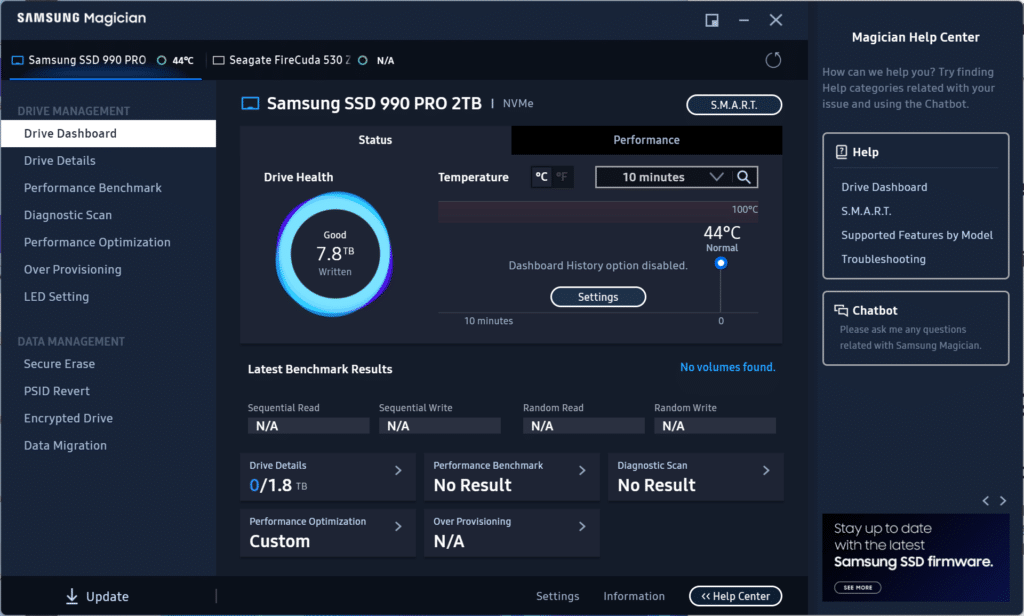 The drive details section displays more exhaustive information about the drive, including its name, serial number, firmware version, interface (in this case, PCIe Gen4x4), NVMe driver, and volumes.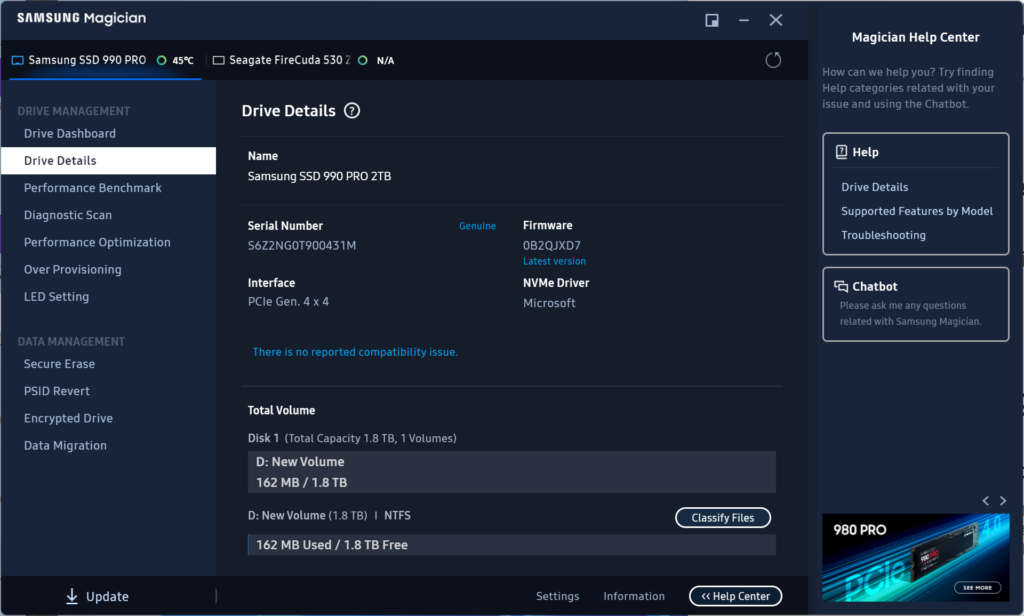 In the Performance Optimization section, you can easily set the 990 to 4 different performance modes: Full performance, Standard, power saving, and custom.  Most users will opt for the Full performance mode, as this will likely be the main drive of a high-end desktop PC.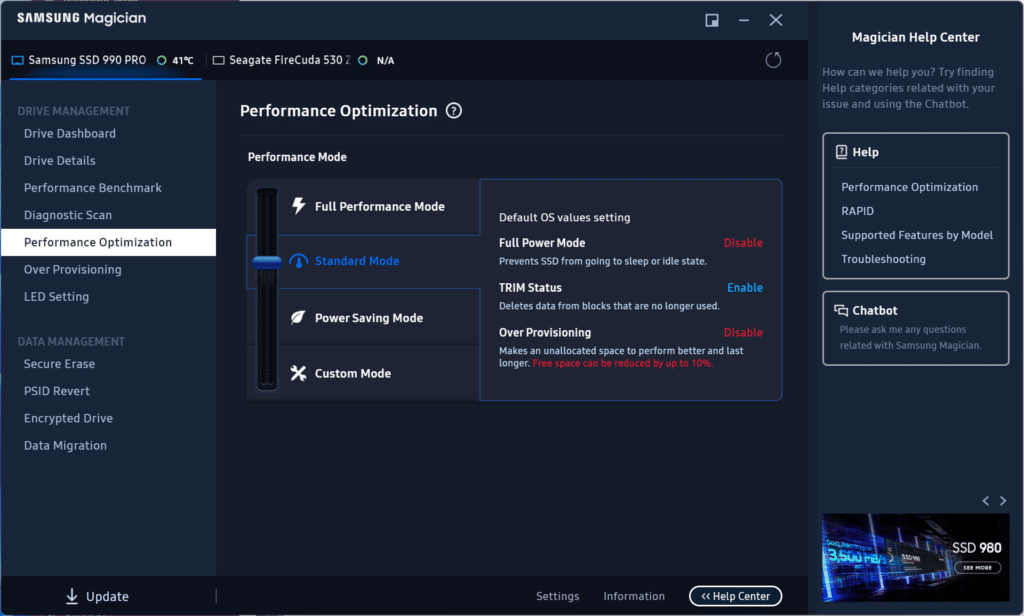 Samsung 990 Pro Warranty and Pricing
Backed by the usual 5-year warranty, the Samsung 990 Pro goes for roughly $170 (1TB), $290 (2TB),  $190 (1TB with heatsink), and $310 (2TB with heatsink). The 4TB model is slated for a release sometime in 2023. We will be looking at the 2TB model for this review.
Samsung 990 Pro Specifications
Usage Application
Client PCs, Sony PlayStation
Interface
PCIe Gen 4.0 x4, NVMe 2.0
Hardware Information
Capacity
1TB
2TB
Controller
Samsung in-house Controller S4LV008
NAND Flash Memory
Samsung V-NAND TLC
DRAM Cache Memory
1GB LPDDR4
2GB LPDDR4
Dimension
M.2
Max 80.0 x Max 22 x Max 2.3 (mm)
Heatsink
Max 80.0 x Max 24.3 x Max 8.2 (mm)
Form Factor
M.2 (2280)
Performance

(Up to)

Sequential Read
7,450MB/s
7,450MB/s
Sequential Write
6,900MB/s
6,900MB/s
QD 1

Thread 1

Ran. Read
22K IOPS
22K IOPS
Ran. Write
80K IOPS
80K IOPS
QD 32

Thread 16

Ran. Read
1,200K IOPS
1400K IOPS
Ran. Write
1,550K IOPS
1,550K IOPS
Power Consumption
(Up to)
Idle (APST on)
50mW
55mW
Active (Avg.)
Read
5.4 W
5.8W
Write
5.0 W
5.1W
L1.2 mode
5 mW
Reliability
 Temp.
Operating
0°C to 70°C

(Measured by S.M.A.R.T. Temperature Proper airflow recommended)

Non-Operating
-40°C to 85°C
Humidity
5% to 95% non-condensing
Shock
Non-Operating
1,500G (Gravity), duration: 0.5ms, 3 axis
Vibration
Non-Operating
20~2,000Hz, 20G
MTBF
1.5 million hours
Warranty
TBW
600TB
1,200TB
Period
5 years limited
Supporting Features
TRIM (Required OS support), Garbage Collection, S.M.A.R.T
Data Security
AES 256-bit Full Disk Encryption, TCG/Opal V2.0, Encrypted Drive (IEEE1667)
Samsung 990 Pro Design and Build
Samsung 990 Pro looks virtually identical to the 980 Pro. It has the usual plastic sticker on the front, which displays details about the SSD, serial numbers, and capacity. The back has an additional sticker with heat-conductive properties.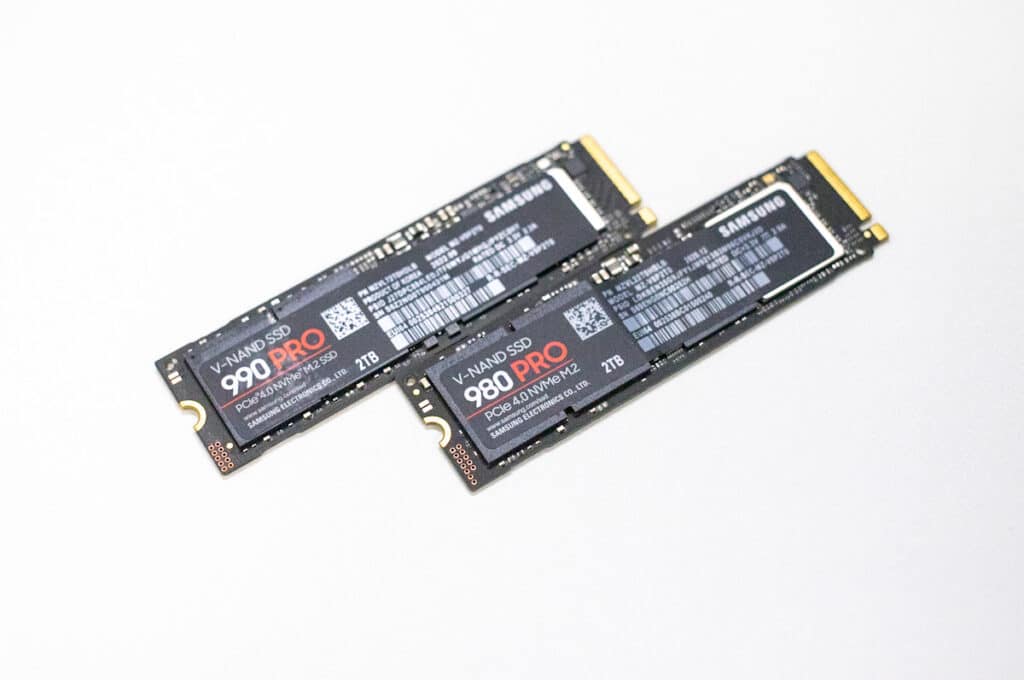 The 990 Pro comes in a slim (8.2mm) heatsink model, which offers users another layer of thermal control when dealing with heavy workloads. It features embedded RGB lights, which can be customized via the Samsung Magician Software. This gives it a unique flair. Because the heatsink meets the PCI-SIG D8 standards, it will fit inside desktops, consoles, and even laptops.

Samsung 990 Pro Performance
Testbed
For database and synthetic testing, we leverage the Lenovo ThinkSystem SR635 server, equipped with an AMD 7742 CPU and 512GB of 3200Mhz DDR4 memory. NVMe is tested natively through an M.2 to PCIe adapter card in the edge-card slot. A large focus is put on drive latency across the entire load range of the drive, not just at the smallest QD1 (Queue-Depth 1) levels. We do this because many of the common consumer benchmarks don't adequately capture end-user workload profiles. For our added BlackMagic Disk Speed Test performed in Windows, we use our self-built StorageReview desktop.
We are reviewing the 2TB version of the Samsung 990 Pro drive and will be comparing it to the following PCIe Gen4x4 drives:
Samsung 990 Pro SQL Server Performance
Each SQL Server VM is configured with two vDisks: 100GB volume for boot and a 500GB volume for the database and log files. From a system resource perspective, we configured each VM with 16 vCPUs, 64GB of DRAM and leveraged the LSI Logic SAS SCSI controller. While our Sysbench workloads tested previously saturated the platform in both storage I/O and capacity, the SQL test is looking for latency performance.
This test uses SQL Server 2014 running on Windows Server 2012 R2 guest VMs and is stressed by Quest's Benchmark Factory for Databases. StorageReview's Microsoft SQL Server OLTP testing protocol employs the current draft of the Transaction Processing Performance Council's Benchmark C (TPC-C), an online transaction-processing benchmark that simulates the activities found in complex application environments.
The TPC-C benchmark comes closer than synthetic performance benchmarks to gauging the performance strengths and bottlenecks of storage infrastructure in database environments. Each instance of our SQL Server VM for this review uses a 333GB (1,500 scale) SQL Server database and measures the transactional performance and latency under a load of 15,000 virtual users.
SQL Server Testing Configuration (per VM)
Windows Server 2012 R2
Storage Footprint: 600GB allocated, 500GB used
Database Size: 1,500 scale
Virtual Client Load: 15,000
RAM Buffer: 48GB
2.5 hours preconditioning
30 minutes sample period
Starting with SQL average latency, the Samsung 990 Pro posted 3ms, which placed it in the upper part of the consumer NVMe SSD leaderboard. It was, however, outperformed by its predecessor by 1ms.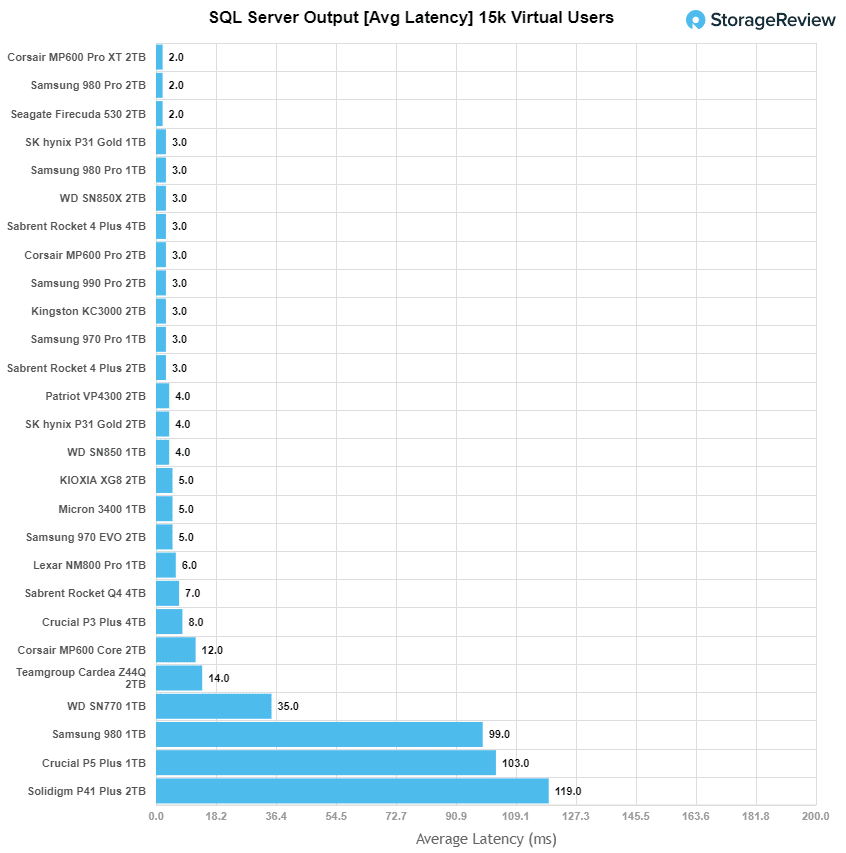 VDBench Workload Analysis
When it comes to benchmarking storage devices, application testing is best, and synthetic testing comes in second place. While not a perfect representation of actual workloads, synthetic tests do help to baseline storage devices with a repeatability factor that makes it easy to do an apples-to-apples comparison between competing solutions. These workloads offer a range of different testing profiles ranging from "four corners" tests, common database transfer size tests, to trace captures from different VDI environments.
All of these tests leverage the common vdBench workload generator, with a scripting engine to automate and capture results over a large compute testing cluster. This allows us to repeat the same workloads across a wide range of storage devices, including flash arrays and individual storage devices. Our testing process for these benchmarks fills the entire drive surface with data, then partitions a drive section equal to 1% of the drive capacity to simulate how the drive might respond to application workloads. This is different from full entropy tests which use 100% of the drive and take them into a steady state. As a result, these figures will reflect higher-sustained write speeds.
Profiles:
4K Random Read: 100% Read, 128 threads, 0-120% iorate
4K Random Write: 100% Write, 64 threads, 0-120% iorate
64K Sequential Read: 100% Read, 16 threads, 0-120% iorate
64K Sequential Write: 100% Write, 8 threads, 0-120% iorate
Starting with 4k random read, the Samsung 990 Pro showed some great performance (2nd place) with a peak of 961K IOPS at a latency of 131.5µs, which was trailing just the SK hynix P41. This was a noticeable improvement over the 980, which posted a peak of 523K IOPS at 244µs.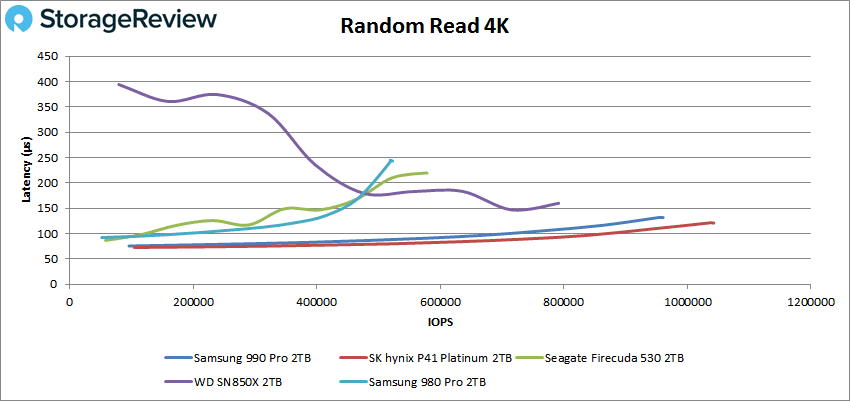 For 4K random write, Samsung 990 Pro first place (a hair better than the Firecuda 530), peaking at 573K IOPS and 217.6µs, again improving on its predecessor's performance.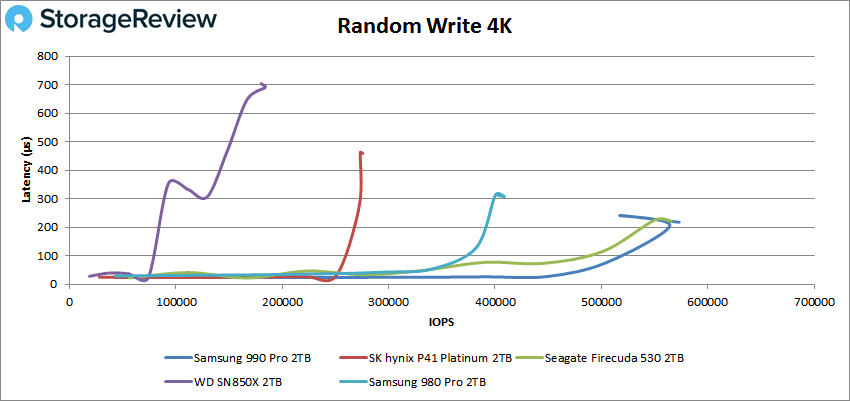 Switching to sequential workloads, where we look at our 64K tests, the Samsung 990 Pro showed strong performance. In reads, it placed just behind the WD SN850 for 3rd with a peak throughput of 89K IOPS (or 5.54GB/s) with a latency of 356.4µs.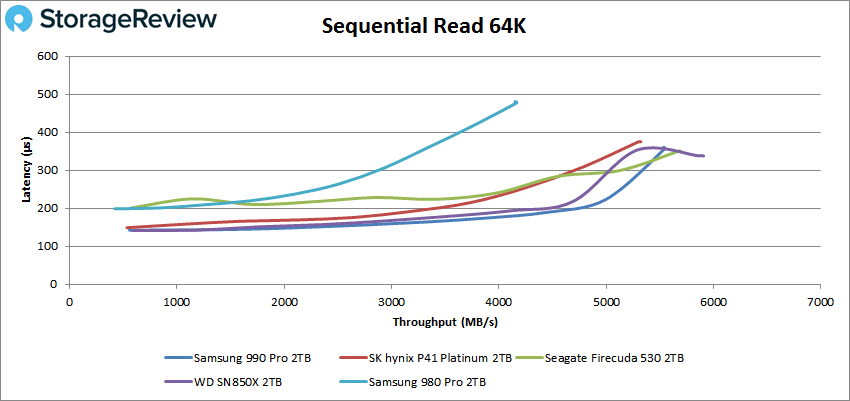 In 64K sequential writes, the Samsung 990 Pro moved back to first place, posting a peak score of 36K IOPS or 2.55GB/s at a latency of 436.3µs before taking a slight dip in performance.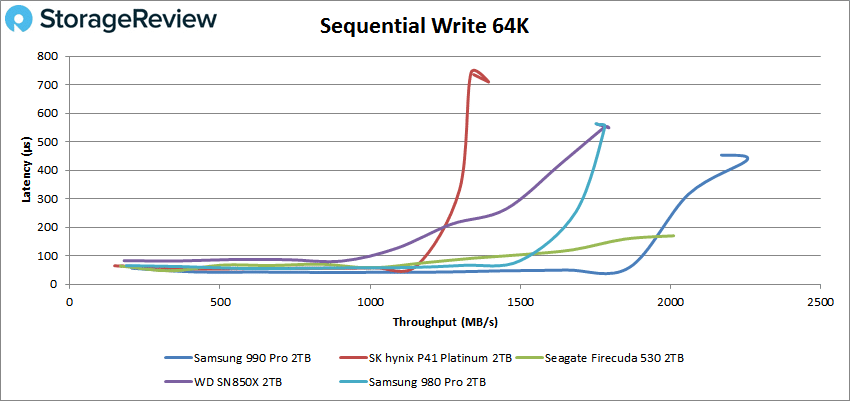 Next, we looked at our VDI benchmarks, which are designed to tax the drives even further. These tests include Boot, Initial Login, and Monday Login. Starting with Boot, the Samsung 990 Pro struggled after it hit 60K IOPS, ending with a disappointing peak of 77K IOPS with a latency of 424.8µs.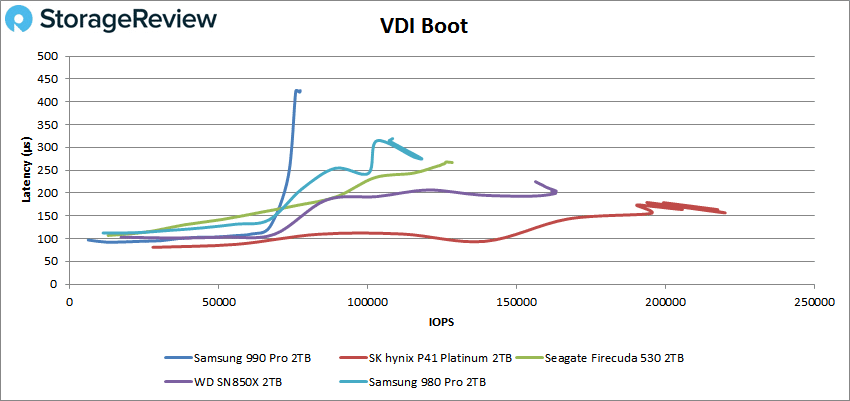 Our VDI Initial Login produced some messy results in our charts, as usual. That said, the Samsung 990 Pro had a peak of 71K IOPS with a latency of 411.4µs, putting it back in first place among tested SSDs.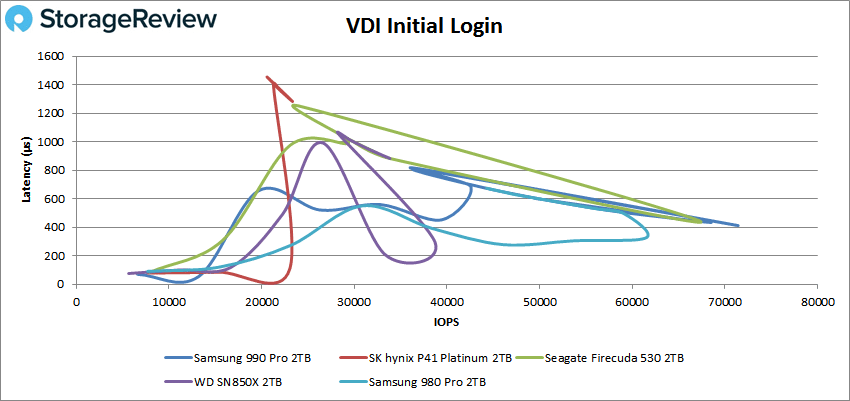 Finally, VDI Monday Login (where results were hard to decipher once again) saw the Samsung 990 Pro peak at 28K IOPS (near the back of the pack) with a latency of 527.9µs.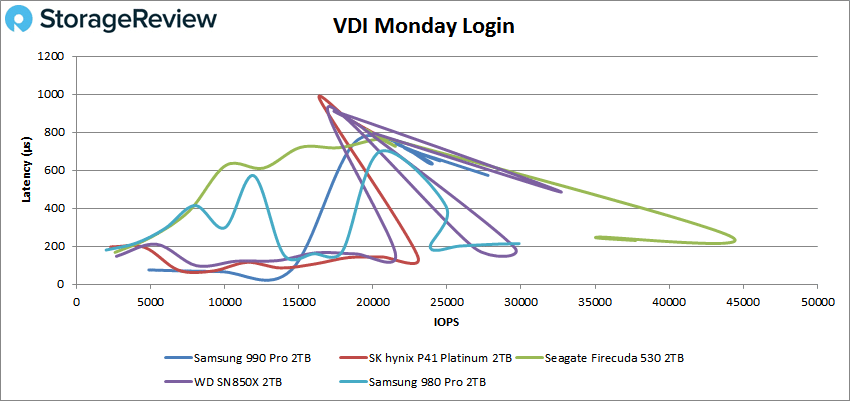 Samsung 990 Pro Blackmagic Disk Speed Test
We measured performance inside a Windows 11 environment on our consumer test platform. Here, the Samsung 990 Pro was able to reach 5.67GB/s read and 5.943GB/s write. This was a noticeable improvement compared to the 2TB 980 Pro Blackmagic performance in both reads and writes.
In comparison, for example, it had better write performance than the SK hynix P41 (which had 5.87GB/s) but fell behind it in reads (which had 6.05GB/s).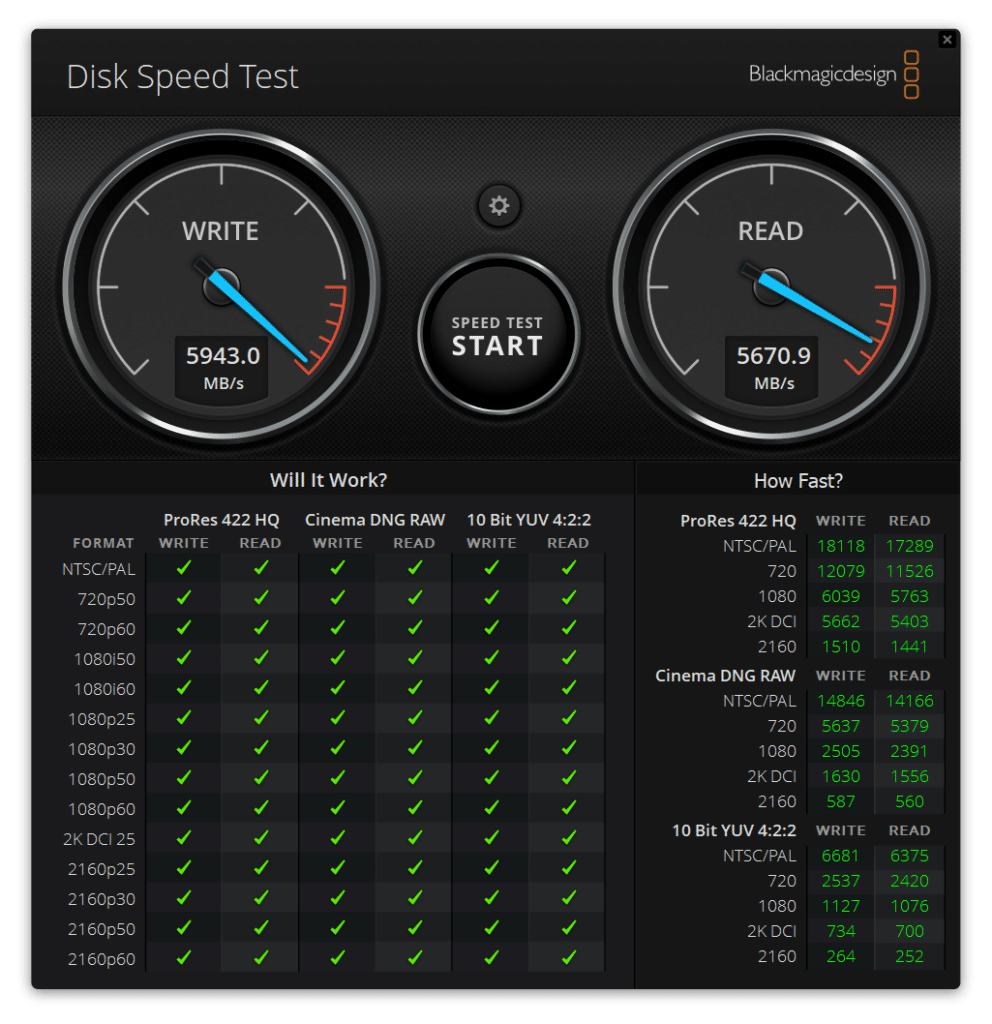 Conclusion
The Samsung 990 Pro is yet another successful release by the company. This enthusiast-PCIe Gen 4×4 SSD features the company's 7th-gen V-NAND TLC NAND, an all-new Pascal controller, and NVMe 1.4 support. Like its predecessor, the 990 Pro is targeted at gamers (fully supported by the PlayStation 5) and content professionals, as well as enthusiast consumers looking for the latest and greatest for their high-end rigs.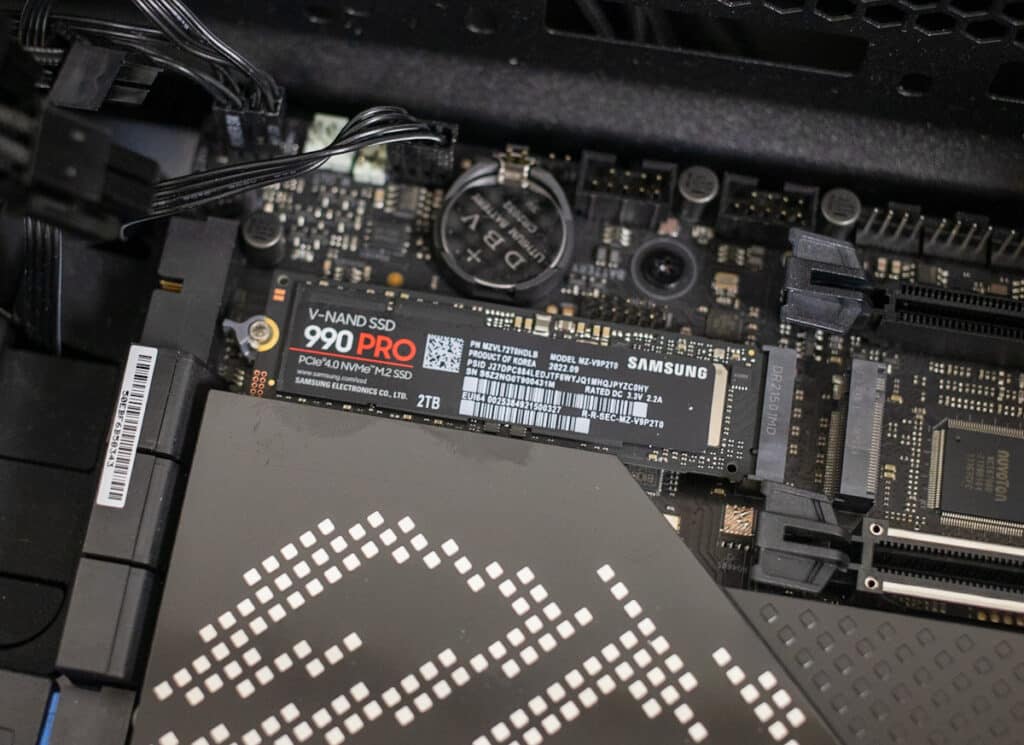 The new 990 Pro also leverages newly enhanced Intelligent TurboWrite 2.0 technology, which greatly increases the drive buffer size. As far as reliability goes, it features the same endurance specs as the 980 Pro with endurance up to 1,200TB written (2TB model) and an MTBF rating of 1.5 million hours for all capacities.
Now, to the most important part: its performance. Overall, the Samsung 990 Pro showed a noticeable improvement over its predecessor in most of our benchmarks, though it did fall behind in some of the VDI workloads. Highlights included: 523K IOPS in 4K read, 573K IOPS in 4K write, 5.54GB/s in 64K read, and 2.55GB/s in 64K write. In our VDI tests, we saw 60K IOPS in boot, 71K IOPS in initial login, and 28K IOPS in Monday login.
The results of our Blackmagic test were very strong, posting 5.67GB/s read and 5.943GB/s write. The Samsung SSD 990 Pro is up there as one of the best-performing consumer drives we've tested so far, especially when it comes to random workload performance.
For pricing, the Samsung 990 Pro 1TB model goes for roughly $170, while the 2TB is priced at $290 ($190 and $310 for the heatsink models, respectively). This is quite a bit lower than the 980 Pro's MSRP launch. Though this is not very surprising due to Gen4 SSD prices consistently dropping over the past few years, it's still very fairly competitively priced.
For example, the Seagate FireCuda 530 currently goes for $155 and $250 for the 1TB and 2TB models, respectively, while the WD Black SN850X is currently on sale for $135 (1TB) and $230 (2TB). The SK hynix P41 drives are currently going for around $140 (1TB) and $236 (2TB).
While there is a price gap between its competition, you definitely get what you pay for with the Samsung brand and many consumers would probably find it worth opening up their wallet for the extra $20-$50. But if you're willing to wait, the 990 Pro will certainly be on sale at some point and will eventually match these prices.
Coupled with its industry-best SSD management software (Samsung Magician), strong read and write performance, and the usual reliability that comes with the brand, the 990 Pro is yet another great premium drive from Samsung. And it is certainly another step in the right direction for the popular line of SSDs.
You can pre-order the new Samsung drives on November 1, 2022.
Engage with StorageReview
Newsletter | YouTube | Podcast iTunes/Spotify | Instagram | Twitter | TikTok | RSS Feed