The first PCIe Gen5 SSD for the consumer market to hit our lab, is the GIGABYTE Aorus 10000 SSD. The drive features a 200-layer stack structure of 3D-TLC NAND, Phiuson E26 controller, and an integrated LPDDR4 cache design. The AORUS 10000 is intended for users with intense demands, such as content creators and gamers, ideally those who have motherboards that can leverage and cool Gen5 M.2 SSDs.

The first PCIe Gen5 SSD for the consumer market to hit our lab, is the GIGABYTE Aorus 10000 SSD. The drive features a 200-layer stack structure of 3D-TLC NAND, Phiuson E26 controller, and an integrated LPDDR4 cache design. The AORUS 10000 is intended for users with intense demands, such as content creators and gamers, ideally those who have motherboards that can leverage and cool Gen5 M.2 SSDs.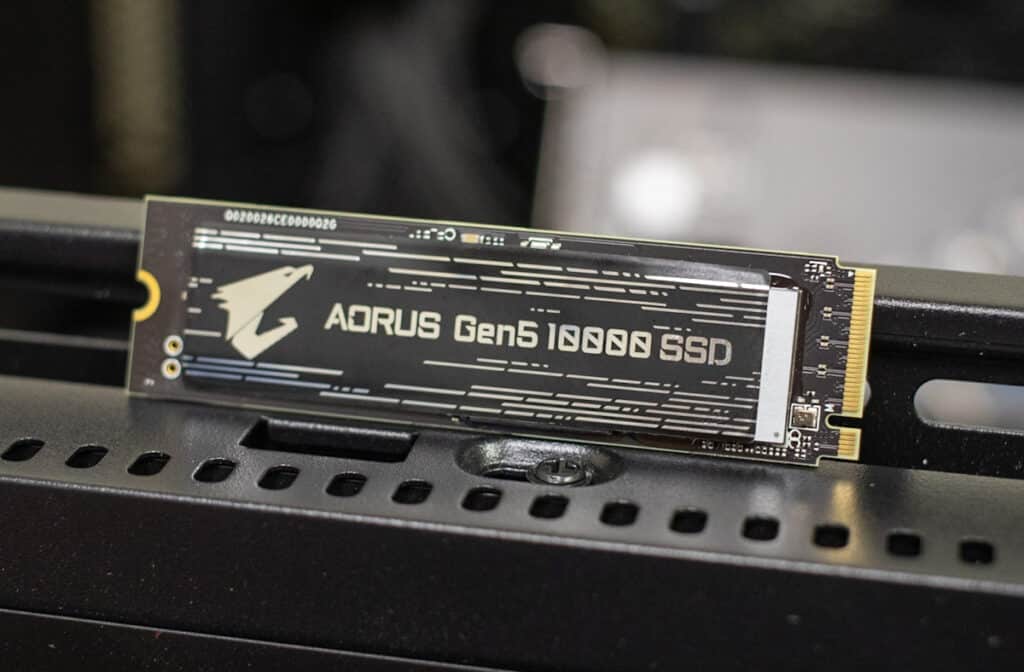 At launch, the new Gen5 SSDs are expected to deliver up to 10GB/s in reads, which marks a solid 40% increase over the previous generation. While this isn't nearly as big of a jump in performance compared to the transition from Gen3 to Gen4, this initial speed does not saturate the potential of the Gen5 interface, yet. GIGABYTE has claimed that with some fine-tuning of its firmware, the new Aorus drive will yield better results over time.
Nonetheless, in terms of what we can expect out of the box, the Aorus Gen5 10000 is quoted to deliver sequential read speeds of up to 9,500MB/s and sequential write speeds of up to 8,500MB/s. GIGABYTE's press release, however, included CrystalDiskMark benchmark results that showed sequential performance read and write speeds of 10.1GB/s and 10.2GB/s, respectively. As you will see below, while we were able to attain close to these numbers for burst write activity.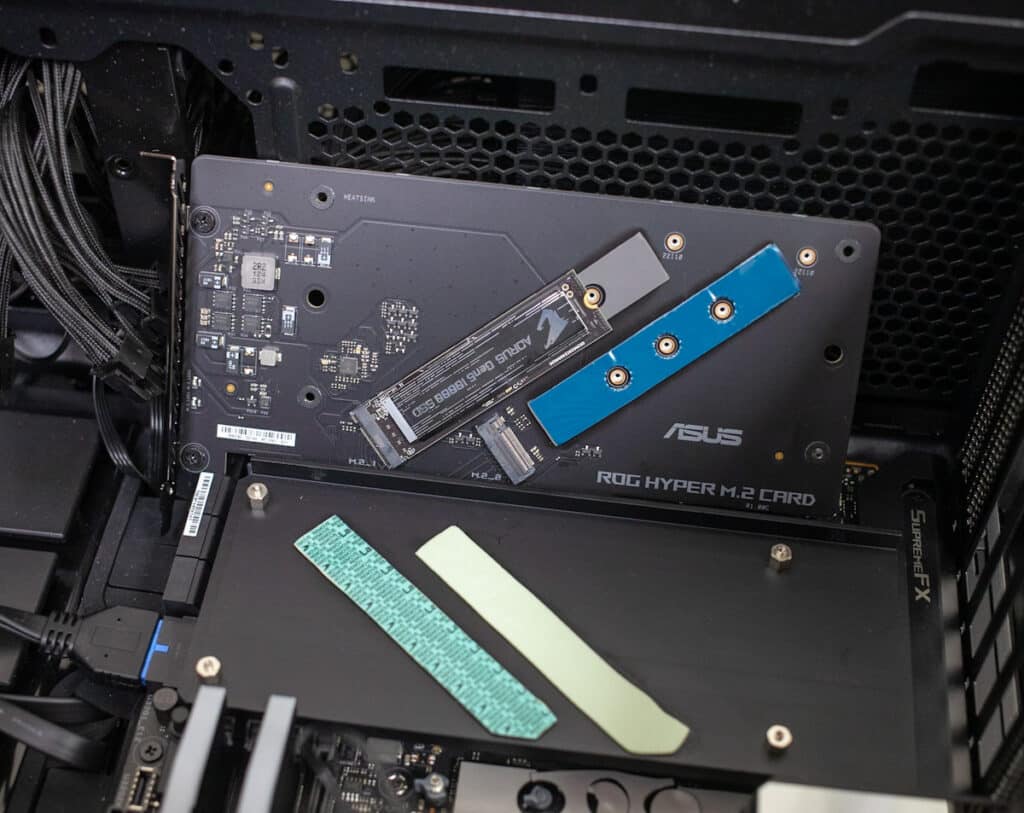 The Aorus Gen5 10000 SSD features the NVMe 2.0 interface and leverages Zoned Namespaces (ZNS). ZNS is a technology that enables the SSD and host to cooperatively place data within the drive, eliminating the need for overprovisioning. By aligning data with the SSD's physical media, ZNS boosts system performance and prolongs the SSD's lifespan.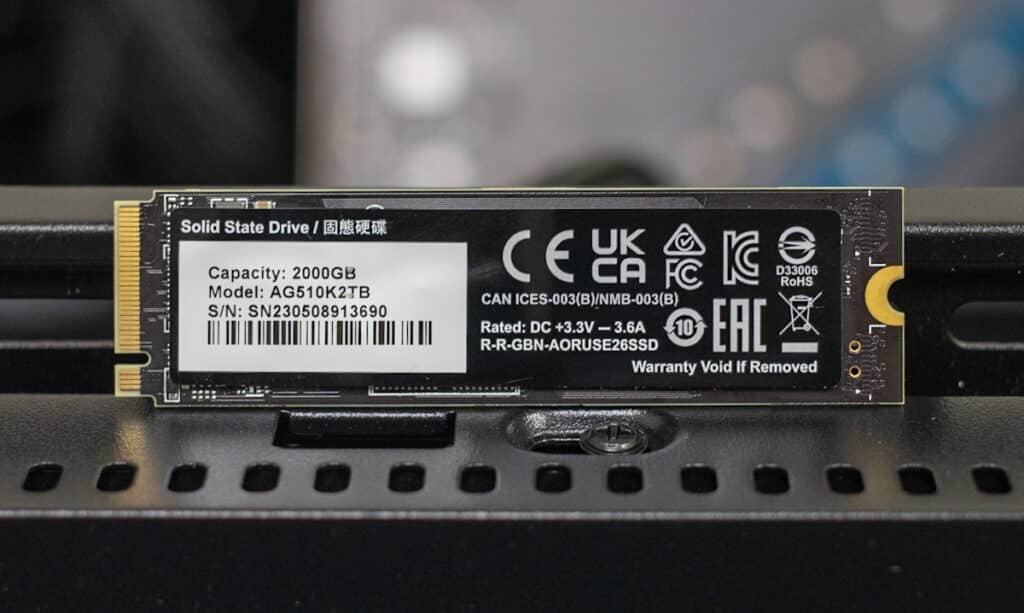 Known as the "M.2 Thermal Guard XTREME," the included heatsink is quite the beast. Its thermal design comprises two heat pipes and a stack of Nanocarbon-coated fins for optimal heat dissipation. The high-conductivity thermal pad on both sides ensures efficient heat transfer to the fins, making it an ideal solution for passive air-cooling systems when paired with a CPU AIO water cooler in a personal computer. All of this said, the excessive size of the heatsink likely limits its compatibility with many PC systems, especially those with large GPUs and CPU fans in their rigs.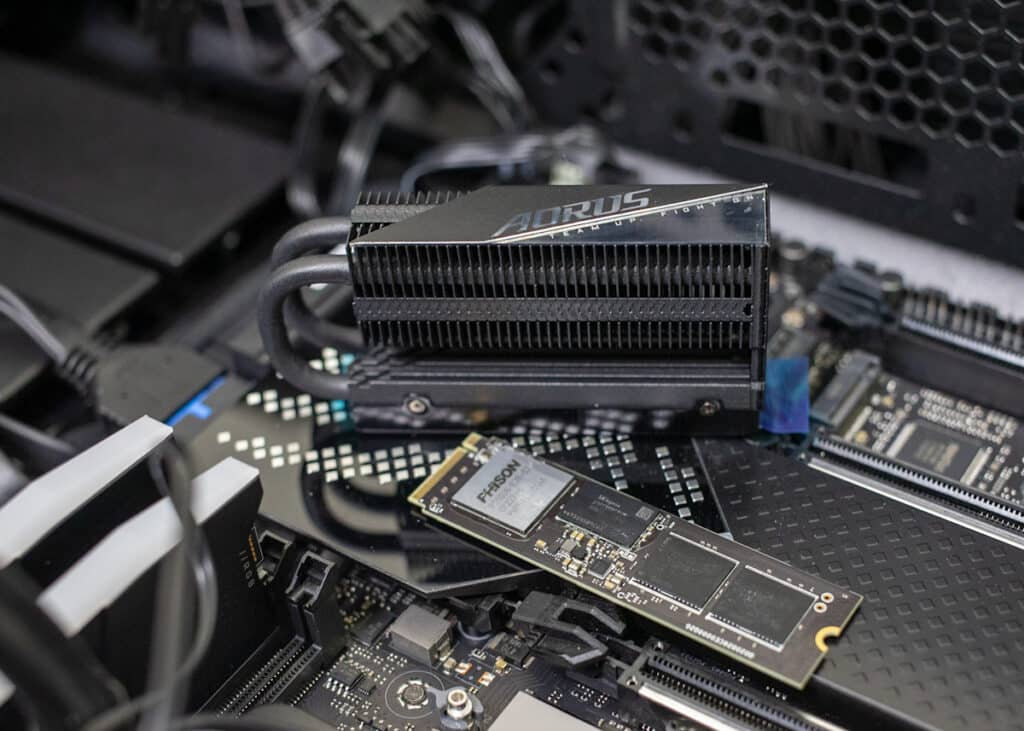 GIGABYTE Control Center (GCC) is the software that manages the Aorus 10000. This user-friendly tool provides offers things like real-time data on the SSD's performance, thermal stability, and capabilities. It also includes an "Update Center" that regularly checks for driver and utility updates via cloud servers, ensuring a stable system.
As you can see in the image below, GCC has all the usual suspects on the main dashboard: the drive's health, temperatures, and information (e.g., model number, firmware version, drive letter) and features SMART functionality and secure erase. Overall, we liked the GIGABYTE software. It certainly is a responsive and modern-looking tool that simplifies the management of the Aorus 10000 (and other GIGABYTE products like motherboards).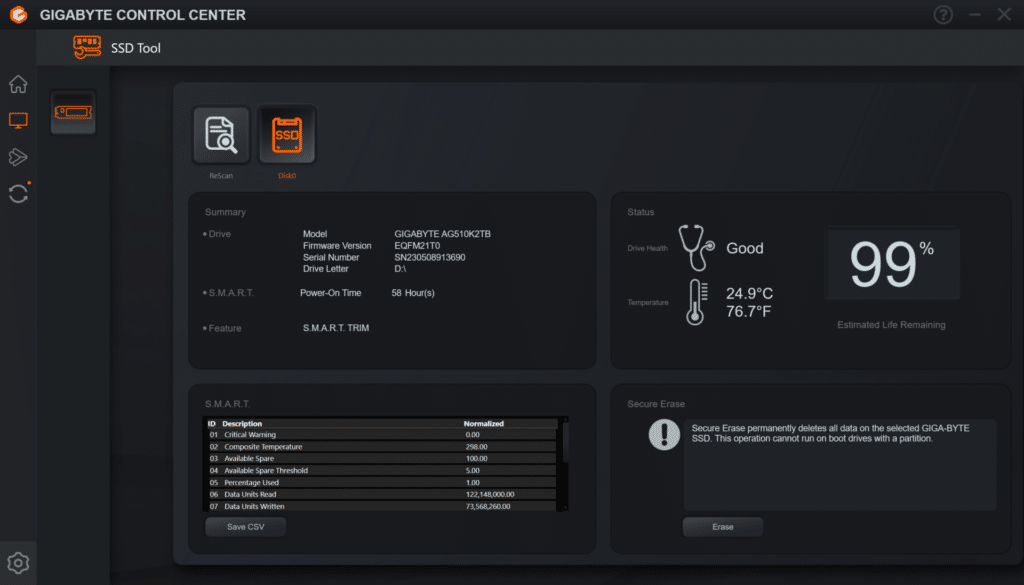 Backed by a 5-year warranty, the GIGABYTE Aorus 10000 SSD goes for roughly $340 for the 2TB model. This is noticeably lower compared to the launch prices of 2TB Gen4 SSDs, which ranged from $400 to $600.
GIGABYTE Aorus Gen5 10000 SSD Specifications
Interface
PCI-Express 5.0 x4, NVMe 2.0
Form Factor
M.2 2280
Total Capacity
1000GB
NAND
3D TLC NAND Flash
External DDR Cache
LPDDR4 2GB
Sequential Read speed
Up to 9,500 MB/s
Sequential Write speed
UP to 8,500 MB/s
Dimension (without Heatsink)
80 x 22 x 2.3 mm
Dimension (with Heatsink)
92 x 23.5 x 44.7 mm
Mean time between failure (MTBF)
1.6 million hours
Power Consumption (Active)
Read
< 10W
Power Consumption (Active)
Write
< 10W
Power Consumption (Idle)
< 85mW
Temperature (Operating)
0°C to 70°C
Temperature (Storage)
-40°C to 85°C
Warranty
Limited 5-year
GIGABYTE AORUS 10000 Performance
For database and synthetic testing, we installed the Aorus 10000 inside a Dell PowerEdge R660 that supports the PCIe Gen5 interface. It includes 16 x 16GB 4800 of DDR5 RAM, and dual Intel 8460Y Plat CPUs. The SSD was installed in the new Serial Cables Gen5 AIC to M.2 Adapter, to perform at native Gen5 speeds.
In our desktop environment for BlackMagic, we leveraged an ASUS Gen5 adapter included with the motherboard within our consumer drive test rig.
We are reviewing the 2TB version of the GIGABYTE Aorus 10000 and will be comparing it to the following PCIe Gen4x4 drives (we do not have other Gen5 SSDs to evaluate):
VDBench Workload Analysis
When it comes to benchmarking storage devices, application testing is best, and synthetic testing comes in second place. While not a perfect representation of actual workloads, synthetic tests do help to baseline storage devices with a repeatability factor that makes it easy to do an apples-to-apples comparison between competing solutions. These workloads offer a range of different testing profiles ranging from "four corners" tests, common database transfer size tests, to trace captures from different VDI environments.
All of these tests leverage the common vdBench workload generator, with a scripting engine to automate and capture results over a large compute testing cluster. This allows us to repeat the same workloads across a wide range of storage devices, including flash arrays and individual storage devices. Our testing process for these benchmarks fills the entire drive surface with data, then partitions a drive section equal to 1% of the drive capacity to simulate how the drive might respond to application workloads. This is different from full entropy tests which use 100% of the drive and take them into a steady state. As a result, these figures will reflect higher-sustained write speeds.
Profiles:
4K Random Read: 100% Read, 128 threads, 0-120% iorate
4K Random Write: 100% Write, 64 threads, 0-120% iorate
64K Sequential Read: 100% Read, 16 threads, 0-120% iorate
64K Sequential Write: 100% Write, 8 threads, 0-120% iorate
Starting with 4K random read, the GIGABYTE Aorus 10000, unfortunately, showed mid-range results despite its next-gen interface, posting a peak of 736K IOPS at 169.9µs in latency.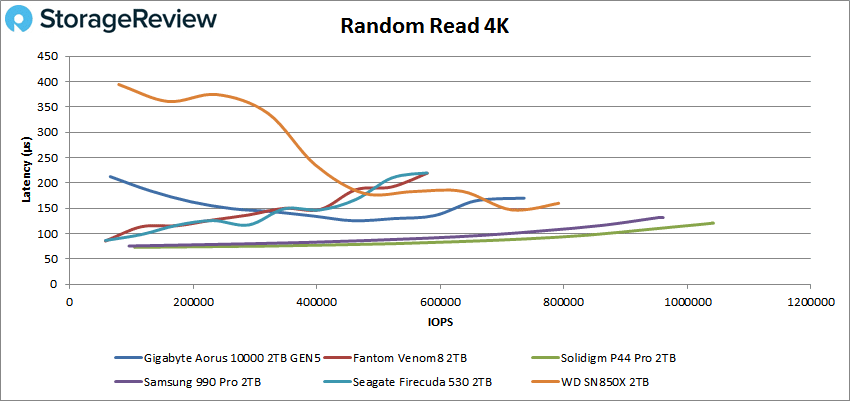 The Aorus 10000 didn't fare much better in 4K random writes (way back from the leaders). Here, it ended the test at just 273K IOPS with a latency of 88.7µs for the third last. In comparison, the top-performing Fantom Venom8 (a Gen4 drive) showed a peak of 600K IOPS at 208.1µs.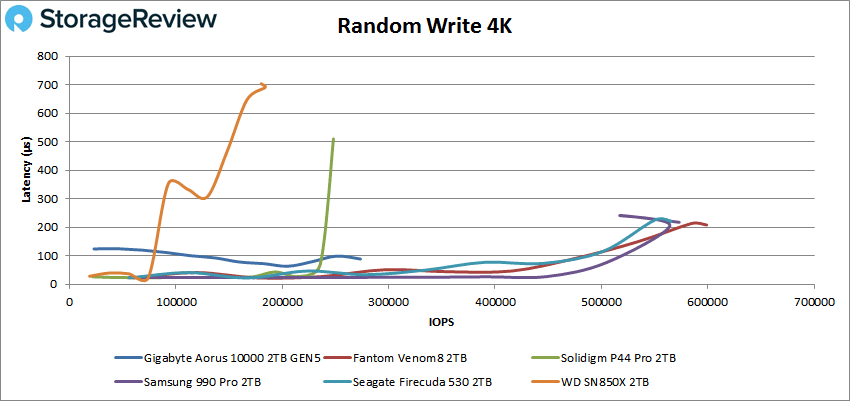 The Aorus 10000 performed better when switching to sequential 64K workloads reads (though it still couldn't beat most of the Gen4 drives). Here, it had a peak throughput of 5.53GB/s read with a latency of 356.4µs.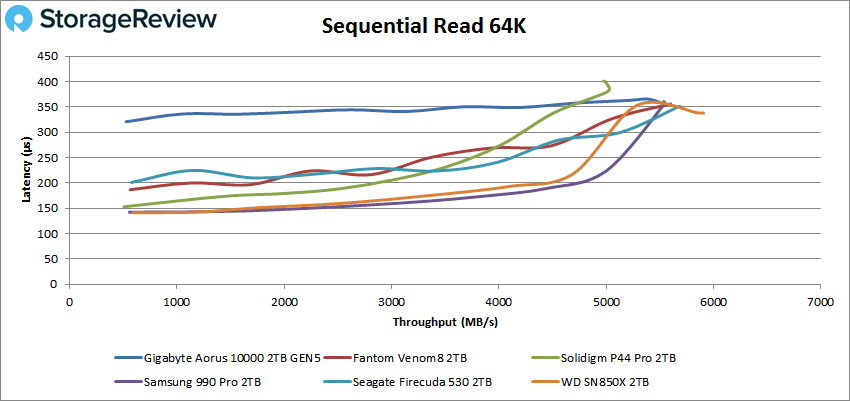 In sequential writes, the Aorus 10000 fell back to the bottom of the leaderboard again, peaking at just 1.4GB/s (or 22K IOPS) with a latency of 678.3µs.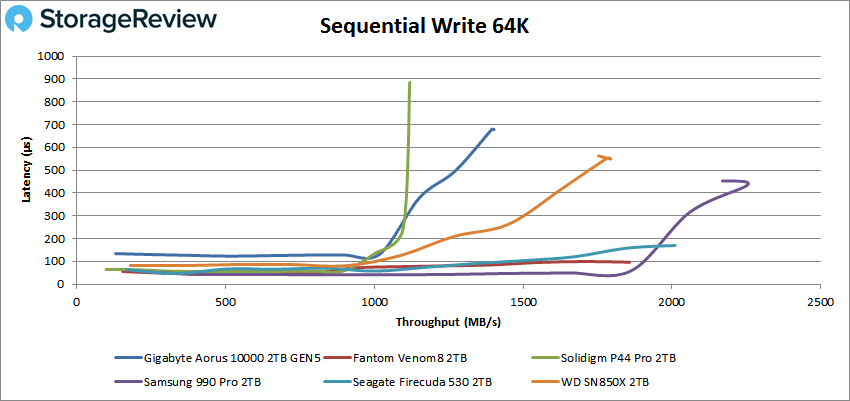 Next, we looked at our VDI benchmarks, which are designed to tax the drives even further. These tests include Boot, Initial Login, and Monday Login. The Aorus 10000 fared much better here; however, the results were still Gen4-level speeds. Starting with Boot, the Aorus 10000 peaked at 169K IOPS (at 204.6µs).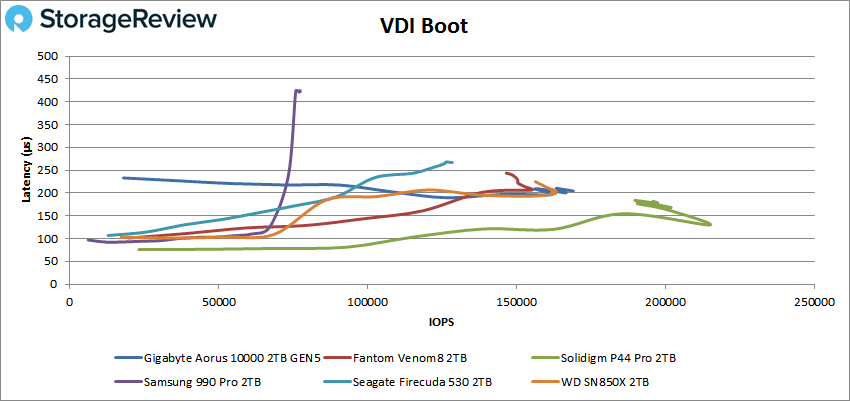 For VDI Initial Login, the Aorus 10000 ended the test at 57K IOPS (at 478µs) with a small (hard to see) spike in performance at the end.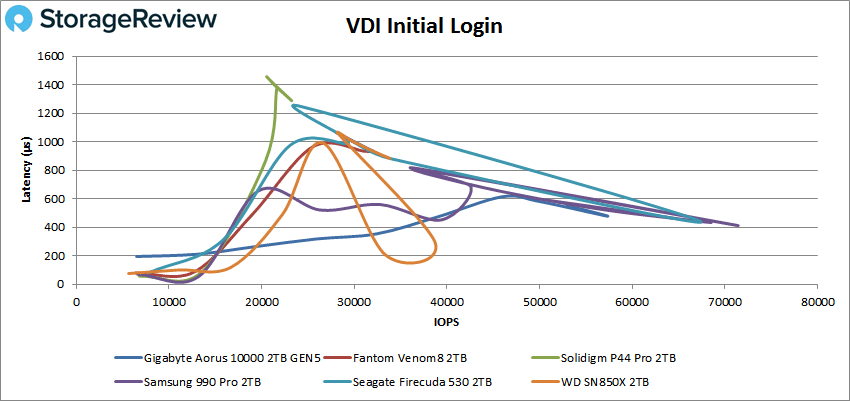 Finally, is the VDI Monday Login benchmark, where the Aorus 10000 came in second place. Here, we saw a peak of just 36K IOPS with a latency of 255.1µs.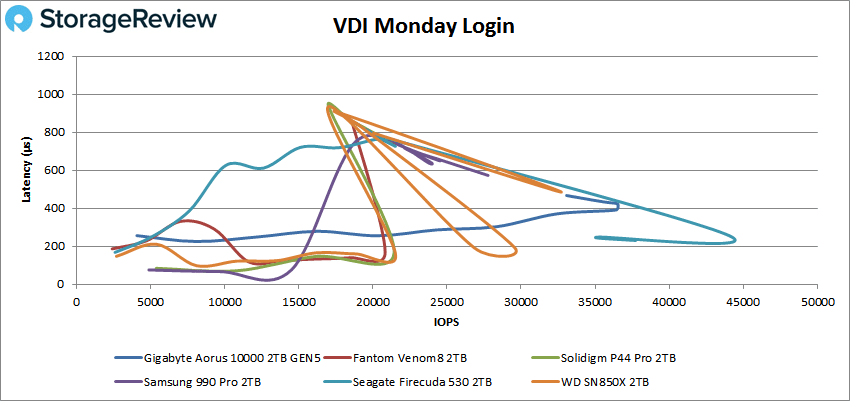 Blackmagic Disk Speed Test
We measured performance inside a Windows 11 environment on our consumer test platform via the popular Blackmagic test. Here, the Aorus 10000 recorded a very solid 6,738MB/s read and 9,661MB/s write.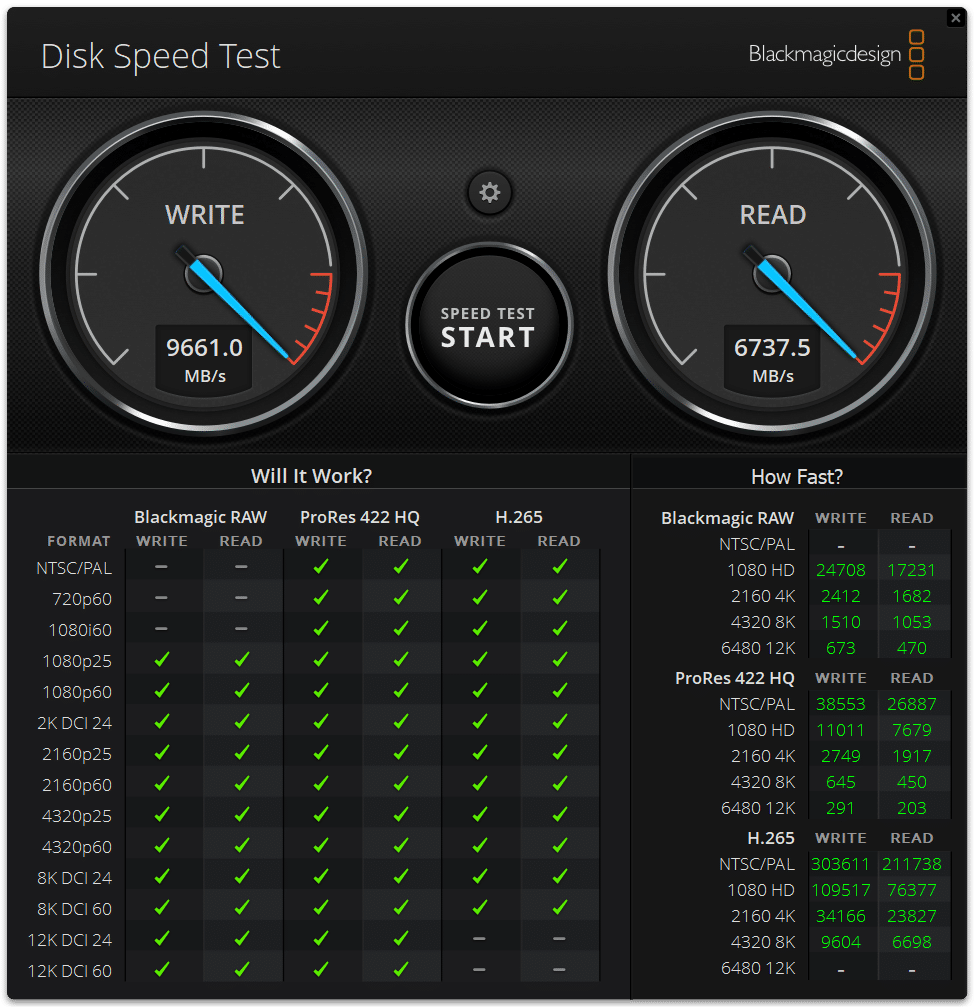 CrystalDiskMark
To show a lighter-weight test also pushing into Gen5 speeds, we ran CrystalDiskMark on the Aorus 10000. Here we see the SSD is able to get above 10GB/s read and write sequential transfers. On Random 4K we measured 1.5 and 1.53 million IOPS read and write respectively. CDM is good to illustrate the best-case scenario for the drive, as it uses a higher queue depth than Blackmagic.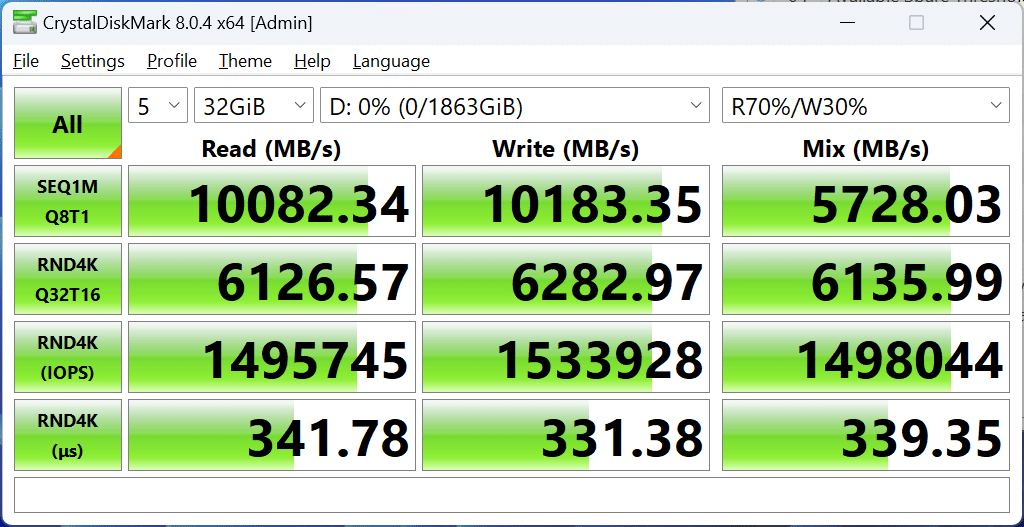 BootBench
BOOT-BENCH-1 is a workload profile adopted by OCP to profile SSDs that are designed for server boot duty. While this is intuitively a job for enterprise SSDs, client SSDs are often selected for their performance, capacity, and cost combination. The boot drive issue is germane not just to hyperscalers, but also to server and storage system providers as well as they face similar challenges.
This boot workload executes a relatively intense test plan that fills the drive entirely with writes before testing a read-heavy workload sequence. For each test, it performs a 32K random read async operation alongside a 15MiB/s synchronous 128k random write as well as a 5MiB/s synchronous 128k random write/trim background workload. The script starts with the random-read activity at a 4-job level and scales up to 256-jobs at its peak. The final result is the read-operations performed during its peak run.
The OCP goal for this benchmark is a pass/fail at 60K read IOPS. Most drives we test will far exceed the minimum, but the results are instructive regardless.
With all this said, some tests end with DNFs, some produce results that were below the cut-off number, and others were just plain fast. However, in the case of the Aorus 10000 SSD, it performed so poorly that it failed on latency, and with results under the minimum performance cutoff. This suggests that the Aorus 1000 SSD is probably not suitable for OCP server boot duty, and alternative options should be considered.
Nonetheless, here is a list of the boot speeds of our recently reviewed SSDs:
| | |
| --- | --- |
| SSD | Read IOPS |
| Sk hynix Platinum P41 | 220,884 IOPS |
| WD SN850X | 219,883 IOPS |
| Solidigm P44 Pro | 211,999 IOPS |
| Fantom VENOM8 | 190,573 IOPS |
| Samsung 990 Pro | 176,677 IOPS |
| Sabrent Rocket 4 Plus | 162,230 IOPS |
| Predator Storage GM7 | 35,302 IOPS |
Final Thoughts
The GIGABYTE Aorus 10000 SSD is the first consumer Gen5 SSD to hit our lab. Featuring a 200-layer stack structure of 3D-TLC NAND Flash, Phison E26 controller, and an integrated LPDDR4 cache design, the Aorus Gen5 10000 SSD uses an NVMe 2.0 interface and Zoned Namespaces (ZNS) technology.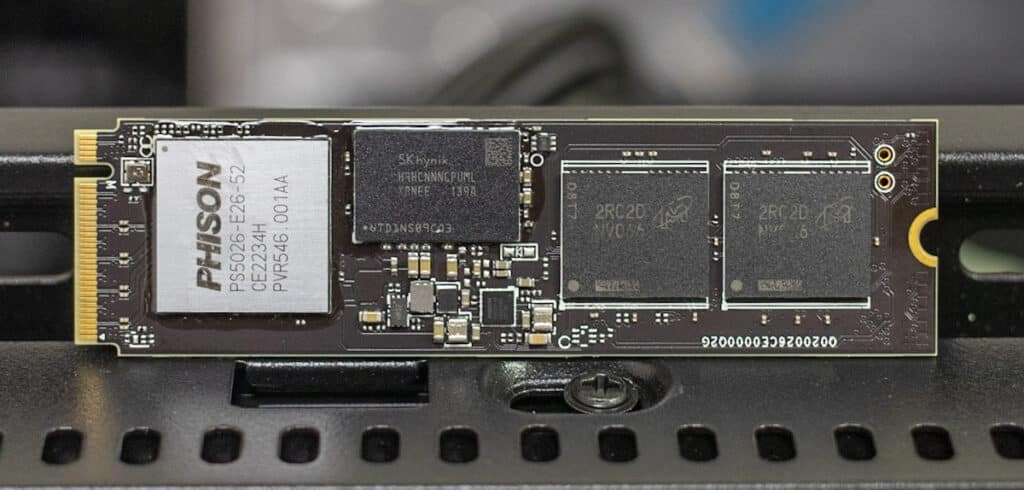 GIGABYTE also packages an impressive heatsink that features a distinctive design with two heat pipes and a stack of Nanocarbon-coated fins for optimal heat dissipation. While this might be a useful option to some, most users who intend to purchase Aorus 10000 will already have limited space inside their chassis due to their GPUs and system fans, and so will likely opt to not go this route. We didn't see any issues using the included motherboard heatsink, so while this included one looks awesome, it's not needed. In fact, we'd prefer it was sold separately to knock a few bucks off the drive cost.
Although Gen5 SSDs have the potential for significant advancements in speed, the current performance levels of the GIGABYTE drive do not reflect the full potential of the Gen5 interface. This is to be expected though and even GIGABYTE acknowledges that these are early days and firmware enhancements will improve drive performance. Further, the NAND shipping with these early Phison E26 drives isn't the optimal pairing. Later this year, Phison should be able to put the E26 with optimized NAND which will put more pressure on the upward Gen5 throughput barrier.
We're in the very early days of Gen5 SSDs. There are many who want every possible advantage from their system though, and a Gen5 SSD from a well-respected brand may just fit the bill. There's zero doubt that burst performance is impressive, easily supplanting what a Gen4 SSD can do. More intensive workloads clearly wear on the drive, but that's less a concern for gamers and certain other enthusiasts. That said, if you know you want this, then go nuts, even better if you have a slot where you can fit in their beast of a heatsink. Just know that later this year, you'll probably be eagerly anticipating the Aorus 14000 once this platform matures.
Engage with StorageReview
Newsletter | YouTube | Podcast iTunes/Spotify | Instagram | Twitter | TikTok | RSS Feed