The WD BLACK SN850X is the company's release from the consumer gaming NVMe SSD line and the direct successor to the very impressive SN850 from 2020. The SN850X features increased performance, more "tuning" features via the new bundled Game Mode 2.0 software, and is equipped with a newer 20-82-20035-B1 controller.

The WD BLACK SN850X is the company's release from the consumer gaming NVMe SSD line and the direct successor to the very impressive SN850 from 2020. The SN850X features increased performance, more "tuning" features via the new bundled Game Mode 2.0 software, and is equipped with a newer 20-82-20035-B1 controller.
Available in capacities ranging from 1TB to 4TB, the new PCIe Gen4 M.2 BLACK drive features an optional model with RGB lighting and a heatsink to help sustain peak performance when playing resource-intensive games.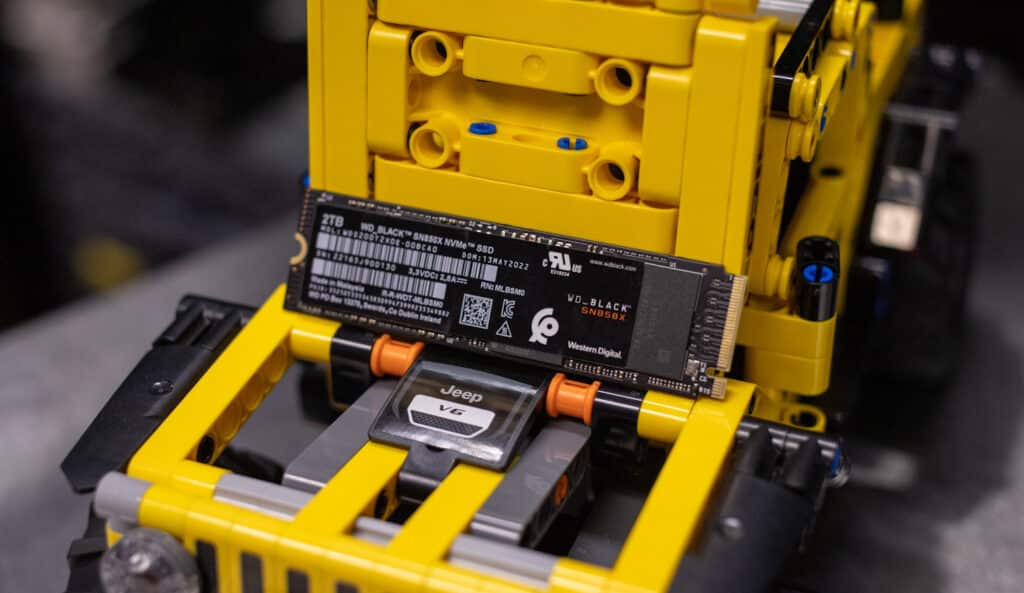 WD BLACK SN850X Improvements
The SN850X is specced with PCIe Gen4 performance, quoting up to 7.3GB/s read and 6.6GB/s write in sequential transfer speeds for the 2TB and 4TB model. In random 4K performance, the higher-capacity models are expected to reach up to 1.2 million IOPS read and 1.2 million IOPS write.
The 1TB model is quoted with slightly lower numbers in sequential writes with 6.3GB/s, while random reads are a bit lower as well with 800,000 IOPS. The endurance rating is 600 TBW (total bytes written) for the 1TB, 1,200 TBW (2TB) and 2,400 TBW (4TB) with an MTTF rating of 1.75 million hours.
This is a fairly noticeable increase compared to the 2020 SN850 model's 7GB/s read and 5.3GB/s write in sequential and 1 million IOPS in 4K random performance. The SN850 also only offers up to 2TB in capacity, so the 4TB model is a nice addition to match the ever-growing game installation sizes.
WD also implemented new updates to improve thermal consistency and energy efficiency via smoothing out the thermal throttling step function.
WD Management Dashboard
WD's new Game Mode 2.0 offers PC performance-boosting features via its management software to help improve in-game loading speeds. Using the bundled software, this can be set to auto, on, or off. When "auto" mode is turned on, your system will detect game launches and will turn gaming features on. It will then turn Game Mode 2.0 off once you exit the game. Users can improve the auto-launch detection by telling it to monitor specific folders.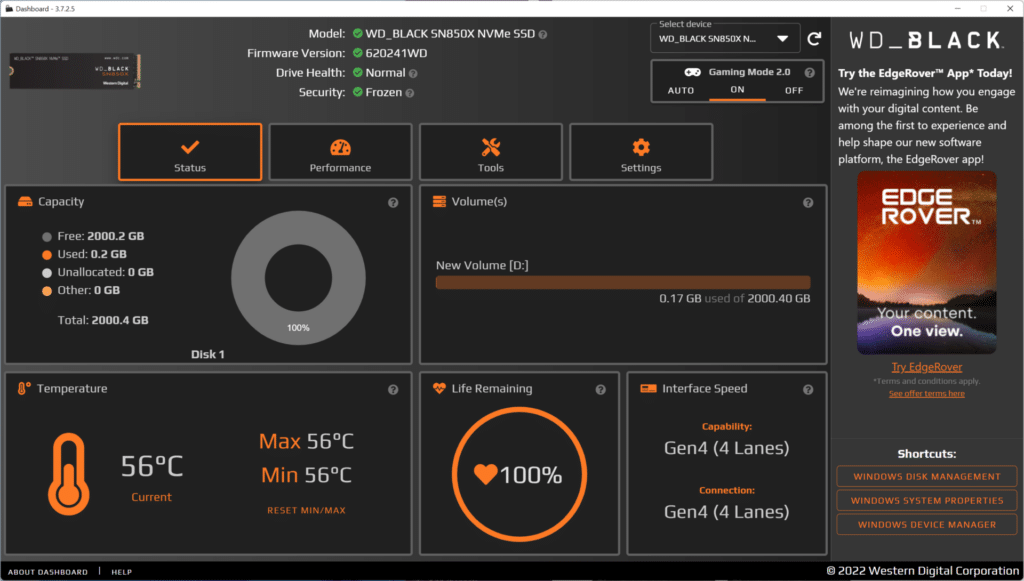 Game Mode 2.0 also features an advanced "read look ahead" algorithm, which predicts and pre-emptively caches what is next in the game. WD indicates that this is done by allowing the SN850X's controller to detect incoming low queue depth, sequential workloads, claiming that it will help speed up in-game loading of scenes, levels and other areas.
While SSD tuning software such as this often doesn't show any noticeable real-world gains, it does allow users to perform firmware upgrades via the application (among other things), which is more functionality than many other companies provide. You can also see (at a glance) the drive's overall health, interface speed, temperatures and capacity information. Overall the software is nice to have but won't deliver "felt" performance to the end user.
Warranty and Pricing
Backed by a 5-year warranty, the WD BLACK SN850X goes for roughly $160 (1TB), $289 (2TB), and $699 (4TB). We will be looking at the 2TB model for this review.
WD BLACK SN850X Specifications
Available Capacities
1TB, 2TB, 4TB
Interface
PCIe Gen4 16 GT/s, up to 4 lanes
Form Factor
M.2 2280
Performance

| | | | |
| --- | --- | --- | --- |
| Capacity | 1TB | 2TB | 4TB |
| Seq. Read MB/s (up to) | 7,300 | 7,300 | 7,300 |
| Seq. Write MB/s(up to) | 6,300 | 6,600 | 6,600 |
| Rand. Read IOPS(up to) | 800k | 1,200k | 1,200k |
| Rand. Write IOPS(up to) | 1,100K | 1,100K | 1,100K |

Endurance (Up To)

1TB: 600 TBW
2TB: 1,200 TBW
4TB: 2,400 TBW

Warranty
5-Year Limited
MTTF
1,750,000 hours
Operating Temperature
0°C to 85°C
Non-Operating Temperature
-40°C to 85°C
Sleep
5mW
WD BLACK SN850X Design and Build
The WD BLACK SN850X features a black, single-sided design with white and orange text–a look and feel in line with its predecessor. The front side features the company branding, product name, capacity (at the top left) and all the supplemental information you need.
Under the sticker, you can see the DRAM and two NAND packs on the black PCB.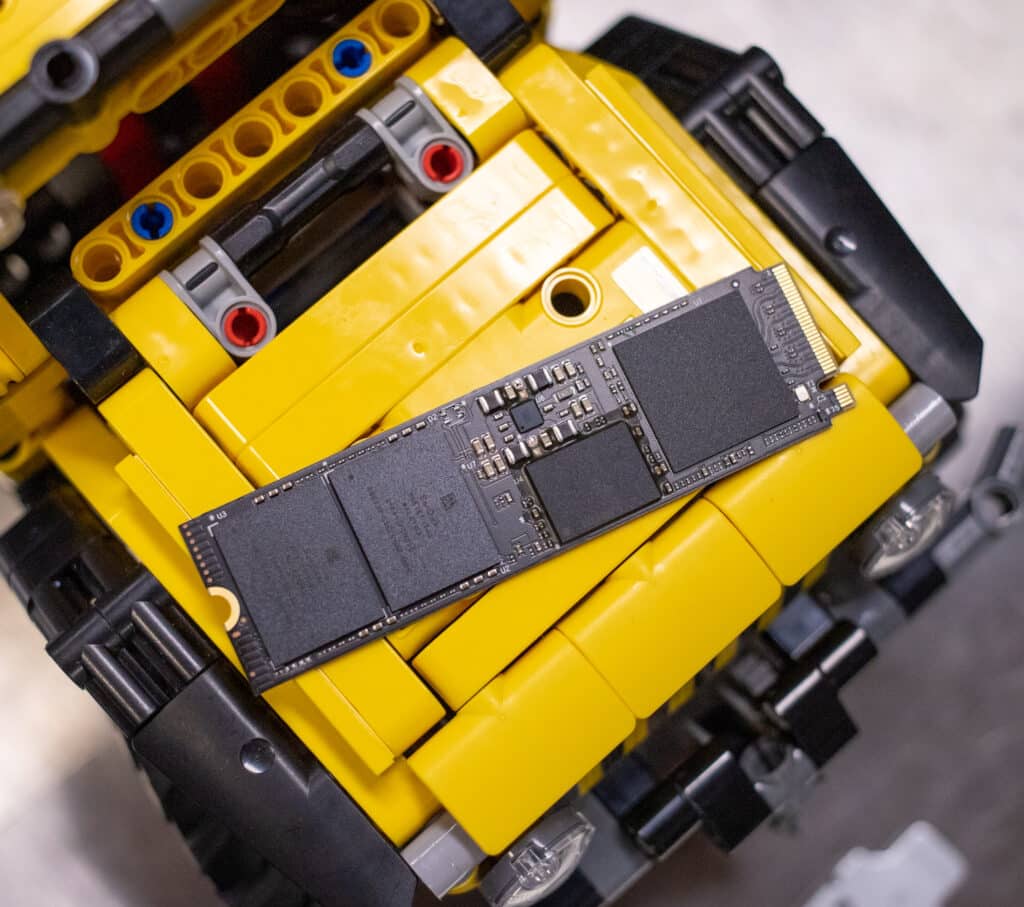 WD BLACK SN850X Performance
We are reviewing the 4TB version of the WD_BLACK SN850X drive and will be comparing it to the following PCIe Gen4x4 drives:
SQL Server Performance
Each SQL Server VM is configured with two vDisks: 100GB volume for boot and a 500GB volume for the database and log files. From a system resource perspective, we configured each VM with 16 vCPUs, 64GB of DRAM and leveraged the LSI Logic SAS SCSI controller. While our Sysbench workloads tested previously saturated the platform in both storage I/O and capacity, the SQL test is looking for latency performance.
This test uses SQL Server 2014 running on Windows Server 2012 R2 guest VMs and is stressed by Quest's Benchmark Factory for Databases. StorageReview's Microsoft SQL Server OLTP testing protocol employs the current draft of the Transaction Processing Performance Council's Benchmark C (TPC-C), an online transaction-processing benchmark that simulates the activities found in complex application environments.
The TPC-C benchmark comes closer than synthetic performance benchmarks to gauging the performance strengths and bottlenecks of storage infrastructure in database environments. Each instance of our SQL Server VM for this review uses a 333GB (1,500 scale) SQL Server database and measures the transactional performance and latency under a load of 15,000 virtual users.
SQL Server Testing Configuration (per VM)
Windows Server 2012 R2
Storage Footprint: 600GB allocated, 500GB used
SQL Server 2014
Database Size: 1,500 scale
Virtual Client Load: 15,000
RAM Buffer: 48GB

Test Length: 3 hours

2.5 hours preconditioning
30 minutes sample period
Starting with SQL average latency, the SN850X posted 3ms, which placed it in the upper part of the consumer NVMe SSD leaderboard.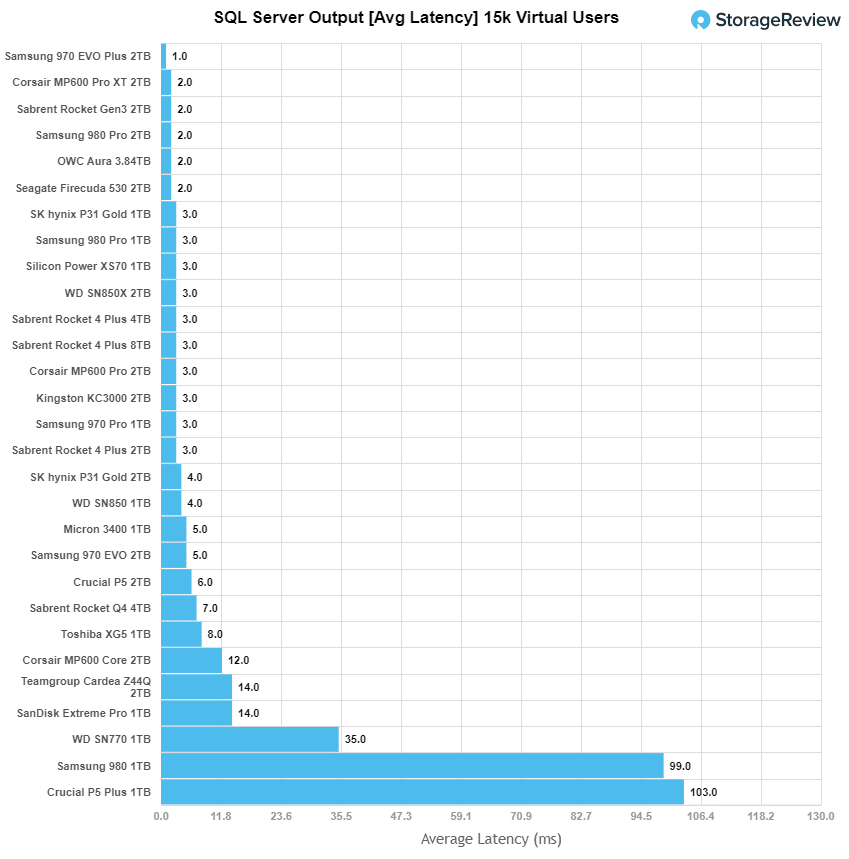 VDBench Workload Analysis
When it comes to benchmarking storage devices, application testing is best, and synthetic testing comes in second place. While not a perfect representation of actual workloads, synthetic tests do help to baseline storage devices with a repeatability factor that makes it easy to do apples-to-apples comparison between competing solutions. These workloads offer a range of different testing profiles ranging from "four corners" tests, common database transfer size tests, to trace captures from different VDI environments.
All of these tests leverage the common vdBench workload generator, with a scripting engine to automate and capture results over a large compute testing cluster. This allows us to repeat the same workloads across a wide range of storage devices, including flash arrays and individual storage devices. Our testing process for these benchmarks fills the entire drive surface with data, then partitions a drive section equal to 1% of the drive capacity to simulate how the drive might respond to application workloads. This is different than full entropy tests which use 100% of the drive and take them into a steady state. As a result, these figures will reflect higher-sustained write speeds.
Profiles:
4K Random Read: 100% Read, 128 threads, 0-120% iorate
4K Random Write: 100% Write, 64 threads, 0-120% iorate
64K Sequential Read: 100% Read, 16 threads, 0-120% iorate
64K Sequential Write: 100% Write, 8 threads, 0-120% iorate
Starting with 4k random read, the WD BLACK SN850X showed virtually identical performance with the exception better burst latency and a smaller dip in performance when approaching the 400,000 IOPS mark. Nonetheless, the SN850X had solid performance with a peak of 792 IOPS at a latency of 160.4µs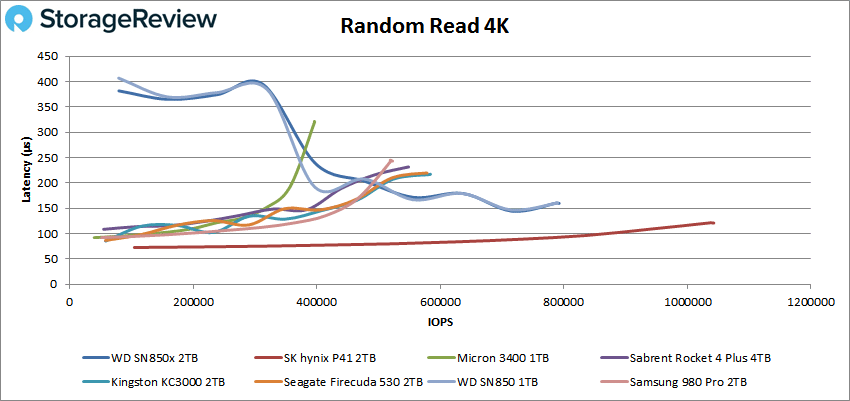 The SN850X had weak random write performance, though it did display an improvement over its predecessor with a peak of 187K IOPS at a latency of 678.7µs (vs. 173K IOPS and 733.9µs for the SN850).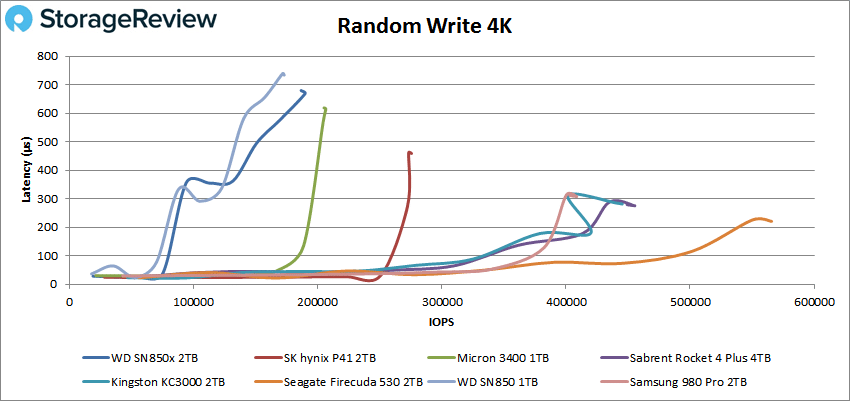 Moving onto sequential read 64K, the SN850X performed very well with 5.93GB/s (or 94,512 IOPS) with 337µs latency for second place. Again, this was an improvement over its predecessor, which posted a peak of 5.57GB/s (891K IOPS) at 354 µs.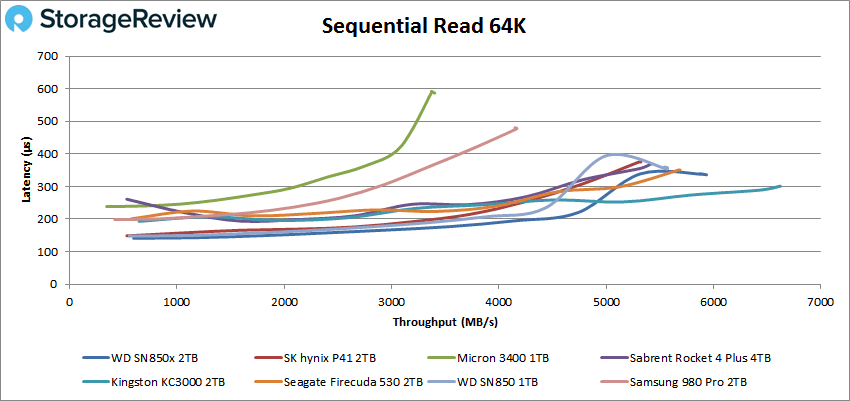 In sequential write 64K performance, where the WD BLACK SN850X continued its solid showing with a peak of 1.84GB/s (or 29K IOPS) at just 537µs latency. In comparison, the SN850 posted 1.52GB/s (or 24K IOPS) at 647µs.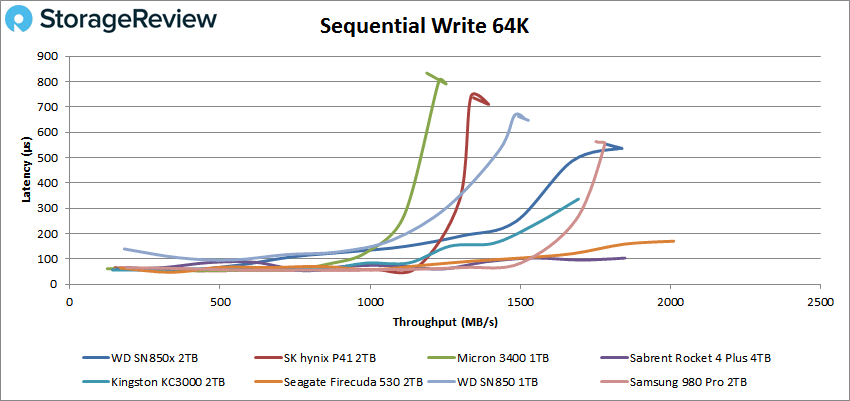 Our VDI tests were unable to complete on the SN850X and were skipped for this review.
Blackmagic Performance
Lastly is our Blackmagic transfer speed test. Here we tested the WD BLACK SN850X with Game Mode 2.0 both enabled and disabled.
Without Game Mode enable, the SN850X was able to hit 5.76GB/s read and roughly 6GB/s write.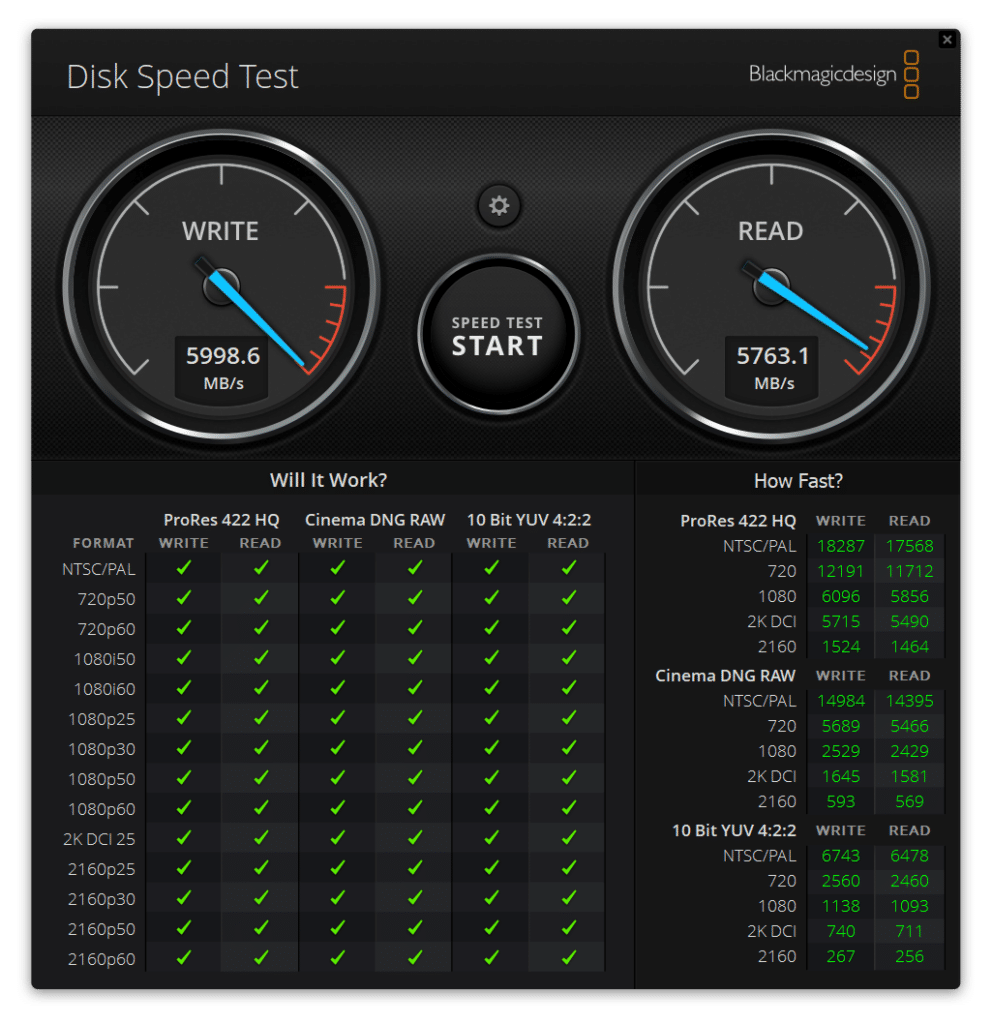 When enabled, we saw slightly higher results, posting 5.77GB/s read and 6.01GB/s write.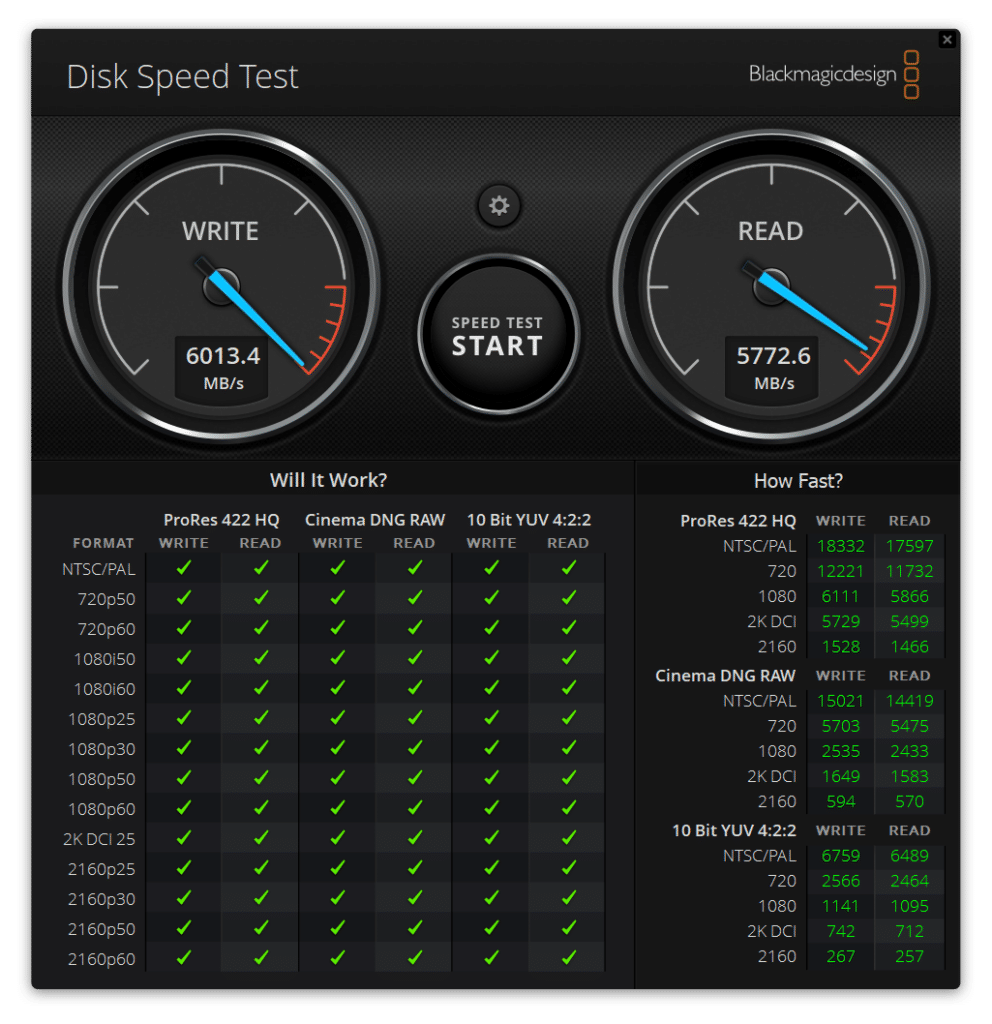 While we didn't play around with the Game Mode app too much, these results indicate that results may vary depending on the application.
Conclusion
Overall, the WD BLACK SN850X is a gaming NVMe drive that stacks up very well against other PCIe Gen4 mainstream consumer SSDs in performance. Across the board in our synthetic tests, the SN850X found itself at the top of the pack (usually behind the Samsung 980 Pro), measuring a peak bandwidth of 5.93GB/s read and 1.84GB/s write in 64K sequential performance.
In our SQL Server application test aimed at developers or homelab users, the SN850X showed a solid 3ms in latency, placing it near the top of the leaderboard of the other tested drives. While it wasn't leaps and bounds better than its predecessor (the SN850), it did show noticeable improvements over a drive that is still considered a great-performance drive at almost 2 years old.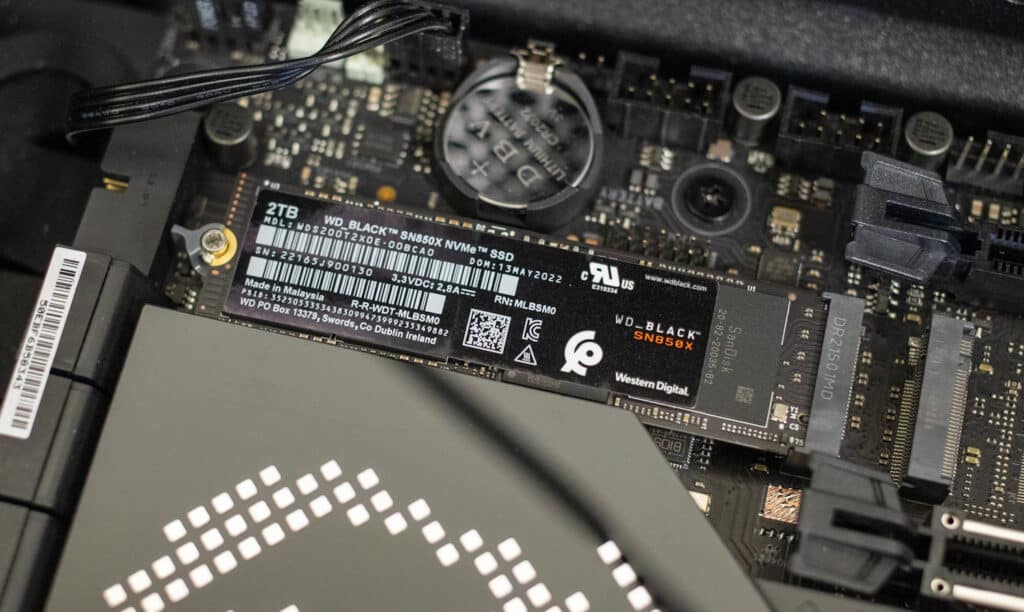 Nonetheless, the SN850X is an impressive drive that stands tall among the already vast selection of mainstream consumer SSDs. Adding the RGB lighting and heat sink option to the drive makes it stand out even further, adding a bit of gaming flair to PC rigs with glass cases.
Engage with StorageReview
Newsletter | YouTube | Podcast iTunes/Spotify | Instagram | Twitter | TikTok | RSS Feed