The Lenovo ThinkEdge SE50 and the SE30 were recently released to help organizations meet IoT needs at the edge. In this review, we have our hands on the SE50. Our unit has an 8th Gen Intel Core i7, 32GB memory, and one 256GB SSD. However, the raw specs on the SE50 aren't the most important thing. What is critical though is the variety of uses and deployment opportunities that the SE50 is capable of. Lenovo has designed this machine to be extremely versatile and capable of a wide variety of use cases.
The Lenovo ThinkEdge SE50 and the SE30 were recently released to help organizations meet IoT needs at the edge. In this review, we have our hands on the SE50. Our unit has an 8th Gen Intel Core i7, 32GB memory, and one 256GB SSD. However, the raw specs on the SE50 aren't the most important thing. What is critical though is the variety of uses and deployment opportunities that the SE50 is capable of. Lenovo has designed this machine to be extremely versatile and capable of a wide variety of use cases.
Lenovo ThinkEdge SE50
The Lenovo ThinkEdge SE50 is able to handle real-time data aggregation and processing for the "Internet of Things" applications. Not forgetting about the externals of this machine, as anyone can see, it looks like it was designed to be anywhere and go anywhere. With its rugged design, this machine can be put virtually anywhere, from places like an office or telco hut in a parking lot, all the way to the middle of the desert in the back of a truck.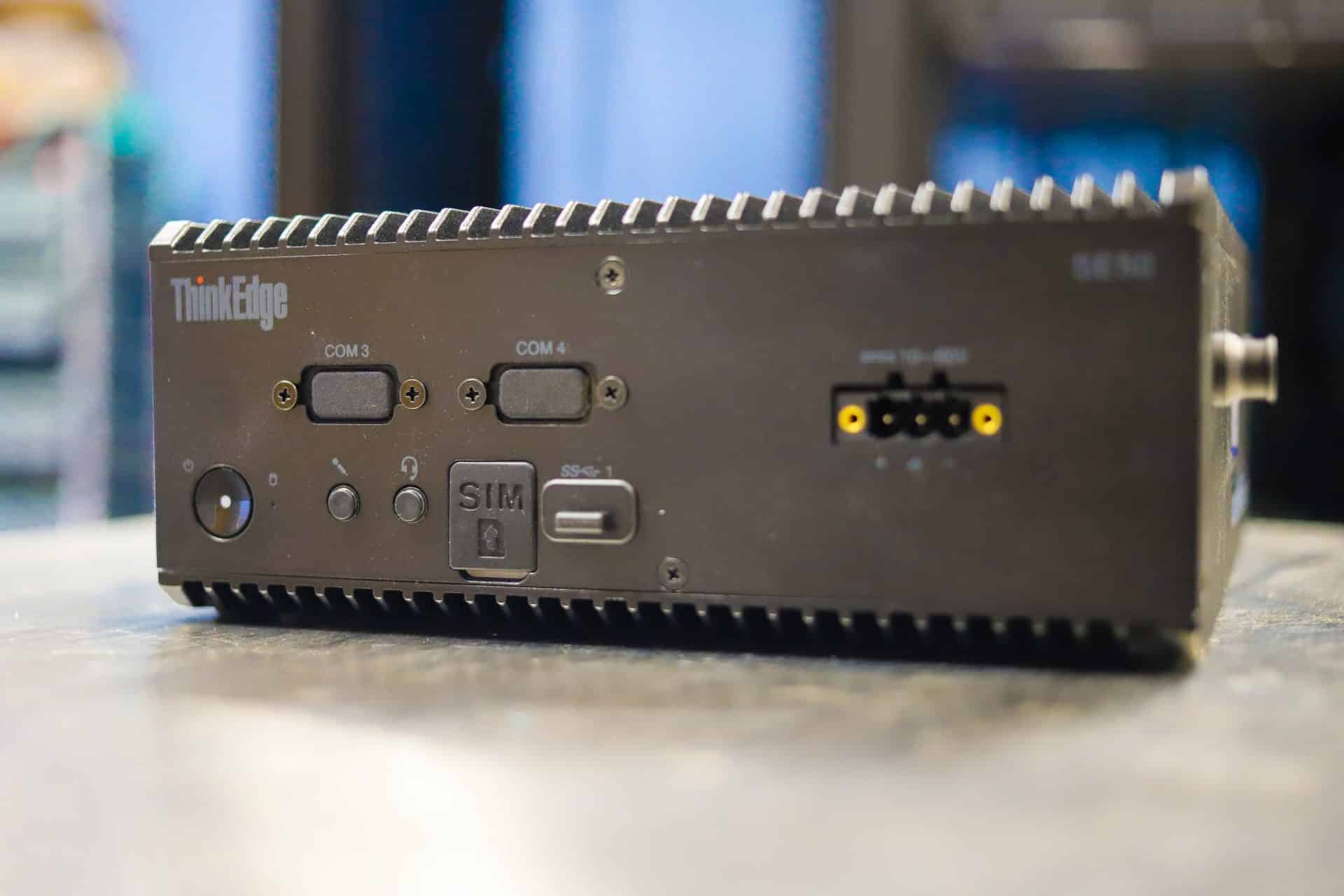 The flexibility of the SE50 means use cases will vary widely, depending on the organization. Some may use it to host VM's so multiple workloads could be hosted on the small platform. Others may use it as a mobile workstation by taking the SE50 into the field. Being able to carry around an industrial computer in a truck, can come in real handy, even in the most extreme cases like military or oil and gas exploration.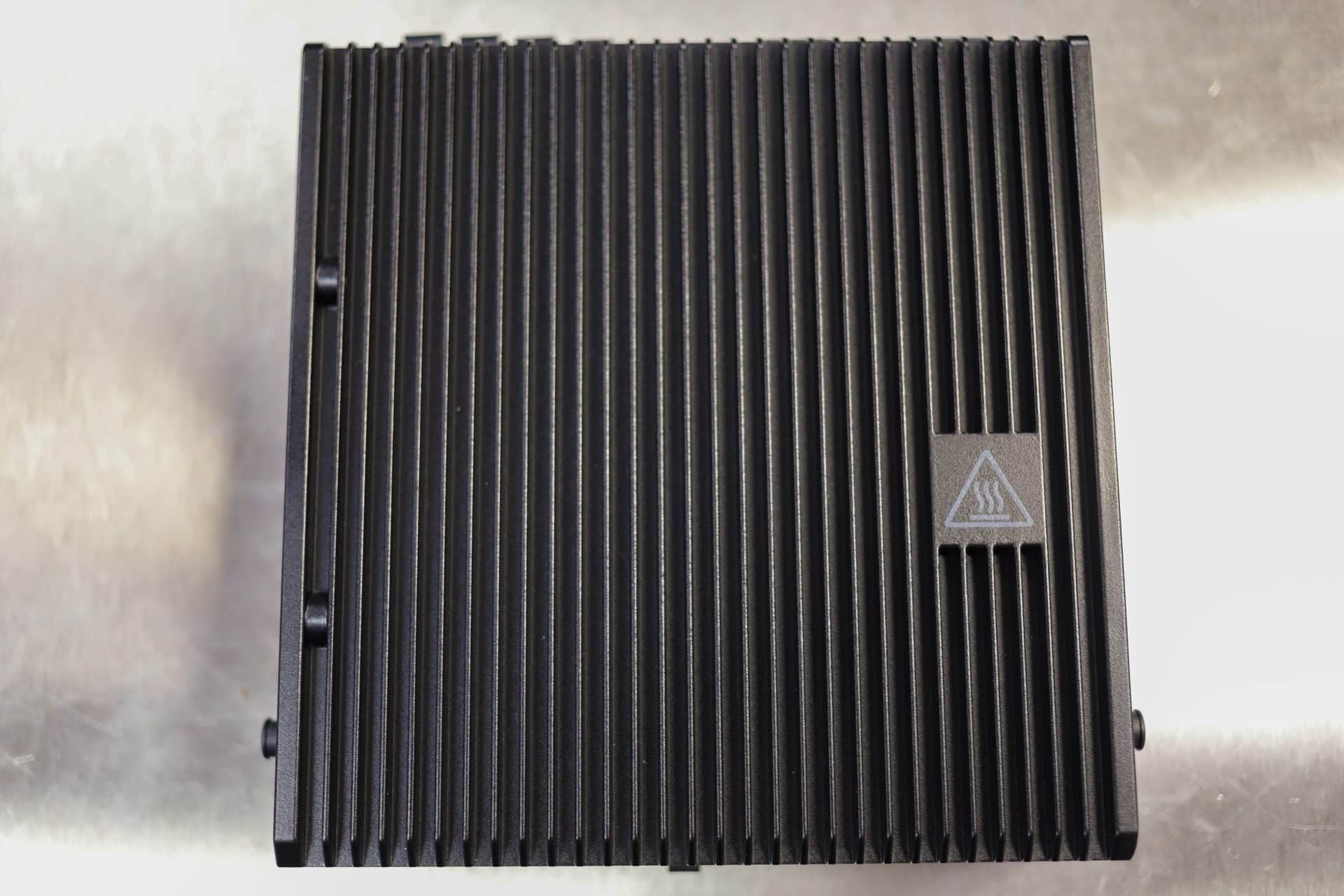 Looking at smart manufacturing, the SE50 could be used for rapid barcode scanning, interactive displays, quality verification, and edge reporting. It could also find its way into warehousing and vending. In this case, the SE50 can use CAN bus-connected manufacturing OT to IT convergence and conduct transactions over secure wireless networks. The system can trigger automated alerts or an action based on machine status or even be used for workload consolidation in retail and containerized virtualization.
Then there's the more familiar, the SE50 can be used in smart buildings and facilities. Here the SE50 could be used for local data collection from motion sensors, clocks, cameras, and other machines. Other uses include being a control plane for lighting, thermostats, HVAC or alarms. Ultimately it's difficult to try to pin this system to any specific task as it's just so darn flexible.
The Lenovo ThinkEdge SE50 is Microsoft Azure IoT Edge Certified and AWS IoT Greengrass Certified. This means that when deploying the ThinkEdge SE50, an organization could utilize cloud intelligence to break up data silos and consolidate operational data. Additionally, orgs can remotely and securely deploy cloud-native workloads to run directly on the device.
Lenovo ThinkEdge SE50 Specifications
Component
Description
Processor
Intel® Core™ i7-8665UE (4C / 8T, 1.7 / 4.4GHz, 8MB)
Graphics
Integrated Intel UHD Graphics 620
Memory
Two 16GB SO-DIMM DDR4-2400
Storage
One 256GB SSD 2.5″ SATA6Gb/s
Storage Support
Up to two drives, one 2.5″ HDD/SSD + one M.2 SSD

2.5" HDD up to 1TB

2.5" SSD up to 256GB

M.2 SSD up to 1TB

Power Supply
65W 89% Adapter
Front Ports
One headphone/microphone combo jack (3.5mm)

One USB 3.2 Gen 1

One power connector

One headphone (3.5mm)

Rear Ports
One USB 3.2 Gen 1

Two serial (RS232)

Two Ethernet (RJ-45)

Two HDMI®

One DisplayPort™

Two USB 2.0

Security
ThinkShield Security Platform
Warranty
3 Years
Lenovo ThinkEdge SE50 Design and Build
The design and build on the ThinkEdge SE50 is what makes it so unique and interesting to look at. Upon first inspection, it is quite compact, being able to fit all that technology into one machine is difficult to do. However, Lenovo was able to engineer a way to fit all that power into a small case without any moving parts. Speaking of the case, the dimensions on it are 179mm x 182.9mm x 72mm, making it a little larger than the size of a power supply one might find in a normal desktop computer. It is also a quite hefty machine, weighing in at right under 6lbs.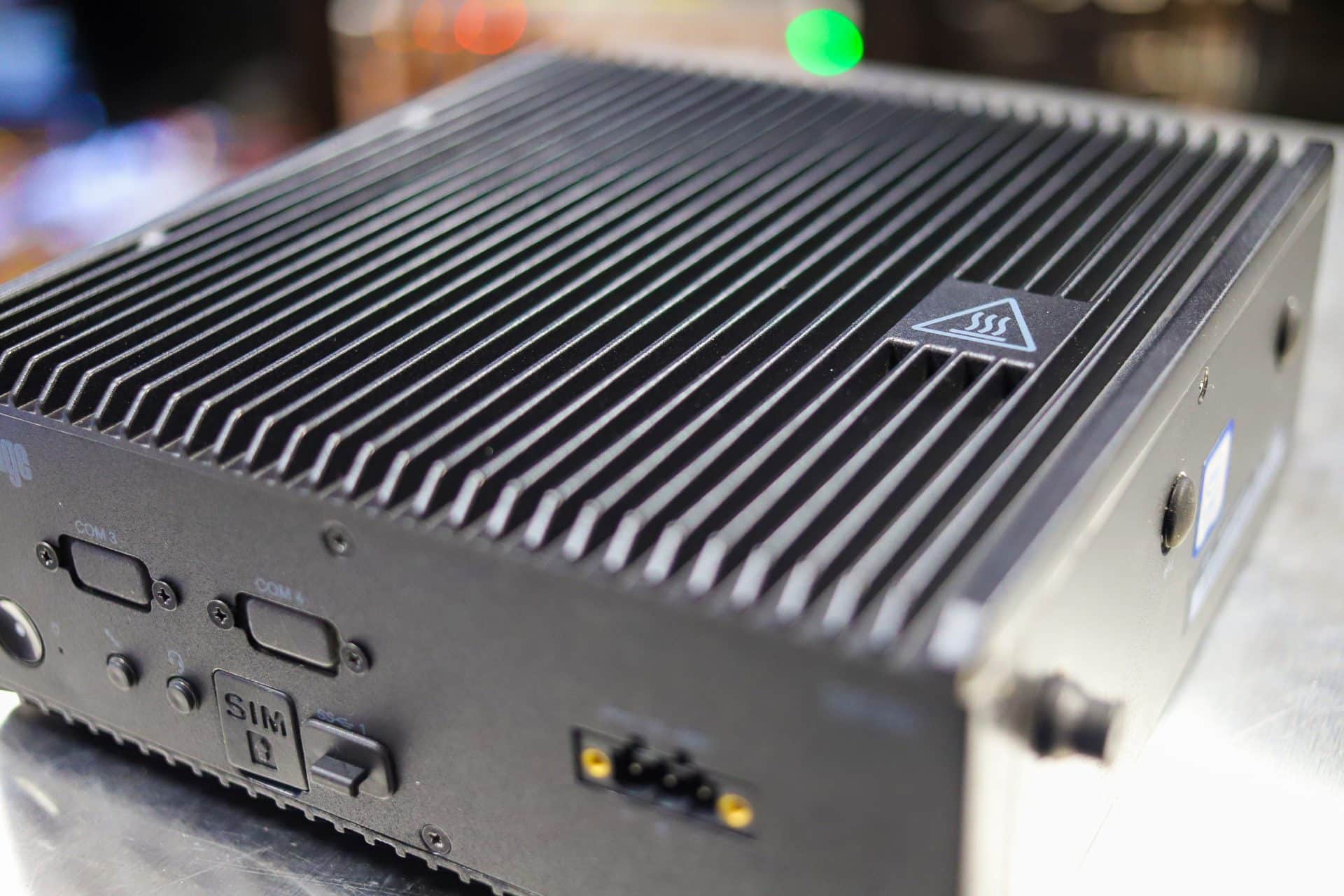 The case also has no ventilation holes and all the ports on it come equipped with rubber and plastic plugs. This makes the SE50 fully protected from settling dust or debris according to the IP50 standard. Since the case was designed this way, there is a concern about the heat that this machine produces. The CPU radiates heat directly into the chassis which is why there is a little warning symbol showing that heat will be coming off of it. Basically, the case itself on the SE50 will get much warmer than the average actively-cooled system under load. It designed that the operating temperature will be between 0 degrees Celsius and 50 degrees Celsius.
There are also many ports on the unit that allow for points of connectivity. On the front, there is one headphone/microphone combo jack, one USB 3.2 Gen 1 port, one power connector, and one headphone jack. On the rear, one USB 3.2 Gen 1, two serial (RS232), two Ethernet ports, one HDMI, one DisplayPort, and two USB 2.0. There are also four additional Ethernet ports from an added Intel NIC which has driver support for server environments such as VMware. For antennas, the case includes ports for Wifi and Bluetooth.
Another thing that makes the ThinkEdge SE50 interesting, and flexible, is the specific type of connectivity that it offers. The unit can come with 4 x Intel 1Gb ports. What makes this unique, is the fact that not only do these support Windows and Linux, but also are supported in VMware. The common Realtek port drivers only work for Windows and Linux operating systems and fail in other enterprise environment areas. Since the GbE ports on it are supported in VMware, the use cases for the SE50 greatly expand.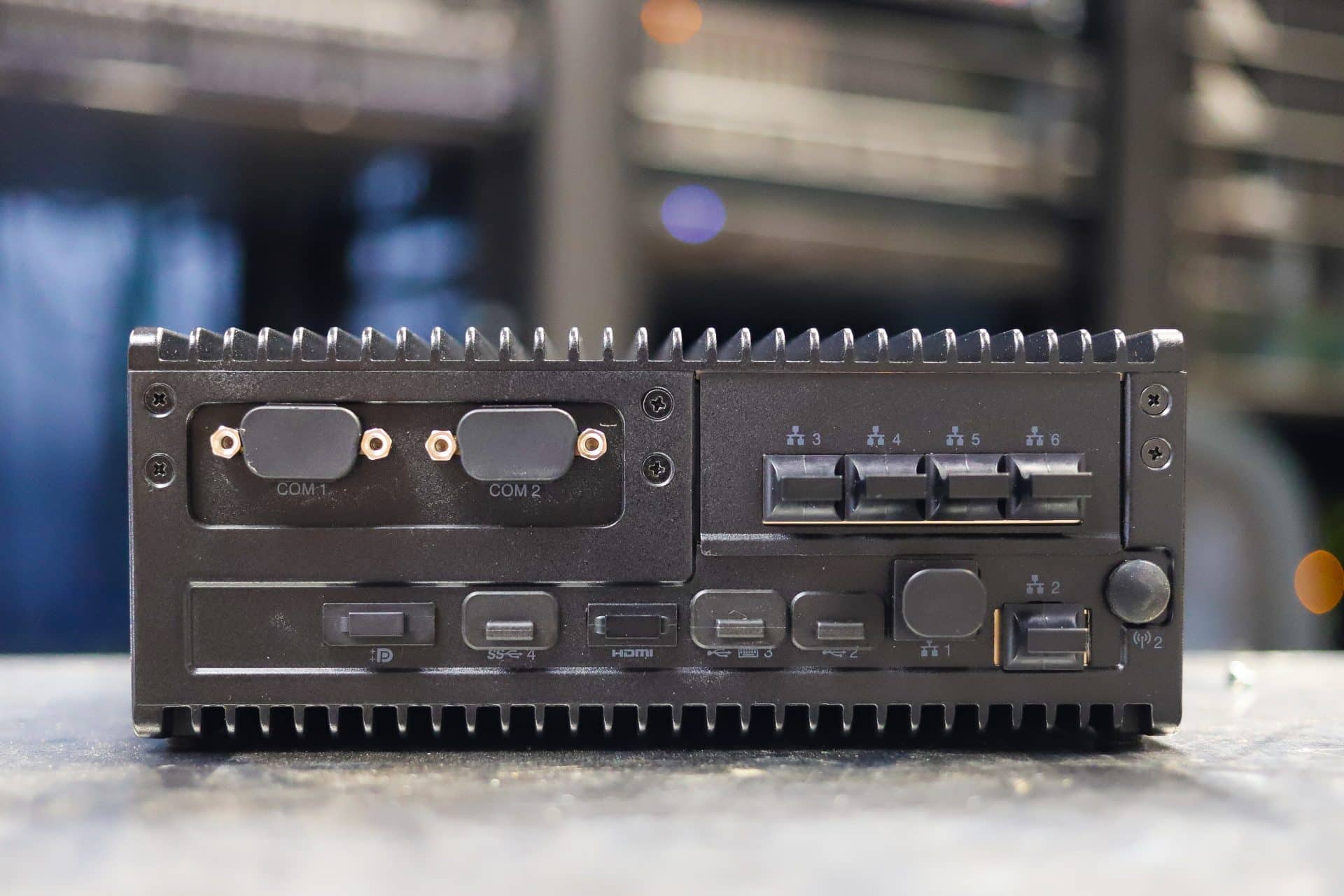 This compact machine feels like it can take a hit. While we won't throw it on the ground purposefully, if something were to happen to it in the field or an accident occurs, there is peace of mind that it will be able to withstand it. Many of these will be deployed out in the field, a warehouse, or worse (retail conditions) which can be much more demanding for computer hardware.
Something unique that the ThinkEdge SE50 has is the plug-in power that is required for it. While it ships with a standard power adapter that would be found with laptops, what is special about it is the universal power input voltage range. It uses a special 3 pin connector to connect with a wide range of wiring configurations, supporting 10-60VDC incoming power. This makes it quite useful for field deployments, automotive applications as well as normal office duty that can take advantage of the notebook power adapter.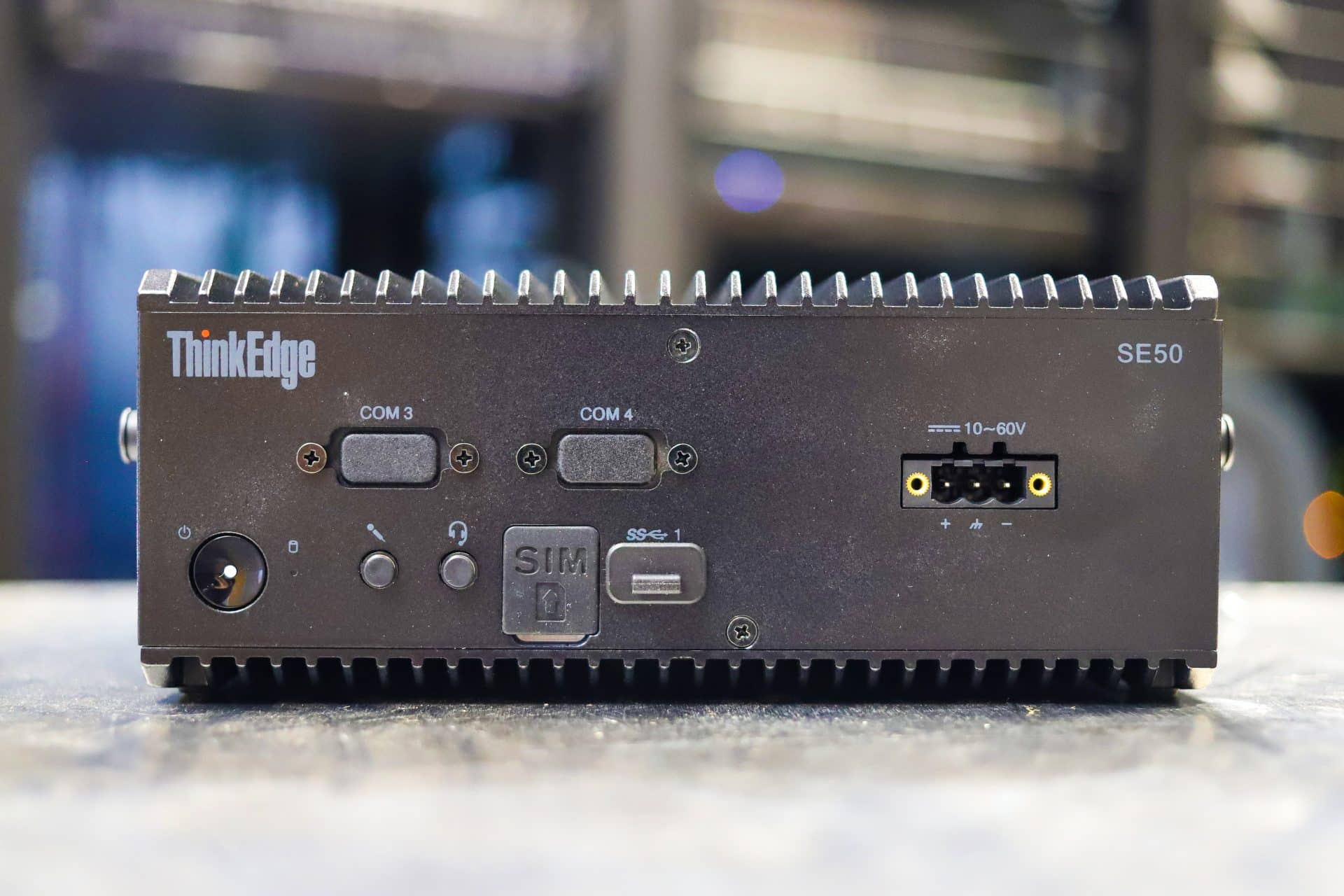 In the hardware manual, there is also a breakdown of all the parts that are in the machine along with a diagram. The device isn't really meant to be messed with much once deployed. The exploded view gives a useful peak of all the SE50 internals.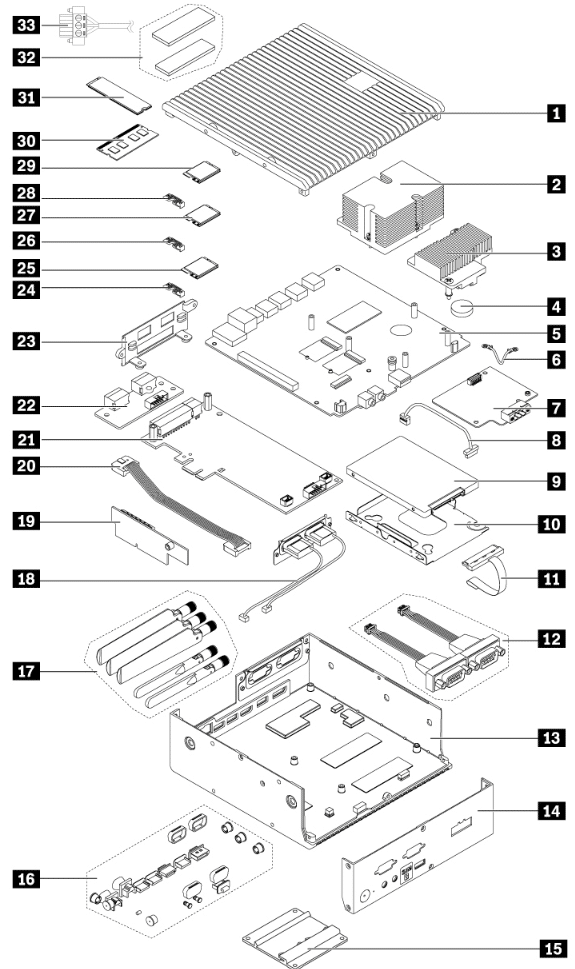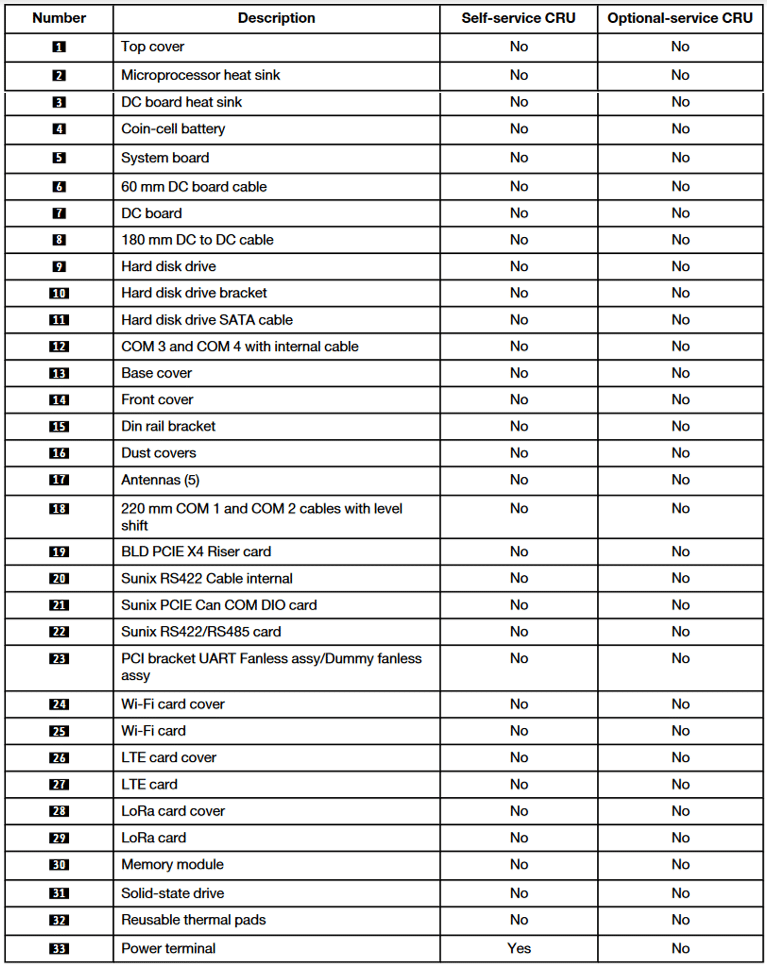 The Lenovo ThinkEdge SE50 can also be mounted for ease of access or to put somewhere that would be clear from debris, dust, and possibly human interference. The SE50 also comes with a DIN rail bracket that allows for mounting on rails, install pictured below.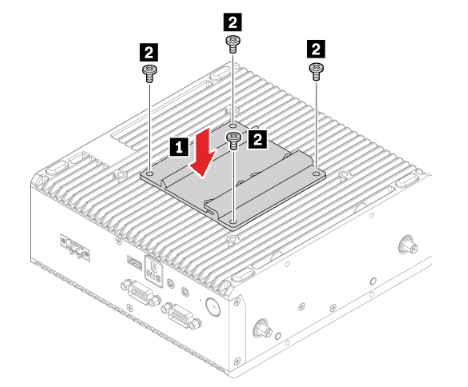 The other parts of the hardware manual have detailed diagrams that picture what it would be if something had to be replaced. For example, if the storage drive needed to be switched, there is a process for that, as pictured: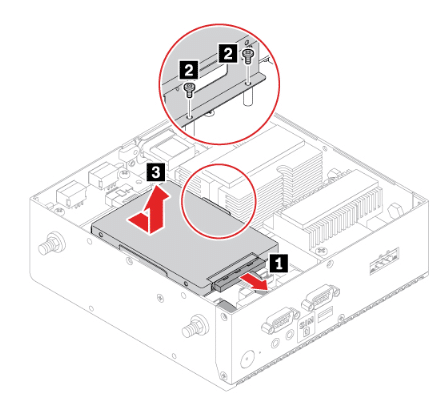 Lenovo ThinkEdge SE50 Performance

For our performance section of this review, we started with a Windows operating system and ran UL Labs' PCMark 10 for general system performance assessment. This test offers a variety of workloads categorized into three groups.
The Essentials group includes web browsing, video conferencing, and app start-up time.
The Productivity group includes tests based on spreadsheets and writing.
The Digital Content Creation group includes photo editing, video editing, and a rendering and visualization test.
In our case, the ThinkEdge scored 3,858, which consisted of 8,249 in essentials, 6,623 in productivity, and 2,853 in digital content. The full results are below: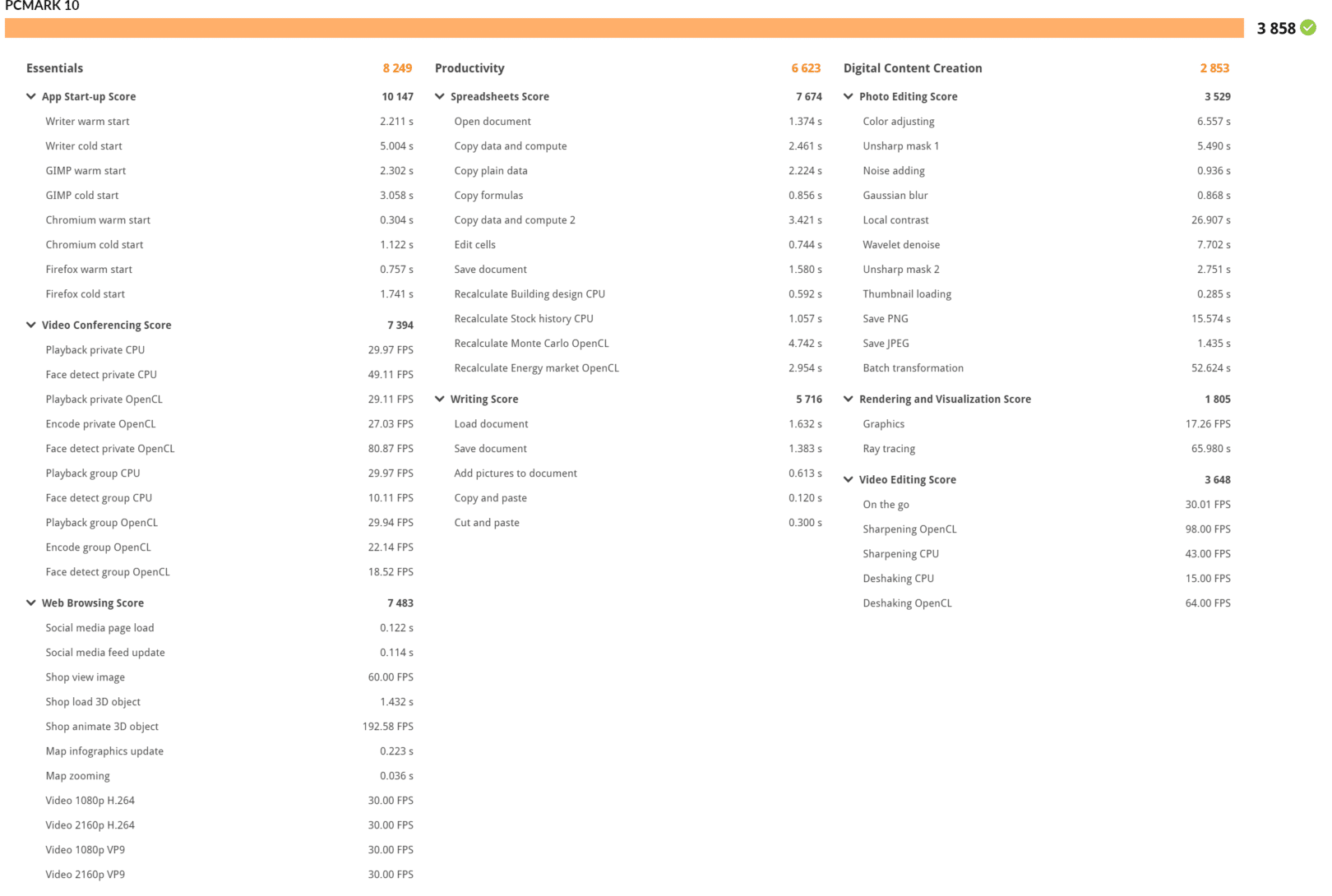 Another thing that we did to look at the performance of the ThinkEdge SE50 wasn't really a test, but more of a process. We were able to easily set up VMware ESXi 7 on the SE50. With our current build of the Core i7 at 1.7 GHz, we were able to have an aggregate of 8Ghz computing power, however, Lenovo does offer a model that can make up to 16Ghz of computer power.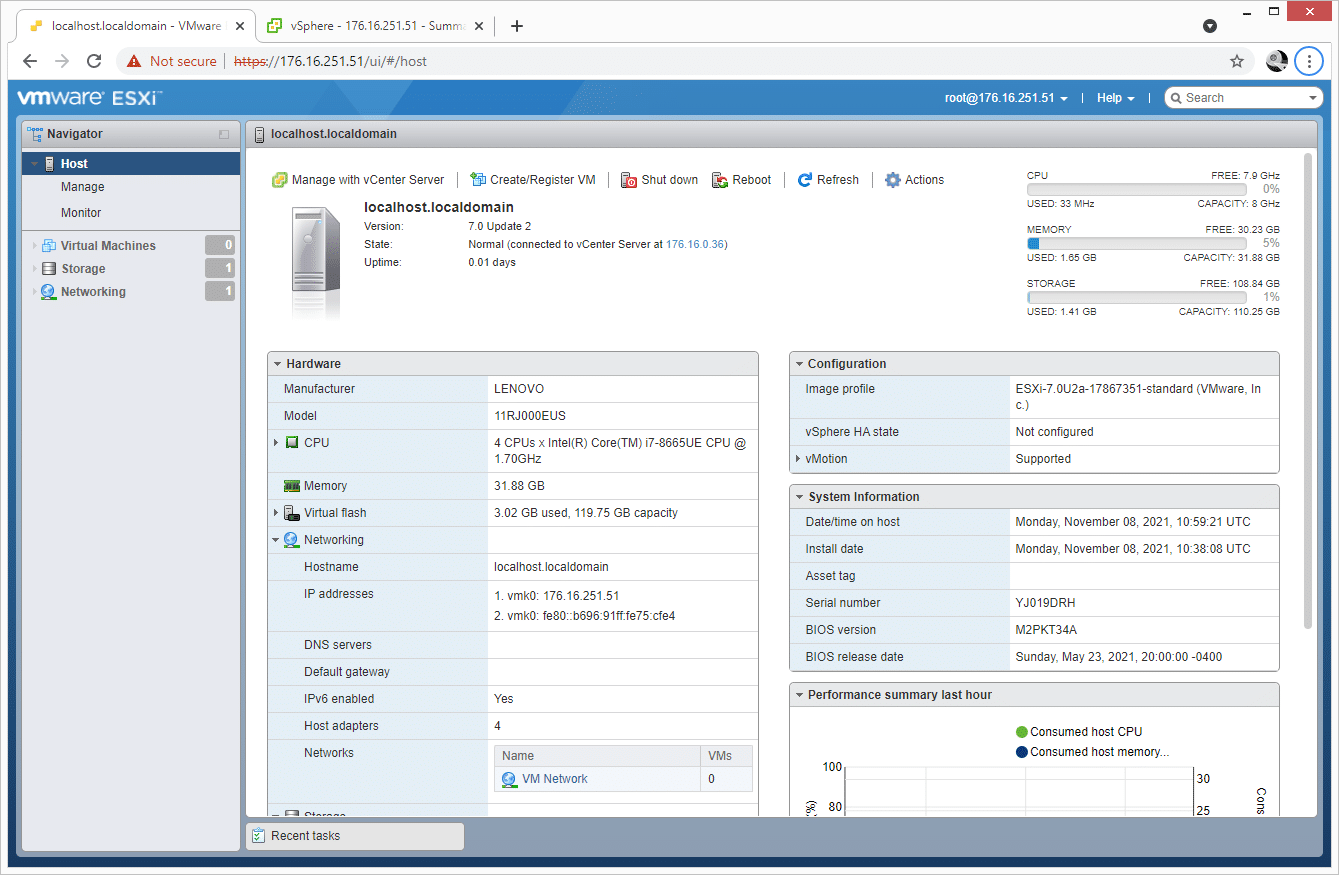 Conclusion
The Lenovo ThinkEdge SE50 is a very versatile machine that has a wide variety of uses, so many in fact that it's a little difficult to concisely put this box, in a box. There are so many tasks the SE50 is able to capably handle that it becomes challenging to think of a situation in which the design and build doesn't really work out. The rugged nature of the system, and it being completely passively cooled, allows the SE50 to operate in many areas that would cause a traditional system to fail.
If there's a shortcoming, the SE50 may come up a little light in cases where organizations decide they need more power and expansion, in which case something like the SE350 is a good alternative for the edge. It's also worth noting that Lenovo has announced the ThinkEdge SE70, but isn't shipping it yet. The SE70 is yet another edge alternative from Lenovo, this time highly targeted toward edge AI workloads thanks to its NVIDIA Jetson innards.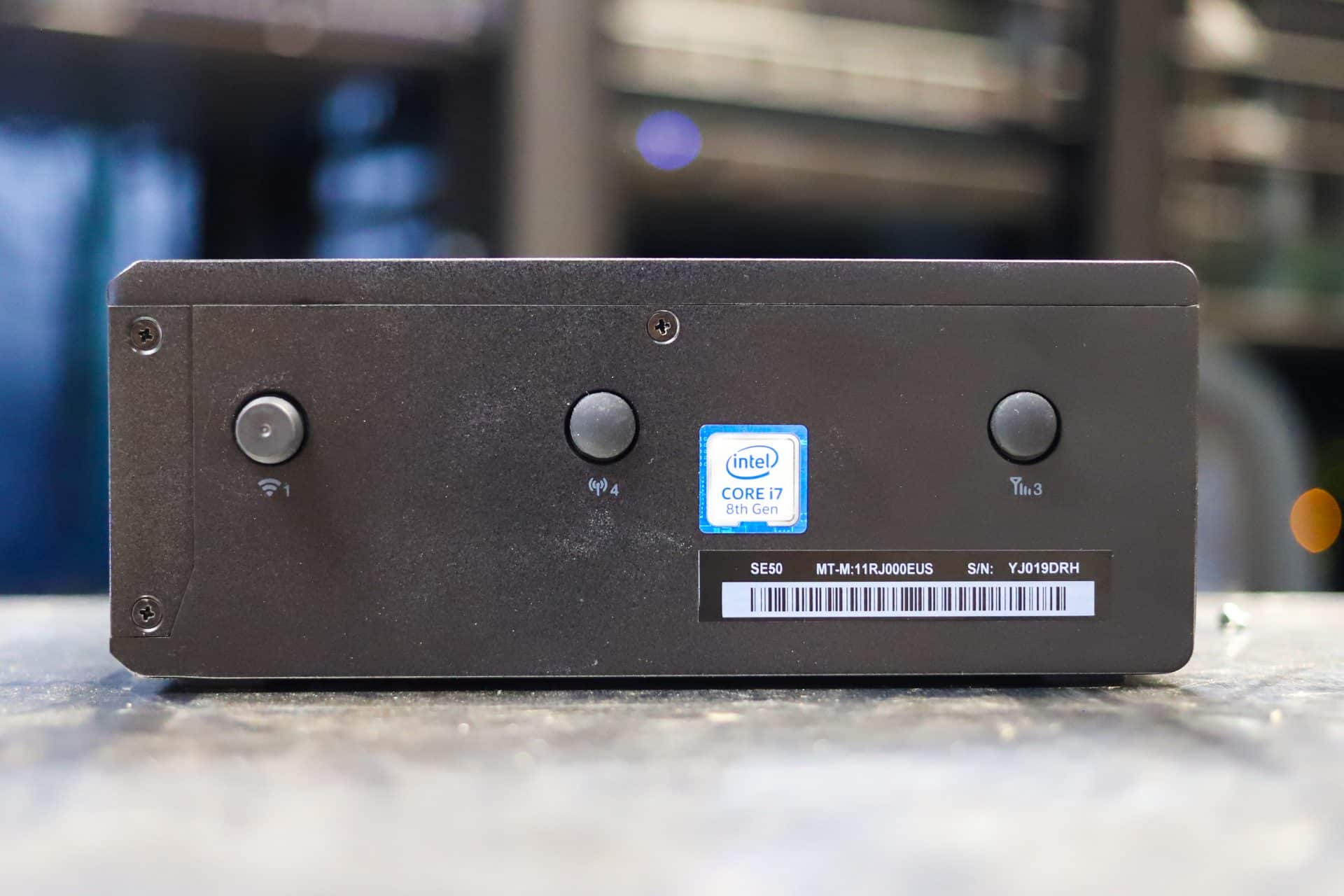 With the Core i7 and 32GB of DDR4 memory, there isn't a task that this compact and mobile machine won't be able to do. From running Windows and Linux to possibly being a DNS host and everything in between. It was built to handle moderate-performance workloads in any given environment, whether it be an office or somewhere remote. This machine also allows for highly virtualized edge use cases with its Intel NICs that support VMware, and would be able to take advantage of IoT sensors and other devices.
With the connectivity and rugged design that the ThinkEdge SE50 offers, there's little that this machine can't support. The ThinkEdge SE50 is a great choice for an IoT Edge computing device.
Lenovo ThinkEdge SE50 PDF Product sheet
Engage with StorageReview
Newsletter | YouTube | Podcast iTunes/Spotify | Instagram | Twitter | Facebook | RSS Feed