Last month, Synology announced a major update release to its DiskStation Manager operating system, Synology DSM 7.0. While they are not reinventing the wheel here, there are some major changes. Synology has done a lot of streamlining and redesigning of the GUI as well as tackle some security issues, security issues have been a bit of a plague for NAS users as of late.
Last month, Synology announced a major update release to its DiskStation Manager operating system, Synology DSM 7.0. While they are not reinventing the wheel here, there are some major changes. Synology has done a lot of streamlining and redesigning of the GUI as well as tackle some security issues, security issues have been a bit of a plague for NAS users as of late.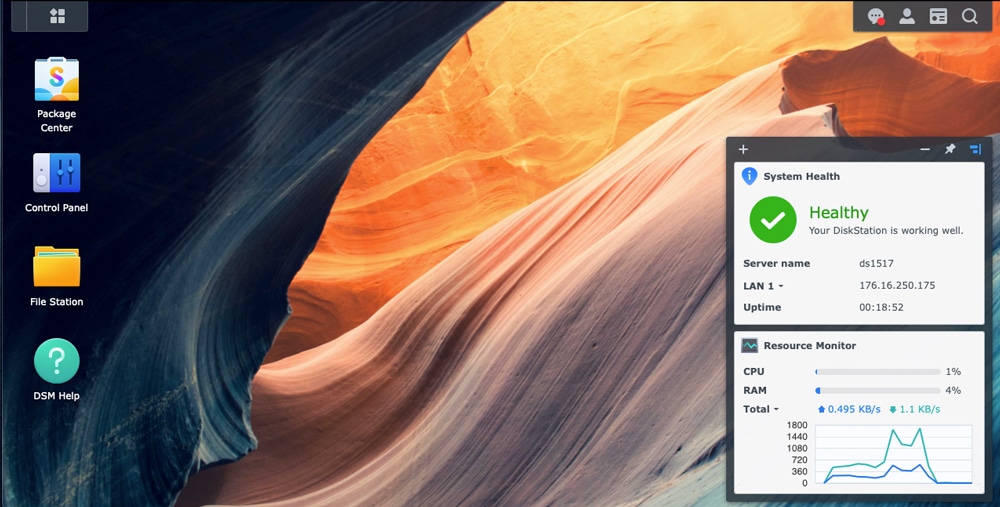 Is Synology DSM 7.0 Ready Now?
Just because there is a new version of the software available doesn't mean any and all users should download and install it. First off the bat, this is a fairly big upgrade and there will be some growing pains moving from 6.x to 7.0 (this phenomenon is not unique to Synology). For instance, 7.0 no longer supports ext3, it pushes support towards ext4 and btrfs. While this leads to better security and options like snapshots and replication, it can be a pain to those that leverage ext3. This also means that older NAS models that don't support btrfs, won't work with DSM 7.0.
One should also consider what apps they leverage on DSM. Some of the apps (which Synology refers to as packages) aren't fully supported just yet. Again, this isn't an uncommon occurrence with any major upgrade, even VMware has this issue, but if something is business-critical, you may want to wait. While not business-critical, Plex has been moved to beta in DSM 7.0. This is a hugely popular app, and users should just be aware before making any major changes.
Make sure you look before you leap here.
How to Install Synology DSM 7.0 
If you own a newer model and the above isn't much of a concern, let's look at installing DSM 7.0. This isn't an auto-update, which is a good thing as you don't want your NAS to update to an OS that may not be compatible with everything you have. You have to go to Synology's download center, choose your model and OS, and then choose where you're going.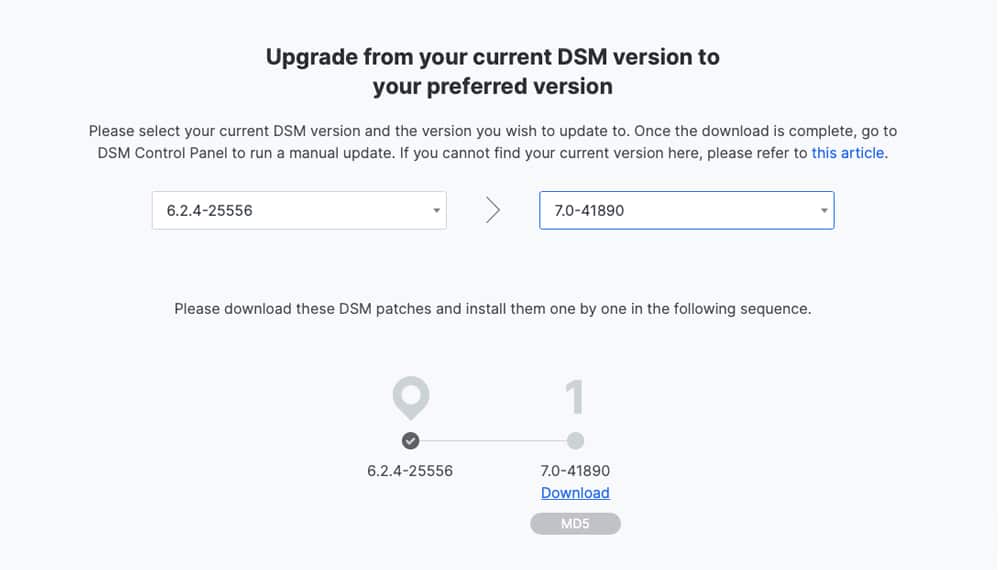 Once that is done, you have to go to Control Panel > Update & Restore > DSM Update.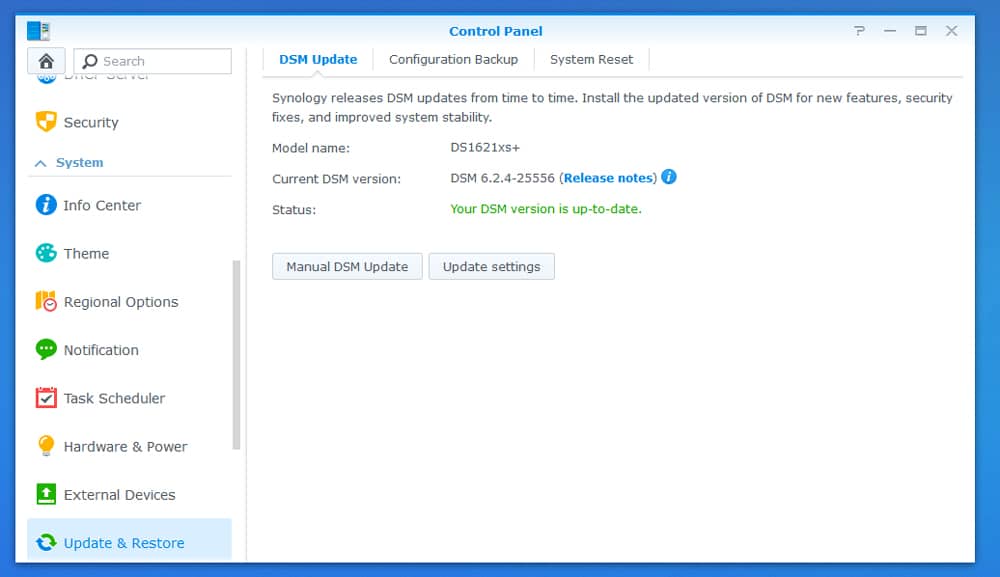 Here click on manual update and then select the file you downloaded from the download center. Depending on your system, you should be ready to go in a few minutes.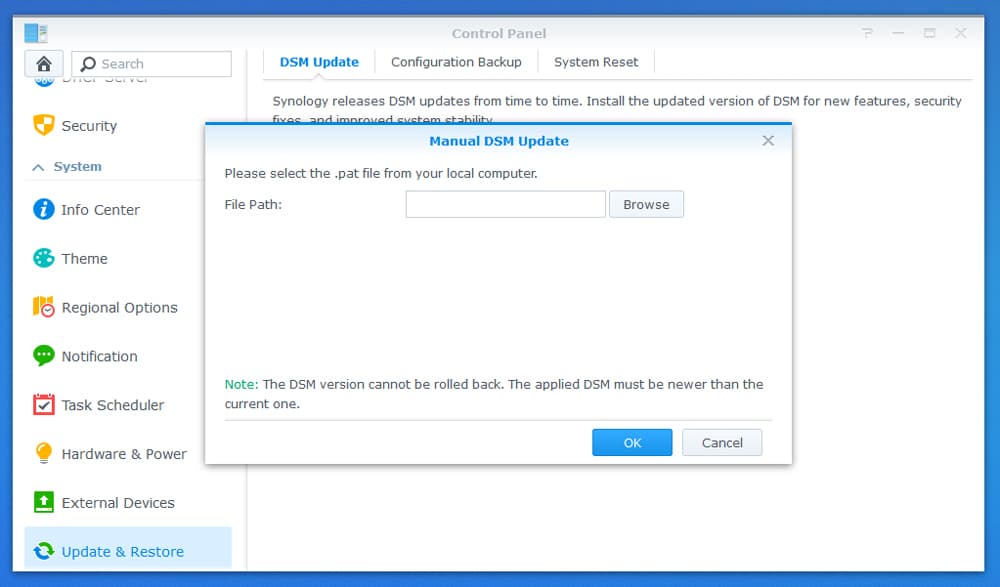 DSM 7.0 first impressions
I've been using Synology and DSM for several years, so the first thing that stands out is the look. While it still has the same feel as the old DSM, 7.0 has made several subtle changes that, in my opinion, make it look nicer and newer. There was nothing wrong with the old layout, but it did feel a bit dated.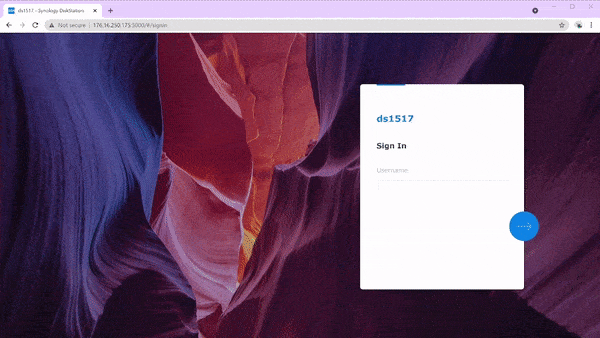 Control Panel has been streamlined a bit. This has mainly happened through consolidation, not limiting users' options. It also makes sense to move some things together, thus streamlining the whole process.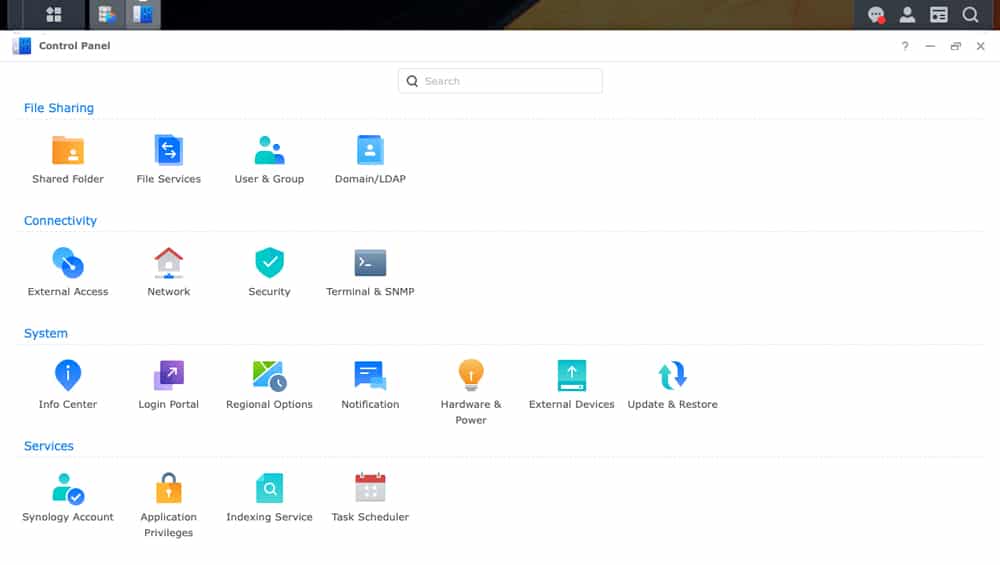 Overall, it still has the super user-friendly feel it has had over the last decade or so. Synology DSM has always been like the Macintosh of NAS OS's. In other words, the average Joe or Jane should be able to dive into several of the features intuitively with little training. The company still uses the same OS through single-user use up to enterprise. This cuts down on how much one needs to learn but adds unneeded features on both ends.
Synology DSM 7.0 has retained most of its popular multimedia packages. These include Audio Station and Video Station. Photo Stations and Moments have been combined into the all-new Photos. We will be releasing a separate review just on Photos. File Station is refreshed but still works the same, simple way it has for some time.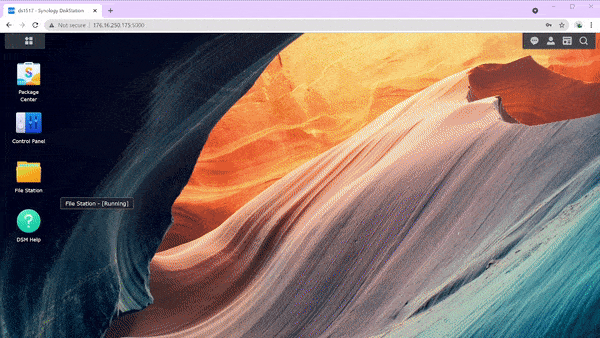 Something that is both the same and yet somewhat different is Package Center, Synology's App store. The Package Center has the same basic layout. The All Packages tab shows all starting with Synology packages in alphabetical order at the top and third-party packages near the bottom.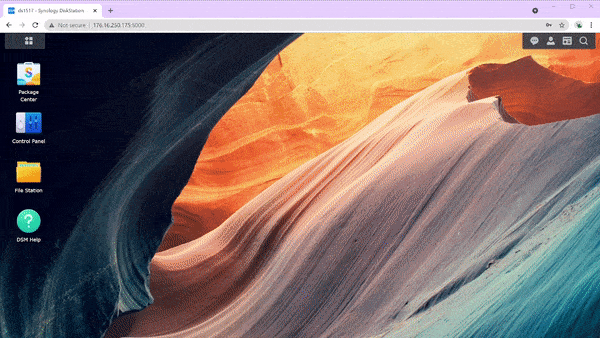 What is new here is the Beta Packages tab. These are the packages that aren't fully ready for DSM 7.0 integration, notice that there are some popular packages here.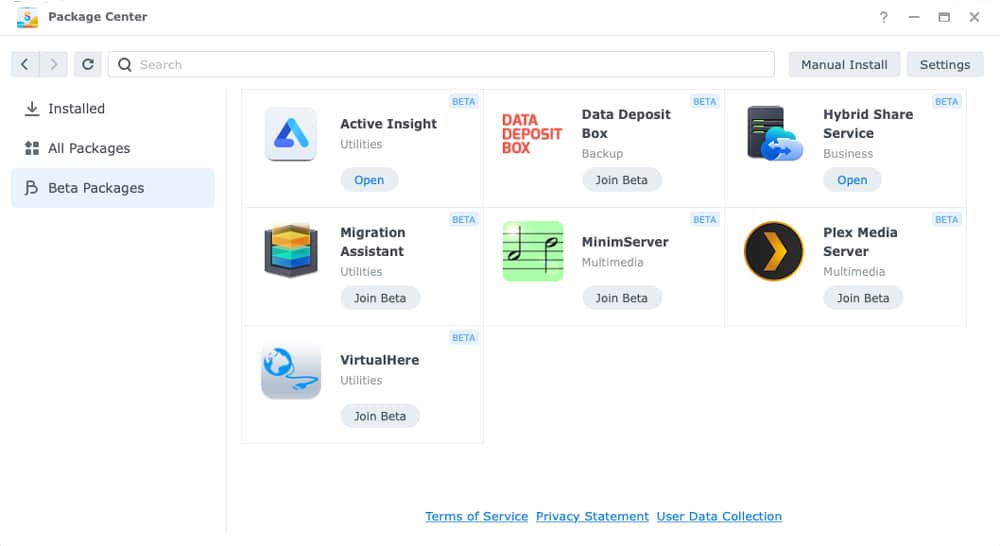 So, What is Different?
We want new, but at the same time, we don't want things to be too different. This is always a balancing act from software companies to huge media franchises. We've talked about the familiar and noted that the GUI is refreshed but similar. Photos is radically different, but that deep dive is for another day.
With most software updates, users get the obligatory performance boost. While the GUI does seem a bit more responsive (particularly the search function), performance will be more tied into things like the process, RAM, storage used, as well as connectivity.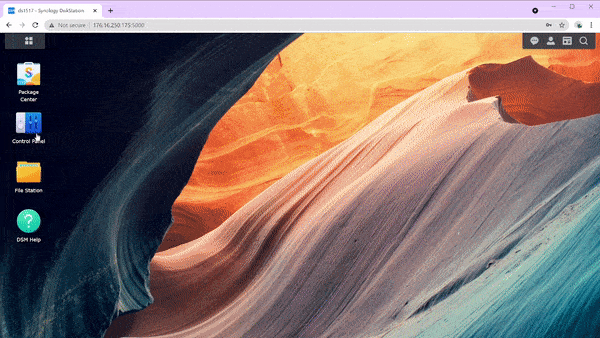 An interesting feature that was added, deals with security. Over the last year or so, NAS devices have been increasingly involved in ransomware attacks. Synology has added multi-factorial authentication. Users can set this up and then will have to use their smartphone to finish logging in, even leveraging some of the smartphone login technology like face or fingerprint ID. While this adds a step, it should really cut down on unauthorized access.
Storage Manager is also more responsive with a new design. It only takes a moment to configure RAID (now increasing the random I/O performance of RAID6 as well) and set up storage Pools, though it can take a bit for the pool to build.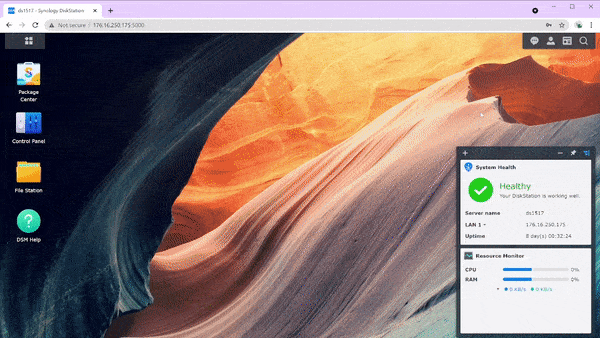 Storage Manager also is where one would find options such as fast repair for degraded storage pools and setting up the auto-replace in the hot spare. While Synology has had hot spare as an option for a while, now admins can set the spare to come into play automatically when needed.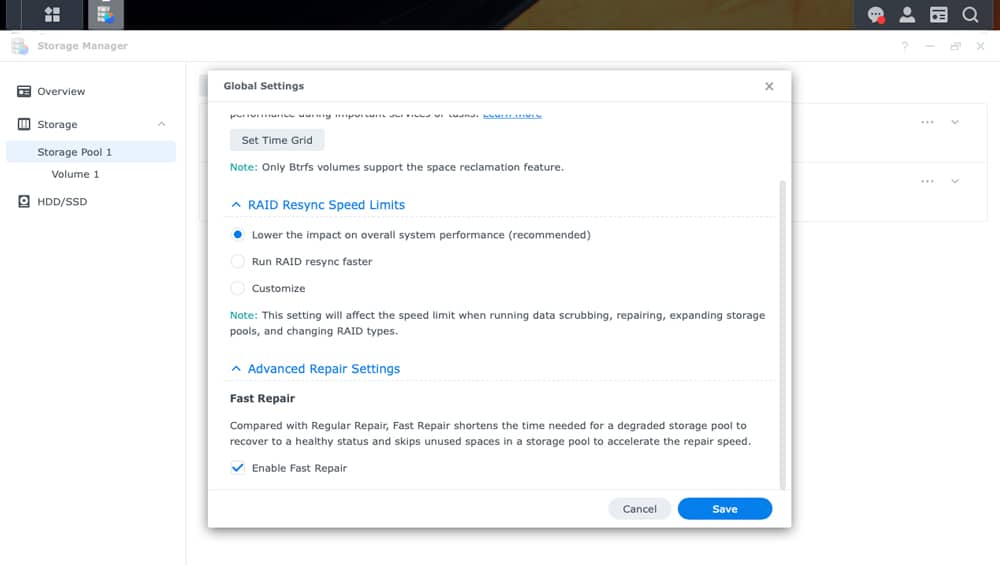 Through Storage Manager, admins can take advantage of the new SSD Cache features. These include metadata pinning and write-back to increase performance and data protection respectively.
There were a handful of management changes aimed at increasing productivity and security as well. Admins can now delegate administration roles to specific users. They can pick and choose what roles, which users have.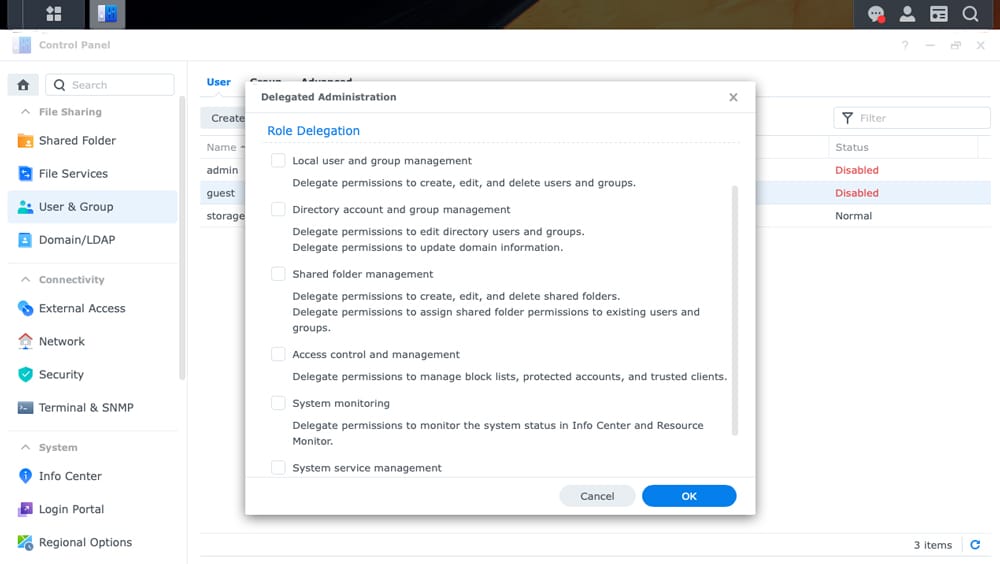 When one creates a shared folder there are certain permissions to certain users. We don't want anything important deleted by accident. While this is useful in the day-to-day, it can be a pain for auditing. Synology now allows admins to export permissions to make it a bit easier to identify specific users without going through every folder.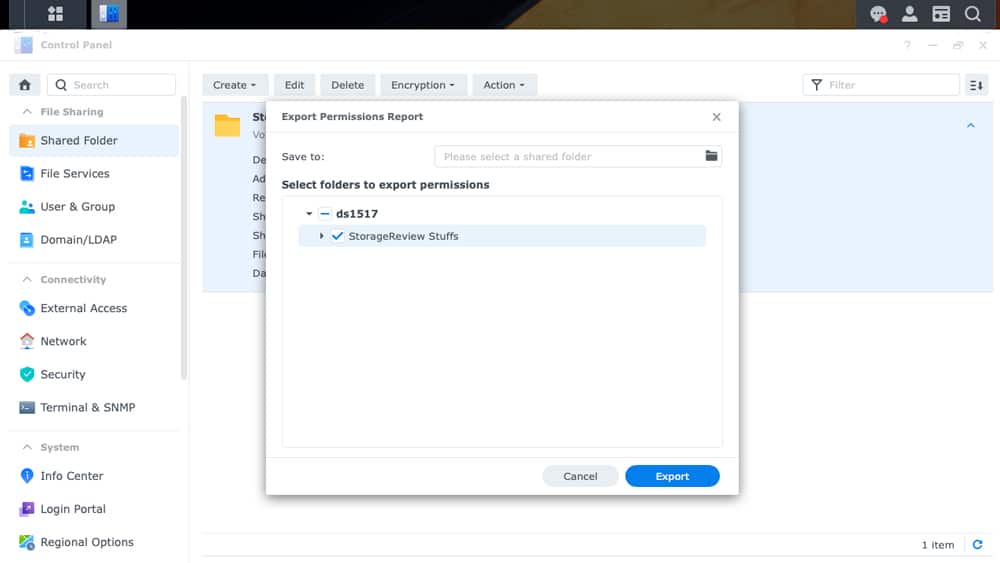 Closing Thoughts
Synology released a major revamp of its NAS operating system with DSM 7.0. The major difference here is the look and the feel of the GUI. It is still dead simple to use, but looks modern and is much more responsive than the previous version. Synology has managed to pair down and refine its GUI without losing anything important. The Package Center is refreshed now with a Beta section for packages that are quite ready for full integration into 7.0.
Instead of doing a refresh of all its popular packages (Photos is the only major updated one), Synology did more "under the hood" type updates. We installed the new OS on a DS1517+ to poke around a little as see what was new. Building pools and configuring RAID is as easy as ever. There are some cool new storage features like fast repair to keep a storage pool up and running. The OS now has an auto-replace hot-spare option now, again, keeping availability up. There are a few new things added to SSD caching as well.
Overall, Synology DSM 7.0 looks a lot better and is much more responsive. The security and storage updates help the NAS devices keep up with the changing landscape. Before you update, make sure your NAS is ready for 7.0.
Engage with StorageReview
Newsletter | YouTube | LinkedIn | Instagram | Twitter | Facebook | TikTok | RSS Feed