Recently we had the honor to have Kris Moore, from iXsystems, at the StorageReview premises, to discuss and live demo the new features of TrueNAS CORE version 12.0. This "new" product was revealed two months ago with the unification decision of FreeNAS and TrueNAS. TrueNAS CORE is one of the three versions of TrueNAS Open Storage software comprised of TrueNAS CORE, TrueNAS Enterprise, and TrueNAS SCALE.
Recently we had the honor to have Kris Moore, from iXsystems, at the StorageReview premises, to discuss and live demo the new features of TrueNAS CORE version 12.0. This "new" product was revealed two months ago with the unification decision of FreeNAS and TrueNAS. TrueNAS CORE is one of the three versions of TrueNAS Open Storage software comprised of TrueNAS CORE, TrueNAS Enterprise, and TrueNAS SCALE.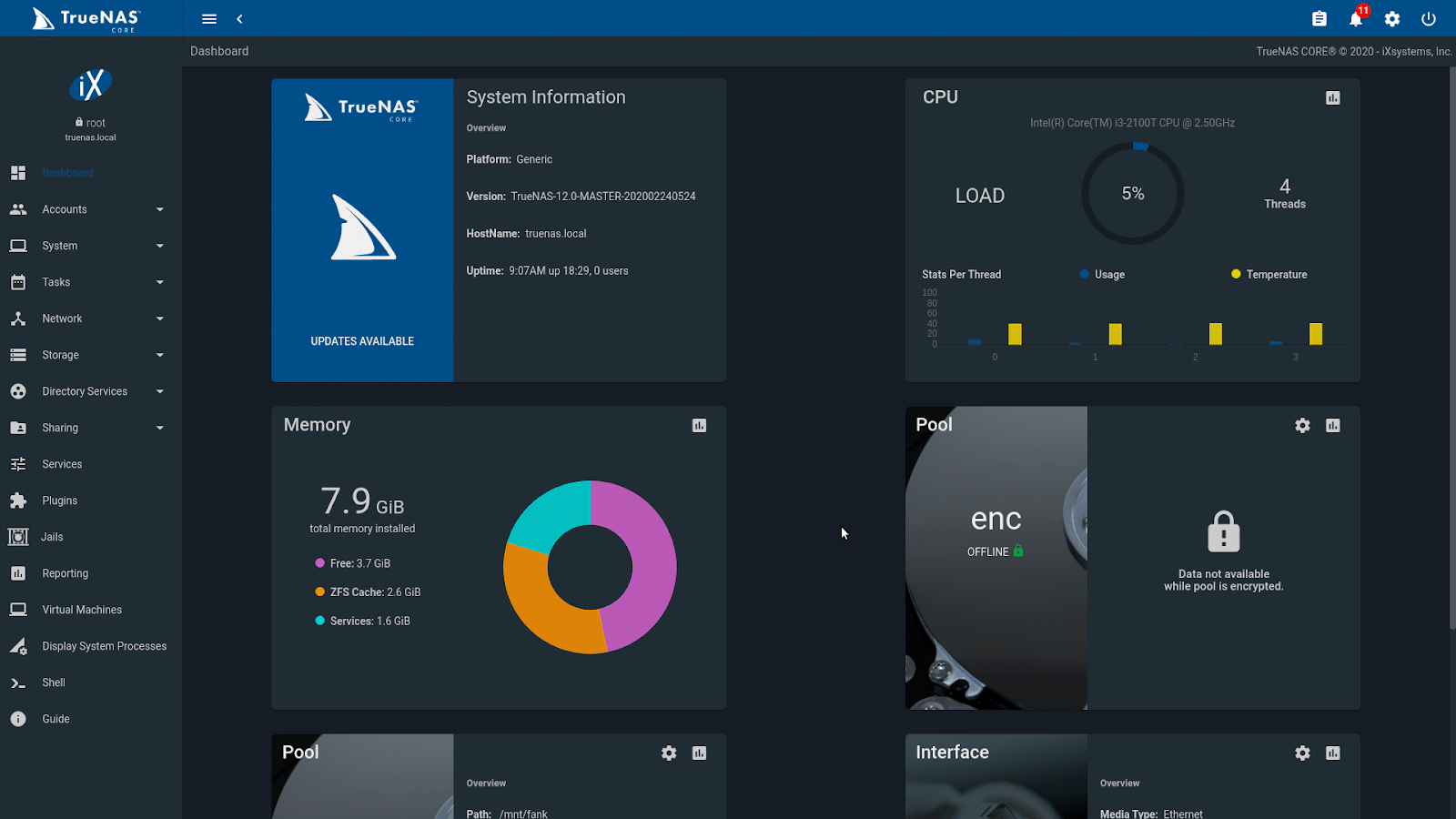 Read More – TrueNAS CORE 12 Review on HPE MicroServer
TrueNAS Open Storage will bind all TrueNAS versions into a single software image and brand. What was formerly FreeNAS is now named TrueNAS CORE. TrueNAS, on the other hand, will be identified as TrueNAS Enterprise, automatically inheriting all TrueNAS CORE features. The upcoming release, version 12.0, has been worked for over a year and is packed with fresh features; some of these were requested by FreeNAS users.

TrueNAS software has been built on the top of FreeNAS, making it a solid Open Source base for iXsystems enterprise products. This has allowed iXsystems to offer different products ranging from a 4-bay FreeNAS all the way up to the TrueNAS M-Series, which supports extensive configurations including all-flash, ten petabytes of usable storage, and more. Based on iXsystems earlier announcement, they have developed, tested, documented, and released both as separate products from the beginning, even though the vast majority of code is shared. Two different products required them to maintain multiple code repositories, have two sets of QA testing for each separate edition of the software, produce two sets of documentation, and more. Therefore, the unification of these two products was required.

We are excited to explore and expand on this platform's latest features, which is considered the world's number one Open Source storage software with over 10 million downloads.
Live Demo Video:
TrueNAS CORE Features
FreeNAS current version 11.3 already includes a comprehensive set of features, improvements, and fixes, and now TrueNAS CORE (version 12.0) adds more to the list. The most significant features of this new version are Fusion Pools, Native encryption, native VPN support, API keys, and enhanced TrueCommand integration. Many other features are also incorporated. iXsystems assures that features in the previous version won't be affected during the transition to TrueNAS CORE. The GUI, in particular, got little visual improvements like new icons and some other minor details.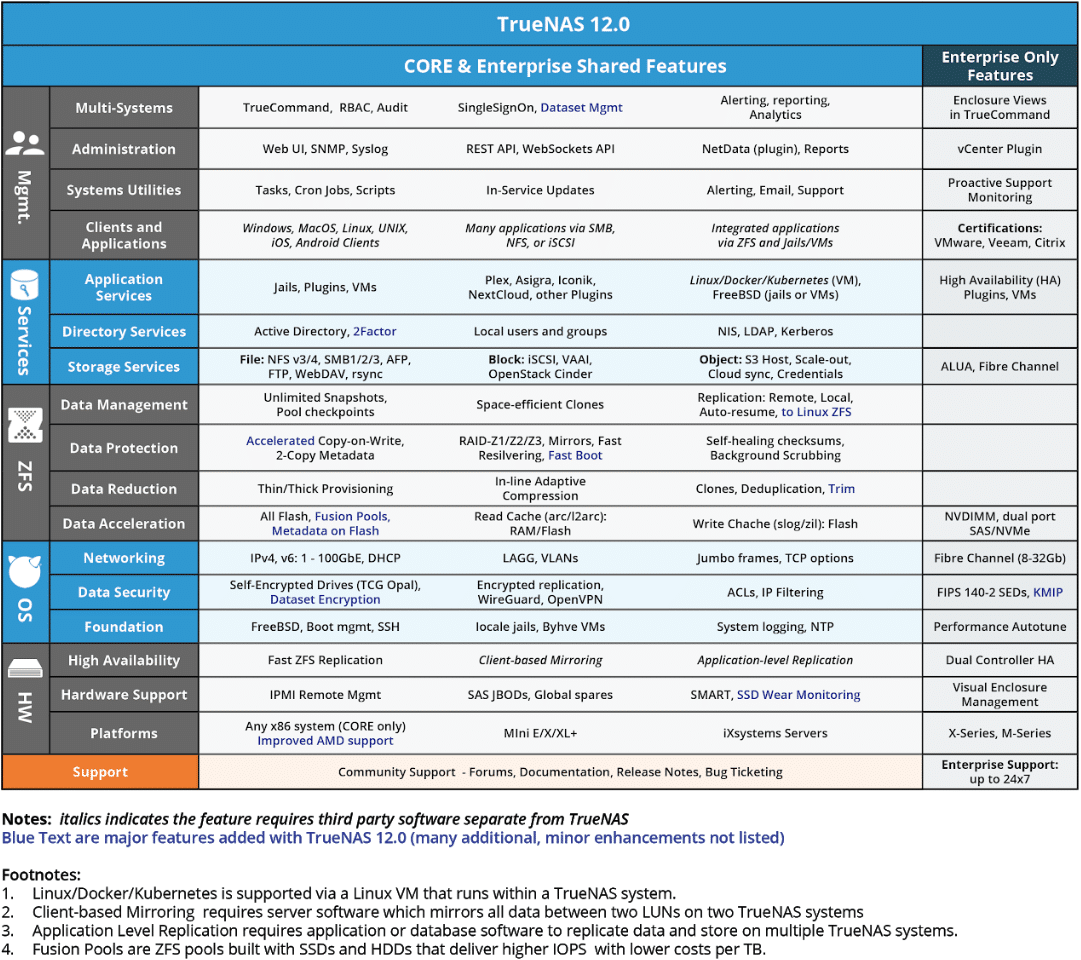 Fusion Pools
Probably the most significant feature the TrueNAS version 12.0 brings to the table is Fusion Pools. In previous versions, pools need to be created out of the same media type, so they either will be all SSD or all spinning disk pools. Starting with version 12, now you can create this new fusion pool, a mix of both media types. So, you could have spinning disks for data blocks and flash devices for metadata and small files. This will speed up all metadata operations. Fusion pools can support any kind of flash device recognized by the system, NVMe, SAS, or SATA.
Fusion pools is an excellent addition that, if used for metadata with faster media, will undoubtedly speed up file-based operations. You can have more speed on your metadata requests while keeping the economy due to spinning media in the same pool.
Native Encryption
Security has always been a concern for the enterprise and also for SMBs, and home users. Another feature (also related to fusion pools), is the ability to have native encryption to datasets. This  native encryption takes place, not at the disk level, but through ZFS at the dataset layer. Native encryption will assist everyone with a better tool to ease security problems. One of the storage capabilities that will benefit from having native encryption is replication. With this new TrueNAS feature, native encryption, data sets or zvols can also be replicated securely to the remote site, giving more control and security over backup targets.
Native VPN Support
Another natively supported feature is OpenVPN. For those who don't have the option to use an enterprise VPN infrastructure, this new feature is just great. The native support of OpenVPN comes in two flavors, client and server. Open VPN offers a simple network setup that allows us to get our files, media, and services while remote or just away from home.
API keys
Since the new UI in version 11.3, all you can do via the UI is API driven.  With API keys there is no longer a need to share the root password to the box, which is very convenient. With this version, now you can create a key that you can continuously use and that the system only displays for the first time. Keys can be created and revoked directly via the GUI for additional security. In the end, this feature simplifies the automation of TrueNAS.
Other features
Other excellent and new features listed by iXsystems include TrueCommand, to monitor snapshotting, replicating, and migrating datasets between systems; Asynchronous ZFS Trim, to free up space, particularly within SSDs; SSD Wear Monitoring, to monitor any SSD for wear and alerts created; and more.
There are also performance improvements, such as Accelerated ZFS, to reduce both drive IOPS and the CPU cycles required and Faster ZFS Boot, for importing a ZFS pool with many drives and to reduce boot and failover times.
TrueNAS GUI: Features Walkthrough
From the new GUI (since version 11.3), we can overview some of the new features of TrueNAS CORE version 12.0.
Let's start with Fusion Pools. Now we have the ability to create this hybrid storage from the Storage / Pools menu. For example, we can select two or more HDDs for data vdevs and another set of SSDs for metadata vdevs. As stated in the previous section, the special SSD vdevs can be used for Metadata acceleration and small files. This can include both file systems metadata and dedupe tables.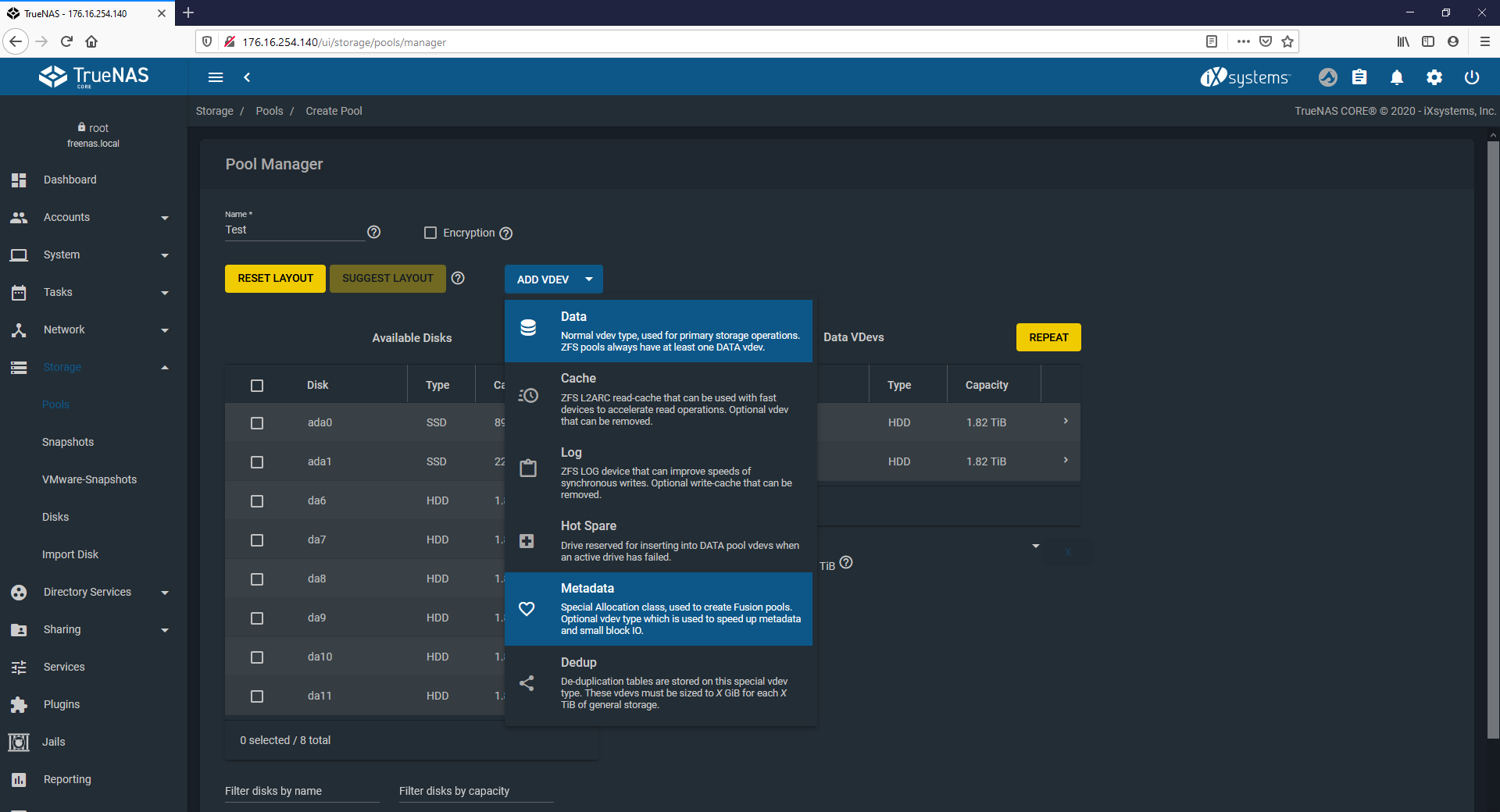 When adding new datasets, we can add the new native encryption. If we select the encryption option, we have some encryption types, such as Passphrase, where we need to type a manual password.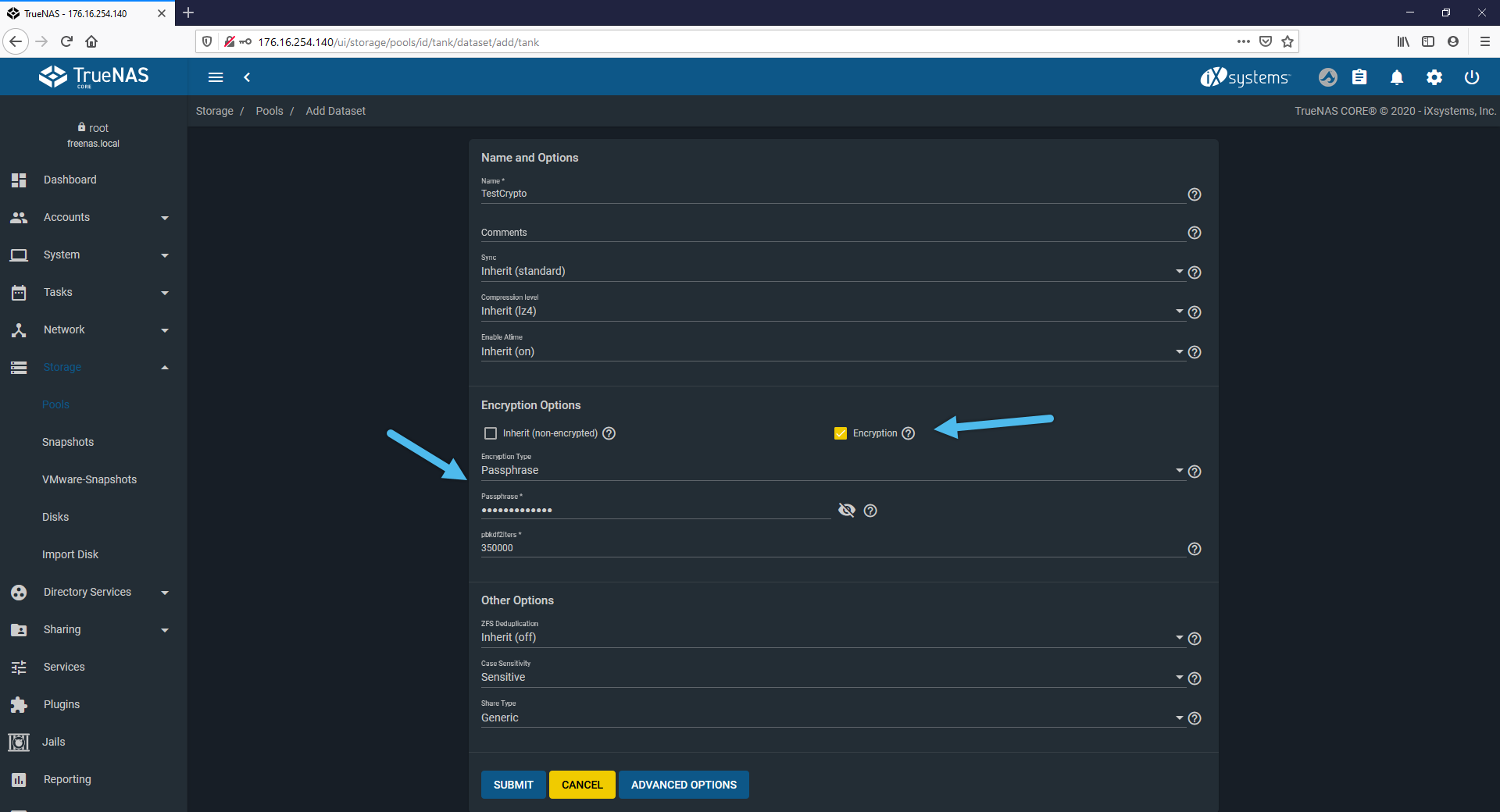 Datasets will show a new lock icon indicating whether its encrypted and locked or not. From the menu, we can proceed to lock individual datasets.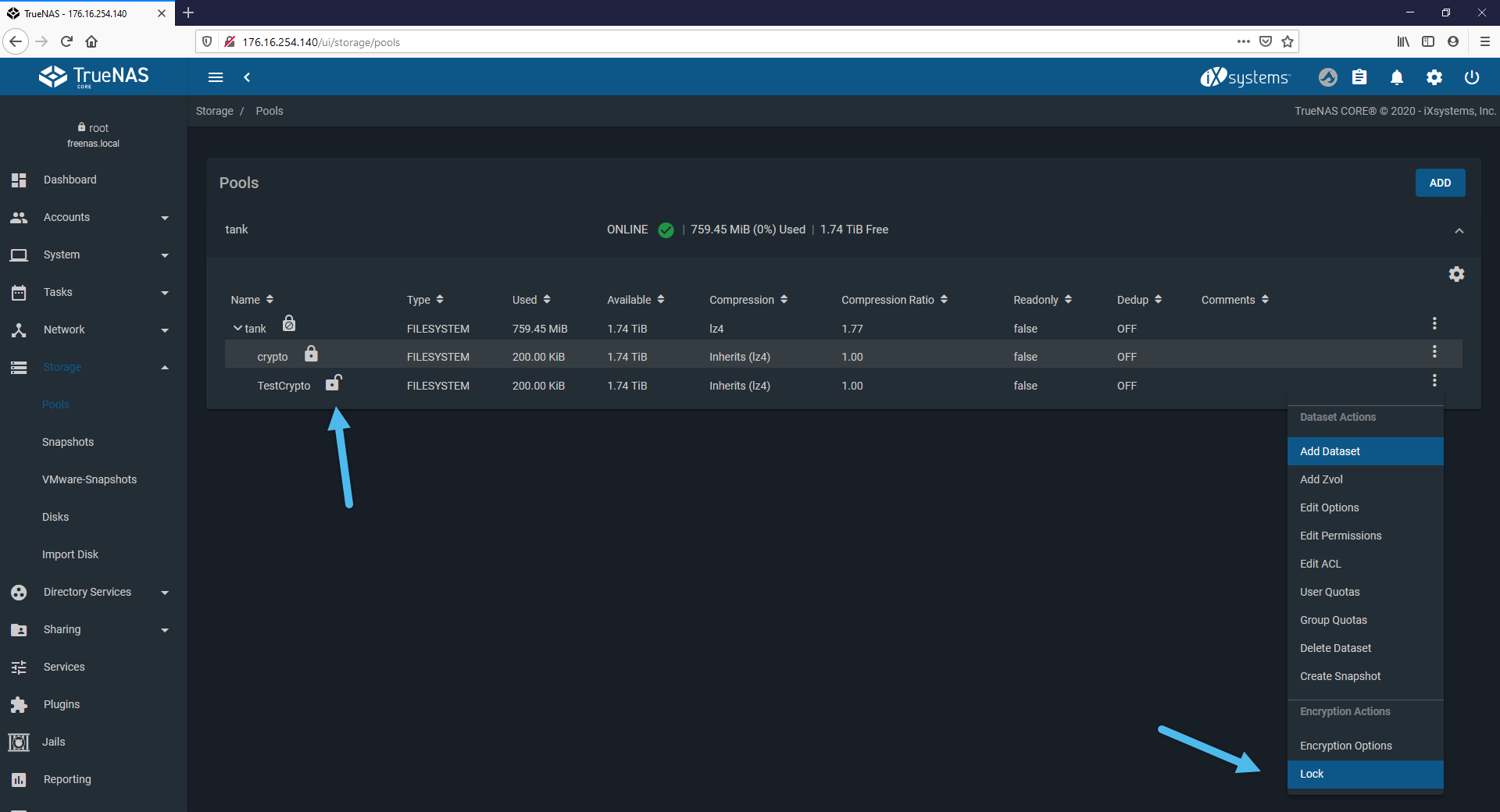 If we desire to unlock and access a dataset, we need to enter the password set during the creation of the dataset.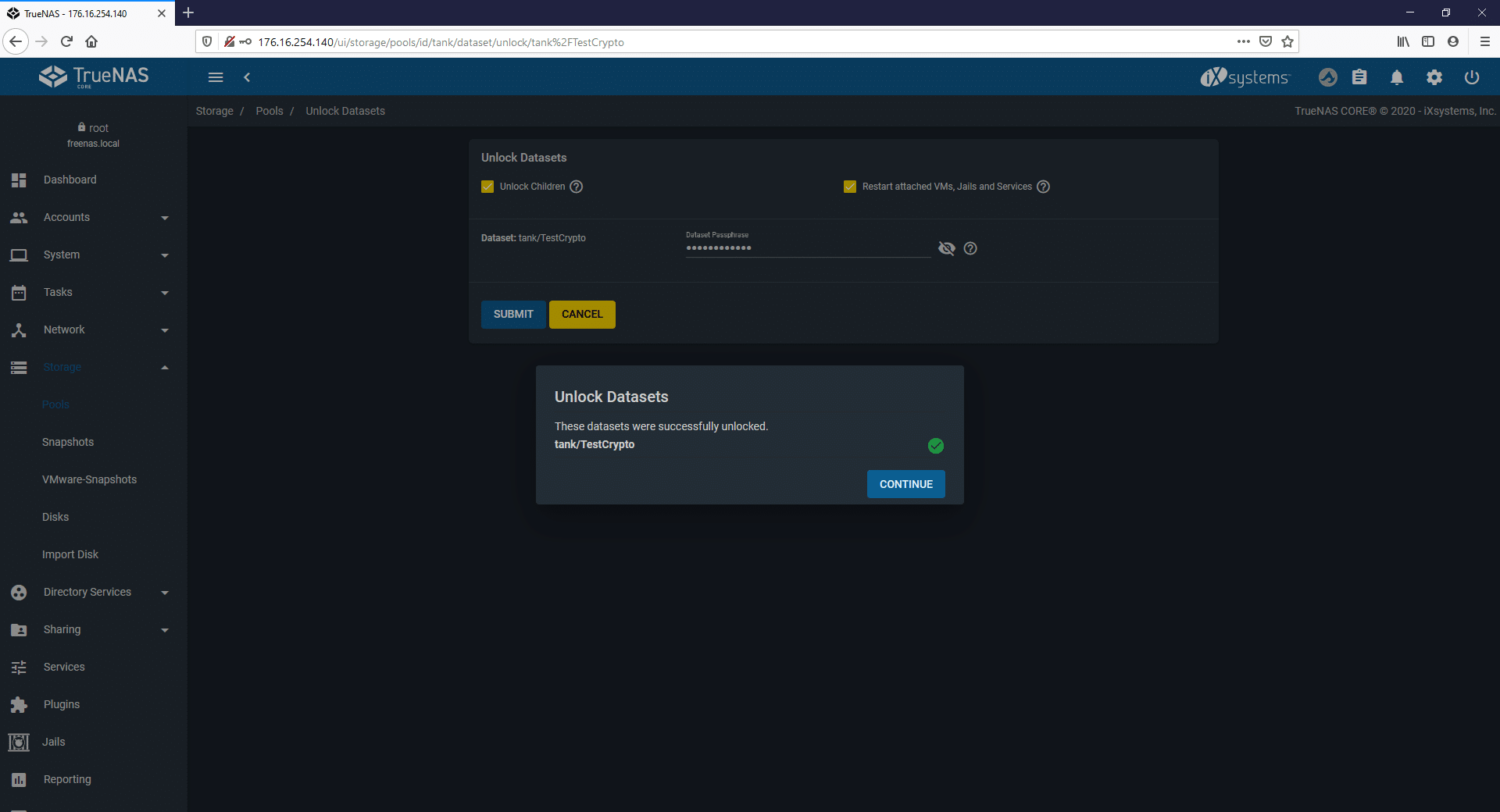 From services, we can access the new VPN option. We can enable or edit the configuration of both the OpenVPN Client or Server. This feature allows for the OpenVPN to be included in the NAS for simpler administration and lower costs.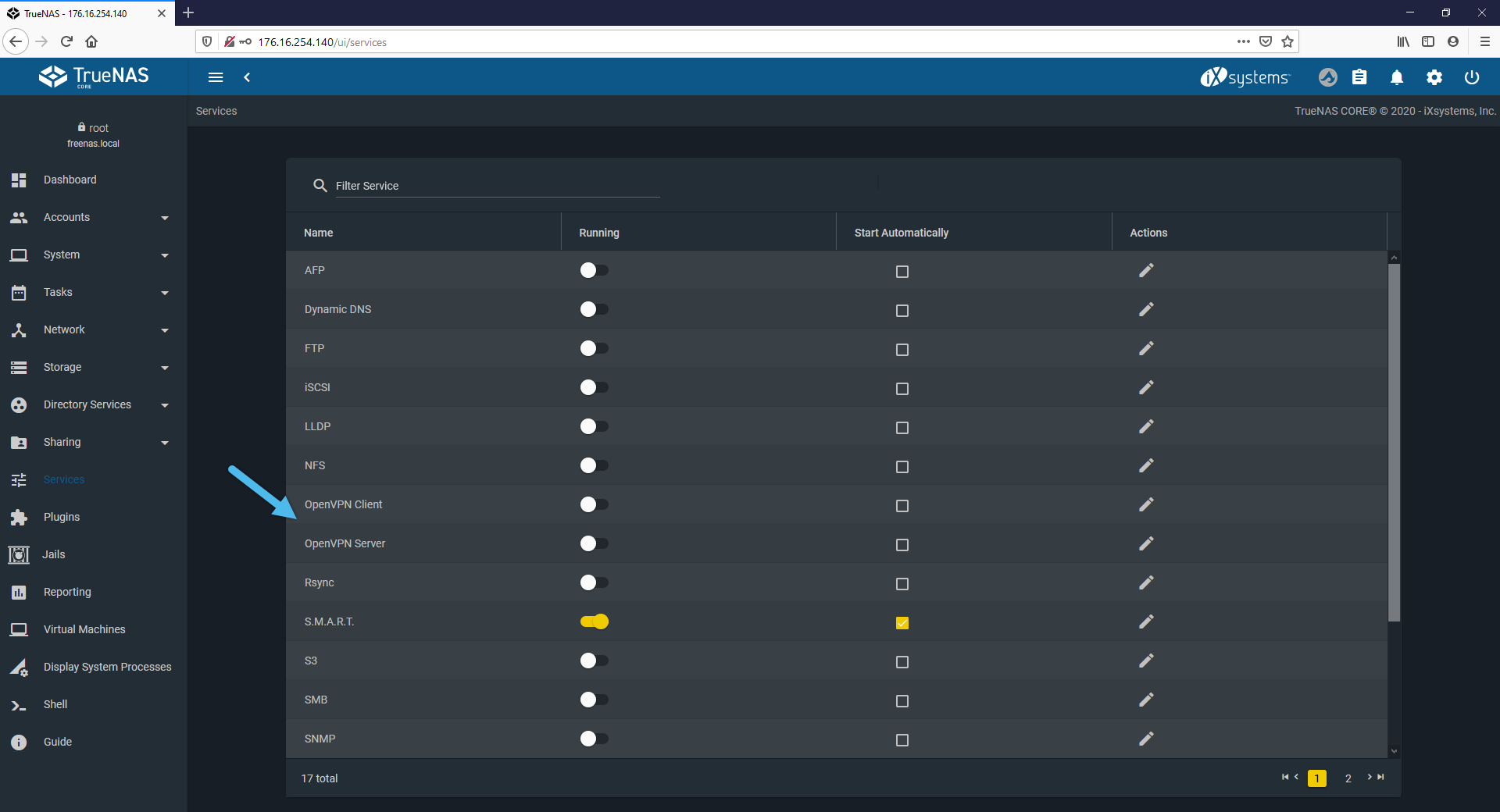 For example, if we enable and want to edit the OpenVPN Server option, the GUI will bring us to a new page to easily set our VPN environment. The other end of the VPN connection can be any OpenVPN client, such as a Firewall Device, or Personal Desktop/Laptop.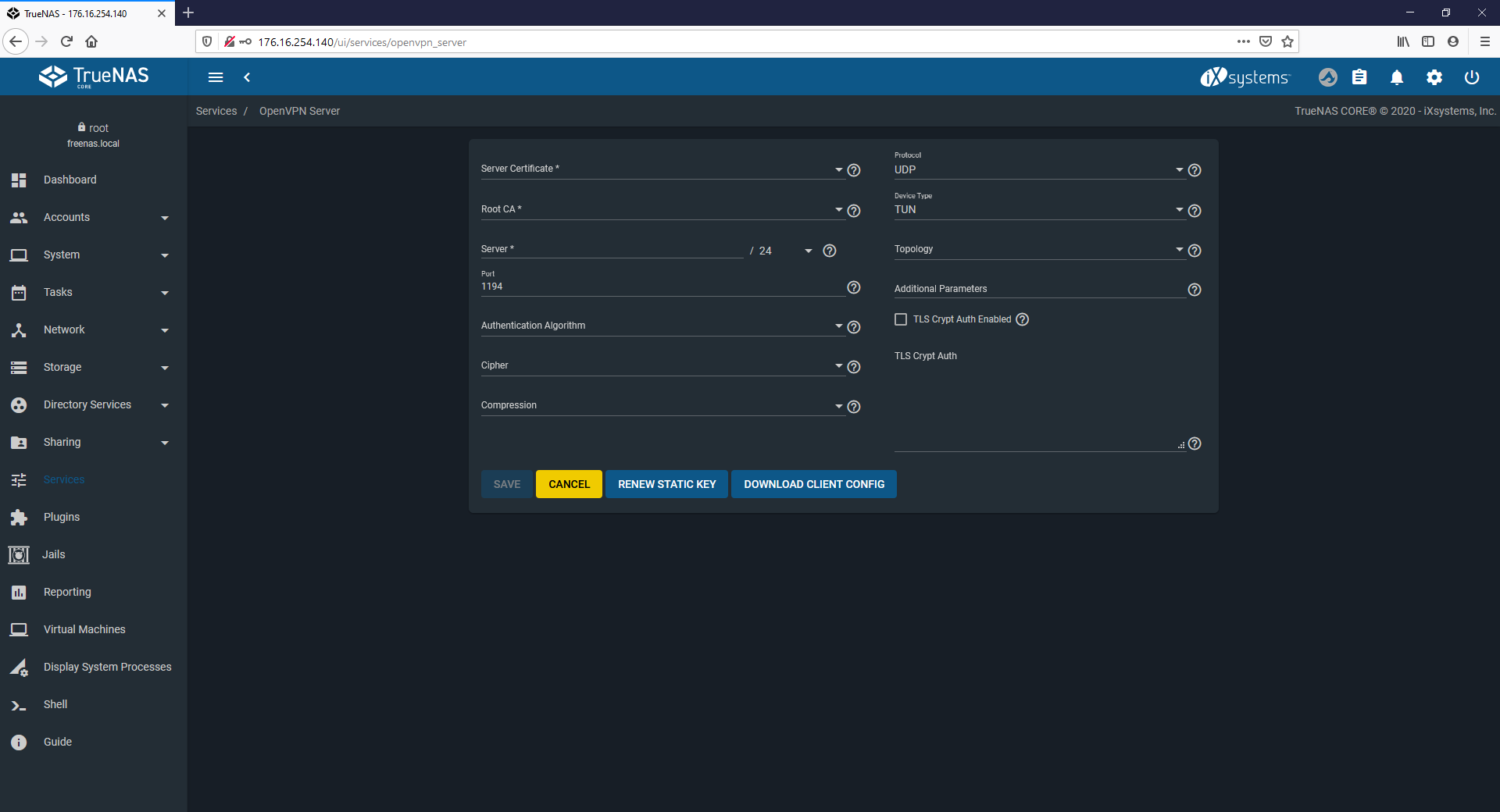 The API Keys option can be accessed from the main menu, under the gear icon. After an API Key is created or reset, it will show the key to be copied only once. We could give them a nickname and revoke them.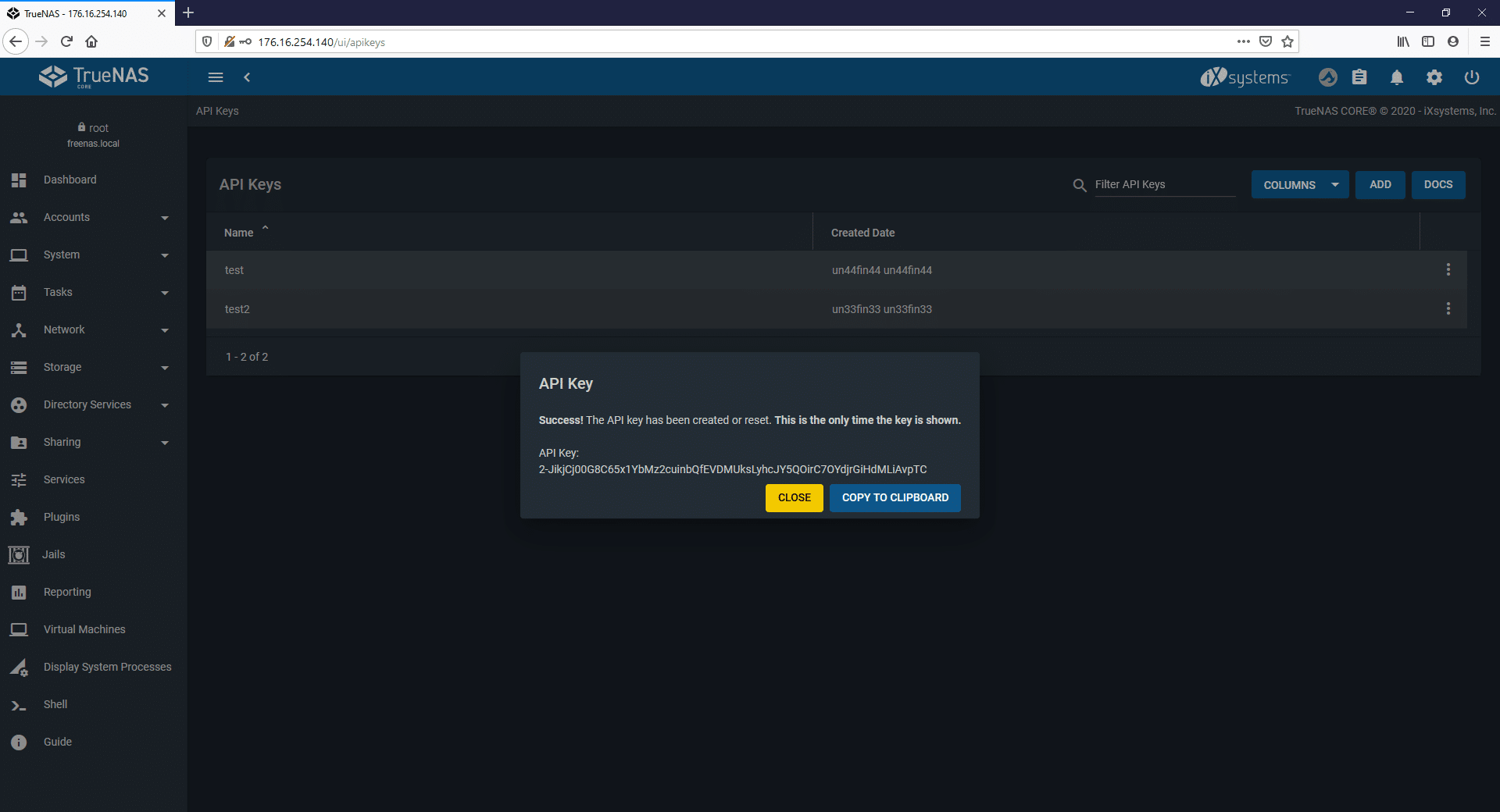 The TrueCommand option can be accessed directly from the main menu, under the first icon. We need to create or join an existing TrueCommand instance to allow the TrueNAS system to be monitored and administered by TrueCommand.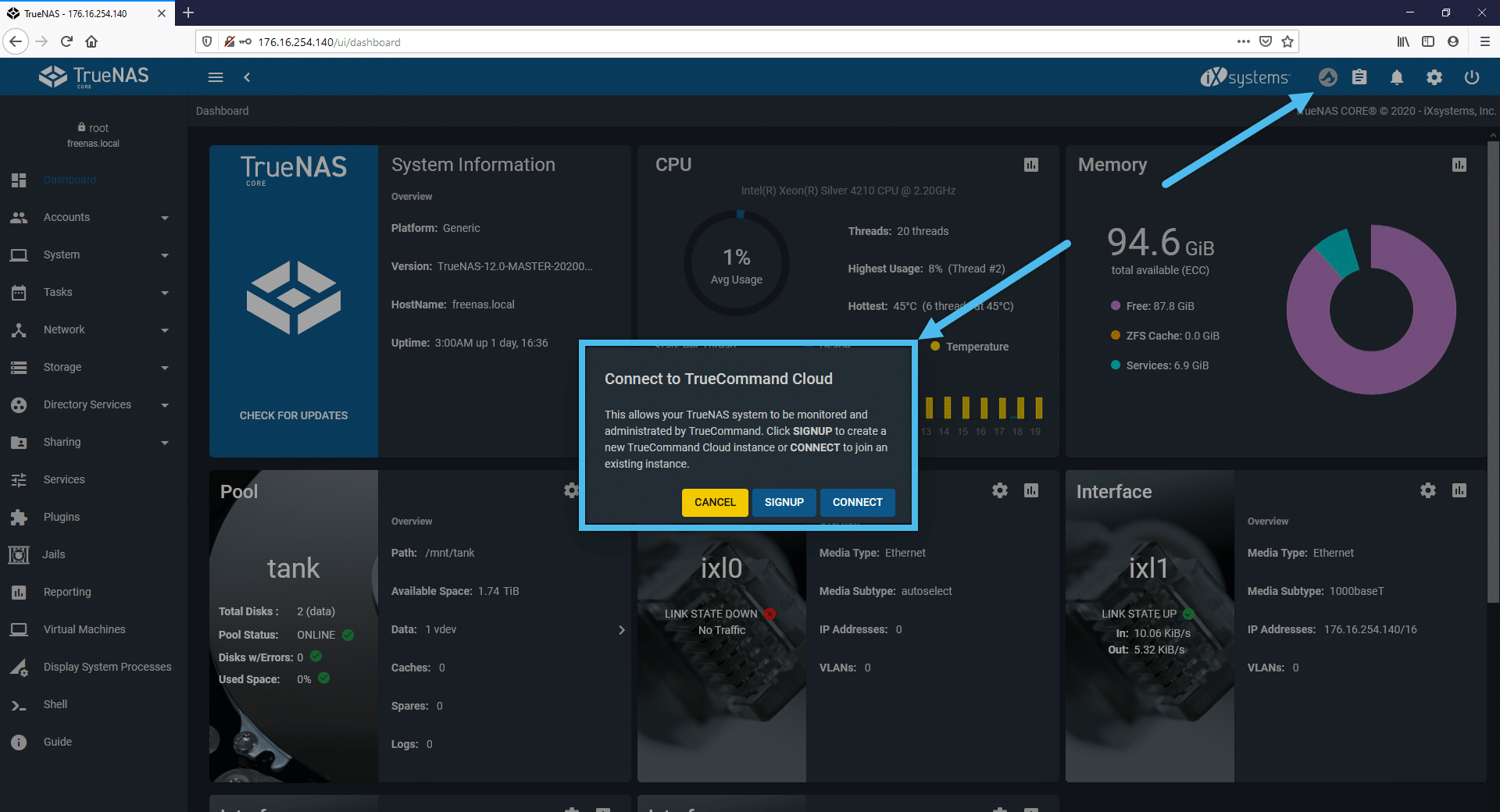 Conclusion
TrueNAS CORE is still open and free, just with more features and a new brand. When comparing to the previous version 11.3, nothing much changes in the GUI dashboard. New and critical features include Fusion Pools, native encryption, native VPN support, and many more requested by regular users. For those attached to the FreeNAS name, TrueNAS CORE will have the option to use a FreeNAS theme, something great for nostalgia.
TrueNAS CORE 12.0 will go through the same states that FreeNAS has gone through, and is planned for BETA on June 30 and release in Q3 2020. TrueNAS CORE will have a great many benefits for its users that have no reason to worry about the name and logo changes. iXsystems promises they will continue to release this free and Open Source version and with more features.
We've logged a bunch of time with the TrueNAS CORE alpha code. While not yet production ready, the code has been pleasingly stable on both our iXsystems box and the little HPE MicroServer we recently configured for fun. We still intend to revisit Fusion Pools with a more performance-oriented configuration to see just how much of a difference they make, but that's for another time. For now, we're so pleased with the progress of TrueNAS CORE and expect most others to feel the same whether dabbling in the alpha/beta code or holding out for the GA release.
Read More – TrueNAS CORE 12 Review on HPE MicroServer
Engage with StorageReview
Newsletter | YouTube | Podcast iTunes/Spotify | Instagram | Twitter | Facebook | RSS Feed