This week's News Bits we look at a number of small announcements, small in terms of the content, not the impact they have. IGEL expands endpoint management capabilities. Ivanti Acquires MobileIron & Pulse Secure. Rubrik announces new AWS innovations. GigaSpaces launches InsightEdge portfolio. Actifio to be acquired by Google. Robin.IO Robin Cloud Native Storage qualifies as Google Cloud Anthos Ready. Data Dynamics continues to show strong growth. Cohesity DataProtect delivered as a Service. GIGABYTE 8 NVIDIA A100 GPU platform released. AWS re:Invent saw several announcements.
This week's News Bits we look at a number of small announcements, small in terms of the content, not the impact they have. IGEL expands endpoint management capabilities. Ivanti Acquires MobileIron & Pulse Secure. Rubrik announces new AWS innovations. GigaSpaces launches InsightEdge portfolio. Actifio to be acquired by Google. Robin.IO Robin Cloud Native Storage qualifies as Google Cloud Anthos Ready. Data Dynamics continues to show strong growth. Cohesity DataProtect delivered as a Service. GIGABYTE 8 NVIDIA A100 GPU platform released. AWS re:Invent saw several announcements.
IGEL Expands Endpoint Management Capabilities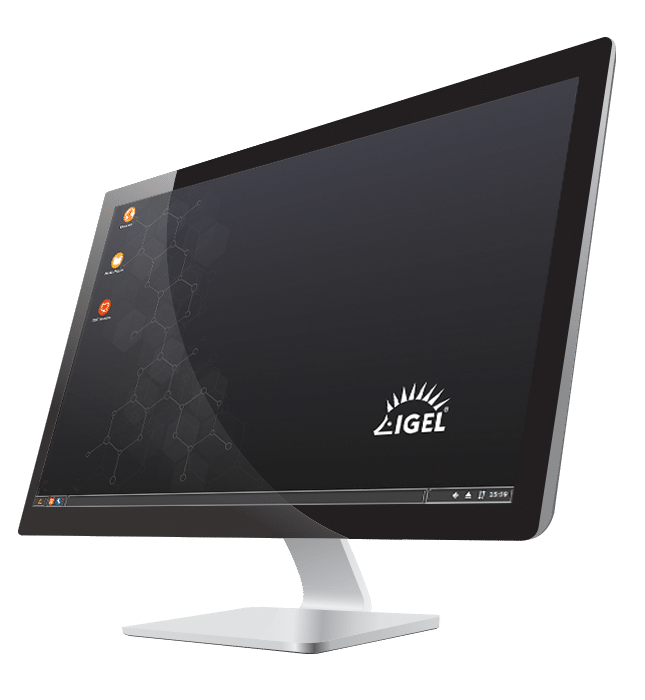 IGEL released Universal Management Suite (UMS) 6.06 with extending capabilities of the UMS Web App and features other enhancements including managing certificates. Other new features include:
Enhanced IGEL ICG management. IT administrators can now exchange the ICG root certificate for ICG version 2.02.100, or later.
Web Certificate management. IT administrators can create and manage their own UMS web certificates, as well as third-party certificates, including those from public certificate authorities.
IGEL also announced that it achieved VMware Horizon 8 validation.
Ivanti Acquires MobileIron & Pulse Secure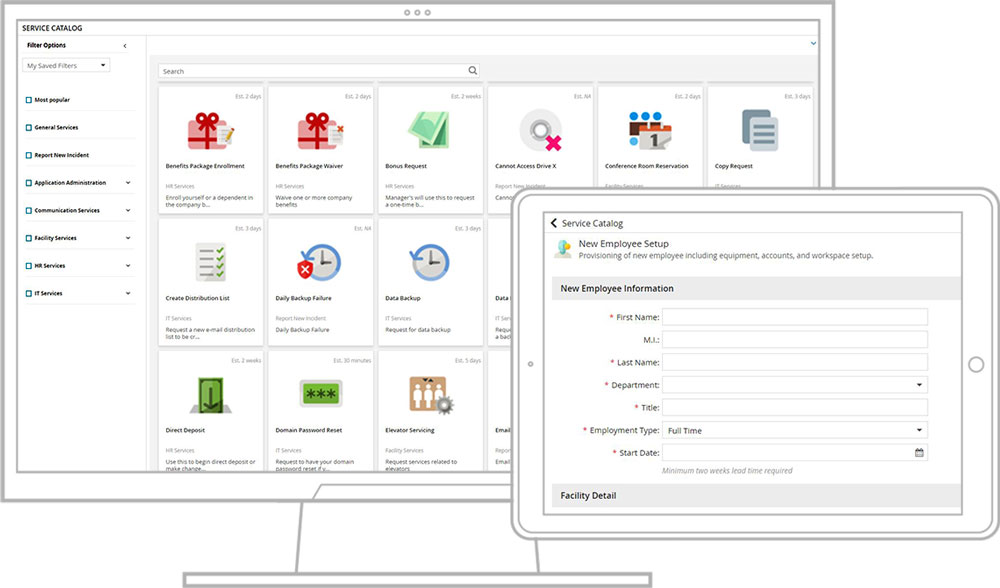 Ivanti announced that it has acquired both MobileIron, a leading provider of mobile-centric unified endpoint management solutions, and Pulse Secure LLC, a leading provider of secure access and mobile security solutions. This expands Ivanti's Unified Endpoint Management (UEM), Zero Trust Security, and IT Service Management (ITSM).
Rubrik Announces New AWS Innovations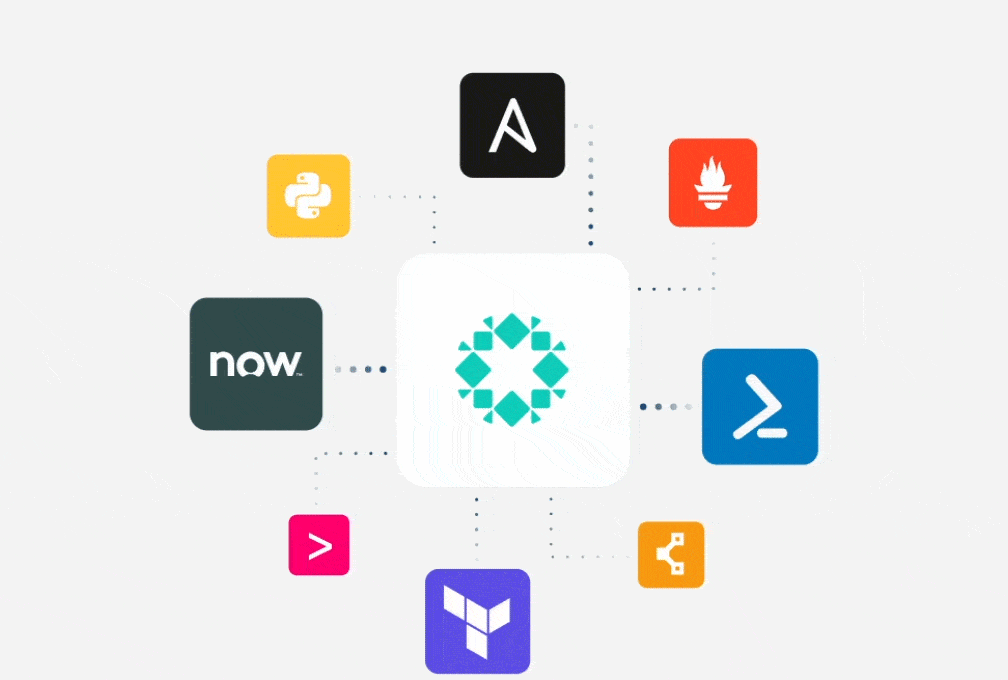 Rubrik announced earlier this year about the upcoming release of Andes 5.3. With that release, there will be new integration with AWS. The latest version of Andes and the new integration are said to do the following:
Cost Savings & Optimization Rubrik Andes 5.3 extends Instant Tiering to Amazon Simple Storage Service (Amazon S3) Glacier Deep Archive. With instant tiering, customers can now archive directly to Amazon S3 Glacier Deep Archive, which is up to 3-times less expensive than Amazon S3 Glacier and up to 9-times less expensive than Amazon S3 Standard, enabling customers to more easily archive to AWS at a fraction of the cost.
Seamless Hybrid Cloud VMware Protection The company's latest release builds on an already extensive suite of VMware protection offerings. Rubrik Andes 5.3 introduces support for VMware Cloud (VMC) on AWS, providing the flexibility to migrate and protect VMware workloads across data center, edge and VMC. With Rubrik's SLA policy engine, users can migrate and protect their VMware environment with the same policies designed for their on-premises environment.
Simplicity for Amazon Relational Database Service (Amazon RDS) Rubrik extends cloud-native protection with Polaris for Amazon RDS allowing automated and unified protection of Amazon RDS across multiple AWS accounts and AWS Regions and fast recovery to different AWS Regions.
GigaSpaces Launches InsightEdge Portfolio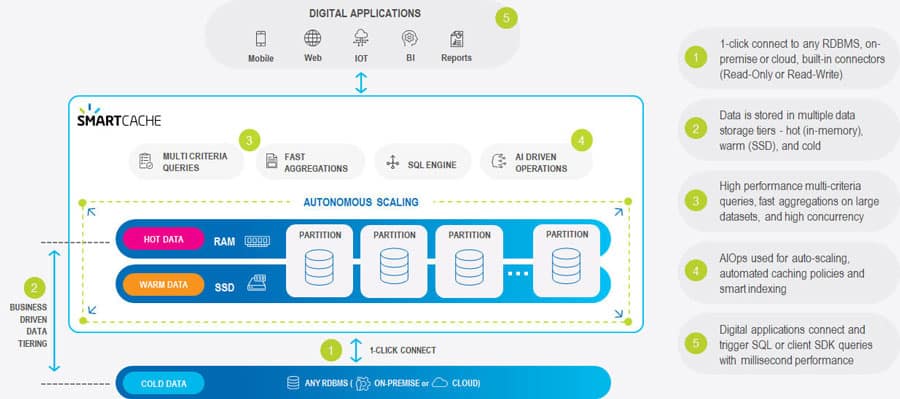 GigaSpaces announced that it is further expanding its in-memory computing platforms with the release of its InsightEdge portfolio. Building off of its InsightEdge platform, the new suite includes:
InsightEdge Smart Cache: The fastest, most scalable distributed caching tier on any operational data source, designed to accelerate digital applications and fuel real-time reporting and BI. Smart Cache is optimized for rapidly changing data and multi-criteria queries; and is fully SQL compatible.
InsightEdge Smart ODS (Operational Data Store): A distributed in-memory Digital Integration Hub with unparalleled low-latency, high-performance and scale that aggregates and offloads from multiple back-end systems of record and data stores on premise and on cloud. Smart ODS delivers the agility to introduce new digital applications and the ability to deploy real-time operational analytics and BI.
InsightEdge Smart Augmented Transactions: An in-memory translytical platform that unifies streaming, real-time transactional (ACID compliant) and analytical processing for instant insights and closed loop decision making.
The new portfolio comes with many new capabilities including:
Unparalleled performance, speed and scale – Low latency, high-throughput transactional processing accelerates applications, analytics and operational BI. The platforms are fueled by distributed in-memory speed, colocation of business logic and data in memory, secondary indexing and server-side aggregations.
Optimized TCO with AIOPs for autonomous operations and management – AI-driven autonomous scaling for transactional and analytical workloads handles unplanned peak events without performance degradation or downtime; optimizing resource allocation to avoid overprovisioning on-premises and on the cloud.
Business- driven caching based on the application's business policy for full control over which data is saved in cache and when to evict to SSD or data stores for SLA-driven optimization of cost and performance.
Rapid go-to-market powered by no-code database integrations and microservices architecture – One-click database integration for faster time-to-market and ongoing data integration to radically reduce development overhead by automatically scanning the source schema and metadata and mapping them to the GigaSpaces data model.
Cloud native one-click deployment across all environments – Out-of-the-box, fully agnostic, cloud management functionality, such as hot rolling deployment, upgrade, monitoring, scaling and recovery; all with no downtime for on-premises, cloud, hybrid and multi-cloud environments.
Actifio To Be Acquired By Google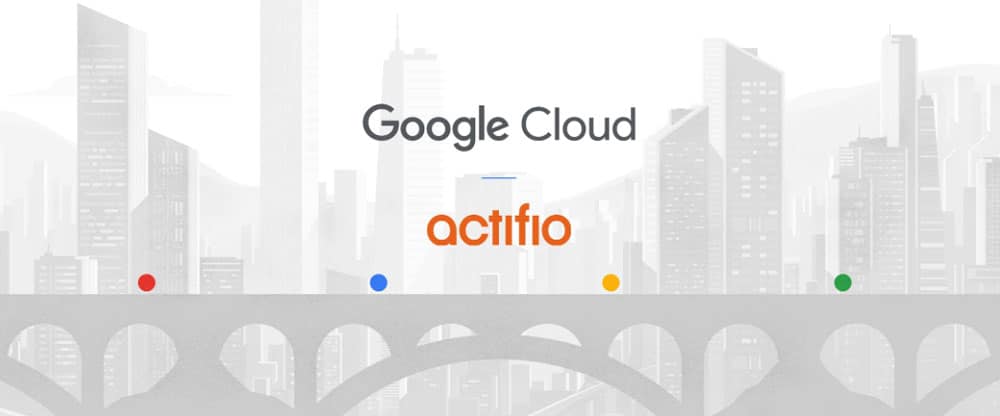 Actifio announced that it has entered a definitive agreement to be acquired by Google. Actifio is a backup and DR company that focuses on protecting and managing virtual copies of data in its native format. This acquisition will help strengthen Google Cloud's data protection portfolio.
Robin.IO Robin Cloud Native Storage Qualifies As Google Cloud Anthos Ready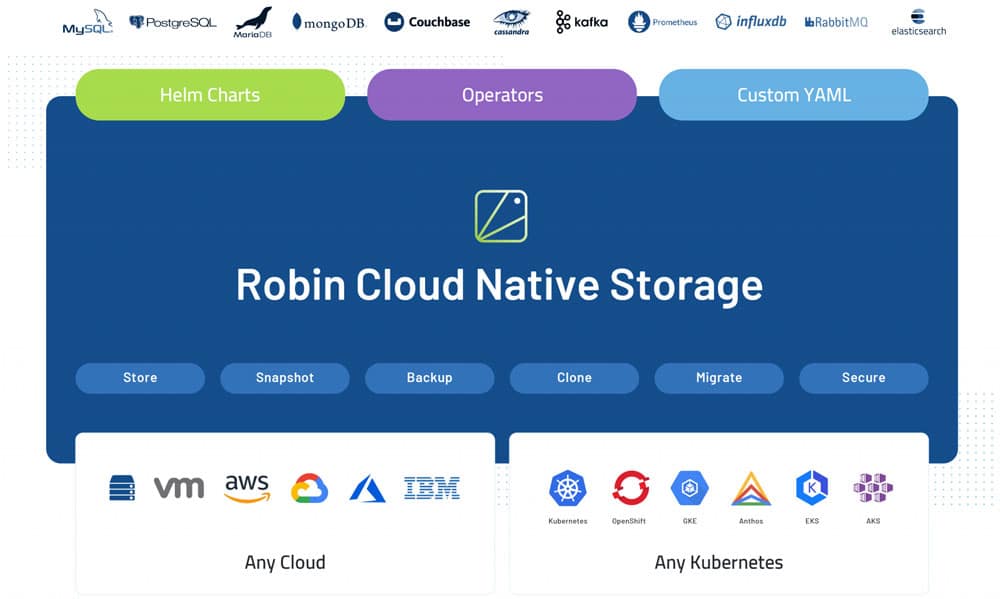 Robin.IO announced that its Robin Cloud Native Storage has qualified as a Google Cloud Anthos Ready storage solution for the Anthos on bare metal deployment option of Anthos. As a side note to Google, Anthos on mare metal was released by Google Cloud this past week as an option to run Anthos on physical servers, deployed on customer-owned infrastructure, without a hypervisor layer. Being Anthos Ready, means that has met Google Cloud's qualification requirements to work with Anthos to meet the infrastructure and application development needs of enterprise customers. This improves interoperability between the technologies and helps to increase Robin.IO's reach through Google.
Data Dynamics Continues To Show Strong Growth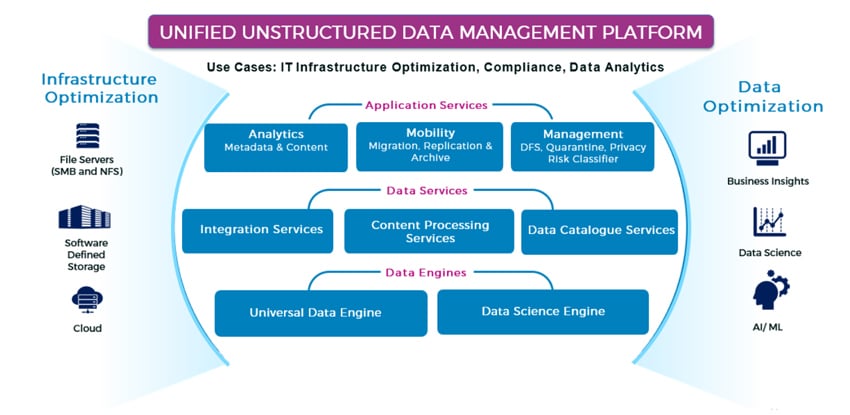 Data Dynamics introduced its Unified Unstructured Data Management Platform back in June. The company is proud to announce that its platform has outpaced the market and continues to show strong growth even in these turbulent times. Highlights include:
Acquisition of Infintus and integration of the team and solution offering to deliver file content analytics and privacy risk classification
$9 Million in funding round
Addition of Henri Richard to Data Dynamics' Board of Directors
Senior and experienced team members added to the Data Dynamics Family, Helen Johnson as CTO, Brijesh Kumar as VP of Development, and Allison Wolf as VP of Customer Success
Partnership with Hyperscaler(s) to accelerate hybrid cloud adoption
Lenovo File Migration Services powered by StorageX enables joint customers to accelerate their Lenovo storage adoption and optimization
New Technology Center opened in Pune, India
Cohesity DataProtect Delivered as a Service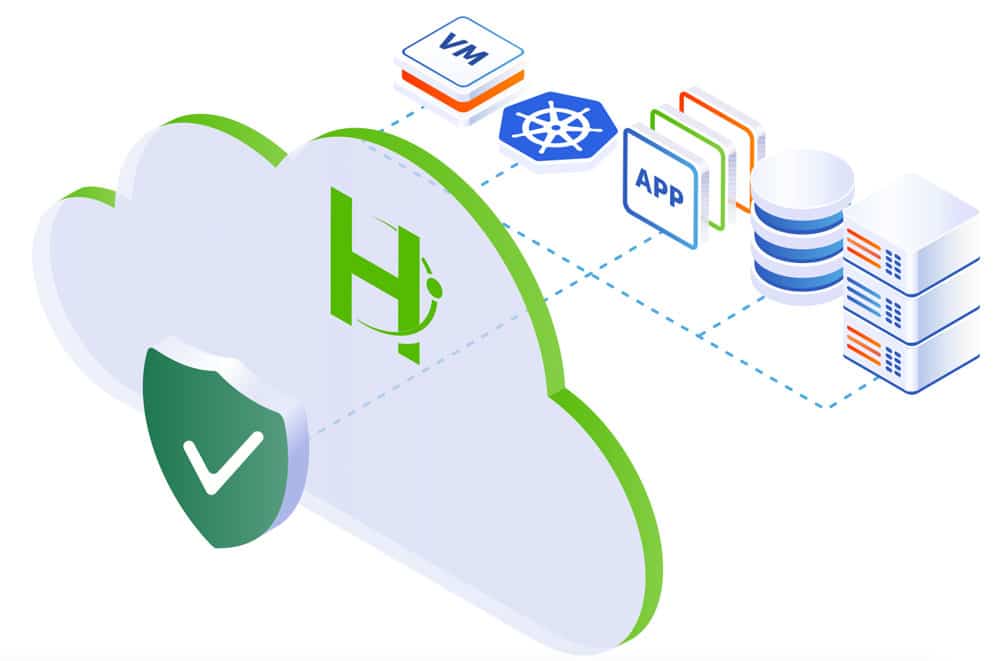 Cohesity announced that its popular DataProtect will now be delivered as-a-Service. Where most companies are looking to deliver their products aaS, it is beneficial to both Cohesity and its customers (as well as potential customers). Benefits include:
Reduce complexity with Backup as a Service that is built for the hybrid cloud, freeing up cycles to focus on other critical tasks.
Reduce backup setup to minutes by automatically discovering workloads once a secure connection is established and applying either preset or custom policies to begin protection.
Support multiple workloads including VMware workloads and NAS (file data) today, Microsoft 365 and enterprise databases in the coming months, and many more in the quarters ahead – all supported through a single converged experience.
Ensure efficient use of available bandwidth, accelerating backups to the cloud and data recovery from the cloud by only transmitting data blocks that have been changed.
GIGABYTE 8 NVIDIA A100 GPU Platform Released

GIGABYTE Technology announced yet another GPU dense platform with the release of the GIGABYTE G492-ZD0 aimed at HPC, AI, and data analytics. This 4U platform leverages dual AMD EPYC CPUs for up to 128 cores, up to 8TB of memory, up to 8 NVIDIA HGX A100 40GB GPUs, and eight 2.5" U.2 NVMe drive bays. Other key technologies include:
NVIDIA A100 GPU has 40GB of VRAM with 1.6 TB/s of memory bandwidth for high-level computational throughput.
Excellent GPU-to-GPU communication via 3rd gen NVIDIA NVLink & NVSwitch with 600GB/s bandwidth, 12 NVLink connections per GPU, and improved scalability.
Reduction in latency and CPU utilization with Mellanox Socket Direct® technology. In this dual-socket server, a single CPU can access the network by bypassing the inter-processor communication bus and adjacent CPU.
PCIe 4.0 allows for faster interconnect (compared to PCIe 3.0) and low latency for NICs and NVMe drives via PCIe switch fabric.
Ultra-fast 200Gbps access of GPUs on other servers with RDMA and HDR InfiniBand.
AWS re:Invent Saw Several Announcements

During their re:Invent event, AWS made several announcements around new EC2 instances as well as new, smaller AWS Outposts form factors. For the new EC2 instances, AWS offers:
New AWS Graviton2-powered C6gn instances deliver 100 Gbps networking performance and provide 40% better price performance over comparable current generation x86-based instances
New AMD-powered G4ad Graphics Processing Unit (GPU) instances provide the industry's best price performance for graphics-intensive applications
New M5zn instances offer the fastest Intel Xeon Scalable processors in the cloud with an all-core turbo frequency of up to 4.5 GHz and up to 45% better compute performance per core than current M5 instances
Next-generation Intel-powered D3/D3en instances offer the highest storage capacity for local HDD storage available in the cloud
New memory-optimized R5b instances deliver 3x higher performance compared to same size R5 instances for Amazon Elastic Block Store (EBS), providing the fastest block storage performance available for Amazon EC2
For Outposts, AWS is now offing form factors as small as 1U and 2U for those that want to take advantage of the solution but are really space constrained. Users will still get the same benefits (hardware withstanding) with significantly less energy usage.