The Crucial P3 Plus is an NVMe PCIe Gen4 SSD designed for mainstream consumers looking for an everyday budget drive. The P3 Plus supports the usual advanced feature-set, including dynamic write acceleration and redundant array of independent NAND (RAIN), TRIM support, ECC and adaptive thermal protection.
The Crucial P3 Plus is an NVMe PCIe Gen4 SSD designed for mainstream consumers looking for an everyday budget drive. The P3 Plus supports the usual advanced feature-set, including dynamic write acceleration and redundant array of independent NAND (RAIN), TRIM support, ECC and adaptive thermal protection.
The Crucial P3 Plus is outfitted with the Phison PS5021-E21T, a 12nm controller that is said to offer 25% better performance and power consumption compared to previous models. The SSD is available in capacities ranging from 500GB to 4TB in the M.2 2280 form factor.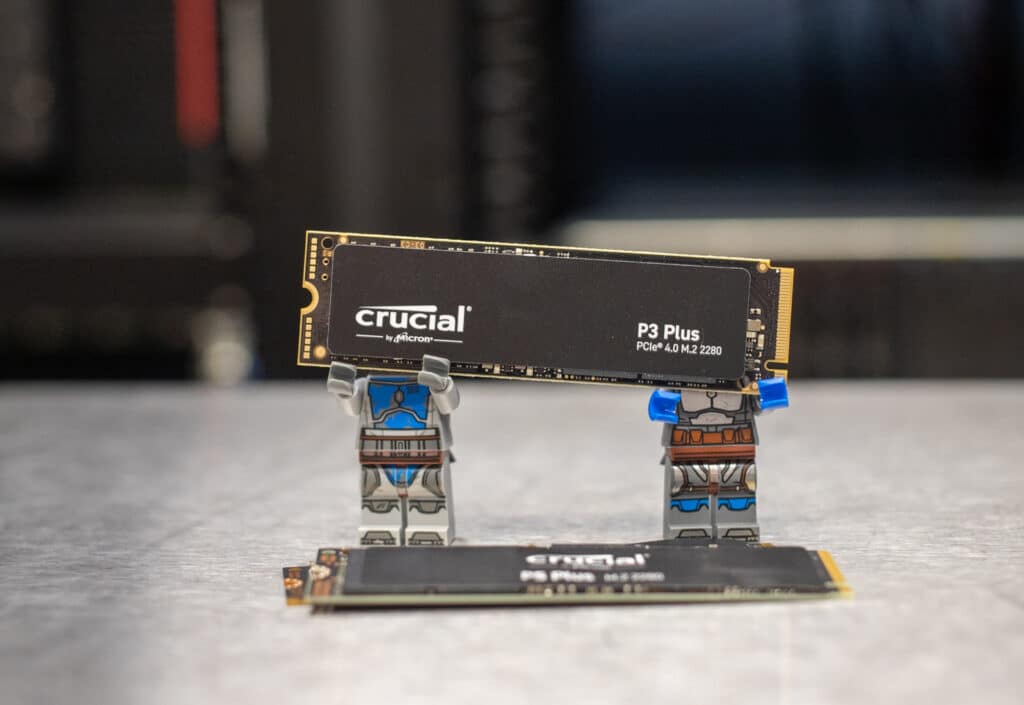 Crucial's performance/NAND claims are where things get a little uncertain. Featuring what it calls Micron Advanced 3D NAND, the company claims that the P3 Plus line is meant for designers, editors, creatives, gamers and professionals with heavy workloads; however, you'd likely want to go for a different, more high-performance drive for use cases like these.
Why? Well, past news coverage of the drive indicates it has the more cost-effective, less powerful QLC NAND; though Crucial shies away from mentioning this on any of its current marketing–including the reviewer's guide and official spec sheet.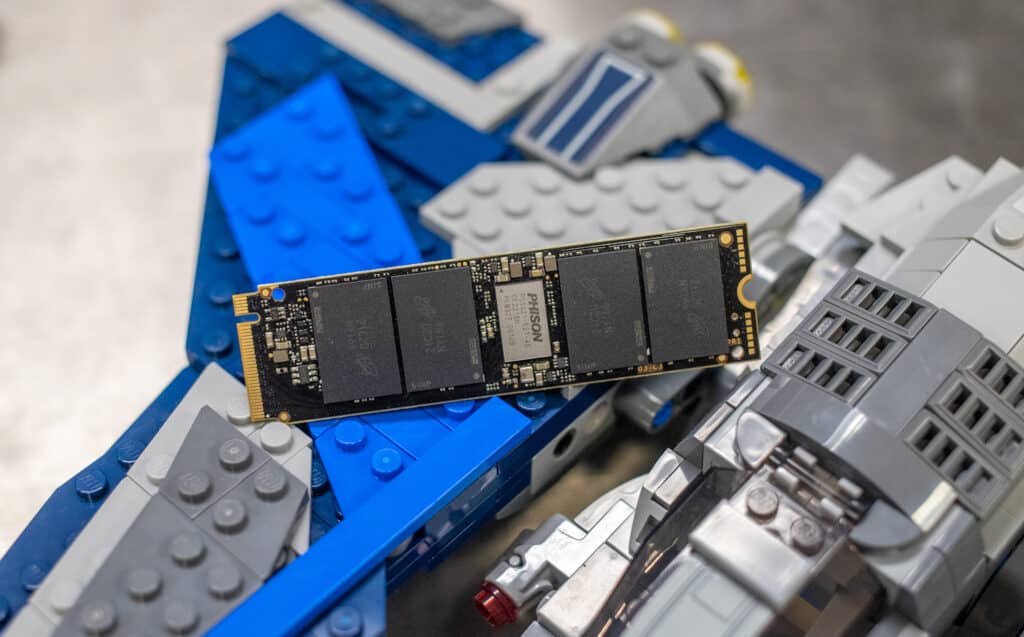 They also claim that the P3 Plus boasts 8.9x faster load times and data transfers compared to traditional SATA drives and is 43% faster than the "fastest Gen3 SSDs." However, the only information they offer for this claim is the quoted speeds of 5GB/s read and 4.2GB/s write, which you will see in our performance section isn't the full picture. This means that there will be unsuspecting customers purchasing the P3 thinking it is something that it's not. It's a bit baffling as to why they aren't fully disclosing this information.
Nonetheless, the Crucial P3 Plus is goes for roughly $60 (500GB), $100 (1TB), $180 (2TB), and $400 (4TB) at Amazon and is backed by a 5-year warranty. We will be looking at the 4TB model for this review.
Crucial P3 Plus Specifications
Capacity
500GB, 1TB, 2TB, 4TB
Performance

Sequential read: Up to 5GB/s
Sequential write: Up to 4.2GB/s

Interface
PCIe 4.0 NVMe technology
NAND
Micron Advanced 3D NAND
Form factor
M.2 (2280)
Controller
Phison E21T
Warranty
5-Year limited
Testbed
As we migrate into testing newer NVMe Gen4 SSDs, it required a platform shift in our lab to support the newer interface. We've also been migrating newer NVMe Gen3 SSDs to the same platform for better apples-to-apples comparisons between drive generations. For these reviews, we leverage the Lenovo ThinkSystem SR635 server, equipped with an AMD 7742 CPU and 512GB of 3200Mhz DDR4 memory.
NVMe is tested natively through an M.2 to PCIe adapter card in the edge-card slot, while U.2 drives are loaded in the front. The methodology used better reflects end-user workflow with the consistency, scalability, and flexibility testing within virtualized server offers. A large focus is put on drive latency across the entire load range of the drive, not just at the smallest QD1 (Queue-Depth 1) levels. We do this because many of the common consumer benchmarks don't adequately capture end-user workload profiles.
For our added BlackMagic Disk Speed Test performed in Windows, we use our self-built StorageReview desktop.
Crucial P3 Plus Performance
We are reviewing the 4TB version of the Crucial P3 Plus drive and will be comparing it to the following NVME QLC SSDs:
SQL Server Performance
Each SQL Server VM is configured with two vDisks: 100GB volume for boot and a 500GB volume for the database and log files. From a system resource perspective, we configured each VM with 16 vCPUs, 64GB of DRAM and leveraged the LSI Logic SAS SCSI controller. While our Sysbench workloads tested previously saturated the platform in both storage I/O and capacity, the SQL test is looking for latency performance.
This test uses SQL Server 2014 running on Windows Server 2012 R2 guest VMs and is stressed by Quest's Benchmark Factory for Databases. StorageReview's Microsoft SQL Server OLTP testing protocol employs the current draft of the Transaction Processing Performance Council's Benchmark C (TPC-C), an online transaction-processing benchmark that simulates the activities found in complex application environments.
The TPC-C benchmark comes closer than synthetic performance benchmarks to gauging the performance strengths and bottlenecks of storage infrastructure in database environments. Each instance of our SQL Server VM for this review uses a 333GB (1,500 scale) SQL Server database and measures the transactional performance and latency under a load of 15,000 virtual users.
SQL Server Testing Configuration (per VM)
Windows Server 2012 R2
Storage Footprint: 600GB allocated, 500GB used
SQL Server 2014
Database Size: 1,500 scale
Virtual Client Load: 15,000
RAM Buffer: 48GB
2.5 hours preconditioning
30 minutes sample period
Looking at SQL Server average latency, the Crucial P3 Plus had an average latency of 8ms placing it near the bottom of the leaderboard.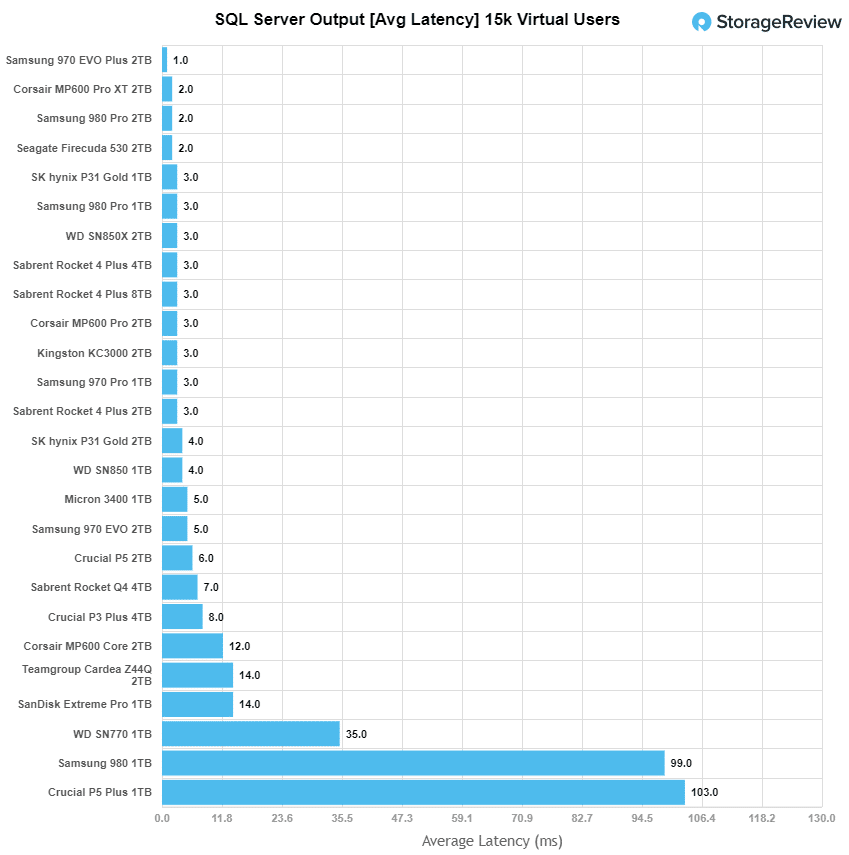 VDBench Workload Analysis
When it comes to benchmarking storage devices, application testing is best, and synthetic testing comes in second place. While not a perfect representation of actual workloads, synthetic tests do help to baseline storage devices with a repeatability factor that makes it easy to do apples-to-apples comparison between competing solutions. These workloads offer a range of different testing profiles ranging from "four corners" tests, common database transfer size tests, to trace captures from different VDI environments.
All of these tests leverage the common vdBench workload generator, with a scripting engine to automate and capture results over a large compute testing cluster. This allows us to repeat the same workloads across a wide range of storage devices, including flash arrays and individual storage devices. Our testing process for these benchmarks fills the entire drive surface with data, then partitions a drive section equal to 1% of the drive capacity to simulate how the drive might respond to application workloads. This is different than full entropy tests which use 100% of the drive and take them into a steady state. As a result, these figures will reflect higher-sustained write speeds.
Profiles:
4K Random Read: 100% Read, 128 threads, 0-120% iorate
4K Random Write: 100% Write, 64 threads, 0-120% iorate
64K Sequential Read: 100% Read, 16 threads, 0-120% iorate
64K Sequential Write: 100% Write, 8 threads, 0-120% iorate
In 4K random read, the Crucial P3 Plus showed peak performance of 164K IOPS with a latency of 855ms before taking a spike at the very end. This was well back of the leaders for 2nd last place.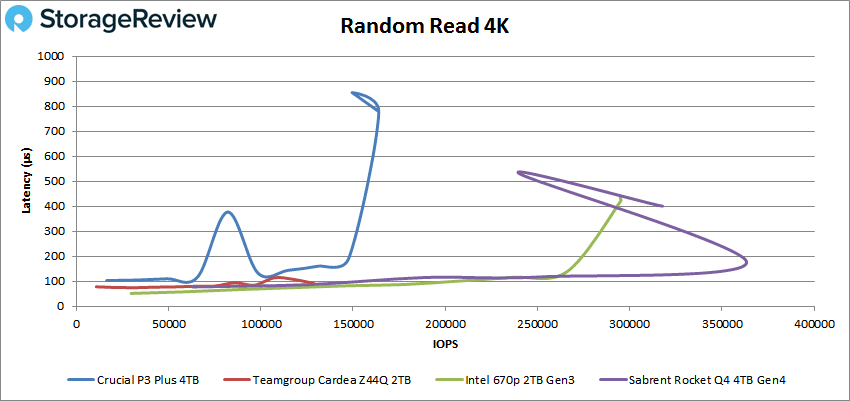 For 4K random write, P3 Plus latency skyrocketed and throughput pretty much stopped soon after we began the test, peaking at 64,502 IOPS and 1,959ms. This was last by a significant margin among tested drives. In comparison, the new Solidigm QLC drive was first with a peak of 473K IOPS with a latency of 264.6ms.
Switching to sequential workloads, where we look at our 64K tests, told a similar story. In reads, the P3 Plus was far back from the pack again with a peak throughput of 27K IOPS (or 1.7GB/s) with a latency of 1,164.2µs.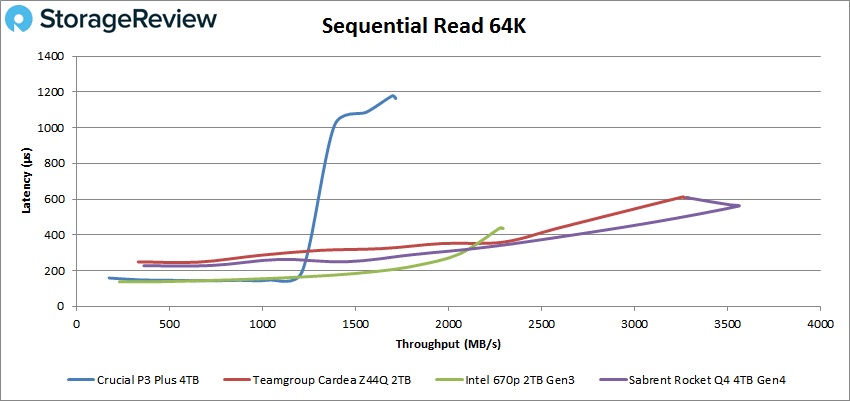 In 64K sequential writes, the P3 Plus actually had solid performance placing 1st among the tested drives. Here, it posted a peak score of 65K IOPS or 4.1GB/s at a latency of 237µs.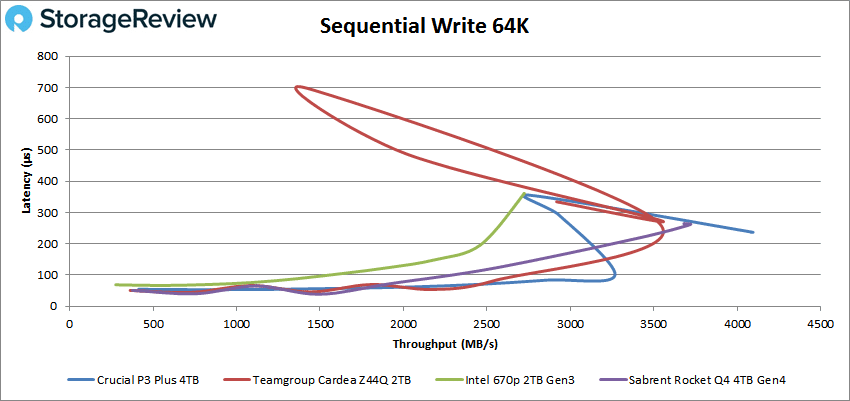 Next, we looked at our VDI benchmarks, which are designed to tax the drives even further. These tests include Boot, Initial Login, and Monday Login. Starting with Boot, the Crucial P3 Plus had a peak of 43,734 IOPS with a latency of 790µs, which was once again well behind the rest of the QLC drives.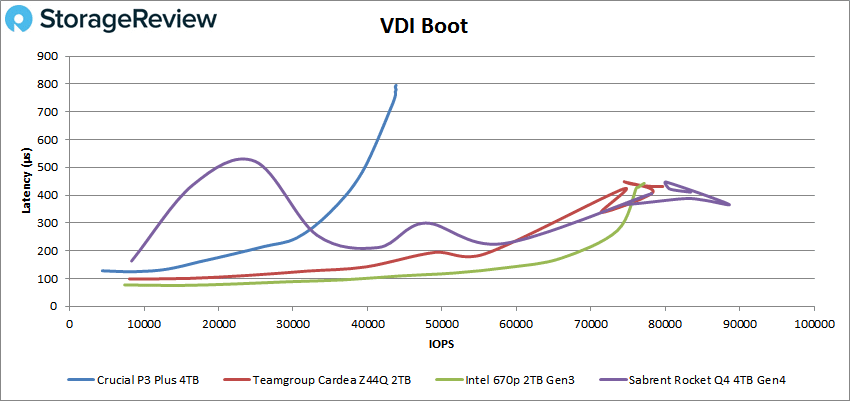 Our VDI Initial Login produced some messy results in our charts. While the P3 Plus topped out at 32,608 IOPS, it took then took a steep spike in performance, ending the test at 17,359 IOPS with a latency of 1,723.6ms for last place.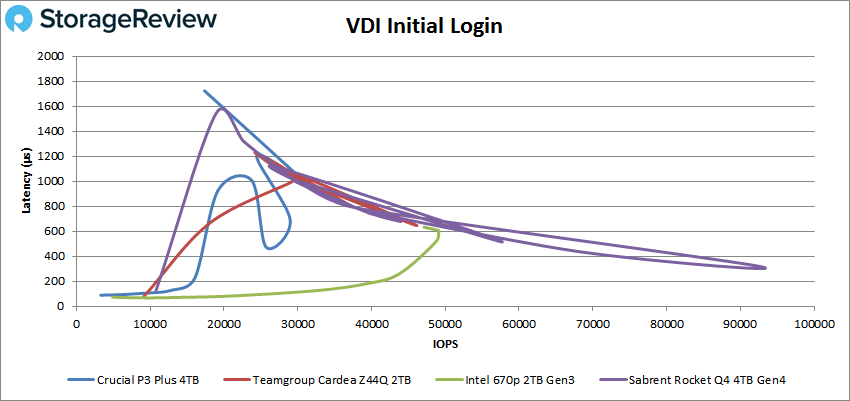 Finally, VDI Monday Login saw the P3 Plus peak at 14,193 IOPS (well back of the rest of the pack) with a latency of 1,123µs before showing a slight dip at the very end.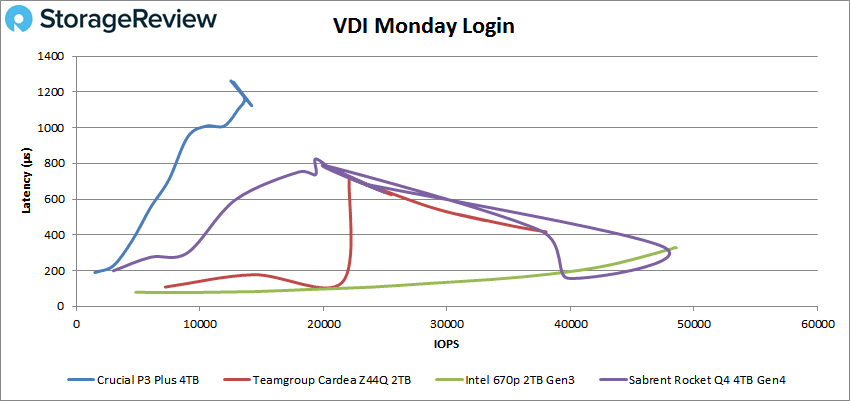 Conclusion
The Crucial P3 Plus PCIe Gen4 M.2 NVMe SSD is equipped with a Phison PS5021-E21T controller and is available in capacities ranging from 512GB to 4TB. This was the first drive we've seen from the company since the uneven Crucial P5 Plus over a year ago, so we were hoping to see a better showing from Crucial's latest release. Unfortunately, this wasn't the case, as it yielded some disappointing results in more ways than one.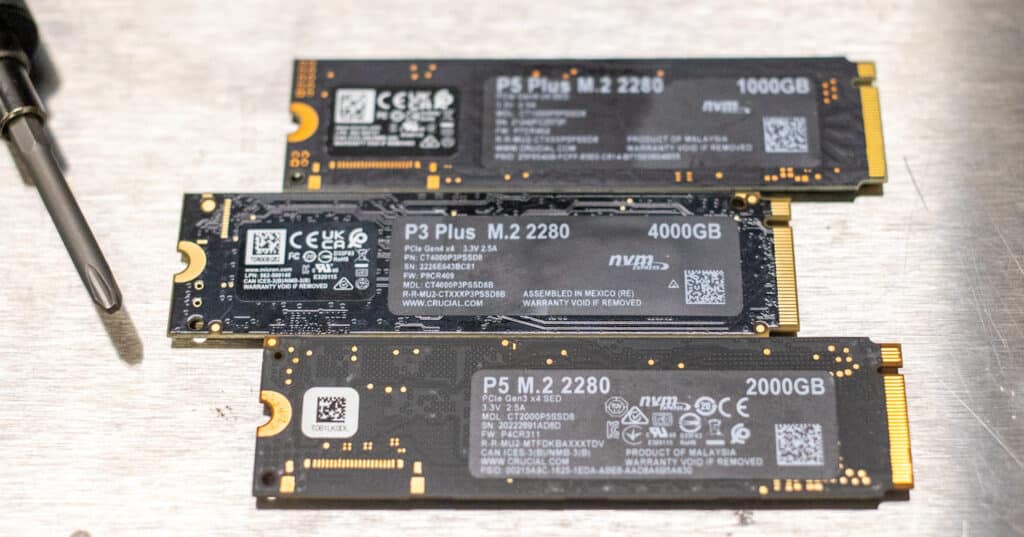 The Crucial P3 Plus found itself at the bottom of the leaderboard in virtually all of our tests (the exception was sequential writes, where it was first place with 4.1GB/s). But to be fair, even categorizing the drive is tough. Without Crucial disclosing the NAND used, we initially started testing this drive as a standard TLC drive, which yielded devastating results. Once we dug into the components to find it uses QLC NAND, we ran our lighter SSD testing protocol, which was still pretty poor.
As for the rest of the results, it recorded peak performance of 164K IOPS in 4K reads, 65K IOPS in 4K writes, 27K IOPS (or just 1.7GB/s) in 64K sequential reads, all of which were significantly behind the other tested QLC drives. VDI benchmarking results told a similar story, placing well back of the leaders in boot, initial login, and Monday login tests. It also posted a fairly high average latency of 8ms in our SQL server test.
While these results were certainly disappointing, our biggest rift with the drive was how Crucial markets the P3 Plus. As we indicated above, it is a QLC NAND SSD; however, for some reason, Crucial doesn't display anything about this on the product page, only that it was called "Micron Advanced 3D NAND." This is definitely misleading, especially for the average consumer who might not know what they're about to buy. NAND type is a "crucial" bit of information that consumers need to know, as it plays a big factor in how the SSD will perform.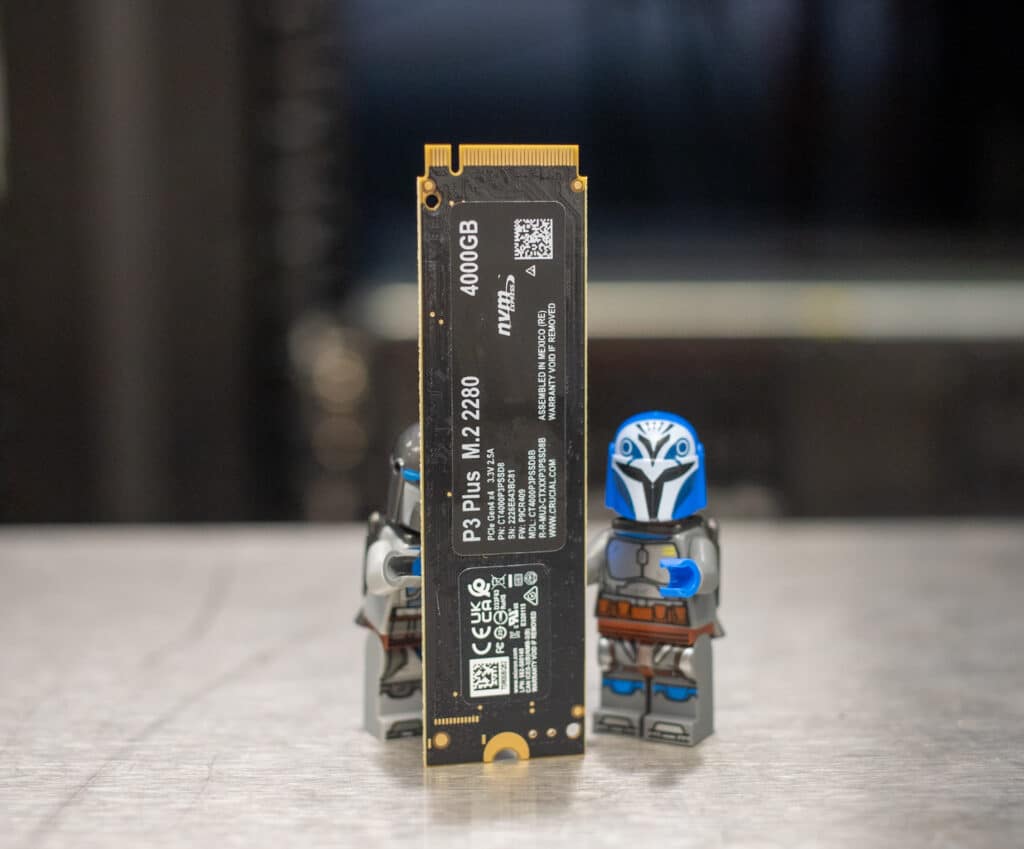 Pricing is also an area that is much to be desired. The P3 Plus is currently listed as $60 (500GB), $100 (1TB), $180 (2TB), and $400 (4TB) on the official website, and a little less on Amazon. While this MSRP is significantly lower (roughly half) than the launch pricing of the Sabrent Rocket Q4, they are basically on par with each other now with the current sale, including $110 for the 1TB model. In addition, the far superior Intel 670p is also just $90 and $170 for the 1TB and 2TB models, respectively. We also have the Solidigm P41 Plus under test right now, which is priced in line with the 670p it replaces. So, if you're looking for the best bang for your buck, the P3 Plus certainly isn't it.
Ultimately, until Crucial adds vital information on their product page and pricing is driven down, we can't recommend this SSD–even for those looking to buy a drive for just everyday use and light gaming. There are a lot better cost-effective options out there.
Engage with StorageReview
Newsletter | YouTube | Podcast iTunes/Spotify | Instagram | Twitter | TikTok | RSS Feed