The Sabrent Rocket 4 Plus 8TB is the latest drive in Sabrent's broad portfolio of NVMe Gen4 PCIe M.2 SSDs. This family of drives is based on the Phison PS5018-E18 controller, TLC NAND and features 500GB, 1TB, 2TB, and 4TB models as well.
The Sabrent Rocket 4 Plus 8TB is the latest drive in Sabrent's broad portfolio of NVMe Gen4 PCIe M.2 SSDs. This family of drives is based on the Phison PS5018-E18 controller, TLC NAND and features 500GB, 1TB, 2TB, and 4TB models as well.
It should be noted that the 8TB capacity does not use Micron B47R NAND as the rest of the line does. Due to size constraints for the PCB, Sabrent switched to Kioxia BiCS5 NAND.
While there is not a lot of new ground with this new capacity point, it is much larger than what other current TLC SSD lines offer, which most often only feature a maximum of 2TB and top out at 4TB. The 8TB Rocket 4 Plus is also faster than Sabrent's QLC equivalent and only costs $100 more.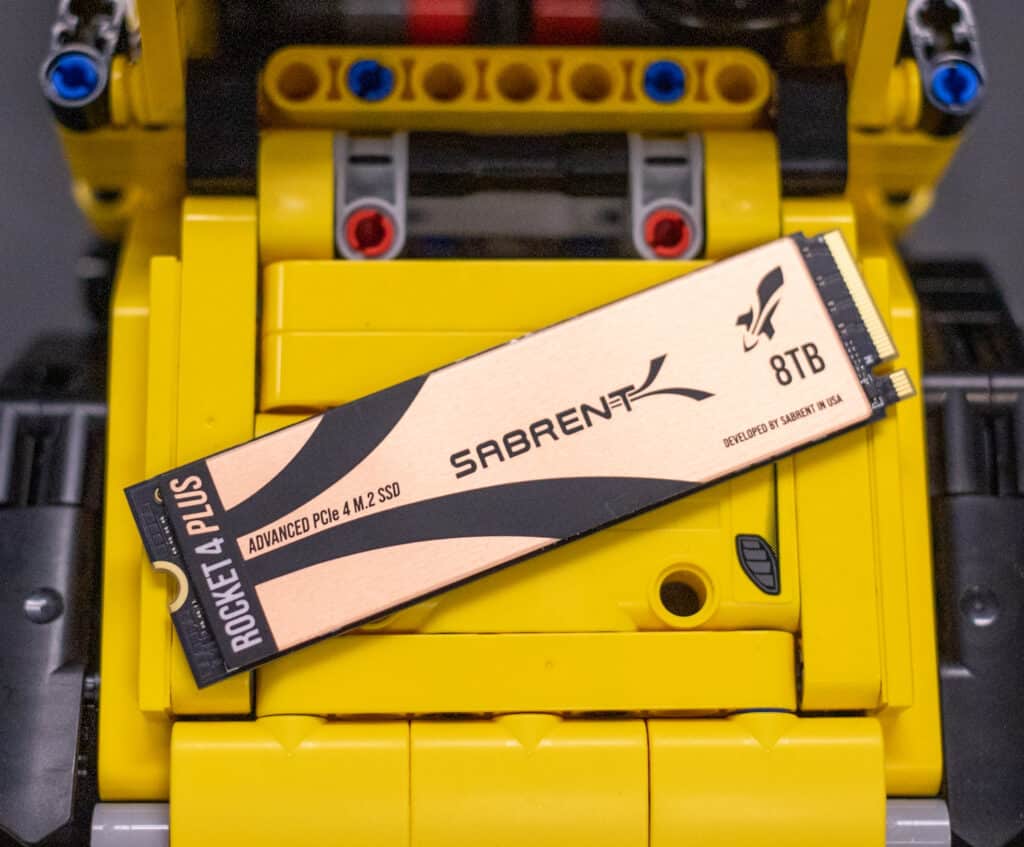 For performance, Sabrent quotes speeds can reach up to 7,100 MB/s read and 6,600 MB/s write, while indicated 3,400MB/s read and 3,000MB/s write when using a PCIe Gen3 motherboard. Endurance is quoted at 5,600 total bytes written (TBW). The Sabrent Rocket 4 Plus 8TB also supports SMART and TRIM commands and features advanced wear-leveling, bad block management, error correction code, and over-provision.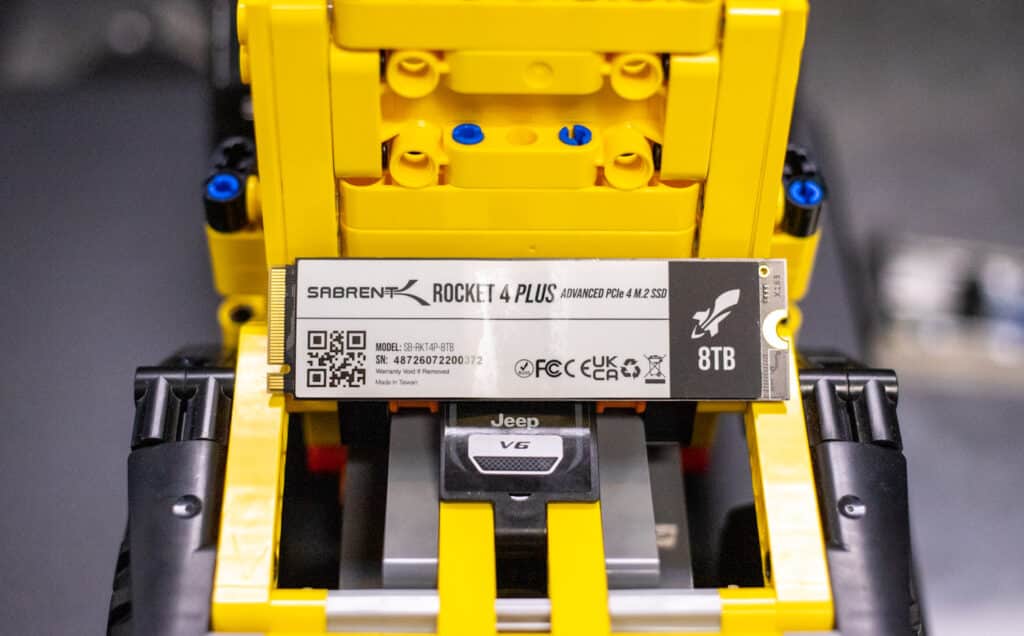 Unfortunately, because the PlayStation 5 only supports up to 4TB drives, this really doesn't make it a viable choice for console gamers looking to add more storage to their next-gen systems.
Backed by a 5-year warranty (after registering the drive with Sabrent), the 8TB Rocket 4 Plus NVMe SSD goes for roughly $1,500.00.
Sabrent Rocket 4 Plus 8TB Specifications
SKU
SB-RKT4P-8TB
Interface
NVMe PCIe Gen4x4
Form factor
M.2 (2080)
Capacity
8TB
Controller
Phison PS5018-E18
NAND
BiCS5 TLC NAND
Performance

Sequential read: Up to 7,000MB/s
Sequential write: Up to 6,000MB/s

Endurance
Up to 5,600TB Total Bytes Written
Dimensions

 Length: 3.15 in
Width: 0.86 in
Height: 0.11 in
Weight: 0.2 oz

Warranty
5 years when you register the drive with Sabrent (1 year otherwise).
Sabrent Rocket 4 Plus 8TB Performance
We are reviewing the 4TB version of this drive and comparing it to the following PCIe Gen4x4 drives:
SQL Server Performance
Each SQL Server VM is configured with two vDisks: 100GB volume for boot and a 500GB volume for the database and log files. From a system resource perspective, we configured each VM with 16 vCPUs, 64GB of DRAM and leveraged the LSI Logic SAS SCSI controller. While our Sysbench workloads tested previously saturated the platform in both storage I/O and capacity, the SQL test is looking for latency performance.
This test uses SQL Server 2014 running on Windows Server 2012 R2 guest VMs and is stressed by Quest's Benchmark Factory for Databases. StorageReview's Microsoft SQL Server OLTP testing protocol employs the current draft of the Transaction Processing Performance Council's Benchmark C (TPC-C), an online transaction-processing benchmark that simulates the activities found in complex application environments.
The TPC-C benchmark comes closer than synthetic performance benchmarks to gauging the performance strengths and bottlenecks of storage infrastructure in database environments. Each instance of our SQL Server VM for this review uses a 333GB (1,500 scale) SQL Server database and measures the transactional performance and latency under a load of 15,000 virtual users.
SQL Server Testing Configuration (per VM)
Windows Server 2012 R2
Storage Footprint: 600GB allocated, 500GB used
SQL Server 2014
Database Size: 1,500 scale
Virtual Client Load: 15,000
RAM Buffer: 48GB

Test Length: 3 hours

2.5 hours preconditioning
30 minutes sample period
Starting with SQL average latency, the Rocket 4 Plus (8TB) has an average latency of 3ms, which was on par with the other Phison E18 drives.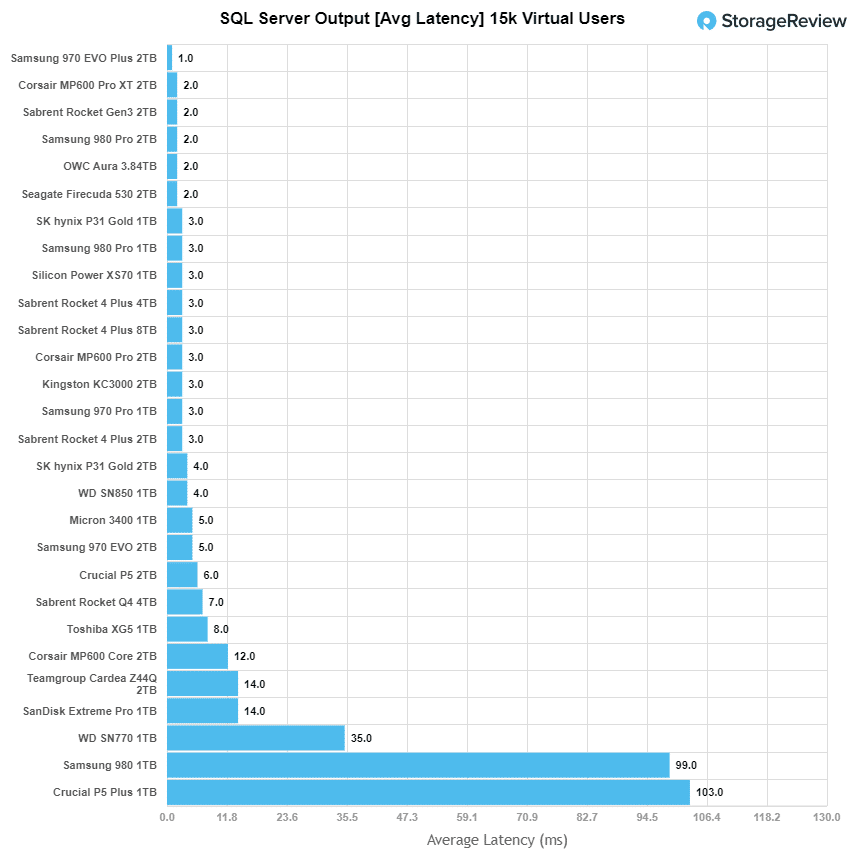 VDBench Workload Analysis
When it comes to benchmarking storage devices, application testing is best, and synthetic testing comes in second place. While not a perfect representation of actual workloads, synthetic tests do help to baseline storage devices with a repeatability factor that makes it easy to do apples-to-apples comparison between competing solutions. These workloads offer a range of different testing profiles ranging from "four corners" tests, common database transfer size tests, to trace captures from different VDI environments.
All of these tests leverage the common vdBench workload generator, with a scripting engine to automate and capture results over a large compute testing cluster. This allows us to repeat the same workloads across a wide range of storage devices, including flash arrays and individual storage devices. Our testing process for these benchmarks fills the entire drive surface with data, then partitions a drive section equal to 5% of the drive capacity to simulate how the drive might respond to application workloads. This is different than full entropy tests which use 100% of the drive and take them into a steady state. As a result, these figures will reflect higher-sustained write speeds.
Profiles:
4K Random Read: 100% Read, 128 threads, 0-120% iorate
4K Random Write: 100% Write, 64 threads, 0-120% iorate
64K Sequential Read: 100% Read, 16 threads, 0-120% iorate
64K Sequential Write: 100% Write, 8 threads, 0-120% iorate
Synthetic Database: SQL and Oracle
VDI Full Clone and Linked Clone Traces
First up is 4k random read, where the 8TB Rocket 4 Plus showed 348K IOPS, which was well back of the 4TB version and the rest of the pack.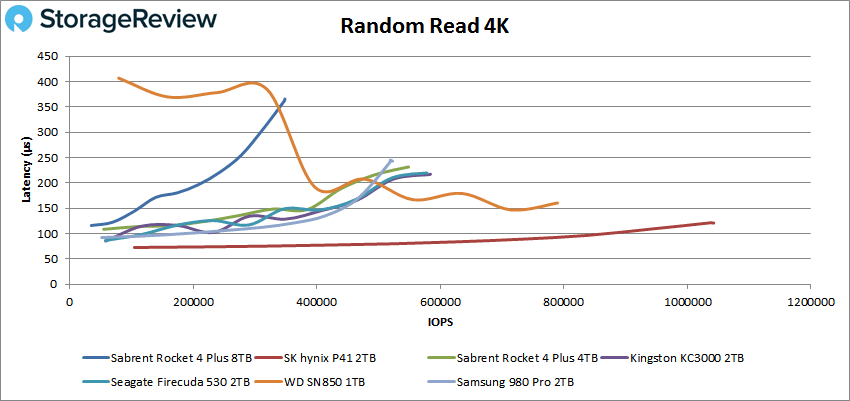 Random write 4k is next, where it again showed weak performance at the bottom of the leaderboard. Here, it hit just 164K IOPS write before taking a spike.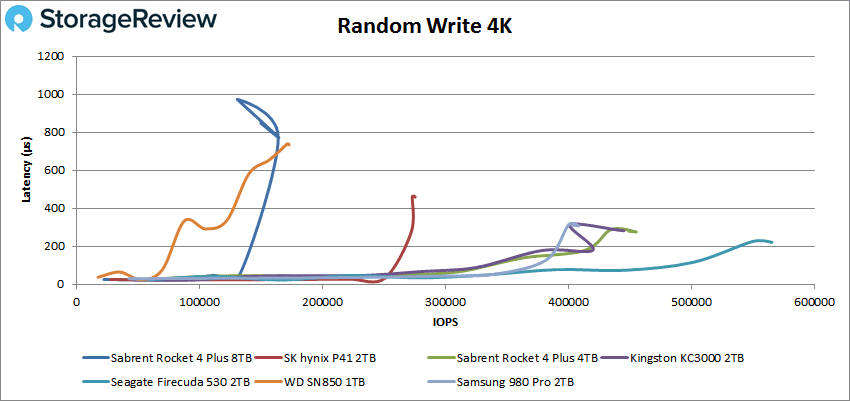 Moving onto sequential read 64K, the 8TB Rocket 4 Plus reached just 62K IOPS (3.85GB/s) with 518.9µs latency, which was well back of the 4TB model again (5.4GB/s).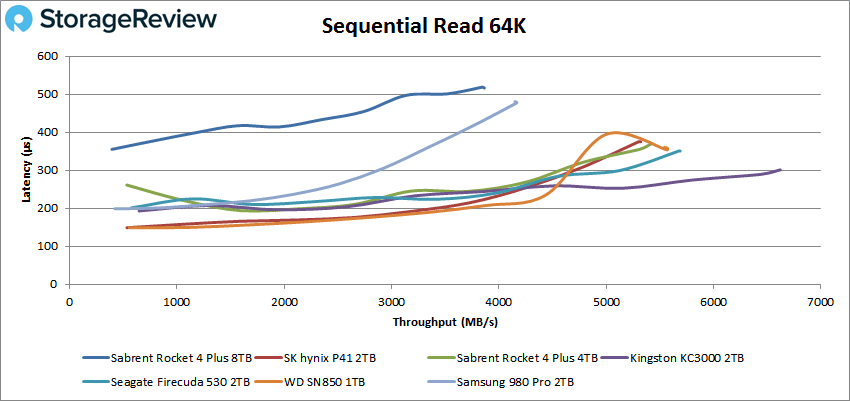 Sequential write 64K continued this trend, peaking at just 10K IOPS (or 623MB/s) with a latency of just under 1,600µs.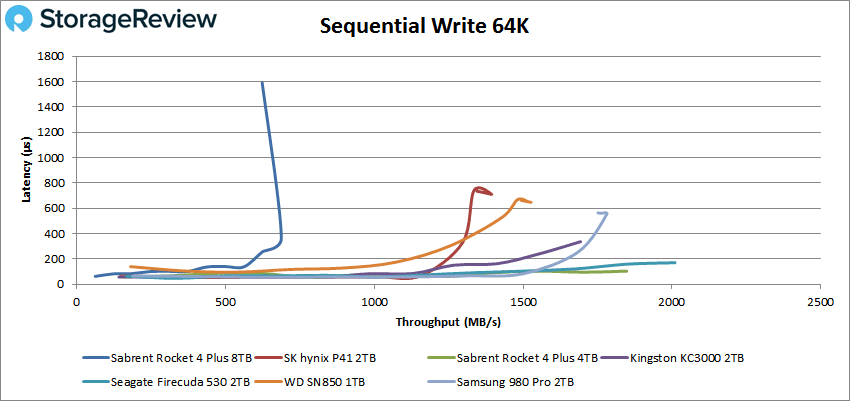 Now we'll move on to our VDI full clone tests. In our boot profile, the 8TB Rocket 4 Plus came in at 72K IOPS at 476.8µs, well back of all the tested drives.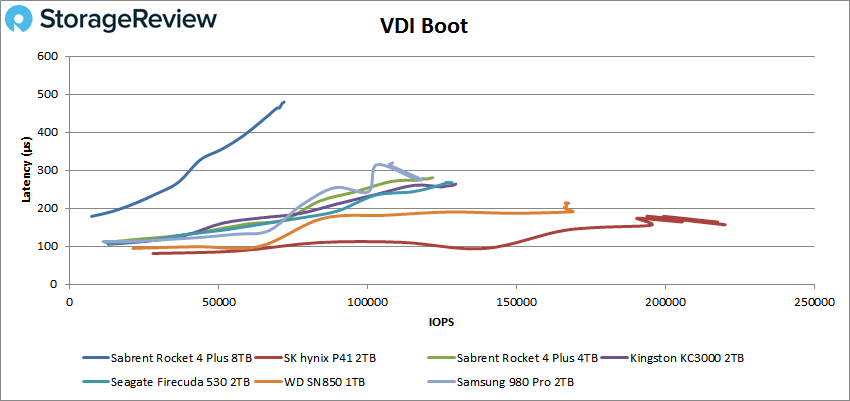 Looking at the VDI initial login chart, it is certainly difficult to analyze, as all drives posted uneven results. That said, the 8TB Rocket 4 Plus had a peak of 37K IOPS (804.8µs) before ending the test at 17K IOPS (1,711µs).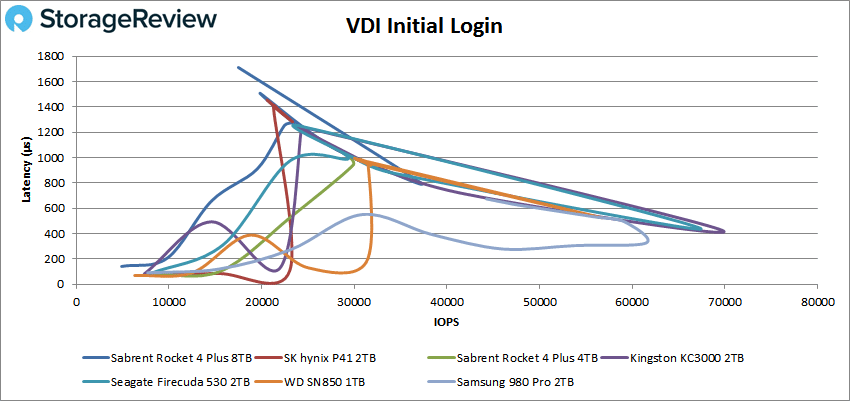 VDI Monday login also showed testing instability across the board. The 8TB Rocket 4 Plus took some pretty steep spikes throughout, topping out at 25K IOPS (624.4µs) before ending the test at 19K IOPS (859.6µs).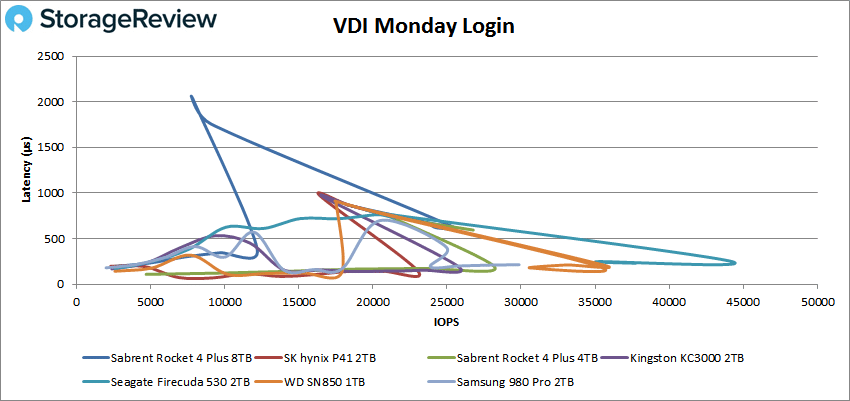 Conclusion
Overall, Sabrent's new 8TB Rocket 4 Plus model is far less performant than the other main capacity points from the company's line of consumer-grade Gen4 SSDs. There could be several reasons for this poor performance. The most likely is a combination that the Phison PS5018-E18 controller firmware has not been optimized for this amount of NAND and the BiCS5 part isn't as high-performance as the Micron.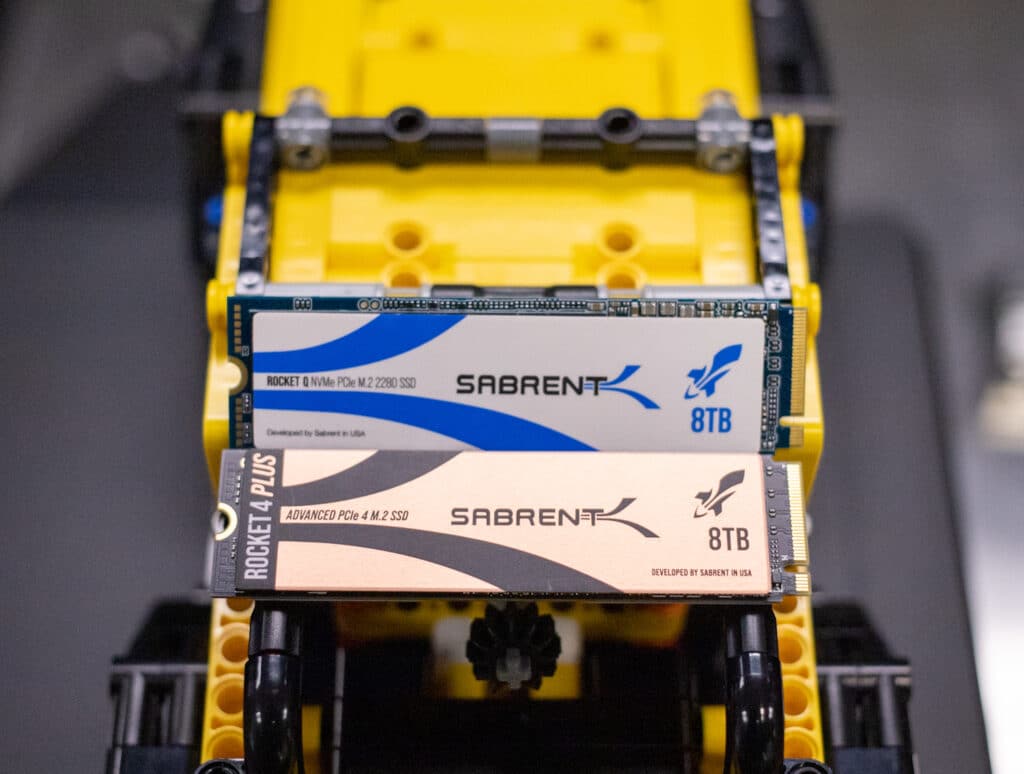 Nonetheless, testing highlights include 348K IOPS in 4K random read, 164K IOPS in 4K random write, 3.85GB/s in 64k sequential read, and 623GB/s in 64k sequential write. This represents a 33% decrease in sequential reads compared to the 4TB model, while sequential writes were roughly three times slower. Random 4K performance didn't fare any better, posting just 348K IOPS read and 164K IOPS write.
While the Rocket 4 Plus is a solid line of consumer SSDs in general, releasing the 8TB model didn't really go well. Sabrent would have certainly set itself apart from the competition with a high-performance 8TB SSD, the execution was poor. So, is there any hope? Well, a price tag of $1,500 for a consumer-grade drive will curb most buyers. That said, those who are port constrained and need the space in their rig might find something of value here. For everyone else, you're better off buying two of the 4TB SSDs.
Engage with StorageReview
Newsletter | YouTube | Podcast iTunes/Spotify | Instagram | Twitter | Facebook | TikTok | RSS Feed