Last year Samsung released its first PCIe Gen4 SSD for clients with the Samsung 980 Pro. We did a thorough review at the time. The 980 Pro dominated in the VDBench tests we put it through to be the top dog Gen4 against other newly released drives. The only problem was there was a limitation on how high the capacity went, 1TB. Now the company is selling a 2TB and we'll be looking at that today.
Last year Samsung released its first PCIe Gen4 SSD for clients with the Samsung 980 Pro. We did a thorough review at the time. The 980 Pro dominated in the VDBench tests we put it through to be the top dog Gen4 against other newly released drives. The only problem was there was a limitation on how high the capacity went, 1TB. Now the company is selling a 2TB and we'll be looking at that today.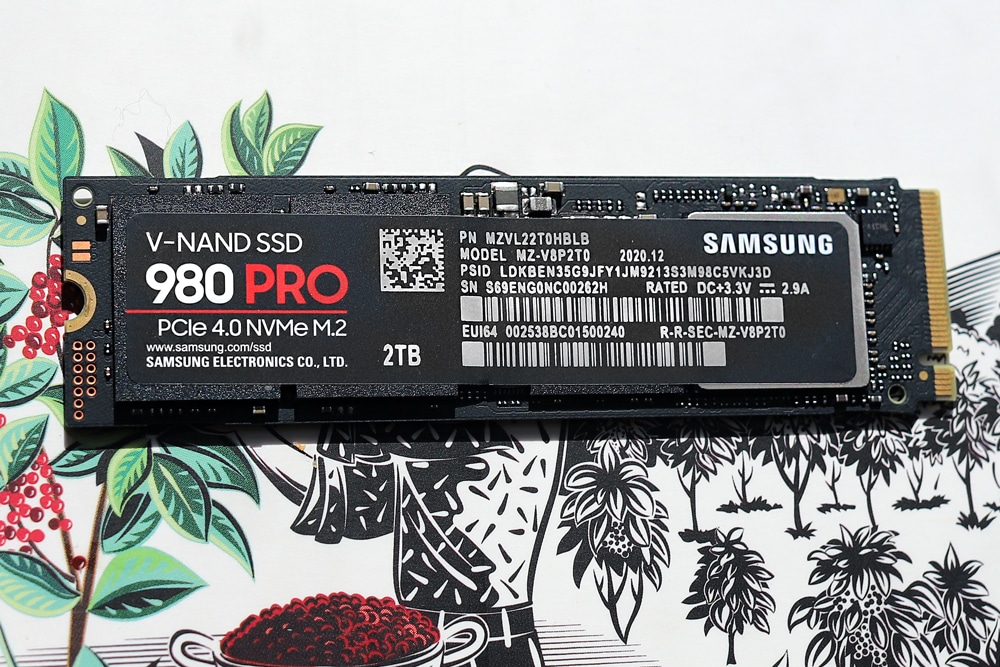 Since nothing is different here except capacity, we won't go over the whole thing again, Lyle has a nice write up here. The gist of it is that it leverages the PCIe Gen4x4 interface allowing for speeds up to 7GB/s read, 5GB/s write, and random throughput up to 1 million IOPS. The drive leverages Samsung's sixth-generation V-NAND, which Samsung states as having a 40% increase in cells over the previous 9x-layer single-stack structure. And the SSD utilizes the enhanced Intelligent TurboWrite 2.0 technology, which delivers upwards of 5 times the buffer size.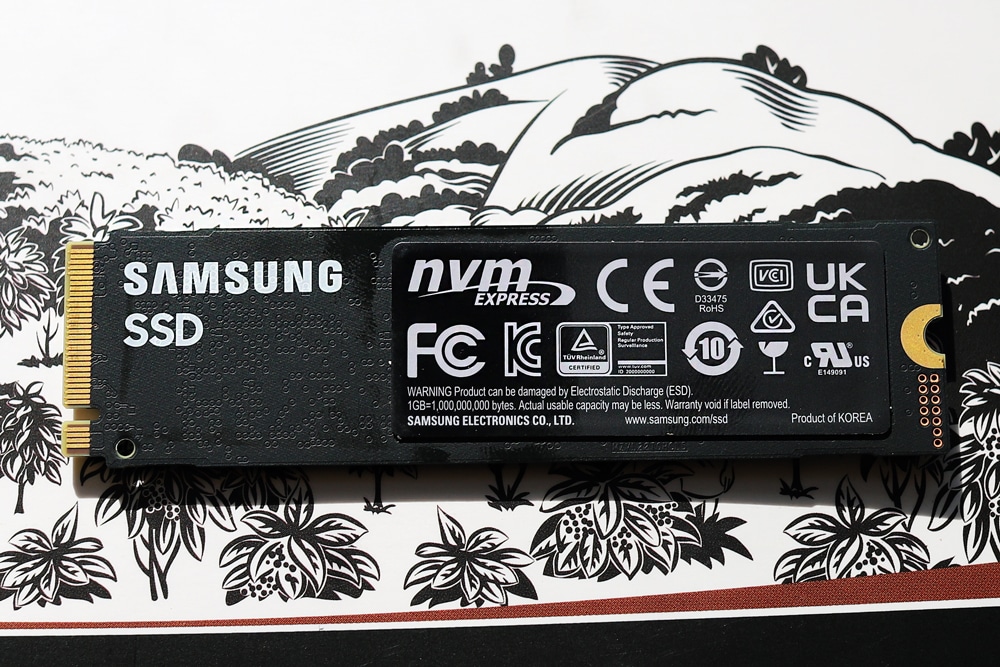 The Samsung 980 PRO 2TB comes with a 5-year warranty and can be picked up today for $430.
Samsung 980 PRO 2TB SSDSpecifications
Usage Application
Client PCs
Interface
PCIe Gen 4.0 x4, NVMe 1.3c
Hardware Information
Capacity
2TB
Controller
Samsung Elpis Controller
NAND Flash Memory
Samsung V-NAND 3bit MLC
DRAM Cache Memory
2GB LPDDR4
Dimension
Max 80.15 x Max 22.15 x Max 2.38 (mm)
Form Factor
M.2 (2280)
Performance (Up to.)
Sequential Read
7,000 MB/s
Sequential Write
5,100 MB/s
QD 1 Thread 1
Ran. Read
22K IOPS
Ran. Write
60K IOPS
QD 32 Thread 16
Ran. Read
1,000K IOPS
Ran. Write
1,000K IOPS
Power

Consumption (Up to)

Idle (ASPT on)
35mW
Active (Avg.)
6.1 W
L1.2 mode
5 mW
Reliability
Temp.
Operating
0°C to 70°C
Non-Operating
-40°C to 85°C
Humidity
5% to 95% non-condensing
Shock
Non-Operating
1,500G(Gravity), duration: 0.5ms, 3 axis
Vibration
Non-Operating
20~2,000Hz, 20G
MTBF
1.5 million hours
Warranty
TBW
1,200TB
Samsung 980 Pro 2TB Performance
Testbed
As we migrate into testing newer NVME Gen4 SSDs, it required a platform shift in our lab to support the newer interface. Lenovo has been out in the front of the pack with PCIe Gen4 support, including up to the front-mount U.2 bays, while others still only offer edge-card support. In our Gen4 reviews, we leverage the Lenovo ThinkSystem SR635 server, equipped with an AMD 7742 CPU and 512GB of 3200Mhz DDR4 memory. NVMe is tested natively through an M.2 to PCIe adapter card in the edge-card slot, while U.2 drives are loaded in the front. The methodology used better reflects end-user workflow with the consistency, scalability, and flexibility testing within a virtualized server offers. A large focus is put on drive latency across the entire load range of the drive, not just at the smallest QD1 (Queue-Depth 1) levels. We do this because many of the common consumer benchmarks don't adequately capture end-user workload profiles.
SQL Server Performance
Each SQL Server VM is configured with two vDisks: 100GB volume for boot and a 500GB volume for the database and log files. From a system resource perspective, we configured each VM with 16 vCPUs, 64GB of DRAM, and leveraged the LSI Logic SAS SCSI controller. While our Sysbench workloads tested previously saturated the platform in both storage I/O and capacity, the SQL test is looking for latency performance.
This test uses SQL Server 2014 running on Windows Server 2012 R2 guest VMs and is stressed by Quest's Benchmark Factory for Databases. StorageReview's Microsoft SQL Server OLTP testing protocol employs the current draft of the Transaction Processing Performance Council's Benchmark C (TPC-C), an online transaction-processing benchmark that simulates the activities found in complex application environments. The TPC-C benchmark comes closer than synthetic performance benchmarks to gauging the performance strengths and bottlenecks of storage infrastructure in database environments. Each instance of our SQL Server VM for this review uses a 333GB (1,500 scale) SQL Server database and measures the transactional performance and latency under a load of 15,000 virtual users.
SQL Server Testing Configuration (per VM)
Windows Server 2012 R2
Storage Footprint: 600GB allocated, 500GB used
Database Size: 1,500 scale
Virtual Client Load: 15,000
RAM Buffer: 48GB
2.5 hours preconditioning
30 minutes sample period
For our SQL Server latency benchmark, the Samsung 980 Pro 2TB had an average latency of 2ms slightly better than the 1TB version.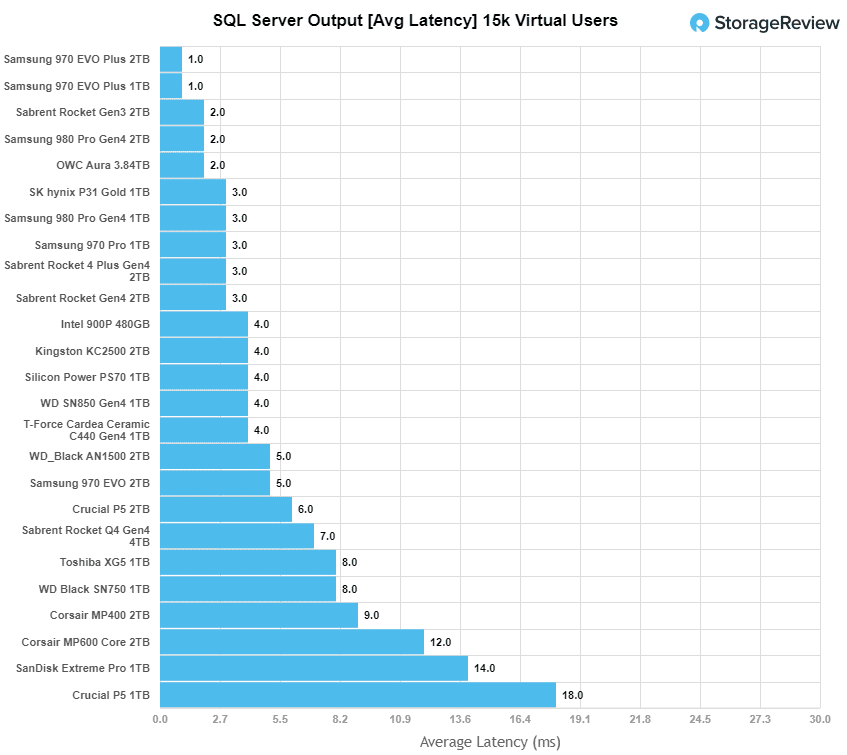 VDBench Workload Analysis
When it comes to benchmarking storage devices, application testing is best, and synthetic testing comes in second place. While not a perfect representation of actual workloads, synthetic tests do help to baseline storage devices with a repeatability factor that makes it easy to do apples-to-apples comparison between competing solutions. These workloads offer a range of different testing profiles ranging from "four corners" tests, common database transfer size tests, to trace captures from different VDI environments.
All of these tests leverage the common vdBench workload generator, with a scripting engine to automate and capture results over a large compute testing cluster. This allows us to repeat the same workloads across a wide range of storage devices, including flash arrays and individual storage devices. Our testing process for these benchmarks fills the entire drive surface with data, then partitions a drive section equal to 5% of the drive capacity to simulate how the drive might respond to application workloads.
This is different from full entropy tests which use 100% of the drive and take them into a steady state. As a result, these figures will reflect higher-sustained write speeds. Additionally, as VDBench operates with synchronous I/O in Linux versus asynchronous I/O, some of the performance data will differ between the data we collect and what is published in spec sheets. The important part to consumers though is that test data is comparable from the same test conditions, be it VDBench versus VDBench, IOMeter vs IOMeter, or FIO vs FIO.
Profiles:
4K Random Read: 100% Read, 128 threads, 0-120% iorate
4K Random Write: 100% Write, 64 threads, 0-120% iorate
64K Sequential Read: 100% Read, 16 threads, 0-120% iorate
64K Sequential Write: 100% Write, 8 threads, 0-120% iorate
Comparable for this review:
In 4K random read, the Samsung 980 Pro 2TB came in right behind the 1TB version with a peak performance of 520,650 IOPS and a latency of 244µs.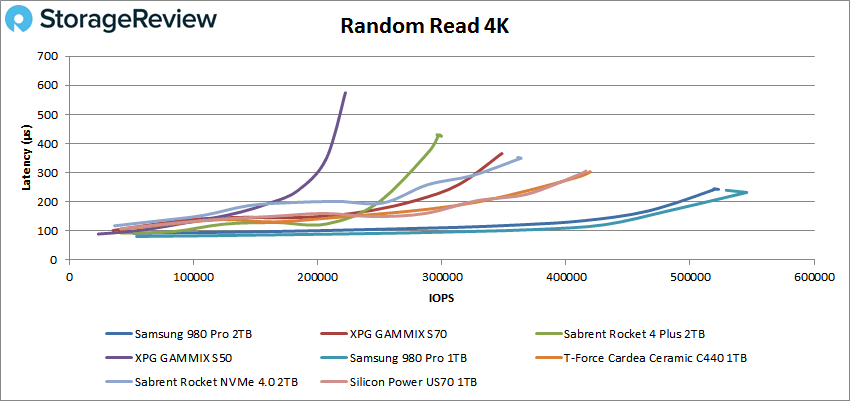 For 4K write the 980 Pro 2TB took the top spot with a peak of 408,676 IOPS with a latency of 307.4µs.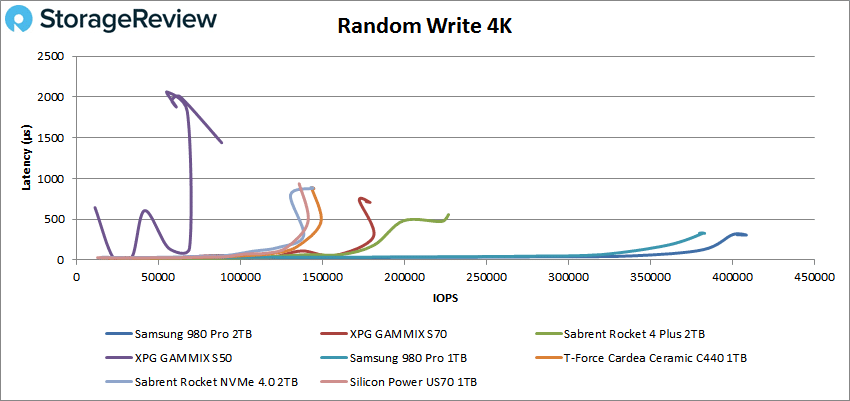 Switching to sequential workloads we look at our 64K tests, in read the 980 Pro 2TB fell to about the middle with a peak of 66,663 IOPS or 4.2GB/s with a latency of 478µs.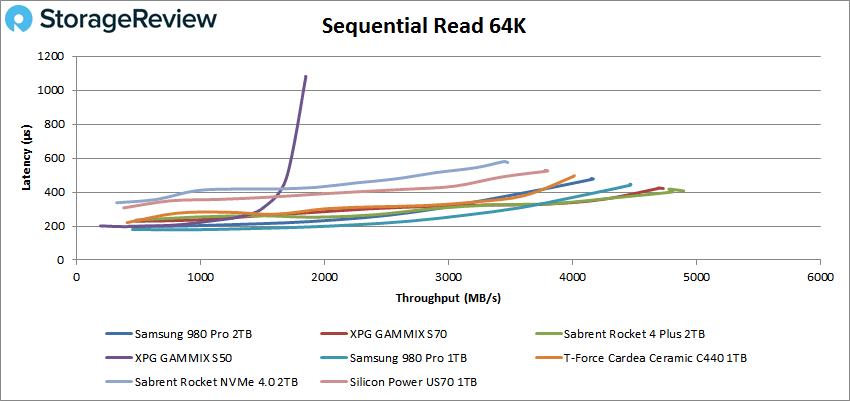 In 64K write the 980 Pro 2TB once again jumped to the top spot with a peak score of 28,497 IOPS or 1.78GB/s at a latency of 554µs.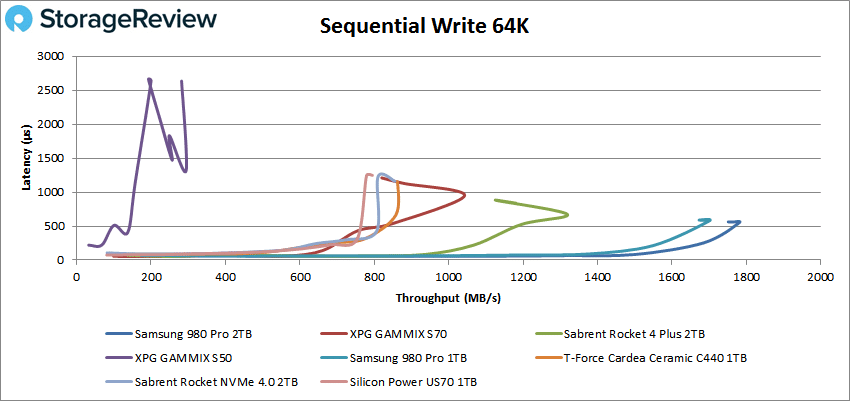 Next, we looked at our VDI benchmarks, which are designed to tax the drives even further. In Boot, the Samsung 980 Pro 2TB took second behind its 1TB sister with a peak of 118,166 IOPS at a latency of 276µs.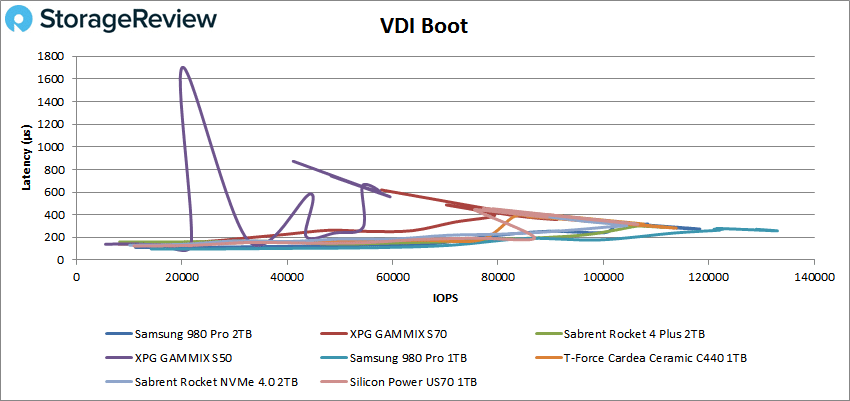 For VDI Initial Login the placing was the same as the above with the 980 Pro 2TB peaking at about 61,500 with a latency of 327µs before dropping off some.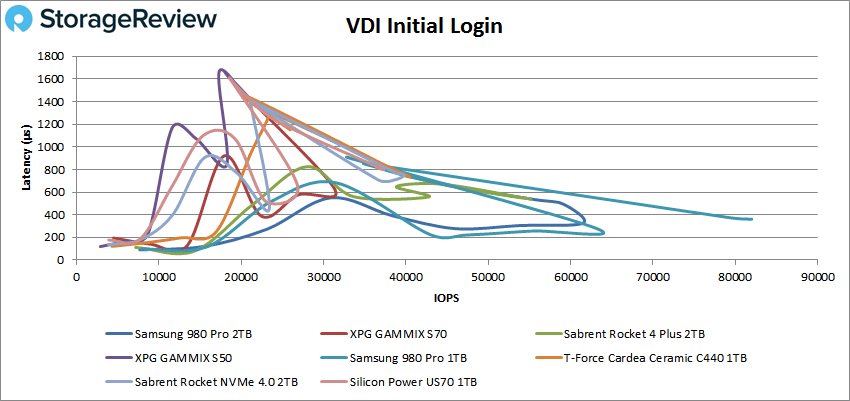 VDI Monday Login saw the 980 Pro 2TB take the top spot once more with a peak of 29,866 IOPS with a latency of 214µs.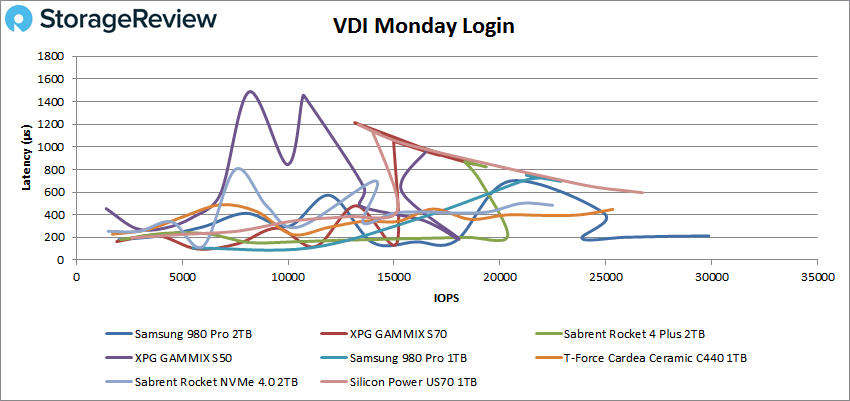 BlackMagic
To further test the Samsung 980 Pro 2TB SSD, we ran the Blackmagic Disk Speed Test on the Lenovo ThinkStation P620. Here, the SSD hit 5.28GB/s read and 4.34GB/s write. Not hitting the quoted speeds, which is still normal for the new batch of Gen4 drives. For comparison, the Samsung 980 Pro 1TB hit 5.14GB/s read and 2.85GB/s write. The 2TB shows a significant boost in writes.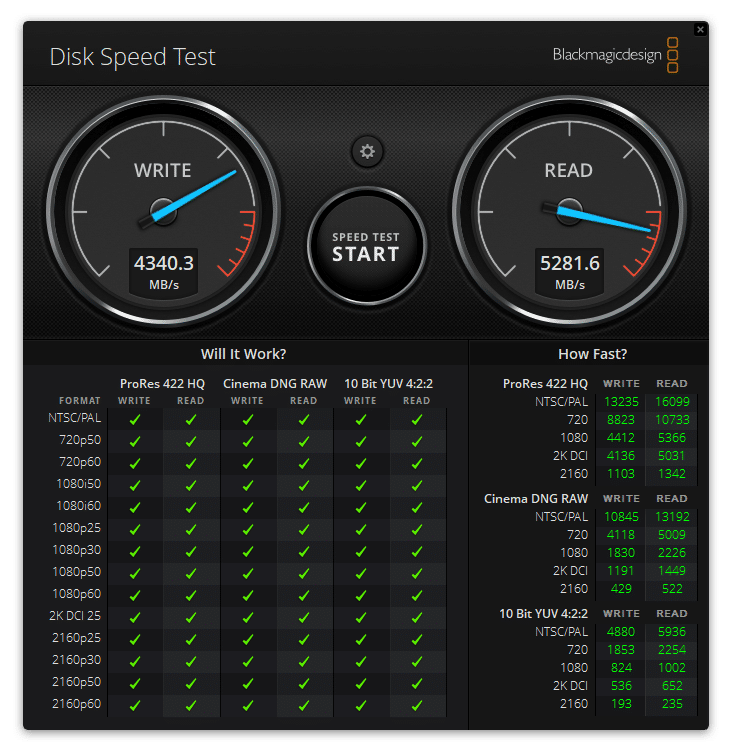 Conclusion
The Samsung 980 Pro was the most impressive PCIe Gen4 SSD to hit the market and it now comes in capacities of 2TB. The drive leverages the company's sixth-generation of VNAND and its latest Elpis controller to bring quoted speeds as high as 7GB/s read and over 1 million IOPS. The 2TB version brings all the benefits of the earlier version with twice the maximum capacity while still all fitting on a single side.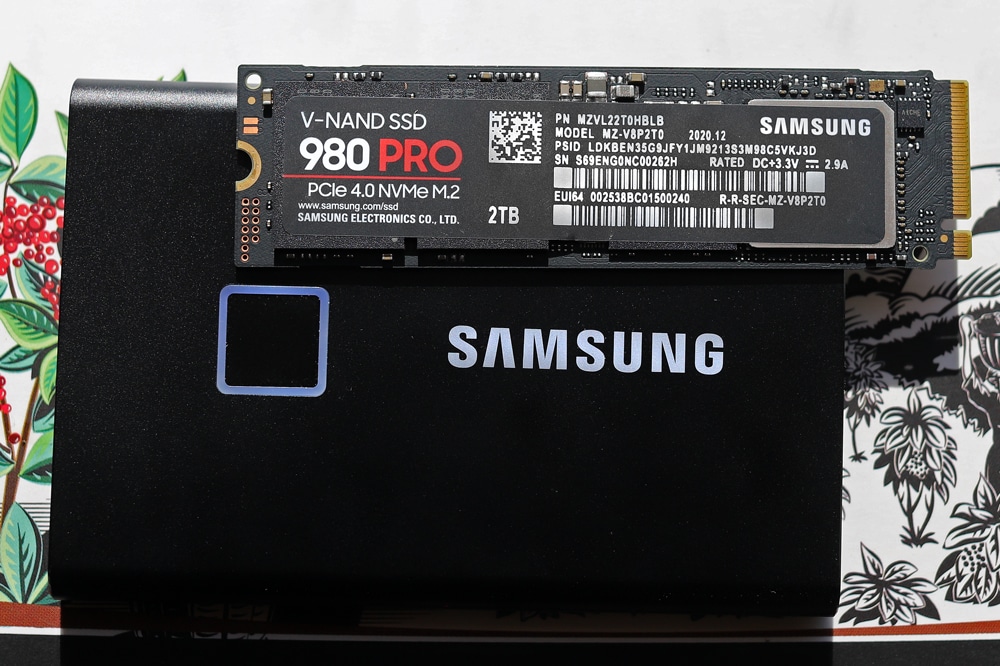 For performance, we ran our Application Workload Analysis in the form of SQL Server latency, our VDBench Workloads, and Blackmagic. For SQL Server latency the 980 Pro 2TB has 2ms, 1ms less than the 1TB. In our VDBench tests the 980 Pro 2TB saw highlights of 521K IOPS in 4K read, 409K IOPS in 4K write, 4.2GB/s in 64K read, and 1.78GB/s in 64K write. In our VDI Benchmarks, the drive saw peaks of 118K IOPS in boot, 62K IOPS in Initial Login, and 30K IOPS in Monday Login. With Blackmagic, the 2TB SSD gave us 5.3GB/s read and 4.3GB/s write.
Samsung has another strong showing in the PCIe Gen4 market. The Samsung 980 Pro 2TB delivers top-line performance, twice the capacity of the previous SSD we looked at from them, and all for a reasonable price.
Newsletter | YouTube | Podcast iTunes/Spotify | Instagram | Twitter | Facebook | RSS Feed