In June of 2021, Micron updated its OEM and automotive SSD portfolio based on 176-layer NAND technologies. The Micron 2450 is a value SSD that leverages QLC NAND while the Micron 3400 SSD is designed to give system builders a performance-oriented drive with TLC NAND. Micron didn't sample either drive for review, but now that they are appearing to show up in OEM systems, we've been able to get hands-on with the 3400.
In June of 2021, Micron updated its OEM and automotive SSD portfolio based on 176-layer NAND technologies. The Micron 2450 is a value SSD that leverages QLC NAND while the Micron 3400 SSD is designed to give system builders a performance-oriented drive with TLC NAND. Micron didn't sample either drive for review, but now that they are appearing to show up in OEM systems, we've been able to get hands-on with the 3400.
Micron 3400 SSD Specifications
The Micron 3400 is a Gen4 SSD that comes in a standard M.2 2280 form factor. The drive is available in 512GB, 1TB, and 2TB capacities. Micron is positioning the 3400 as their high-performance NVMe SSD for OEMs. As such, it's reasonable to see these pop up in more premium system builds. We found this one inside the HP Z2 Mini G9.
Micron asserts the 3400 is "a future-proof solution that will harness the mammoth I/O loads needed to manage today's 4K (and tomorrow's 8K) double- or triple-monitor, work-from-home setups that have blurred the lines between personal and work-related tasks" Bizzare chest-thumping aside, the spec sheet has the 3400 topping out at 6,600MB/s sequential read across all three capacities. Turning to writes, the drive is specced to push out 5,000MB/s for the larger capacities and 3,600MB/s for the 512GB.
The 3400 uses Micron's own DM02A1 controller. We saw that controller last in the P5 Plus review we completed last August. While the P5 Plus was an advancement over prior drives, the SSD before was pretty poor and the Plus version wasn't anything to get excited about. Seeing the controller show up in the 3400 then is not a good sign that Micron's performance numbers are likely to be attained. This also means the 3400 is probably just the OEM version of the P5 Plus we were already sampled.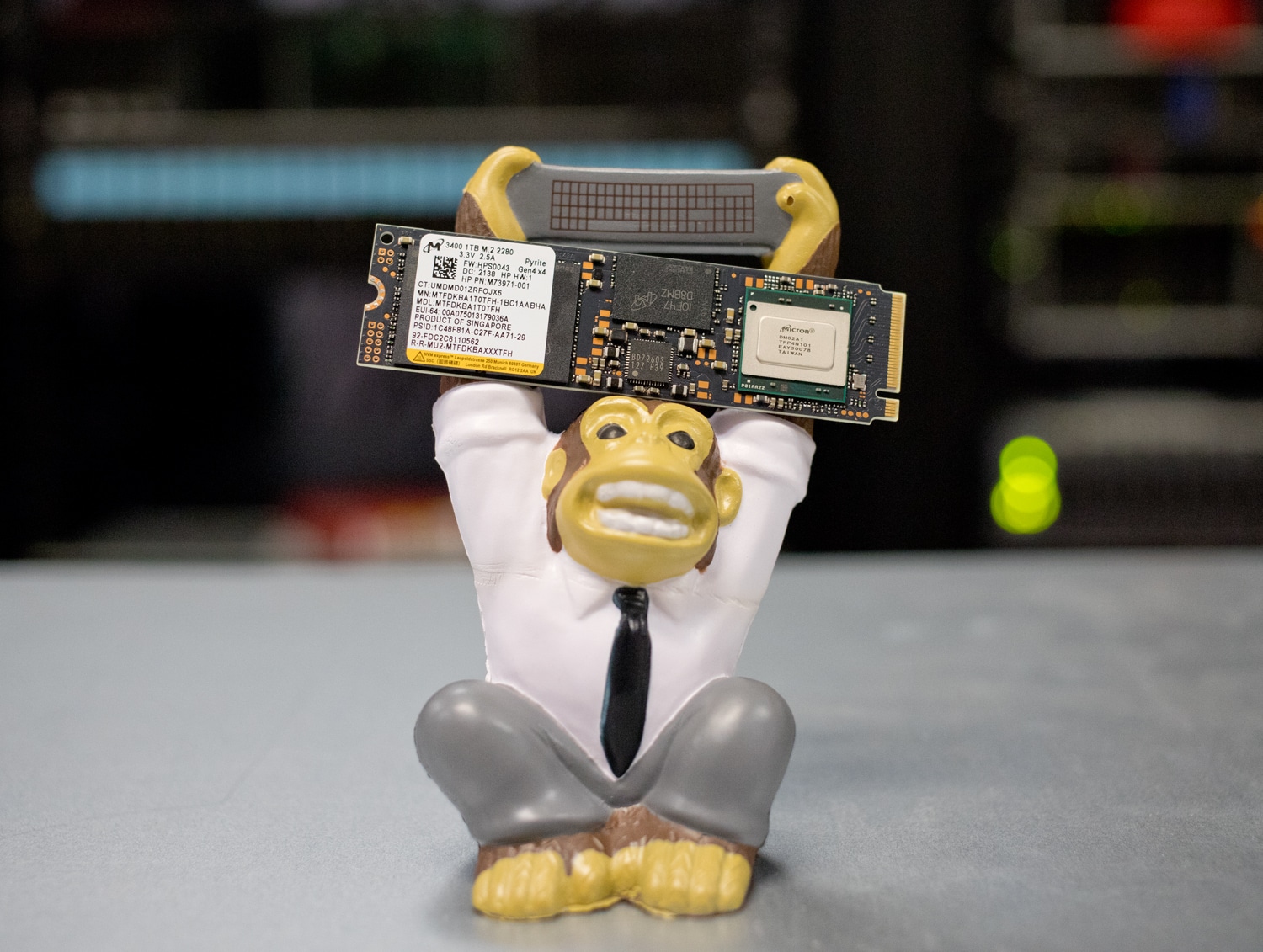 Perhaps more important for this drive though is Micron's longstanding work in the OEM business. They've done well historically to deliver storage parts to the industry that are highly reliable while delivering "enough" performance at a specific price point. This is in large part thanks to being able to leverage their own NAND and expertise in firmware design. The drives carry a 2 million hour MTTF rating. There's not a published warranty for the drive, the warranty will go with the system being sold.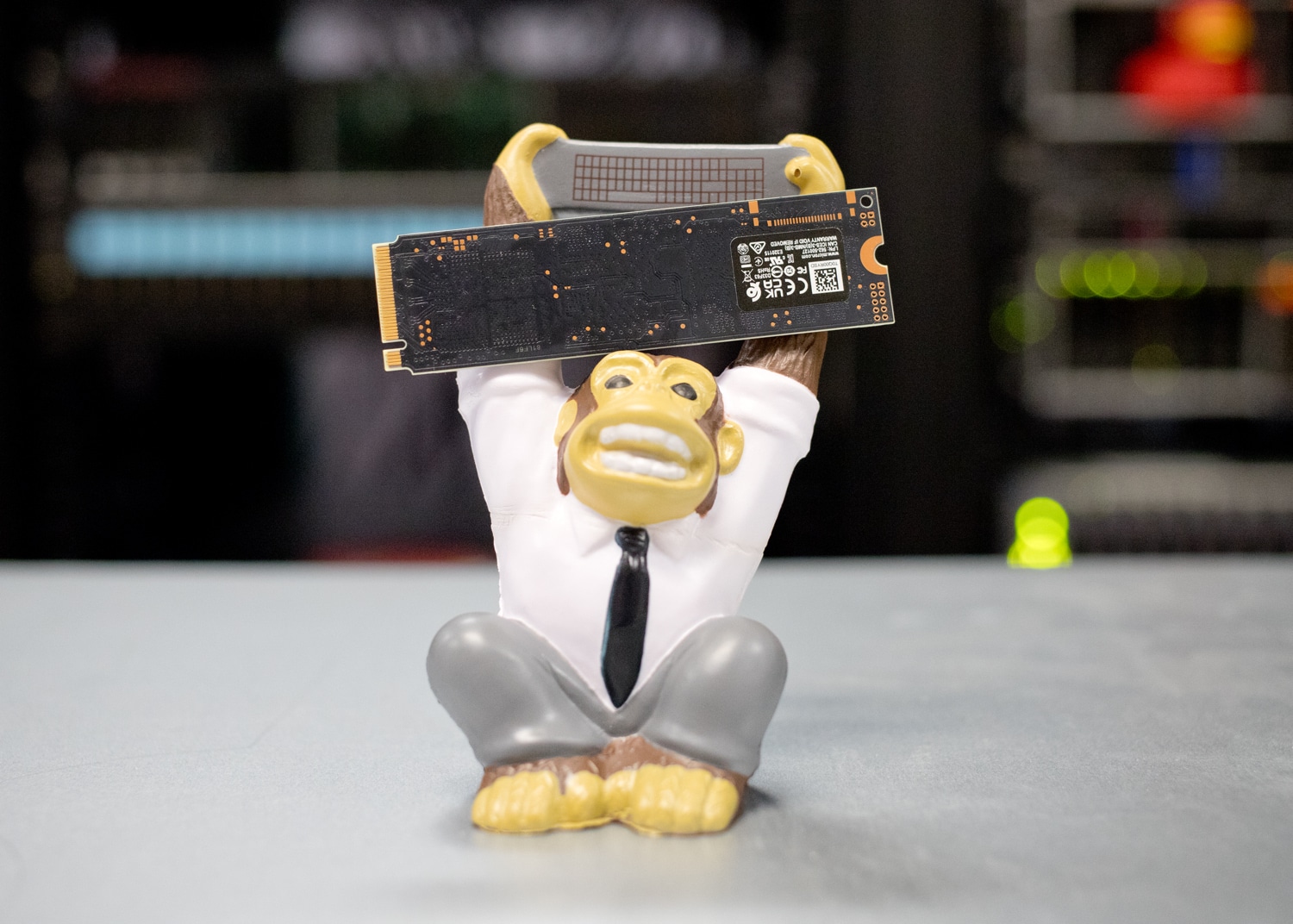 While not meant for retail, the Micron 3400 can be found online now from a variety of retailers ranging from about $100 for the 512GB capacity up to $330 for the 2TB. Key specifications are highlighted below.
Form Factor
M.2 (22x80mm)
Interface
PCIe Gen4, NVMe 1.4
Capacities
Performance
Sequential Read
Sequential Write

512GB – 3,600MB/s
1TB – 5,000MB/s
2TB – 5,000MB/s

Random Read IOPS

512GB – 360K
1TB – 630K
2TB – 720K

Random Write IOPS
Read Latency
Write Latency
MTTF
Other Features

Hardware-based AES 256-bit encryption
Power-loss protection (data at rest)
Host-controlled thermal management
Dynamic write acceleration
RAIN & SMART
Power-loss signal support
TGC Opal 2.1, TCG Pyrite 2.01
Micron Storage Executive management tool
Micron 3400 SSD Performance
We are reviewing the 1TB version of the Micron 3400 and comparing it to the following PCIe Gen4x4 drives:
SQL Server Performance
Each SQL Server VM is configured with two vDisks: 100GB volume for boot and a 500GB volume for the database and log files. From a system resource perspective, we configured each VM with 16 vCPUs, 64GB of DRAM and leveraged the LSI Logic SAS SCSI controller. While our Sysbench workloads tested previously saturated the platform in both storage I/O and capacity, the SQL test is looking for latency performance.
This test uses SQL Server 2014 running on Windows Server 2012 R2 guest VMs and is stressed by Quest's Benchmark Factory for Databases. StorageReview's Microsoft SQL Server OLTP testing protocol employs the current draft of the Transaction Processing Performance Council's Benchmark C (TPC-C), an online transaction-processing benchmark that simulates the activities found in complex application environments.
The TPC-C benchmark comes closer than synthetic performance benchmarks to gauging the performance strengths and bottlenecks of storage infrastructure in database environments. Each instance of our SQL Server VM for this review uses a 333GB (1,500 scale) SQL Server database and measures the transactional performance and latency under a load of 15,000 virtual users.
SQL Server Testing Configuration (per VM)
Windows Server 2012 R2
Storage Footprint: 600GB allocated, 500GB used
SQL Server 2014
Database Size: 1,500 scale
Virtual Client Load: 15,000
RAM Buffer: 48GB

Test Length: 3 hours

2.5 hours preconditioning
30 minutes sample period
Starting with SQL average latency, the Micron 3400 had 5ms in average latency, which is firmly planted in the middle of other consumer NVMe SSDs.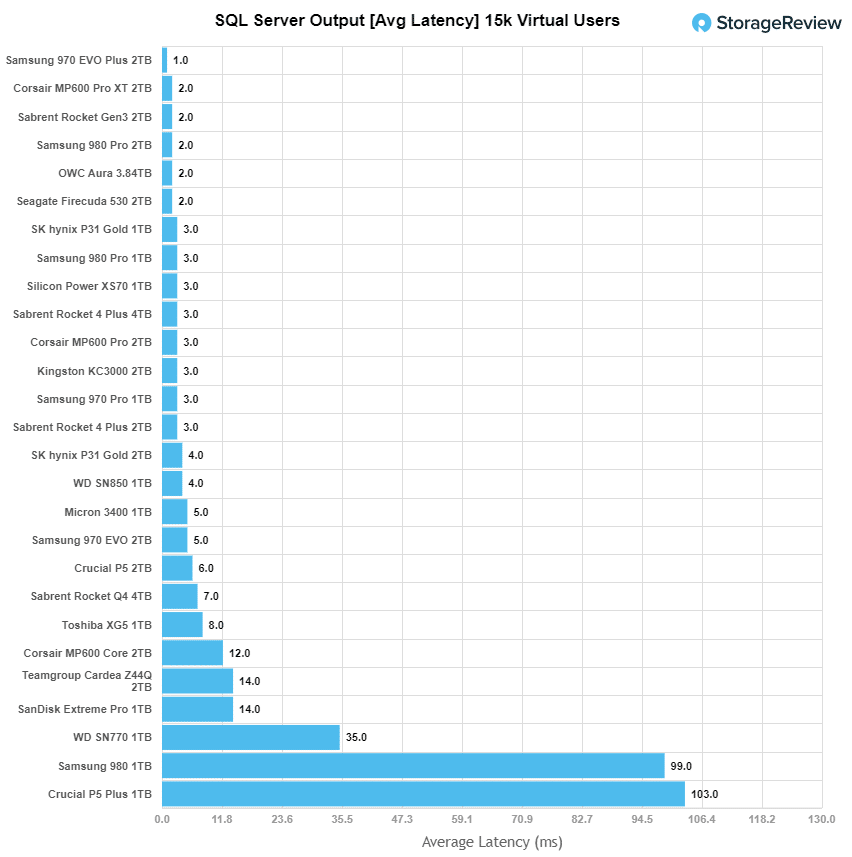 VDBench Workload Analysis
When it comes to benchmarking storage devices, application testing is best, and synthetic testing comes in second place. While not a perfect representation of actual workloads, synthetic tests do help to baseline storage devices with a repeatability factor that makes it easy to do apples-to-apples comparison between competing solutions. These workloads offer a range of different testing profiles ranging from "four corners" tests, common database transfer size tests, to trace captures from different VDI environments.
All of these tests leverage the common vdBench workload generator, with a scripting engine to automate and capture results over a large compute testing cluster. This allows us to repeat the same workloads across a wide range of storage devices, including flash arrays and individual storage devices. Our testing process for these benchmarks fills the entire drive surface with data, then partitions a drive section equal to 5% of the drive capacity to simulate how the drive might respond to application workloads. This is different than full entropy tests which use 100% of the drive and take them into a steady state. As a result, these figures will reflect higher-sustained write speeds.
Profiles:
4K Random Read: 100% Read, 128 threads, 0-120% iorate
4K Random Write: 100% Write, 64 threads, 0-120% iorate
64K Sequential Read: 100% Read, 16 threads, 0-120% iorate
64K Sequential Write: 100% Write, 8 threads, 0-120% iorate
VDI Boot, Initial Login, and Monday Login traces
In our 4K random read profile, the Micron 3400 offered a peak 4K throughput measuring 396k IOPS at 0.320ms, which put it trailing towards the back of the pack.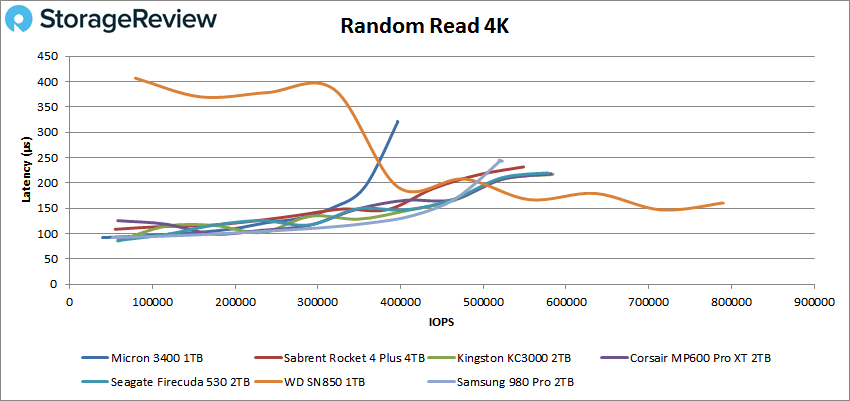 In a 100% 4K random write profile, the Micron 3400 out-paced the WD SN850, but trailed the other SSDs in the Gen4 space with throughput measuring 206k IOPS at 0.614ms.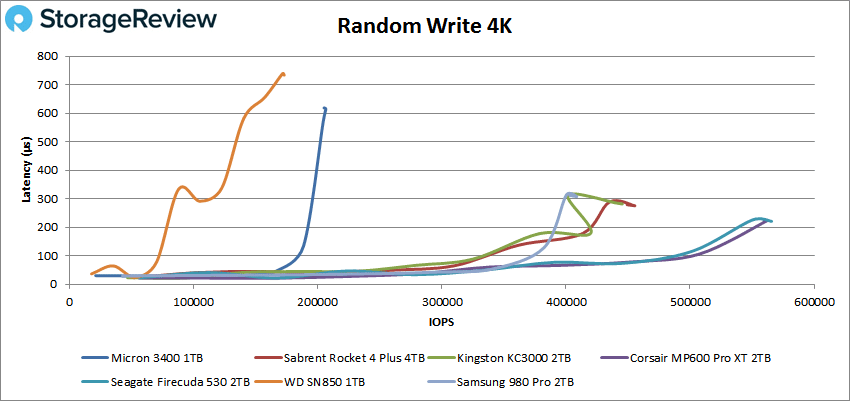 Switching to our large-block sequential workload with a 64K read transfer size, the Micron 3400 measured 3400MB/s at a peak of 0.587ms.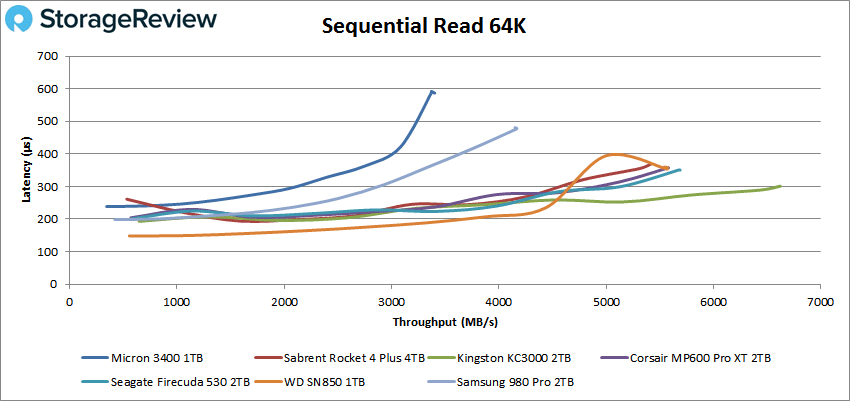 Moving to 64K sequential write the Micron 3400 again slipped to the back of the pack, measuring 1.25GB/s at a latency of 0.79ms.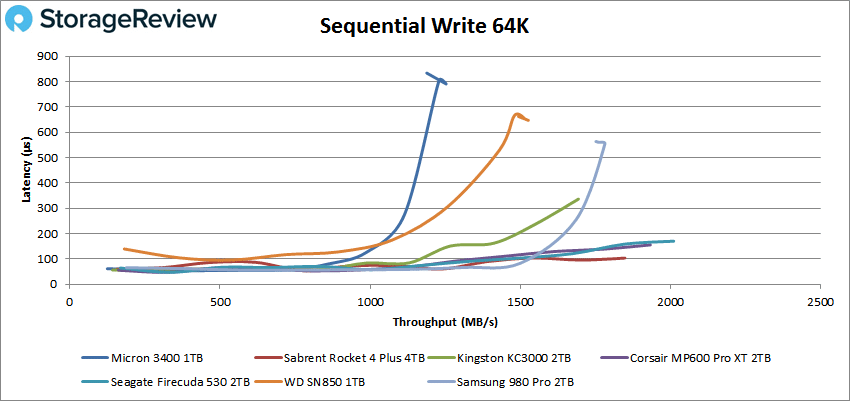 Moving into our VDI workload profiles, the Micron 3400 stayed towards the back of the pack, measuring 50K IOPS peak at 0.716ms in our Boot profile.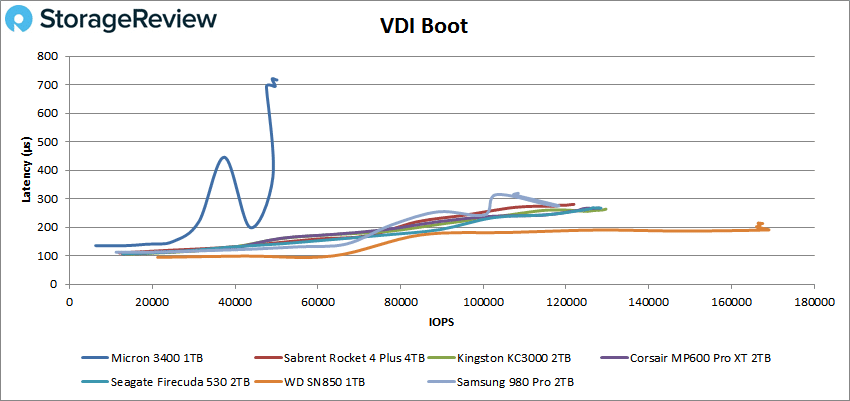 In our VDI Initial Login test the Micron 3400 measured a peak of 21.7K IOPS at 1.38ms latency.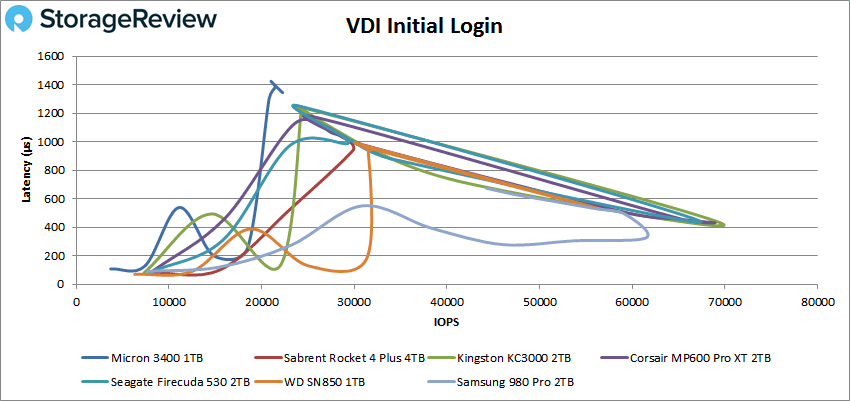 In our late test measuring the performance in a Monday Login VDI scenario, the Micron 3400 measured a peak of 25.2K IOPS at 0.44ms latency, putting it more towards the middle of the competition.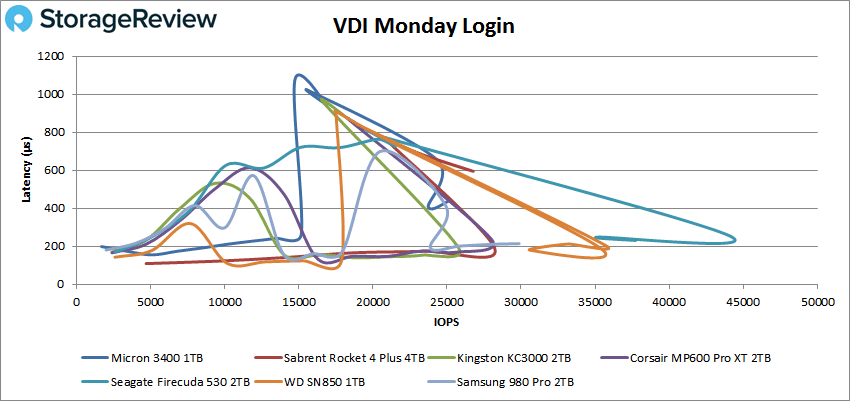 Conclusion
In terms of performance in relation to Micron's positioning, the 3400 doesn't stack up very well against mainstream Gen4 consumer SSDs. Across the board in our synthetic tests, the 3400 slipped towards the back of the pack, measuring a peak bandwidth of 3.4GB/s read and 1.25GB/s write, compared to the category leader measuring in excess of 6GB/s read and 2GB/s write. There was a bright spot though, in our SQL Server application test aimed at developers or homelab users, the Micron 3400 did do well, ranking towards the middle in the group measuring 5ms.
At the end of the day, the Micron 3400 is designed for system builders with specific performance, power consumption and cost models. If you have the option when buying a pre-built PC, then obviously you'd want to opt for another SSD as this one isn't very good. Individual consumers rarely get this choice though. Larger orgs buying hundreds or thousands of systems however have a bit more sway and would do well to negotiate for a different SSD.
Engage with StorageReview
Newsletter | YouTube | Podcast iTunes/Spotify | Instagram | Twitter | Facebook | TikTok | RSS Feed