The Union Memory UH711a is a data center SSD with a U.2 Gen4 interface. The drive comes in 1.92TB to 7.68TB capacities, utilizing 3D TLC memory, and has an MTBF of two million hours. Its chief aim is high reliability.
The Union Memory UH711a is a data center SSD with a U.2 Gen4 interface. The drive comes in 1.92TB to 7.68TB capacities, utilizing 3D TLC memory, and has an MTBF of two million hours. Its chief aim is high reliability.
Union Memory UH711A Specifications
Union Memory is a Chinese company founded in 2017. We previously reviewed its UH810a PCIe Gen4 SSD, so this is the second time we're reviewing one of their products.
The UH711a is a general high-performance data center SSD. As noted, it uses 3D TLC memory, a 2.5-inch U.2 form factor, and a Gen4 interface supporting NVMe 1.4. Available capacities are 1.92TB, 3.84TB, and 7.68TB.
Like the UH810a, the UH711a uses Union Memory's own controller and firmware. The company claims 7,200MB/s sequential read, 4,600MB/s sequential write, 1,700K IOPS random read, and 230K IOPS random write. The write numbers are noticeably better than those of the UH810a, which is intended for more read-intense scenarios.
Intriguingly, Union Memory claims the UH711a claims online firmware activations take only one second, eliminating the need to power the drive off for upgrades and thus reducing downtime. The drive carries a five-year warranty.
The UH711a's full specifications are as follows:
Form Factor

U.2/2.5-inch

Interface

PCIe Gen4x4

NVMe Protocol

NVMe 1.4

NAND Flash

3D TLC

Capacity
1.92TB
3.84TB
7.68TB
Sequential Read/Write
7200/2600 MB/s
7200/4500 MB/s
7200/4600 MB/s
Random IOPS Read/Write
900/160K
1700/230K
1700/200K
Average Latency Read/Write

82/11us

Power Consumption
8.5W idle/17.5W active
8.5W idle/21W active
8.5W idle/21W active
PBW
3.50PBW
7.01PBW
14.02PBW
DWPD

1 DWPD/5 year

TRIM

Support

Weight

<350g

Reliability

MTBF: 200M hours

AFR: <= 0.44%

UBER: 10-17

Temperature

Storage temperature: -40 to 85 degrees C

Operating temperature (SMART): 0 to 78 degrees C

Retention (power off)

3 months @ 40 degrees C
Union Memory UH711a Performance
Testing Background and Comparables
The StorageReview Enterprise Test Lab provides a flexible architecture for conducting benchmarks of enterprise storage devices in an environment comparable to what administrators encounter in real deployments. The Enterprise Test Lab incorporates a variety of servers, networking, power conditioning, and other network infrastructure that allows our staff to establish real-world conditions to accurately gauge performance during our reviews.
We incorporate these details about the lab environment and protocols into reviews so that IT professionals and those responsible for storage acquisition can understand the conditions under which we have achieved the following results. None of our reviews are paid for or overseen by the manufacturer of the equipment we are testing. Additional details about the StorageReview Enterprise Test Lab and an overview of its networking capabilities are available on those respective pages.
We are looking at the 7.68TB UH711a for this review. The drives we're using for comparison include:
Testbed
Our PCIe Gen4 Enterprise SSD reviews leverage a Lenovo ThinkSystem SR635 for application tests and synthetic benchmarks. The ThinkSystem SR635 is a well-equipped single-CPU AMD platform, offering CPU power well in excess of what's needed to stress high-performance local storage. Synthetic tests don't require a lot of CPU resources but still leverage the same Lenovo platform. In both cases, the intent is to showcase local storage in the best light possible that aligns with storage vendor maximum drive specs.
PCIe Gen4 Synthetic and Application Platform (Lenovo ThinkSystem SR635)
1 x AMD 7742 (2.25GHz x 64 Cores)
8 x 64GB DDR4-3200MHz ECC DRAM
SQL Server Performance
Each SQL Server VM is configured with two vDisks: 100GB volume for boot and a 500GB volume for the database and log files. From a system resource perspective, we configured each VM with 8 vCPUs, 64GB of DRAM and leveraged the LSI Logic SAS SCSI controller. While our Sysbench workloads tested previously saturated the platform in both storage I/O and capacity, the SQL test is looking for latency performance.
This test uses SQL Server 2014 running on Windows Server 2012 R2 guest VMs and is stressed by Quest's Benchmark Factory for Databases. StorageReview's Microsoft SQL Server OLTP testing protocol employs the current draft of the Transaction Processing Performance Council's Benchmark C (TPC-C), an online transaction-processing benchmark that simulates the activities found in complex application environments. The TPC-C benchmark comes closer than synthetic performance benchmarks to gauging the performance strengths and bottlenecks of storage infrastructure in database environments. Each instance of our SQL Server VM for this review uses a 333GB (1,500 scale) SQL Server database and measures the transactional performance and latency under a load of 15,000 virtual users.
SQL Server Testing Configuration (per VM)
Windows Server 2012 R2
Storage Footprint: 600GB allocated, 500GB used
Database Size: 1,500 scale
Virtual Client Load: 15,000
2.5 hours preconditioning
Our SQL Server transactional benchmark is first; the Union UH711a landed in a tight group, with 12,641 TPS.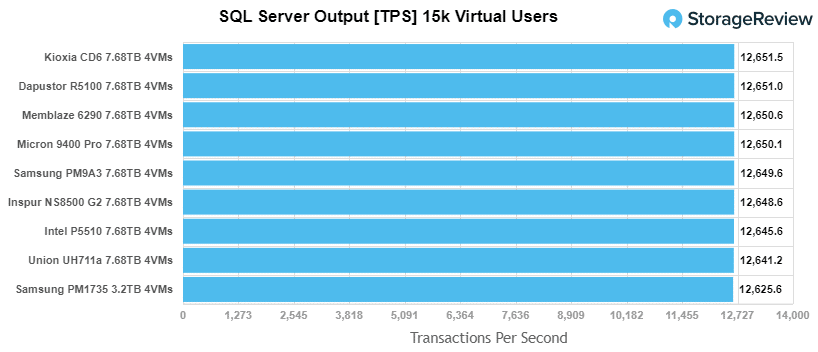 Our SQL Server average latency benchmark put the UH711a towards the tail end of the group, with 4.0ms. Most of the other drives were sub-3.0ms.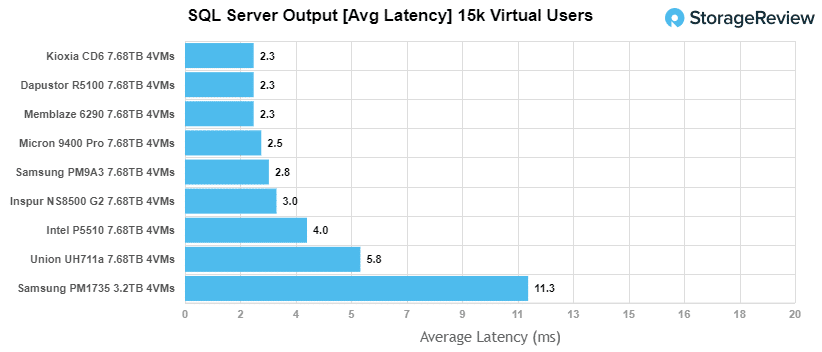 Sysbench Performance
The next application benchmark consists of a Percona MySQL OLTP database measured via SysBench. This test measures average TPS (Transactions Per Second), average latency, and average 99th percentile latency as well.
Each Sysbench VM is configured with three vDisks: one for boot (~92GB), one with the pre-built database (~447GB), and the third for the database under test (270GB). From a system resource perspective, we configured each VM with 8 vCPUs, 60GB of DRAM and leveraged the LSI Logic SAS SCSI controller.
Sysbench Testing Configuration (per VM)
CentOS 6.3 64-bit
Percona XtraDB 5.5.30-rel30.1

Database Tables: 100
Database Size: 10,000,000
Database Threads: 32
RAM Buffer: 24GB

Test Length: 3 hours

2 hours preconditioning 32 threads
1 hour 32 threads
The UH711a finished towards the back with 9,879 TPS, only beating the older Intel P5510 and the high-endurance Samsung PM1735.

The UH711a maintained its third-to-last position in Sysbench Average Latency, with 12.95ms.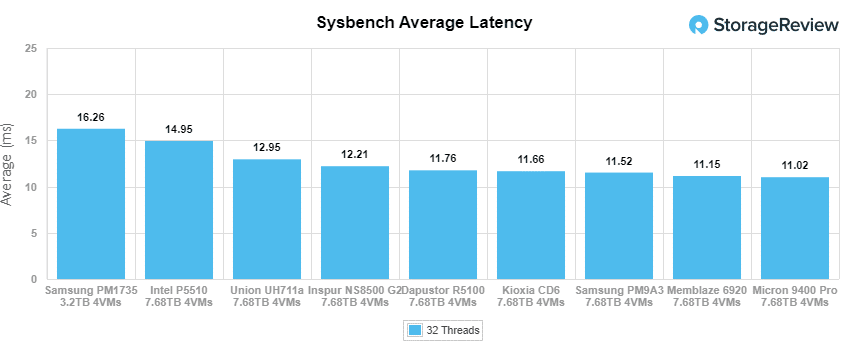 Sysbench 99th percentile likewise continued the UH711a's trend of finishing ahead of the Samsung PM1735 and the Intel P5510 but not seriously challenging the others.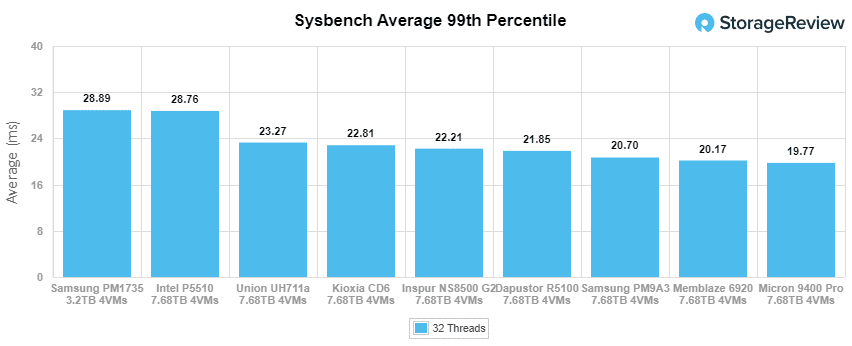 VDBench Workload Analysis
When it comes to benchmarking storage devices, application testing is best, and synthetic testing comes in second place. While not a perfect representation of actual workloads, synthetic tests do help to baseline storage devices with a repeatability factor that makes it easy to do apples-to-apples comparisons between competing solutions. These workloads offer a range of different testing profiles ranging from "four corners" tests, common database transfer size tests, to trace captures from different VDI environments.
All of these tests leverage the common vdBench workload generator, with a scripting engine to automate and capture results over a large compute testing cluster. This allows us to repeat the same workloads across a wide range of storage devices, including flash arrays and individual storage devices. Our testing process for these benchmarks fills the entire drive surface with data, and then partitions a drive section equal to 25% of the drive capacity to simulate how the drive might respond to application workloads. This is different from full entropy tests which use 100% of the drive and takes them into a steady state. As a result, these figures will reflect higher-sustained write speeds.
Profiles:
4K Random Read: 100% Read, 128 threads, 0-120% iorate
4K Random Write: 100% Write, 128 threads, 0-120% iorate
16K Sequential Read: 100% Read, 32 threads, 0-120% iorate
16K Sequential Write: 100% Write, 16 threads, 0-120% iorate
64K Sequential Read: 100% Read, 32 threads, 0-120% iorate
64K Sequential Write: 100% Write, 16 threads, 0-120% iorate
4K, 8K, and 16K 70R/30W Random Mix, 64 threads, 0-120% iorate
Synthetic Database: SQL and Oracle
VDI Full Clone and Linked Clone Traces
We start with VDBench random read 4K where the UH711a showed real promise, finishing at just north of 167K IOPS at 304µs and without any tail-end latency spike. Only the Dapustor R5100 did better.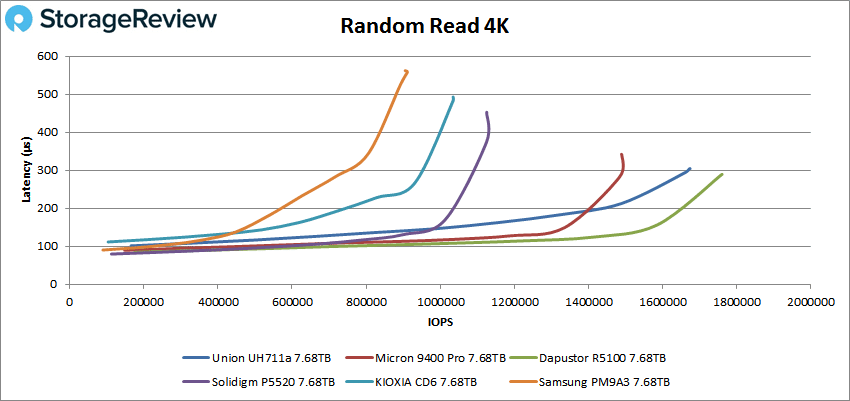 The UH711a did similarly well in random write 4K, with a third-place finish. (From the top, not the bottom!) Its best pre-spike number was about 585K IOPS at 127µs. The Micron 9400 Pro finished well ahead, at about 806K IOPS.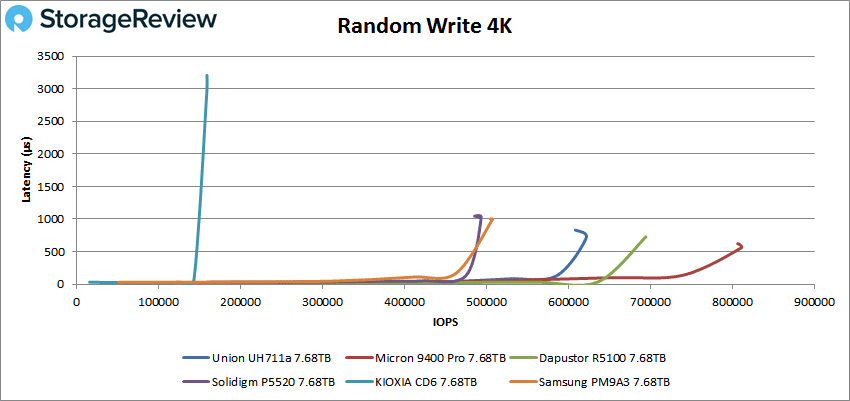 Things continued looking up for the UH711a in sequential read 64K; it didn't maintain quite as low of latency as the Micron 9400 Pro, but still finished the test with nearly the same result, about 108K IOPS at 589µs.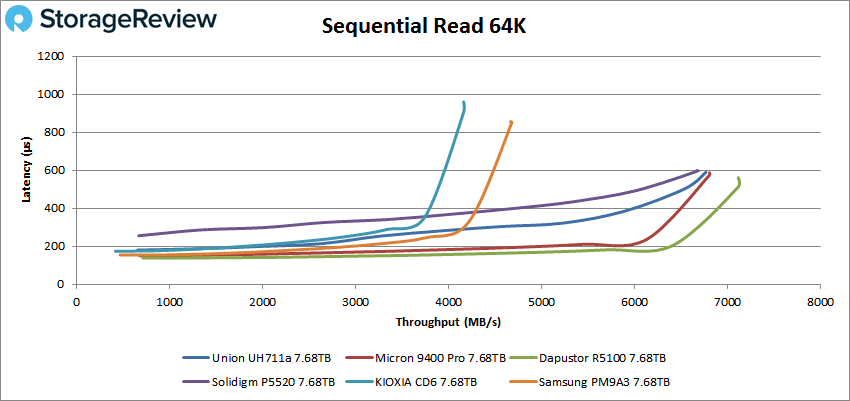 The UH711a landed solidly mid-pack in sequential write 64K, more or less tying the Solidigm P5520. Pre-spike, its best number was 38,402 IOPS at 128µs.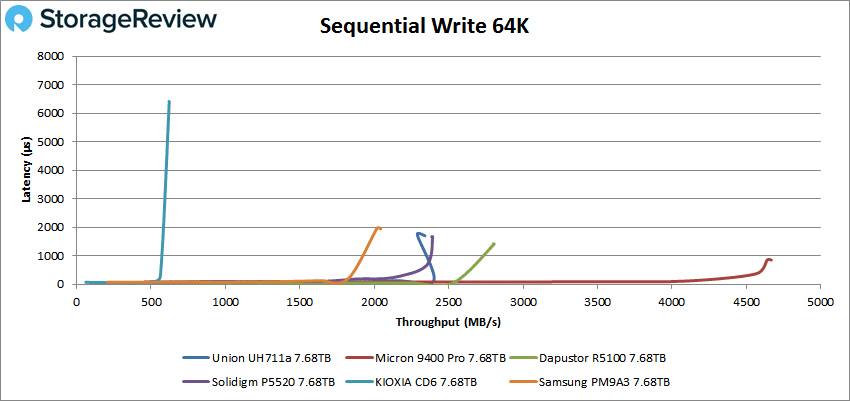 Moving onto the 16K tests, sequential read saw the UH711a trailing most of the drives, including the Samsung PM9A3. Its final number was about 203K IOPS at 156µs.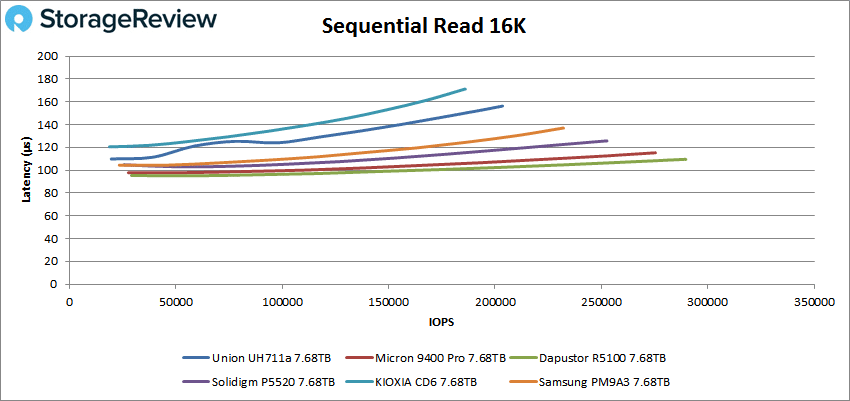 The UH711a did better in sequential write 16K, finishing behind only the perpetually strong Dapustor R5100 and the Micron 9400 Pro. Its best pre-spike number was 146,360 IOPS at only 32µs.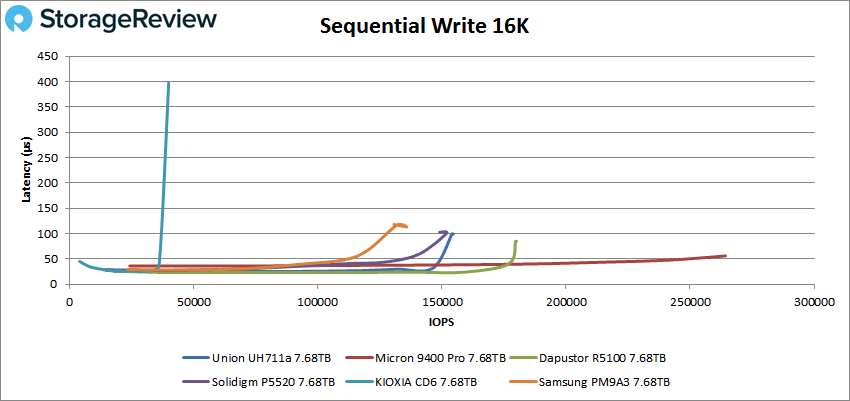 Our mixed read/write profiles are next, starting with 70/30 4k. The UH711a didn't get a latency spike like the Samsung PM9A3 but still trailed, finishing at 478,154 IOPS at 131µs. The overachieving Dapustor R5100 scored north of 700K IOPS at sub-100µs.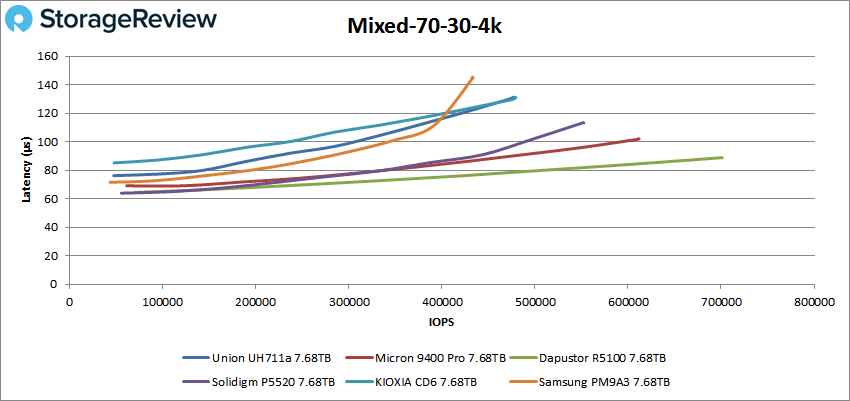 Mixed 70/30 8k was also a struggle for the UH711a, where it saw a minor latency spike before finishing the test at 295,793 IOPS at 214µs, about the same as the Samsung PM9A3.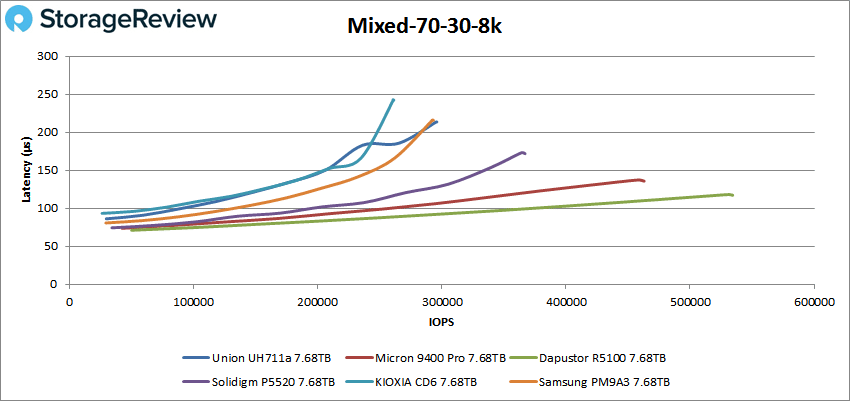 The UH711a didn't improve its standings in our last mixed test, 16K, with another finishing score to tie the Samsung PM9A3.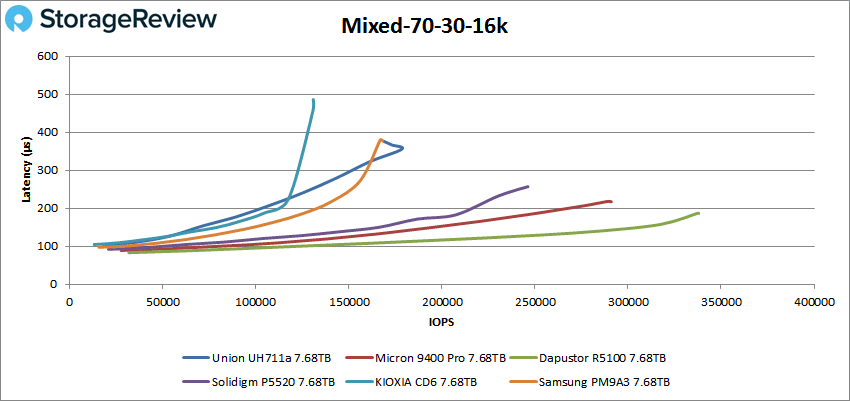 Let's move onto our database testing, starting with SQL. The UH711a was second to last, only beating the Kioxia CD6; it finished the test at 253,774 IOPS at 125µs.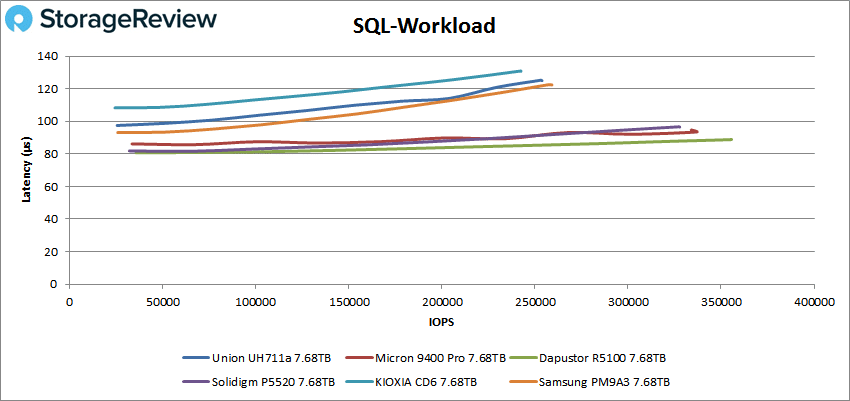 The UH711a did slightly worse in SQL 90-10, finishing last at 225,039 IOPS at 141µs.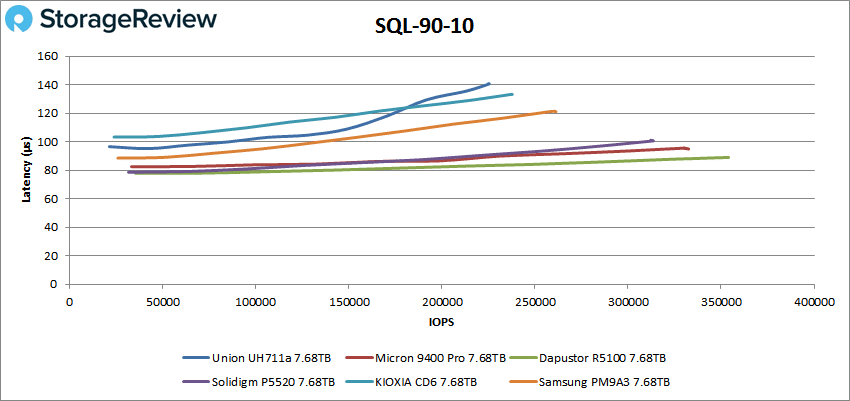 Database performance doesn't seem to be the UH711a's strong suit; it was again dead last in SQL 80-20, finishing at 212,199 IOPS at 149µs. The Kioxia CD6 did noticeably better.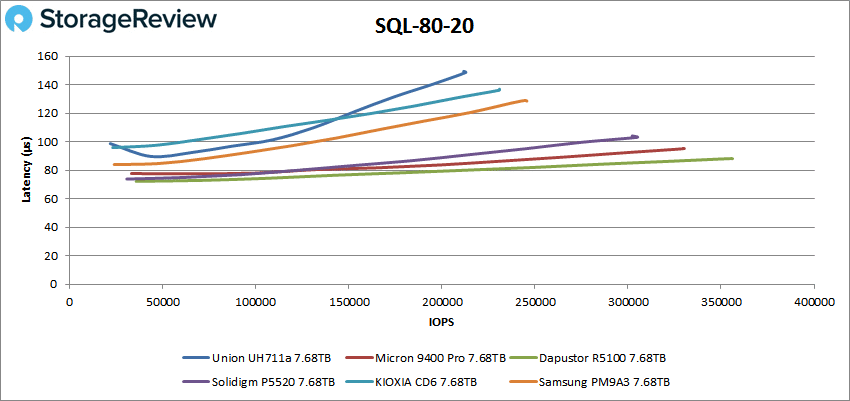 Will the UH711a fare better in our Oracle tests, starting with Workload? No; it found itself dead last, finishing at 207,259 IOPS at 169µs.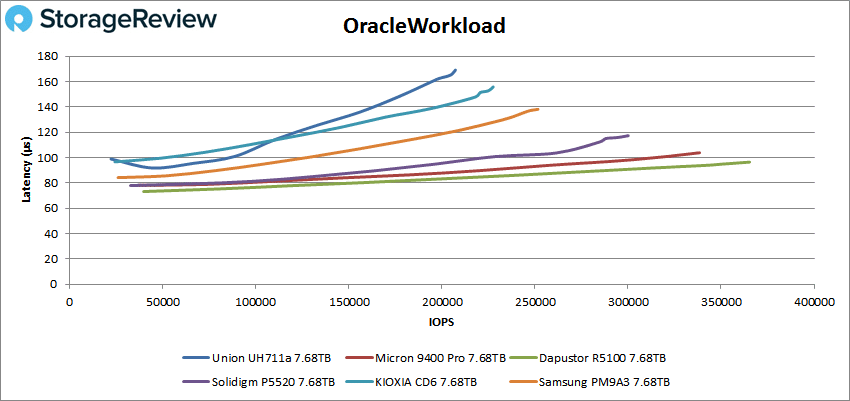 The UH711a started to redeem itself in Oracle 90-10, nearly matching the Kioxia CD6 with a final number of 176,445 IOPS at 123µs. It's become apparent this far into the testing that low latency doesn't appear to be one of the UH711a's strengths.
Our last Oracle test, 80-20, saw the UH711a reverting back to last place; it finished at 170,018 IOPS at 128µs.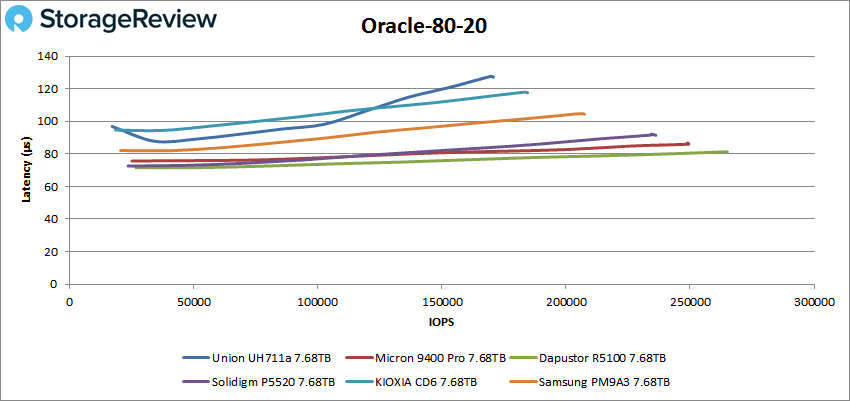 Our final testing series is VDI full clone (FC) and linked clone (LC). Starting with FC boot, we saw the UH711a towards the back of the pack, with 191,671 IOPS at 180µs. On the plus side, it didn't see any severe latency spikes or instability.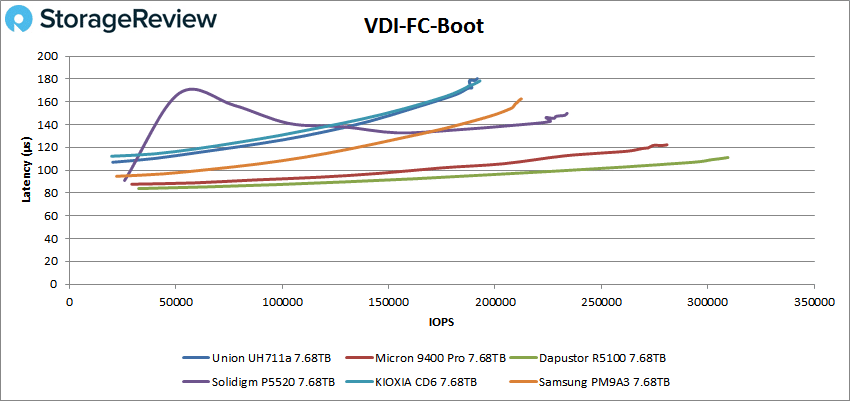 Our VDI FC Initial Login test usually creates latency spikes, and certainly did for the UH711a. That said, The Samsung PM9A3 and the Kioxia CD6 both fared much worse in that regard. The UH711a's best pre-spike number was about 103K IOPS at 210µs.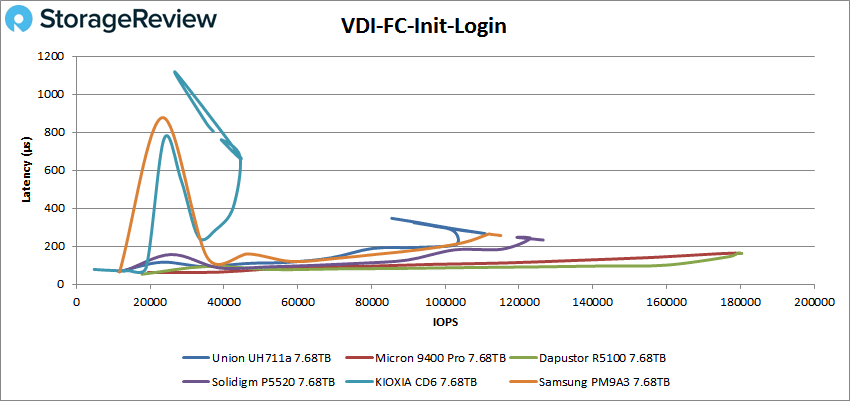 Monday Login is the most demanding test. The UH711a finished mid-pack, again without any crazy spikes like the Samsung PM9A3 or the Kioxia CD6. Its numbers stopped climbing once it hit about 76K IOPS with latencies around 204µs.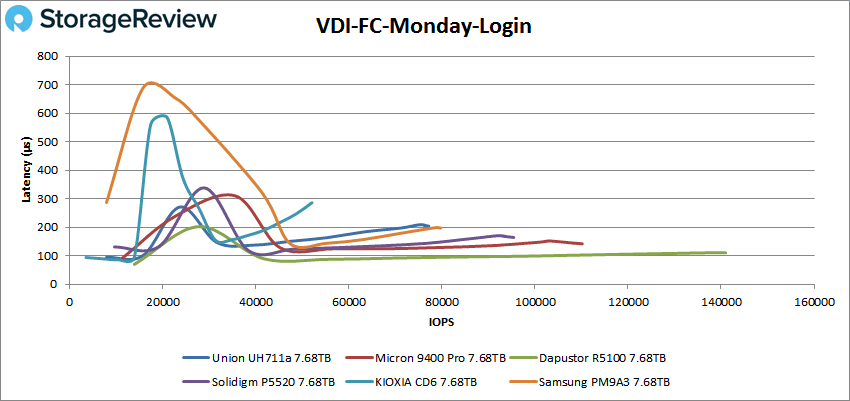 We now have our VDI Linked Clone (LC) tests, starting with Boot. The UH711a petered out at 90,645 IOPS though it did maintain a respectably low latency throughout.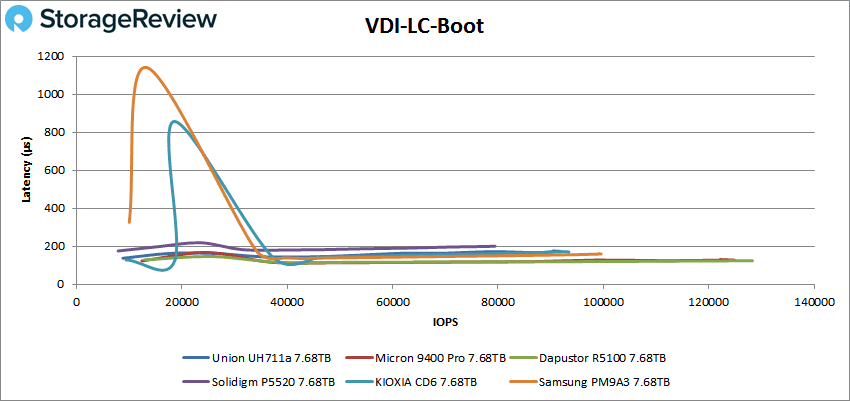 The UH711a showed lots of latency spikes in Initial Login and never really recovered after hitting about 36K IOPS and 163µs.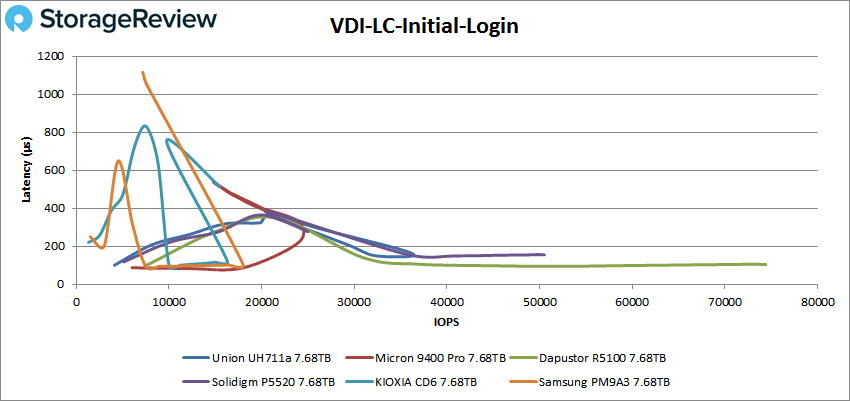 The UH711a showed smoother performance in Monday Login. Though it didn't touch the Solidigm P5520, it maintained relatively low latency and finished the test at 58,577 IOPS at 269µs.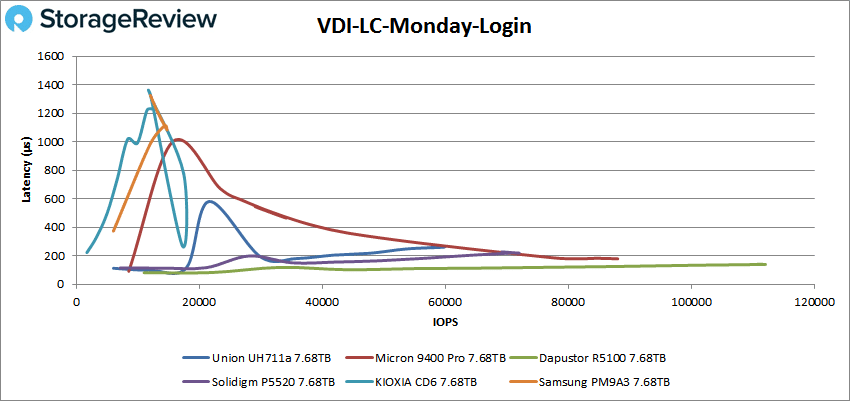 Final Thoughts
The Union Memory UH711a is a general-purpose data center SSD designed for high reliability. Though our lab testing showed the UH711a isn't a bleeding-edge performer, it nonetheless held its own, overall finishing about lower- to mid-pack among our comparable enterprise SSDs. It often had no trouble outperforming the Samsung PM9A3 and the Kioxia CD6, though it's not in the same league as the Micron 9400 Pro and especially the Dapustor R5100.
The UH711a's performance highlights include 167K IOPS in 4K random read, 585K IOPS in 4K random write, and 478K IOPS in 70% read/30% write 4K. Database performance was its weakest area, where it consistently finished last among our comparable drives. It at least kept its head above water in our VDI full and linked clone testing. Its latency throughout testing didn't impress us, but it was also predictable and that counts for a lot.
The UH711a offers firmware updates that eliminate downtime and is overall a sufficient performer for mainstream workloads and applications.
Engage with StorageReview
Newsletter | YouTube | Podcast iTunes/Spotify | Instagram | Twitter | TikTok | RSS Feed