The Patriot Viper VP4300 is the company's newest PCIe Gen4 drive to hit the market meant to offer reliability across data-heavy tasks. The M.2 (2280 form factor) NVMe drive is marketed as a gaming SSD, as it is fully compatible with the Sony PlayStation 5 and features a slick-looking design. Available in capacities of 1TB and 2TB, the VP4300 is powered by an Innogrit Rainier IG5236 controller.
The Patriot Viper VP4300 is the company's newest PCIe Gen4 drive to hit the market meant to offer reliability across data-heavy tasks. The M.2 (2280 form factor) NVMe drive is marketed as a gaming SSD, as it is fully compatible with the Sony PlayStation 5 and features a slick-looking design. Available in capacities of 1TB and 2TB, the VP4300 is powered by an Innogrit Rainier IG5236 controller.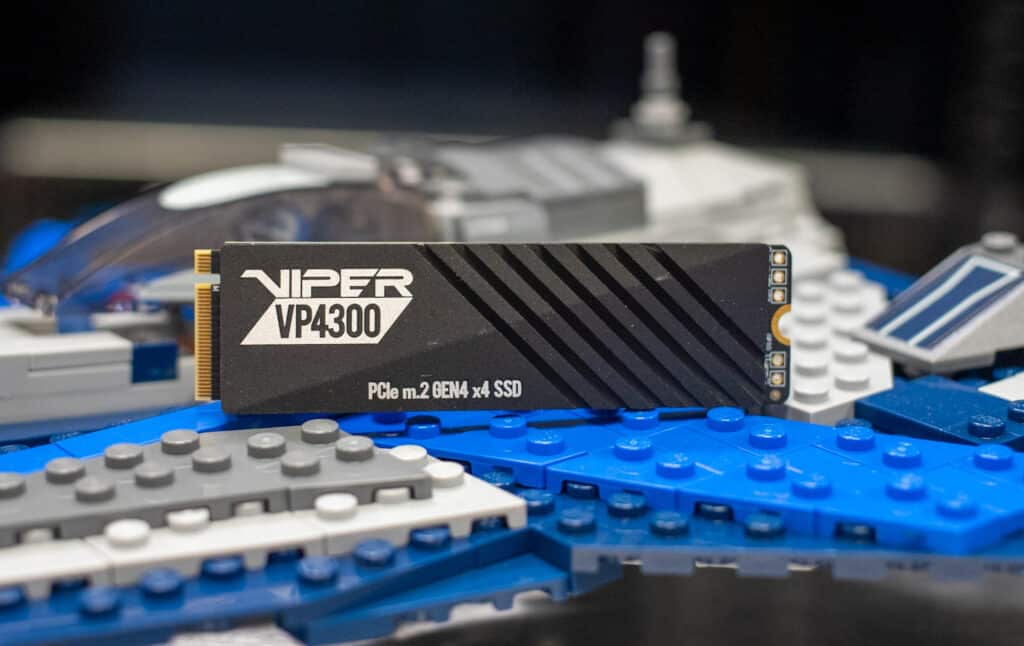 Patriot Viper VP4300 Features
Released back in 2019, the IG5236 controller leverages 8 NAND channels and is built with high security and data protection to support high-end client (and even data center) solutions. We saw the exact same controller inside the XPG GAMMIX S70.
Performance-wise, the "Rainier" controller was initially quoted to reach up to 7GB/s and 6.1G/s in sequential reads and writes, and over 1 million IOPs random read performance. Rainier also provides a comprehensive data protection scheme through SRAM ECC and end-to-end data path protection and supports all major 2D and 3D flash memories, at a maximum capacity of 16TB.
As for the specifics of VP4300's quoted performance, it is expected to reach up to 7,400MB/s read and 6,800MB/s write for sequential speeds. These numbers are in the upper echelon of quoted numbers for similarly classed drives, so it will be interesting to see if it comes close to these. Patriot also claims up to 800,000 IOPS for both reads and writes in 4K performance.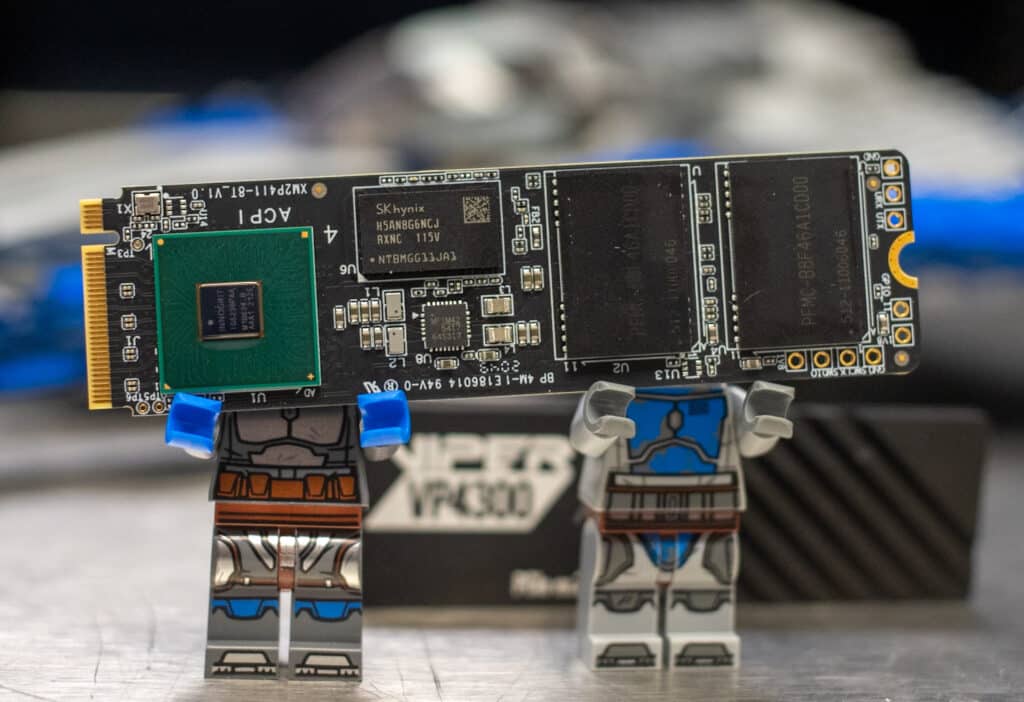 The VP4300 is also specced with a 2-million TBW rating, which is on the higher end of what we've seen with similarly-classed drives. The SK hynix P41 and Samsung 980 Pro, for example, are both rated at 1.5 million TBW. It also features AES 256-bit hardware encryption.
Patriot Viper VP4300 Design and Build
Users will have the choice between two new, low-profile heatshields. The first is an asymmetric aluminum heatshield, which gives it a unique, design-savvy look. We had to install this ourselves by peeling off the protective film from the aluminum headshield, aligning it to the edges of the SSD (so that the logo is next to the M.2-pin connector, but not over the top of it), and placing it on the SSD.
The other option is a one-time-use graphene heatshield, which helps ensure thermal dissipation and avoid overheating in tightly packed spaces. This is also installed manually; however, all you need to do is peel off the protective film and place it on the drive.
For this review, we used the aluminum heatshield, which displays the company branding, product name, and drive interface.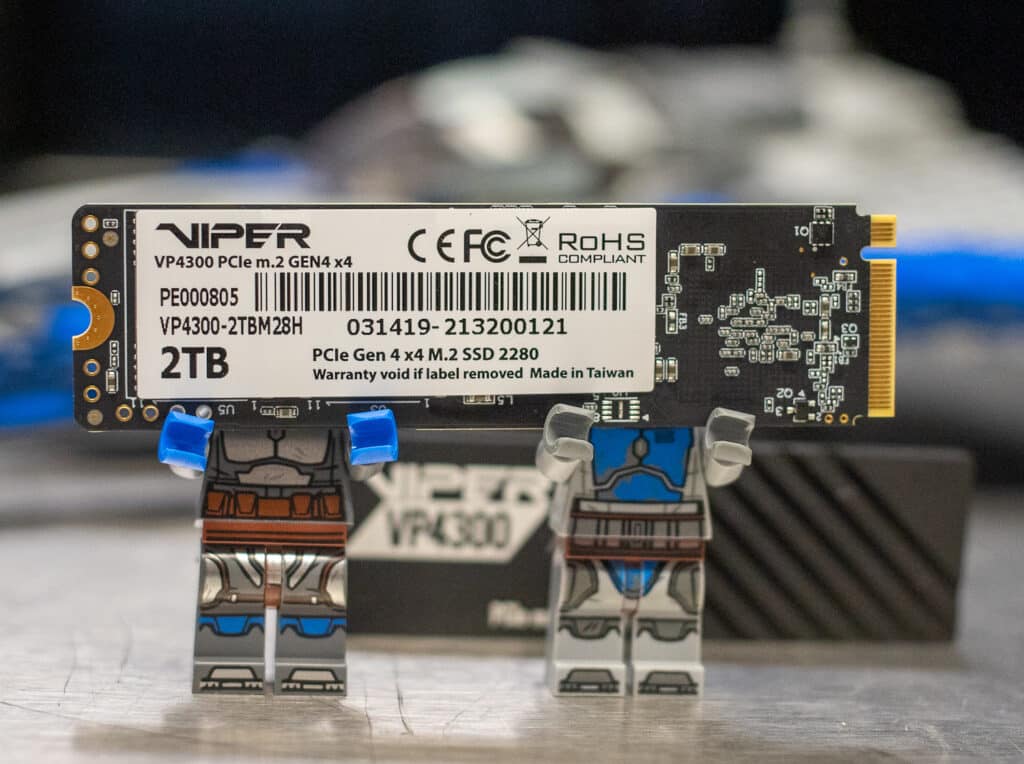 On the backside, you get more detailed information about the drive, including capacity, form factor, certifications, and serial numbers.
Backed by a 5-year warranty, the VP4300 goes for roughly $120 (1TB) and $215 (2TB). We will be looking at the 2TB for this review.
Patriot Viper VP4300 Specifications
Part Number
VP4300-2TBM28H
Interface and Form Factor
PCIe Gen4 x 4NVMe / M.2 2280
Controller
Innogrit IG5236
Performance

4K Aligned Random Read: up to 800K IOPs
4K Aligned Random Write: up to 800K IOPs
Sequential Read (ATTO): up to 7,400MB/s
Sequential Write (ATTO): up to 6,800MB/s
Sequential Read (CDM): up to 7,400MB/s
Sequential Write (CDM): up to 6,800MB/s

Terrabytes Written (TBW)
up to 2000TB
Headshields (optional)

Aluminum heatshield
Graphene heatshield

Dimensions

3.15″(L) x 0.87″(W) x 0.31″(H)
8 cm(L) x 2.2 cm(W) x 0.8 cm(H)

Weight
0.05 Ibs / 25 gm
Warranty
5 years
Patriot Viper VP4300 Performance
Testbed
For database and synthetic testing, we leverage the Lenovo ThinkSystem SR635 server, equipped with an AMD 7742 CPU and 512GB of 3200Mhz DDR4 memory. NVMe is tested natively through an M.2 to PCIe adapter card in the edge-card slot. A large focus is put on drive latency across the entire load range of the drive, not just at the smallest QD1 (Queue-Depth 1) levels. We do this because many of the common consumer benchmarks don't adequately capture end-user workload profiles. For our added BlackMagic Disk Speed Test performed in Windows, we use our self-built StorageReview desktop.
We are reviewing the 2TB version of the Patriot Viper VP4300 drive and will be comparing it to the following PCIe Gen4x4 drives:
SQL Server Performance
Each SQL Server VM is configured with two vDisks: 100GB volume for boot and a 500GB volume for the database and log files. From a system resource perspective, we configured each VM with 16 vCPUs, 64GB of DRAM and leveraged the LSI Logic SAS SCSI controller. While our Sysbench workloads tested previously saturated the platform in both storage I/O and capacity, the SQL test is looking for latency performance.
This test uses SQL Server 2014 running on Windows Server 2012 R2 guest VMs and is stressed by Quest's Benchmark Factory for Databases. StorageReview's Microsoft SQL Server OLTP testing protocol employs the current draft of the Transaction Processing Performance Council's Benchmark C (TPC-C), an online transaction-processing benchmark that simulates the activities found in complex application environments.
The TPC-C benchmark comes closer than synthetic performance benchmarks to gauging the performance strengths and bottlenecks of storage infrastructure in database environments. Each instance of our SQL Server VM for this review uses a 333GB (1,500 scale) SQL Server database and measures the transactional performance and latency under a load of 15,000 virtual users.
SQL Server Testing Configuration (per VM)
Windows Server 2012 R2
Storage Footprint: 600GB allocated, 500GB used
Database Size: 1,500 scale
Virtual Client Load: 15,000
RAM Buffer: 48GB
Test Length: 3 hours

2.5 hours preconditioning
30 minutes sample period
Starting with SQL average latency, the VP4300 posted 4ms, which placed it in the middle part of the consumer NVMe SSD leaderboard.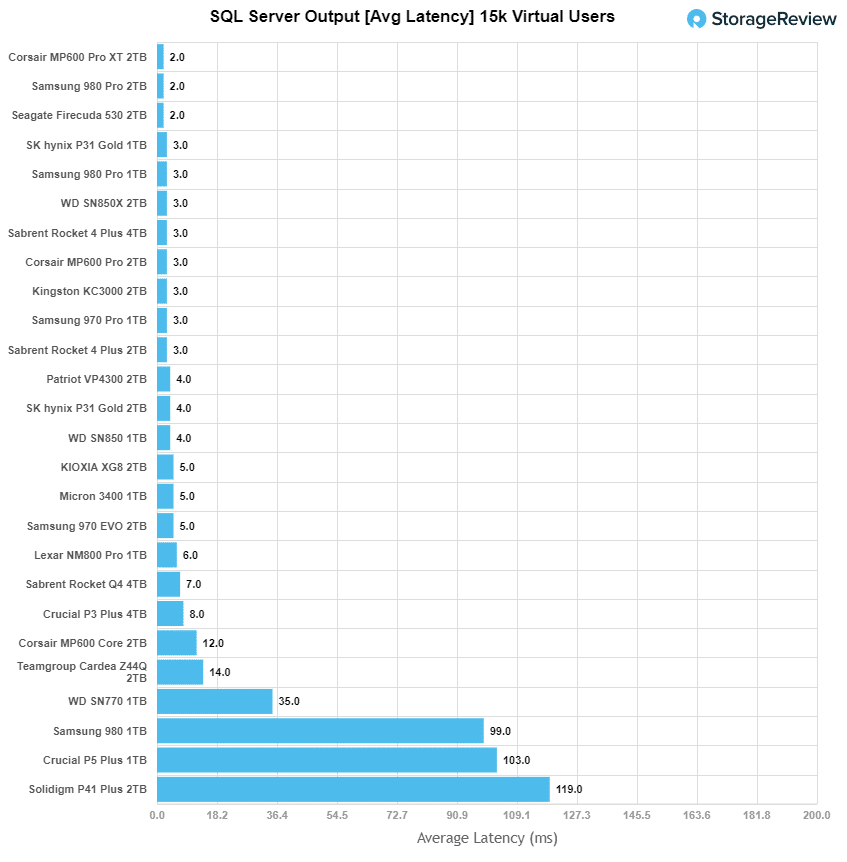 VDBench Workload Analysis
When it comes to benchmarking storage devices, application testing is best, and synthetic testing comes in second place. While not a perfect representation of actual workloads, synthetic tests do help to baseline storage devices with a repeatability factor that makes it easy to do an apples-to-apples comparison between competing solutions. These workloads offer a range of different testing profiles ranging from "four corners" tests, common database transfer size tests, to trace captures from different VDI environments.
All of these tests leverage the common vdBench workload generator, with a scripting engine to automate and capture results over a large compute testing cluster. This allows us to repeat the same workloads across a wide range of storage devices, including flash arrays and individual storage devices. Our testing process for these benchmarks fills the entire drive surface with data, then partitions a drive section equal to 1% of the drive capacity to simulate how the drive might respond to application workloads. This is different from full entropy tests which use 100% of the drive and take them into a steady state. As a result, these figures will reflect higher-sustained write speeds.
Profiles:
4K Random Read: 100% Read, 128 threads, 0-120% iorate
4K Random Write: 100% Write, 64 threads, 0-120% iorate
64K Sequential Read: 100% Read, 16 threads, 0-120% iorate
64K Sequential Write: 100% Write, 8 threads, 0-120% iorate
Starting with 4k random read, the Patriot VP4300 showed mid-range performance (or 4th place) with a peak of 610K IOPS at a latency of 206.5µs.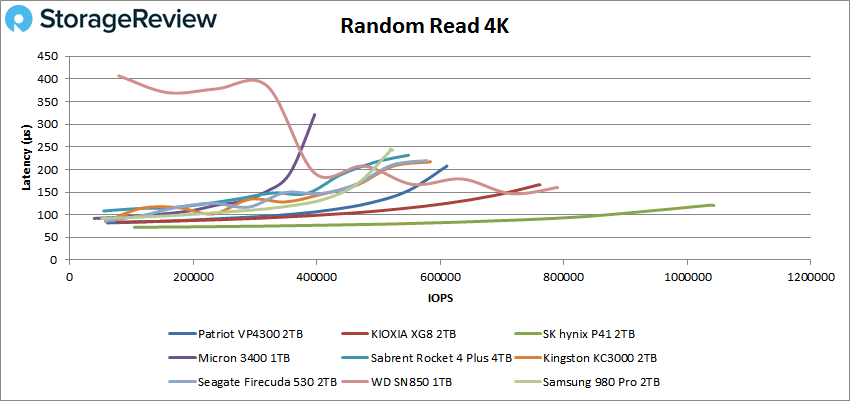 For 4K random write, VP4300 latency posted mid-range results again (or 5th place), peaking at 365K IOPS and 343.1ms (though it had a pretty noticeable spike at the end).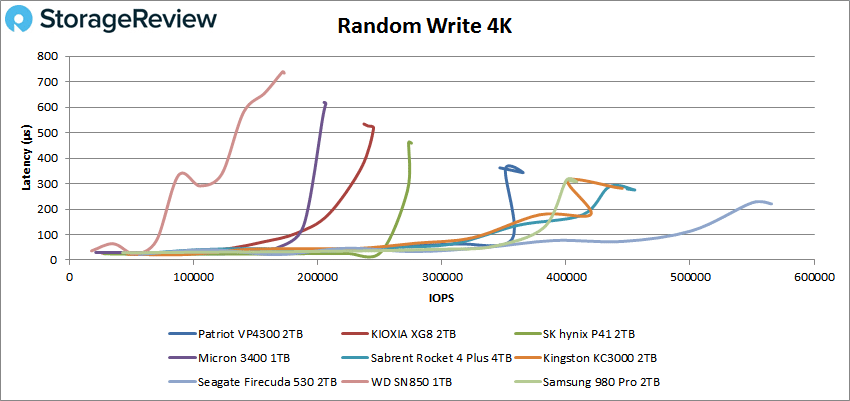 Switching to sequential workloads, where we look at our 64K tests, the VP4300 showed strong performance. In reads, the VP4300 placed 2nd (behind the Kingston KC3000 drive) with a peak throughput of 93K IOPS (or 5.79GB/s) with a latency of 343.4µs.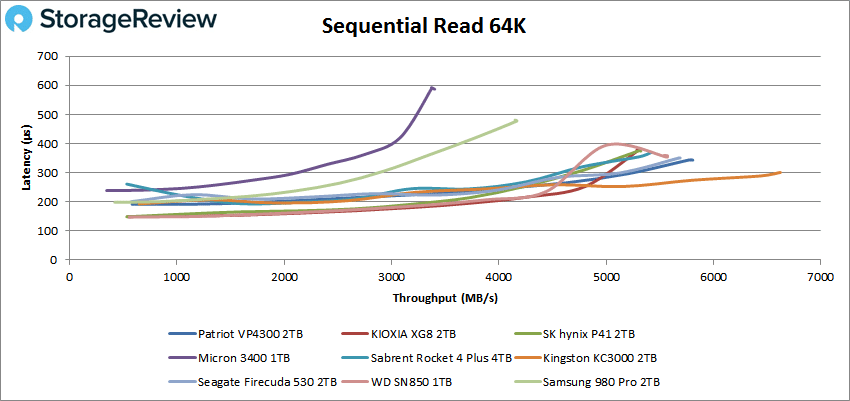 In 64K sequential writes, the VP4300 showed solid performance again, posting a peak score of 30K IOPS or 1.89GB/s at a latency of 520.5µs. This was slightly better than the Sabrent Rocket 4 Plus (for 2nd place), though it had much higher latency by the end of the test.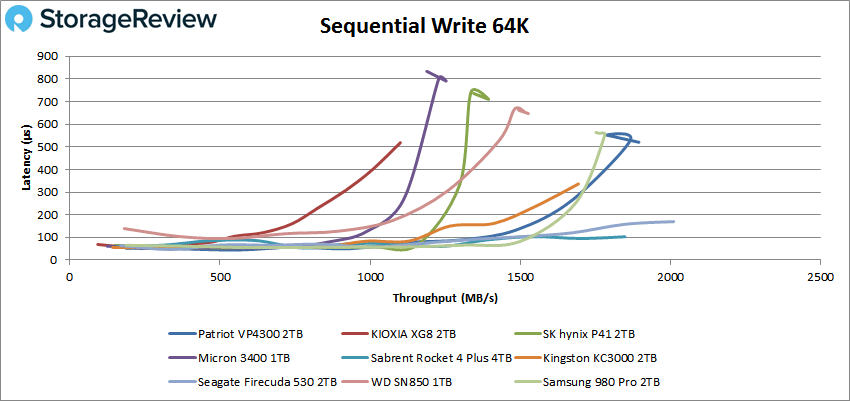 Next, we looked at our VDI benchmarks, which are designed to tax the drives even further. These tests include Boot, Initial Login, and Monday Login. Starting with Boot, the VP4300 had a peak of 112K IOPS with a latency of 286.5µs, though it ended with slightly slower numbers at the end.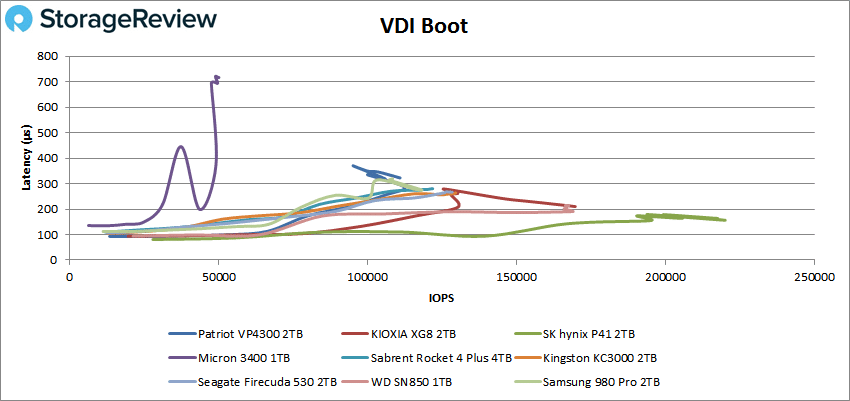 Our VDI Initial Login produced some messy results in our charts, as usual. The VP4300 had a peak of 37,383 IOPS with a latency of 304.7µs, though it ended at 33K IOPS at 902 µs. These were mid-tier results compared to the other tested SSDs.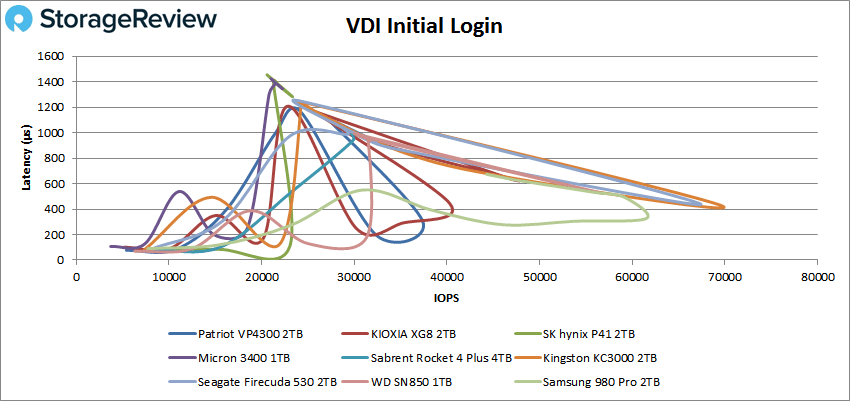 Finally, VDI Monday Login (where results were hard to decipher once again) saw the VP4300 peak at 28K IOPS (near the back of the pack) with a latency of 190.4µs before showing a noticeable dip at the very end.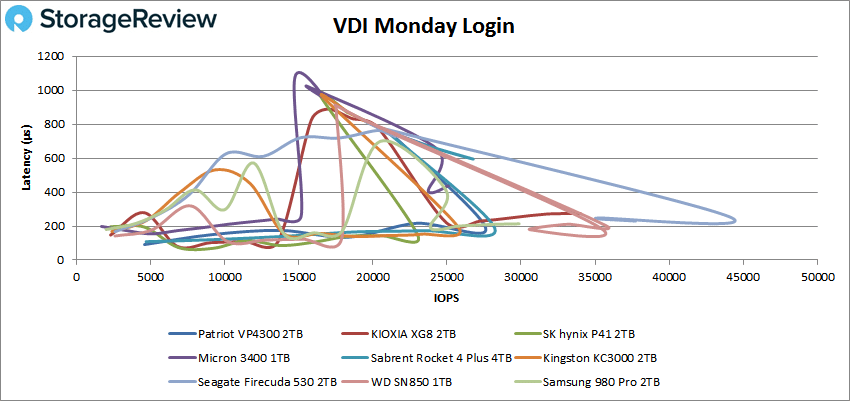 Patriot Viper VP4300 Blackmagic Disk Speed Test
We measured performance inside a Windows 11 environment on our consumer test platform. Here, the VP4300 was able to reach 5.13GB/s read and 5.83GB/s write.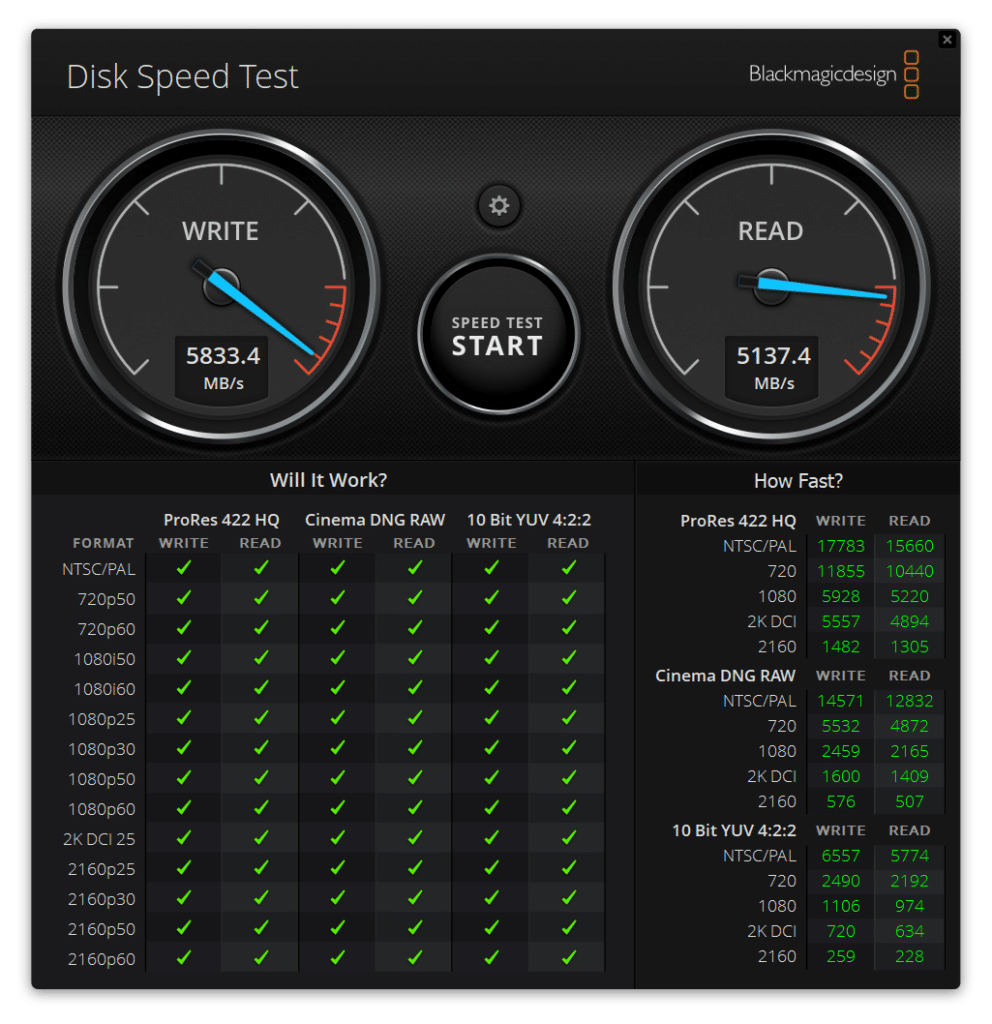 Conclusion
The Patriot VP4300 is the company's newest addition to their Viper line of gaming SSDs, featuring the PCIe Gen4 interface, M.2 (2280) form factor, an Innogrit Rainier IG5236 controller, and capacities of 1TB and 2TB.  In addition to its support for the PlayStation 5, it also comes in a unique, premium design that we really liked.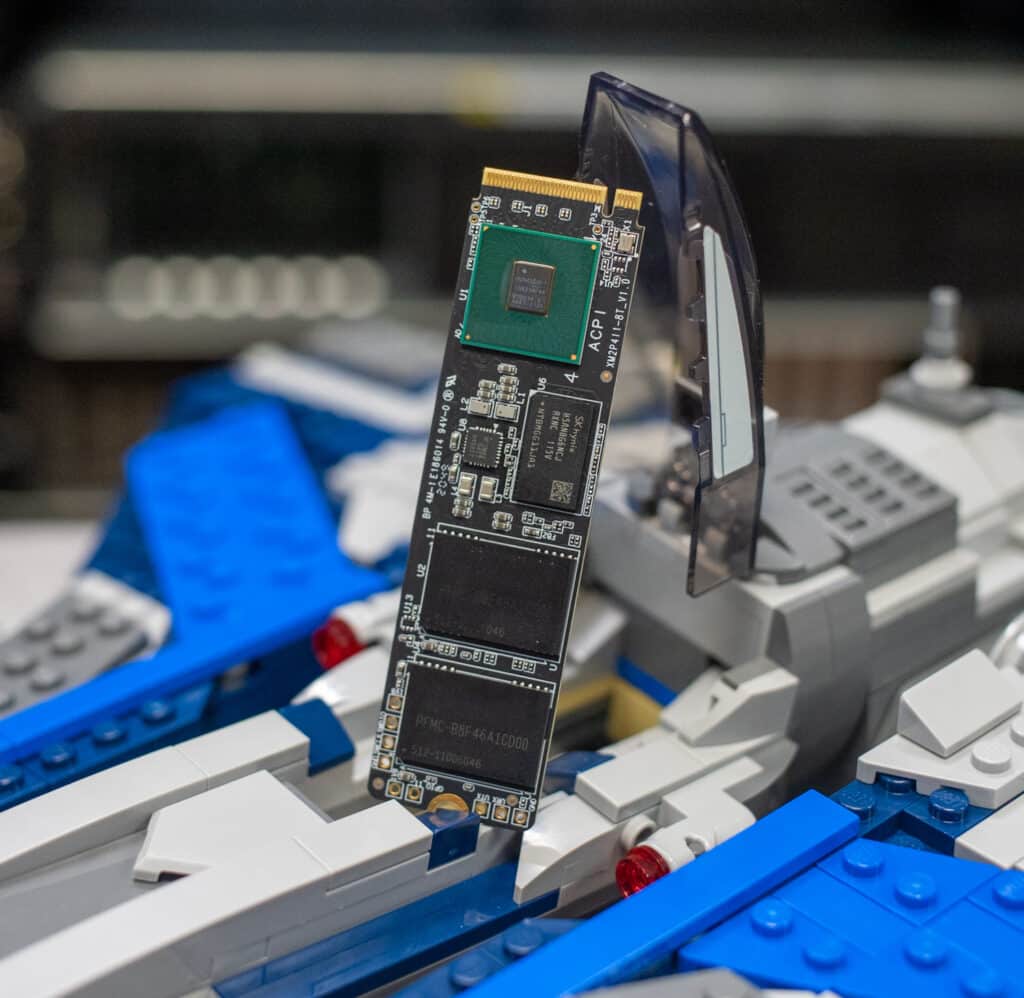 While performance results were a bit inconsistent during most of our benchmarking (mostly mid to lower-tier results), the VP4300 did show strong sequential performance that was placed near the top of the leaderboard.
Highlights include 610K million IOPS in 4k random reads, 365K IOPS in 4k random writes, 5.79GB GB/s in 64k sequential reads 1.89GB/s in 64k sequential writes. In our VDI benchmarks, the VP4300 showed peaks of 112K IOPS in boot (again, by far the best performing drive), 33K IOPS in initial login, and 28K in Monday login.
In our Blackmagic test, the Viper SSD was able to reach 5.13GB/s read and 5.83GB/s write, which places it near the upper part of the Gen4 consumer drive performance spectrum.
While marketed as a premium gaming SSD, The VP4300 does carry a price tag that's a couple of bucks less than the 980 Pro and SN850. This is a new launch, so pricing will fall some as the drive gets into the channel. Overall though, is this package of pricing and performance enough to warrant serious consideration in a high-performance SSD segment with a couple of fantastic choices already?
Well, if you're looking for Gen4 SSD with impressive sequential read and write performance, the Patriot VP4300 is certainly a viable choice. At price parity with the 980 Pro (being replaced by the 990 Pro) and SN850, we prefer the latter two options, but this drive is still very strong and a good value for most when it's 10-15% less expensive than the leaders.
Engage with StorageReview
Newsletter | YouTube | Podcast iTunes/Spotify | Instagram | Twitter | TikTok | RSS Feed